Last night, the fashion and art sets descended upon downtown Brooklyn's City Point for Creative Time's annual gala, which this year honored Opening Ceremony founders Humberto Leon and Carol Lim. The affair saw the unveiling of a new public art project called Pledges of Allegiance, a collaboration between Creative Time, Opening Ceremony, and W Magazine's Alix Browne, among a handful of others.

Slated to officially—and fittingly—launch on Flag Day (June 14), the new project involves 16 different flags, each one designed by a specific artist, to be raised on various poles around New York city every month. Participants include everyone from Jeremy Deller and Yoko Ono to Marilyn Minter and Vik Muniz.
"We wanted to have a variety of artists that were naturally and politically engaged and outspoken," Browne said. "I think we ended up with a really good, diverse group of artists who speak to a lot of different issues—and there are so many issues to speak to right now. There are endless issues to speak to."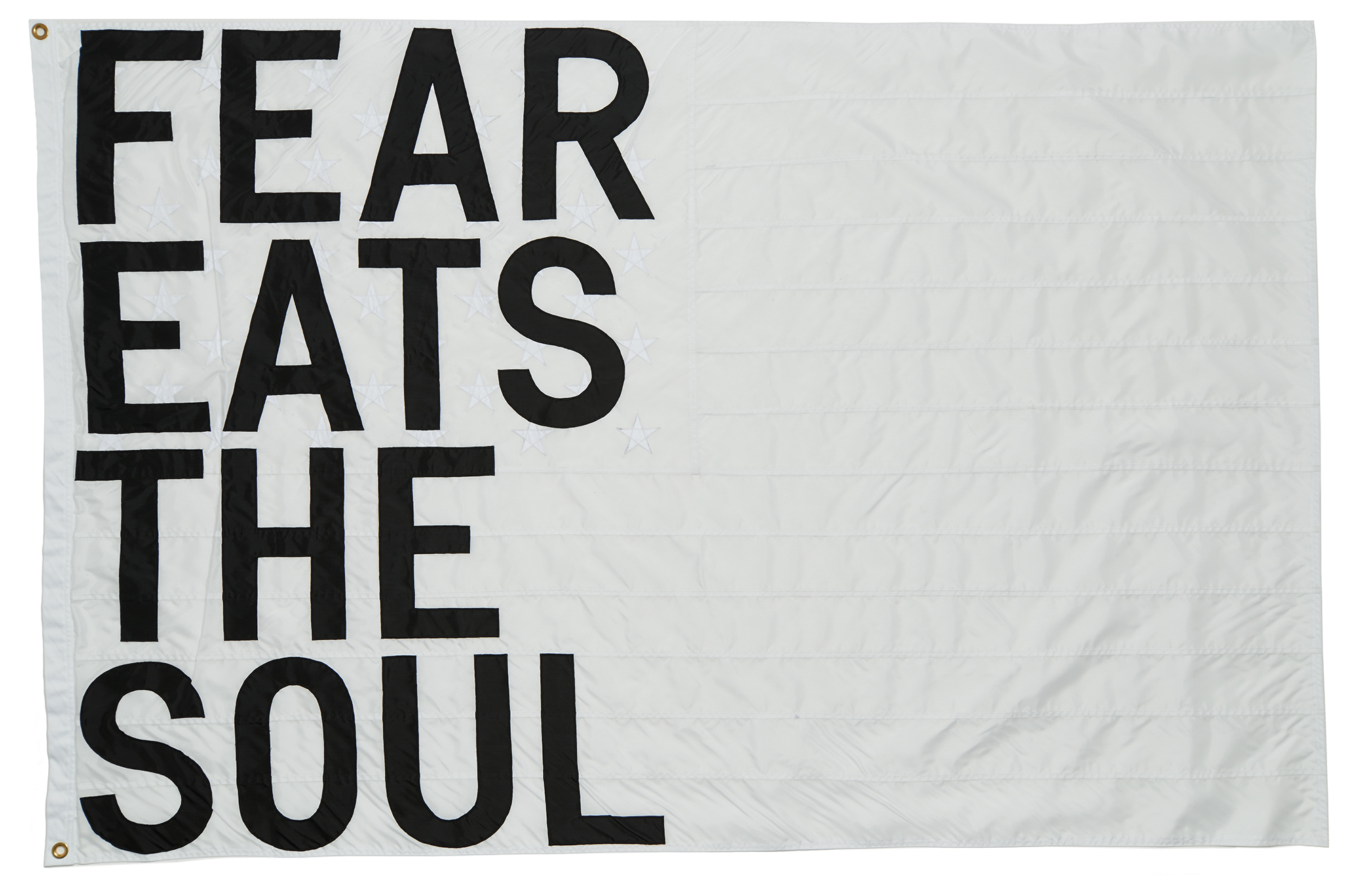 "Untitled 2017 (Fear Eats the Soul) (White flag)" by Rirkrit Tiravanija
Photo: Courtesy of Creative Time
The most blatantly political of all arguably belonged to Minter, whose flag displayed the word "RESIST" in massive letters and was up for auction and on view at the event. Four others were, too. A crowd favorite belonged to Argentinian contemporary artist Rirkrit Tiravanija, whose stark white flag was a riff on his "Fear Eats the Soul" exhibition back in 2011.

"I'm really pleased with the flags," said Creative Time's executive director Katie Hollander. "[The project] really came together quickly, which I think is just a sign about how excited people are to have the opportunity to make a statement in some way—and to make a piece that responded to this political atmosphere."
"I am such a supporter of public art," gushed a Comme des Garçons-clad Cecilia Dean. "I think Creative Time does the most spectacular job of bringing awareness to the general masses. The installations and the activations they produce really change how you view the world with which you live." Dean's favorite installation? Last summer's "Fly By Night" with artist Duke Riley. "I will never look at a pigeon the same way again," she laughed.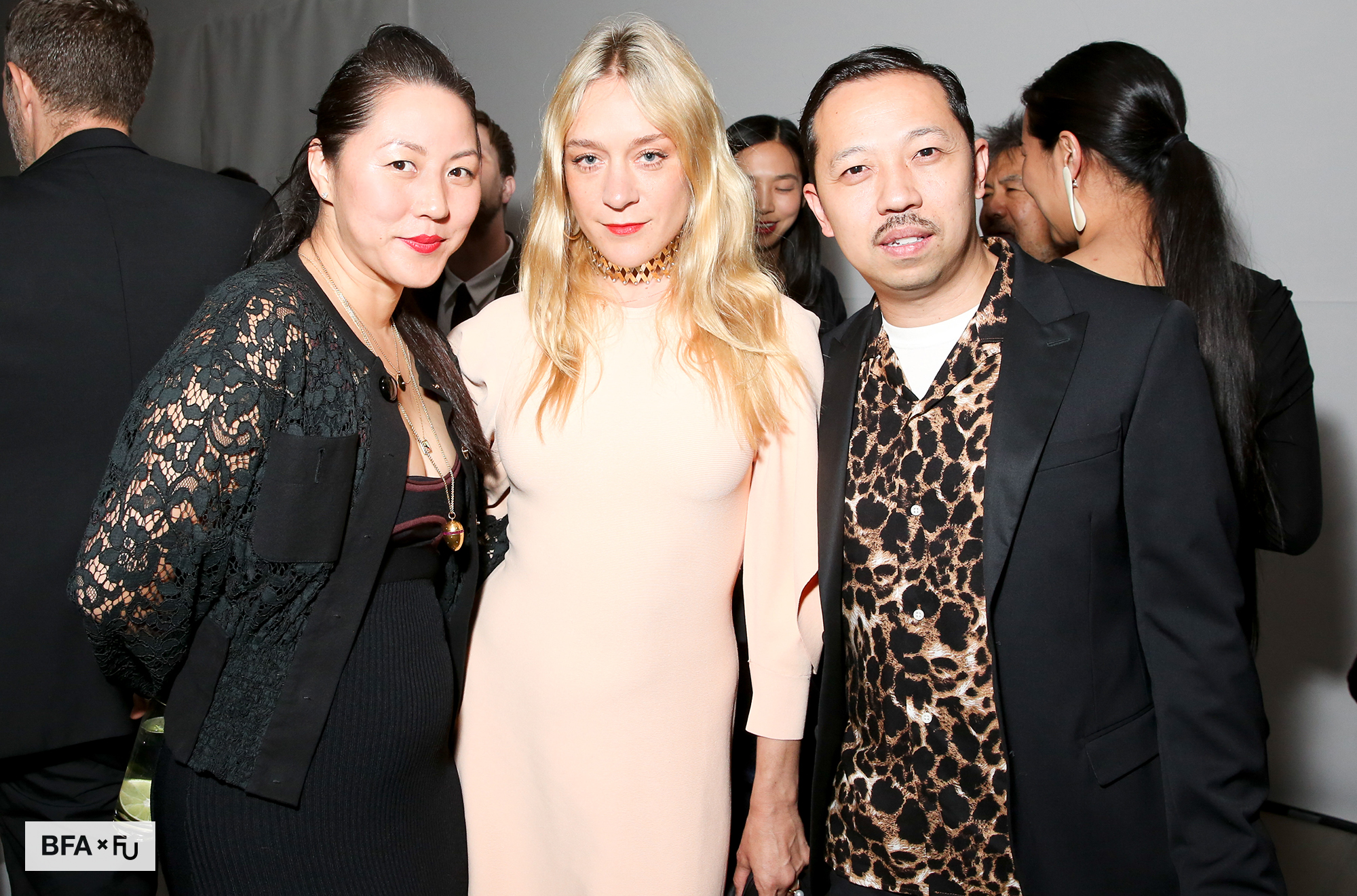 Photo: BFA.com. View more at BFA.com.
After the cocktail portion of the event came to an end, guests like Chloë Sevigny (a host), Inez van Lamsweerde, and Broad City's Ilana Glazer and Abbi Jacobson shuffled into a banquet room for dinner and bidding. Those who couldn't cough up the dough for a flag have the option to wait until June 30 for a box set of Opening Ceremony-designed T-shirts and sweatshirts emblazoned with the designs.
"It's really art for everybody, and there's no elitist thing attached to it," van Lamsweerde said of the project. "It's just to make you dream—and to make you dream in the middle of the city."
0 Comment