Fashion continues to face a problem with cultural appropriation, as designers and magazines "borrow" elements from other cultures, resulting in products and imagery that are often insensitive, ill-informed, and offensive. The Internet has served as the cultural appropriation police for years, calling out celebrities, street style stars, magazines, models, and designers for their tone-deaf appropriation that varies from Native American headdresses at Coachella to hairstyles rooted in black culture.

"There's a history of pulling from other cultures as a resource for design inspiration, but not actually wanting to build an intimate relationship with these people who are the source of this inspiration, not really counting them as equals," said Kimberly Jenkins, a professor and curator at Parsons The New School for Design. "It's going to be difficult to untie ourselves from that whole legacy."
In response to fashion's widespread appropriation problem, the United Nations may soon make it illegal.
Negotiations are taking place this week as representatives of 189 countries are meeting in Geneva as part of a committee within the UN's World Intellectual Property Organization (WIPO). Indigenous groups worldwide have been asking the UN to create sanctions against the appropriation of indigenous language and design since 2001.
A tricky issue for the UN will no doubt be that cultural appropriation has no specific, legal boundaries, thus it may be difficult to enforce any new legislation. The borders of cultural appropriation are not well-defined—for instance, when does paying homage to or drawing inspiration from a culture one admires become blatant misappropriation of a culture's history and values? Still, the Cambridge Dictionary says it is "the act of taking or using things from a culture that is not your own, especially without showing that you understand or respect this culture." "Respect" is a key word in this dilemma, because it's precisely what may differentiate appreciation from appropriation, the latter being something that disregards the value and history of another culture and uses it to western (mostly American and European) advantage.
Sure, many have taken steps forward without the threat of legal repercussions, but just as many simply don't care. Take, for example, Coachella's 2015 initiative to ban the Native headdresses that, for years, were the highlight of its street style images. That was a good move. But just last month, fashion editor Anna Dello Russo decided to sport one such headdress to Dior's Resort 2018 show in L.A., and splashed photos of the "look" all over Instagram. That was not a good move.
The nuances of cultural appropriation continue to stir confusion and controversy. Just recently, Vogue faced backlash after it published an editorial in its diversity issue featuring Karlie Kloss as a geisha, with many classifying the shoot as a portrayal of "yellowface." But a helpful reminder is that when any disenfranchised culture is used by a privileged one, it perpetuates cultural and social inequality. Perhaps a solution is to invite all cultures to seat at the fashion table with the proper respect and value they deserve. If not, a UN fine might do the trick.
With that in mind, fashion shouldn't forget its many blunders—after all, if you don't learn from the past, you're doomed to repeat it. Here, we examine some of the most notable instances of cultural appropriation from the past five years.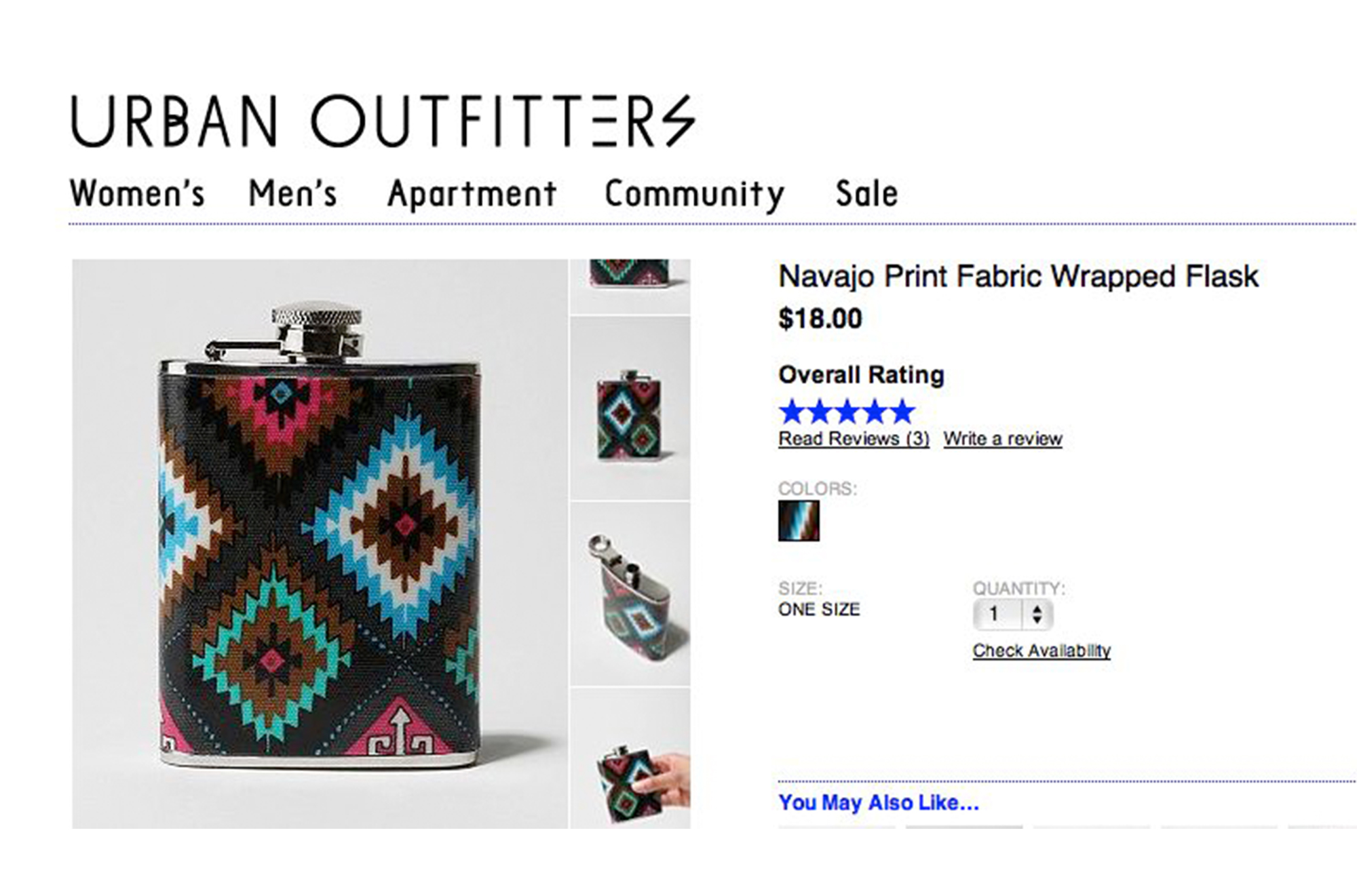 Photo: Courtesy of Urban Outfitters
The Navajo Nation vs. Urban Outfitters Lawsuit

In 2012, members of the Navajo Nation, one of America's largest Native American tribes, sued retailer Urban Outfitters for trademark infringement because of its use of the Navajo name and symbols in its products, like Navajo panties, a headdress, a "treaty" necklace, and a liquor flask. The fact of the matter is that the Navajo Nation stated it didn't mind the responsible use of its symbols and language, but the way in which Urban Outfitters used them was insensitive. (Seriously, Urban Outfitters. Navajo panties? Come on.) The case is particularly interesting considering that the Navajo Nation sued primarily for intellectual property, meaning they get to control how their culture is used and who uses it, which is parallel to the UN negotiations taking place. The Navajo Nation and Urban Outfitters settled their lawsuit out of court.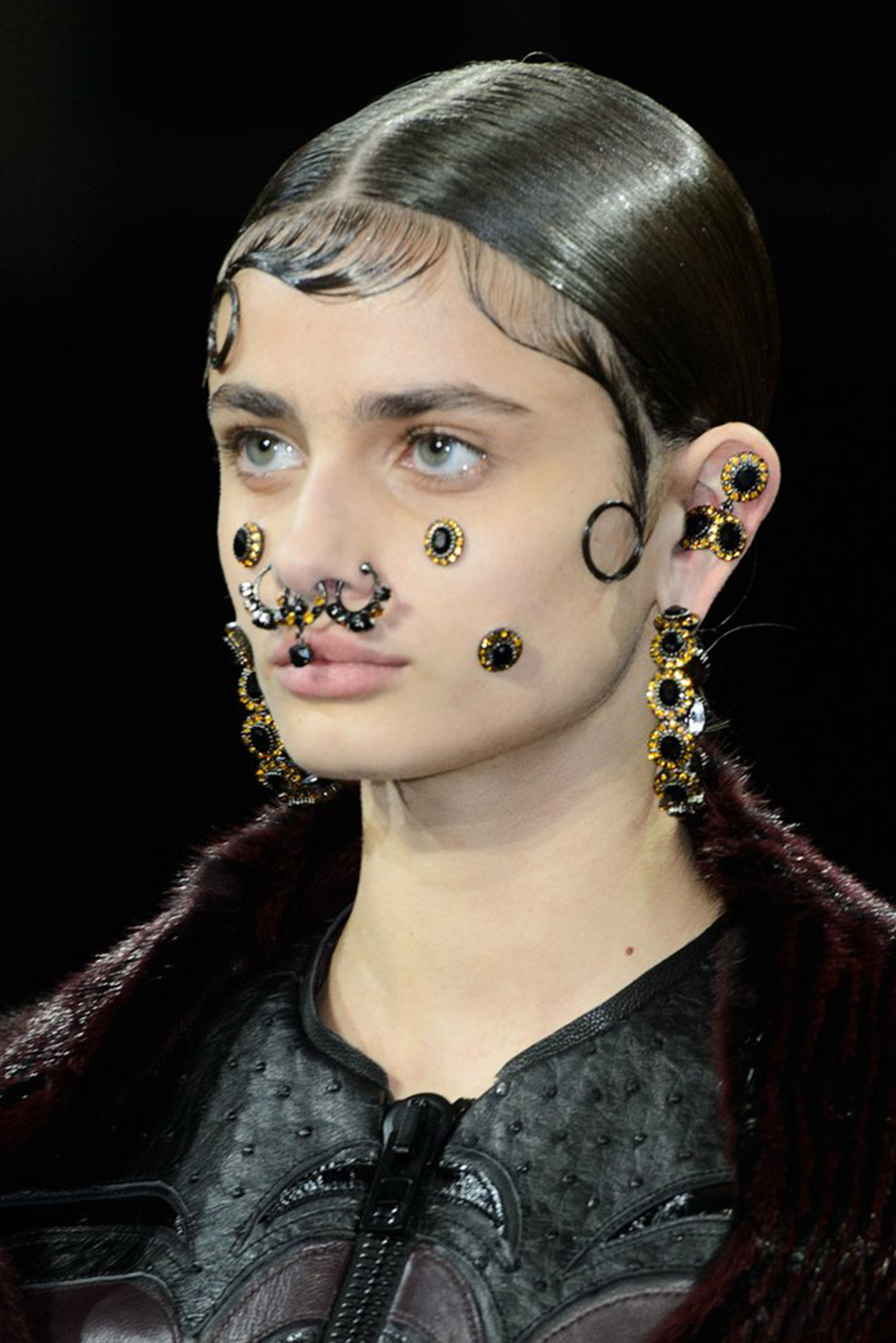 Photo via Pinterest
Givenchy's Fall 2015 "Chola" Collection

Riccardo Tisci's use of the word "chola" in his Fall 2015 Givenchy collection was problematic, mainly because the context in which it was used demonstrated no understanding of the label. Rooted in the Aztec language, the word was used to reference a dog or a mutt, and later as a derogatory term for Mexican immigrants in the United States. It's true that Latino gangs later reappropriated the term in the '70s, but Tisci's appropriation did not celebrate its originators—rather, it reinforced negative stereotypes. Furthermore, the show's predominantly white cast was given a problematic hairstyle—sleek, slicked-back baby hairs. The style is largely associated with Latina and black women, and, intentional or not, the show seemed to send a message that this hairstyle and the label "chola" are only acceptable when used by white women.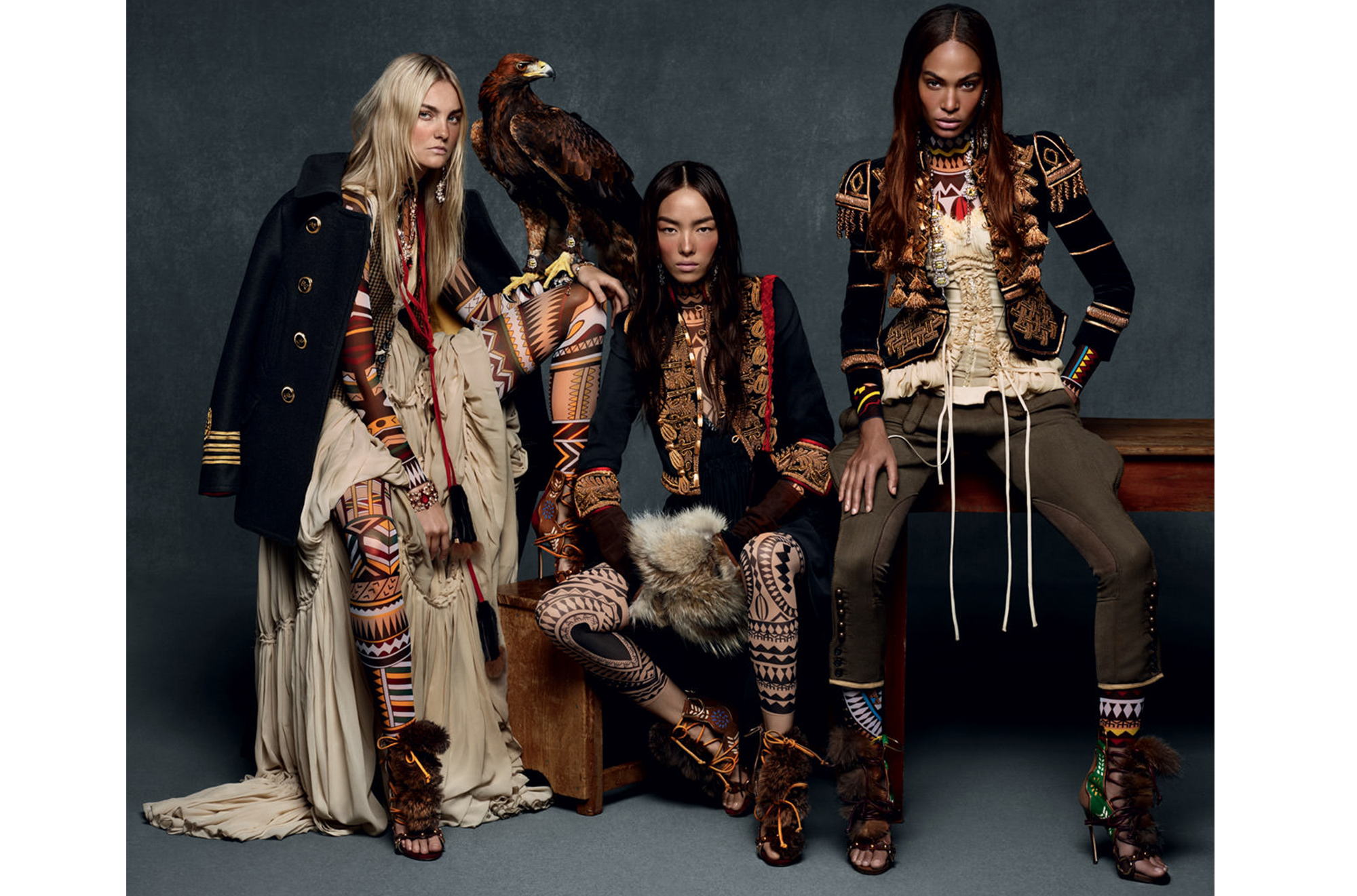 Dsquared2 Fall 2015 ad
Photo: Mert and Marcus Piggott
Dsquared2's Fall 2015 "Dsquaw" Collection

It's possible that many of us didn't know that a "squaw" is a derogatory term for North American aboriginal women, but critics of the Dsquared2 Fall 2015 show quickly pointed fingers at the Canadian design duo for misuse of indigenous language and aboriginal designs. The brothers explained that the collection celebrated both indigenous and "noble" European cultures, which was also problematic, considering the bloody history between the two worlds. The collection's campaign stirred controversy, too, as model Fei Fei Sun was made to look like a First Nations woman with makeup appearing more bronzed than usual.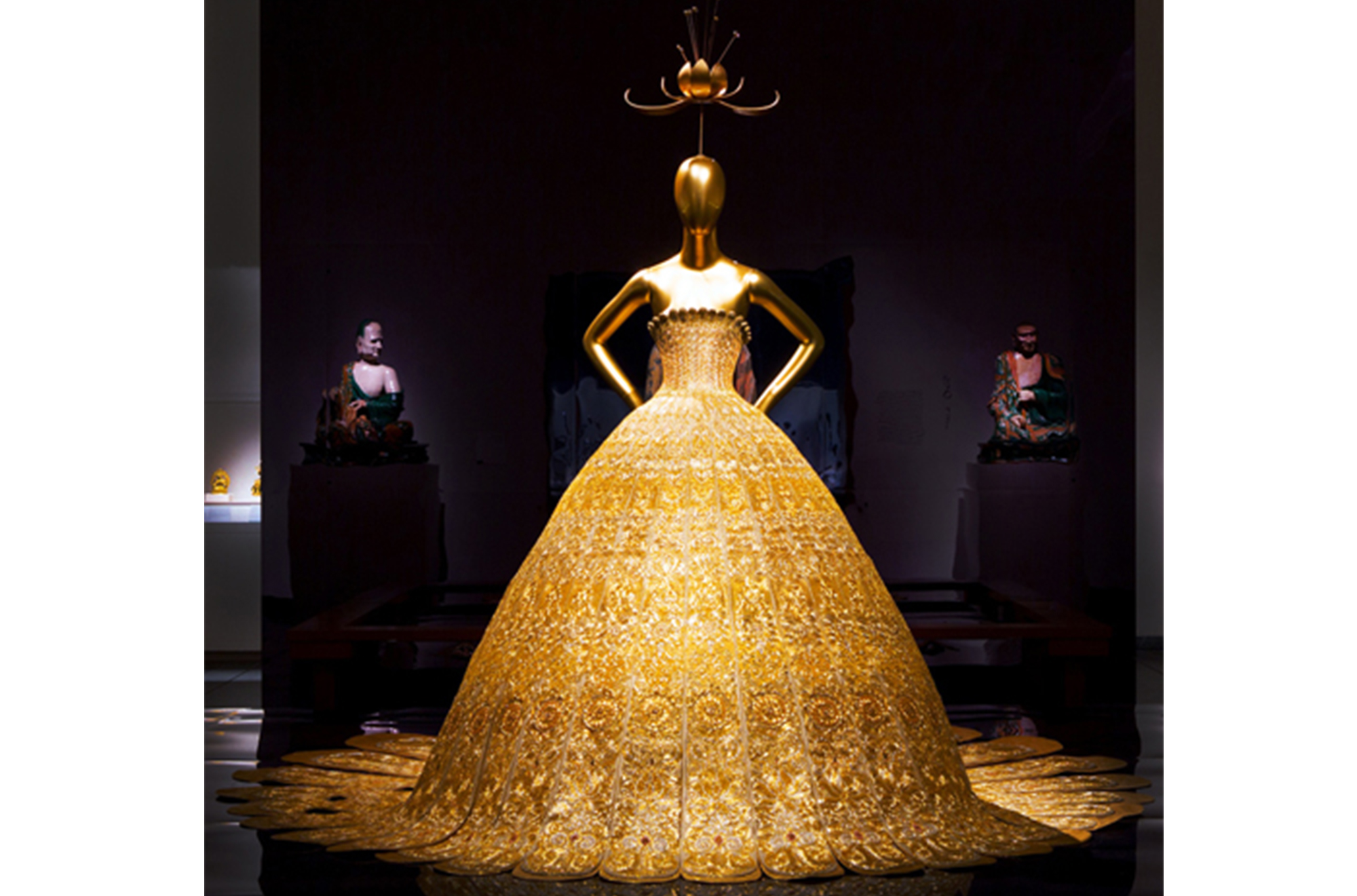 Photo: Courtesy of the Metropolitan Museum of Art
The Met's China: Through the Looking Glass

The opening of China: Through the Looking Glass put the cultural appropriation debate front and center in 2015. Here was one of the most important cultural institutions in America acknowledging that appropriation in from eastern cultures in western fashion is constant, if not a staple. But there are nuances to this debate. The Costume Institute's head curator, Andrew Bolton, worked closely with the Department of Asian Art at the Met, which held the exhibition accountable and prevented mockery of Chinese culture. However, while Chinese-inspired designs from the likes of Yves Saint Laurent and Alexander McQueen abounded, there was a notable lack of actual Chinese designers in the exhibition. The New York Times described the west's appropriation of Chinese culture as "lookism, attention to surface as a measure of value and authenticity."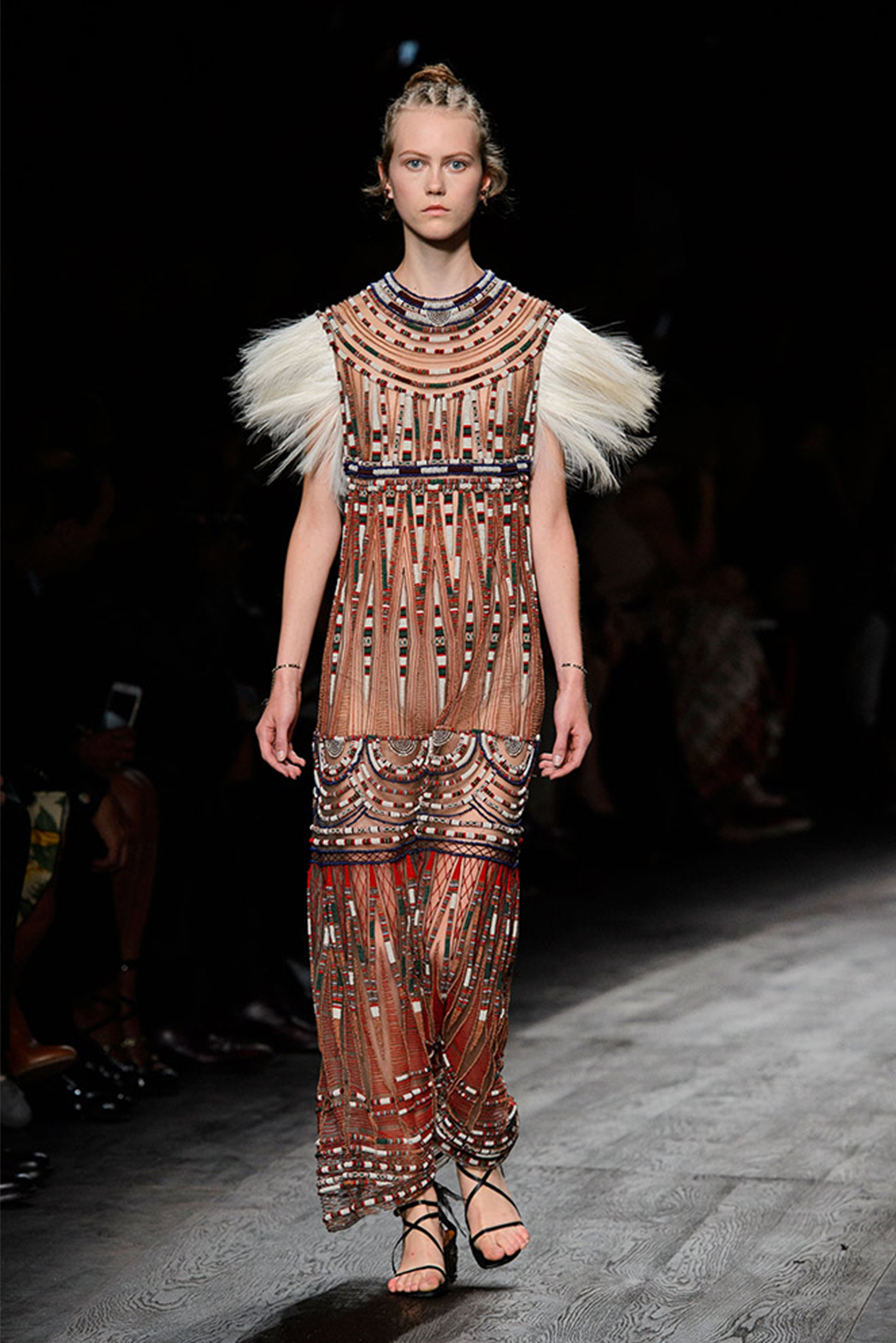 Valentino Spring 2016
Photo: @gracefashbook / Instagram
Valentino's "Africa-Inspired" Collection

To say that a collection is "Africa-Inspired" shows a complete disregard for the many cultures found on the African continent. That's why Valentino's Spring 2016 collection was viewed as a stereotype of Africanism rather than a celebration of it. Designers often forget Africa is a continent made up of over 50 countries and has the highest linguistic diversity in the world (up to 1,500 languages and dialects are spoken on the continent). So when Valentino featured a cast of mostly white models wearing cornrows and dreadlocks and described the collection as "wild" and "tribal," the brand set itself for scrutiny and belittled the value and heritage of Africa's many cultures.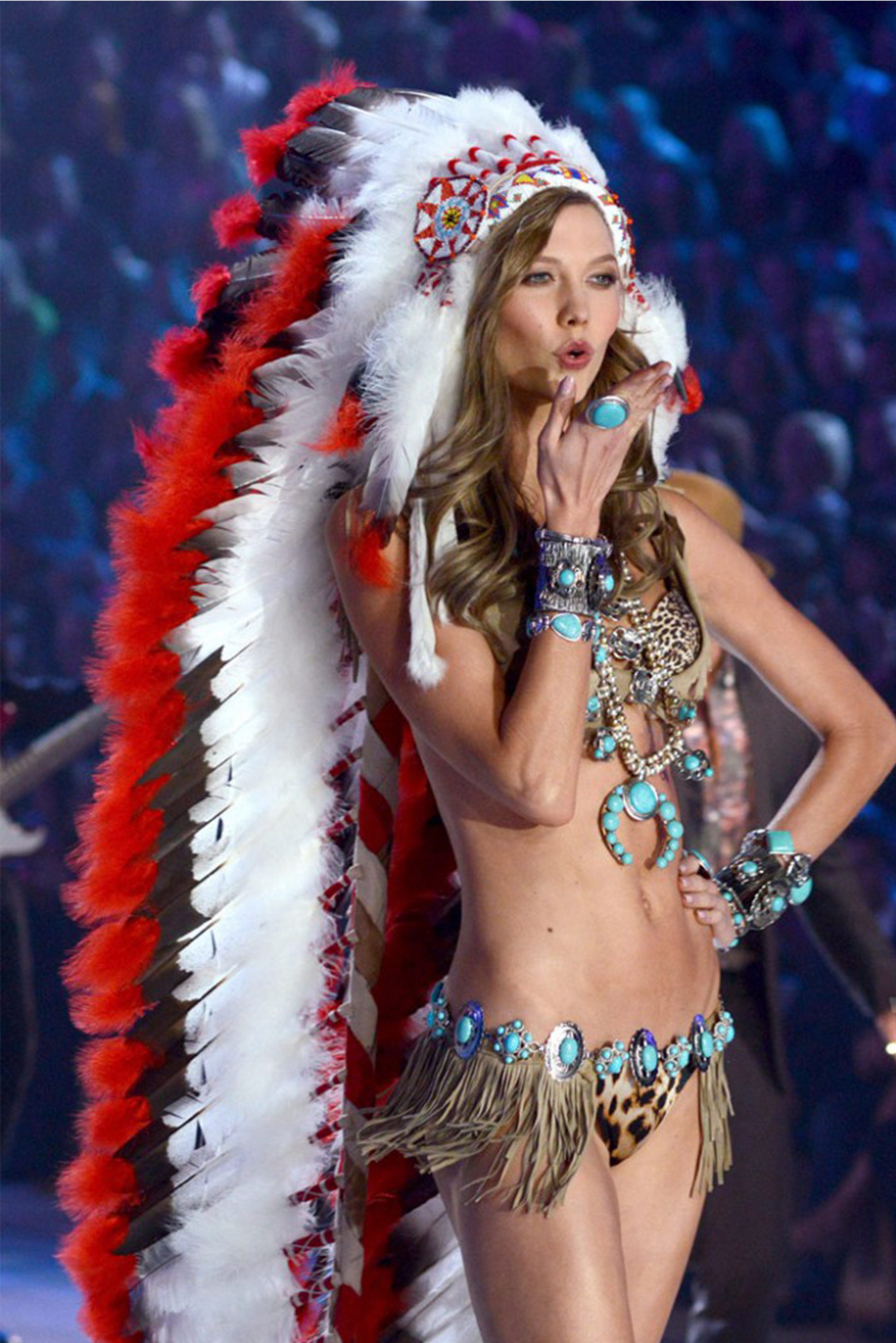 Photo via Pinterest
Victoria's Secret's Native American Look

Karlie Kloss stepped on the Victoria's Secret runway in 2012 to much controversy. The lingerie brand opted to dress Kloss in a Native American-inspired headdress and leather lingerie to signify Thanksgiving in a holiday-themed section. At the time, the site Native Appropriations wrote: "Besides the daily harm of these ongoing microaggressions for Native folks, the sexualization of Native women continues to be an ignored and continuing epidemic." The outfit never made it to the broadcast and Kloss issued an apology.
0 Comment