Since it's debut issue in 2012, Document Journal has always been able to balance wide-ranging topics with the intelligence and space of a specific interests publication. Fitting in essays about how art thrives in times of cultural strife, or the reflections of Japanese internment camp survivors (both of which appear in the new issue), beside 40-page fashion editorials and making it all flow is no easy feat. But perhaps most surprising is that the magazine is doing this all in hard copy, independently, in a time when things seem uncertain for print media.
"When we started, there was nothing else. No one could believe we were starting in print," said editor-in-chief, creative director, and co-founder Nick Vogelson, noting that after a brief publishing boom in the early 2000s, many magazines were closing. "They were like, Are you crazy? Why is it not just online?"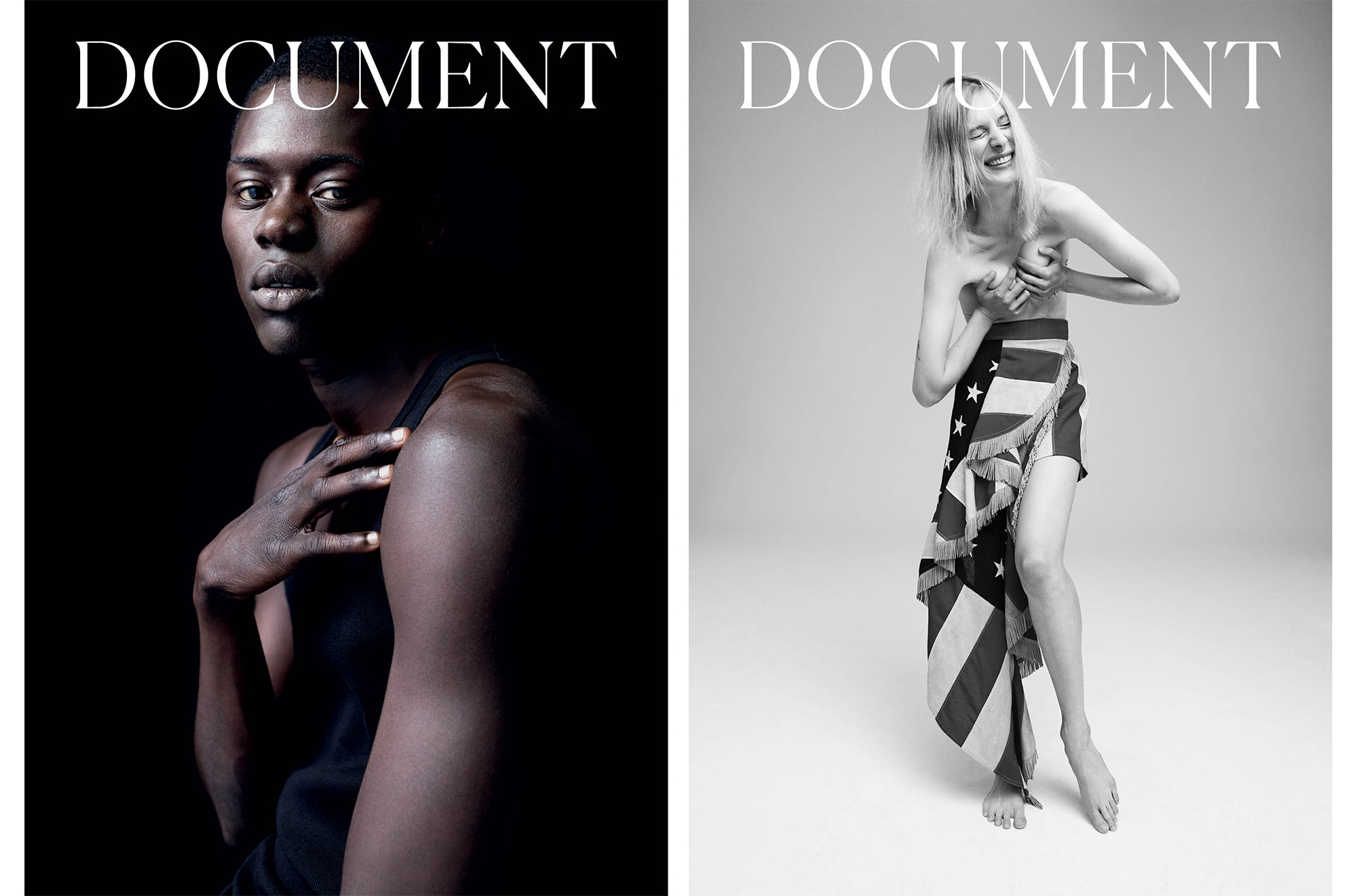 From left: Alpha Dia and Julia Nobis in exclusive Calvin Klein covers shot by Willy Vanderperre
Photos: Courtesy of Document Journal
Now celebrating its fifth year with issue 10, Document Journal is still going strong. The latest installment boasts seven covers—two of which are Calvin Klein exclusives—and is over 500 pages, making the largest Document installment yet. Contributors include Inez and Vinoodh, Mario Sorrenti, Willy Vanderperre, Joe McKenna, Bruce Weber, Venetia Scott, George Condo, and Dana Schutz, among others, as well as conversations between Toni Morrison and Junot Diaz, Whoopi Goldberg and Hood by Air's Shayne Oliver, and Alissa Bennett with Lena Dunham.
Below, FU spoke to Vogelson about the last five years, where he sees the magazine going, and what it's like pulling an issue together.
Aria Darcella: Those are two big numbers at once: five-year anniversary, but then also issue 10. What was it like putting it all together?
Nick Vogelson: I think for us, each issue is a really nice challenge to try and work with some of the most amazing, interesting people from across generations, and to try and keep doing that again, and again, raising the level. It's like a mental exercise—how do you pair someone that you haven't heard about in 20 years with someone that's brand new, and how does it all make sense? And why now? A lot of times, it's not about just doing a magazine of who's in the next movie? and whose album is coming out? but why are we pulling someone from the past, now? and who do we pair them with?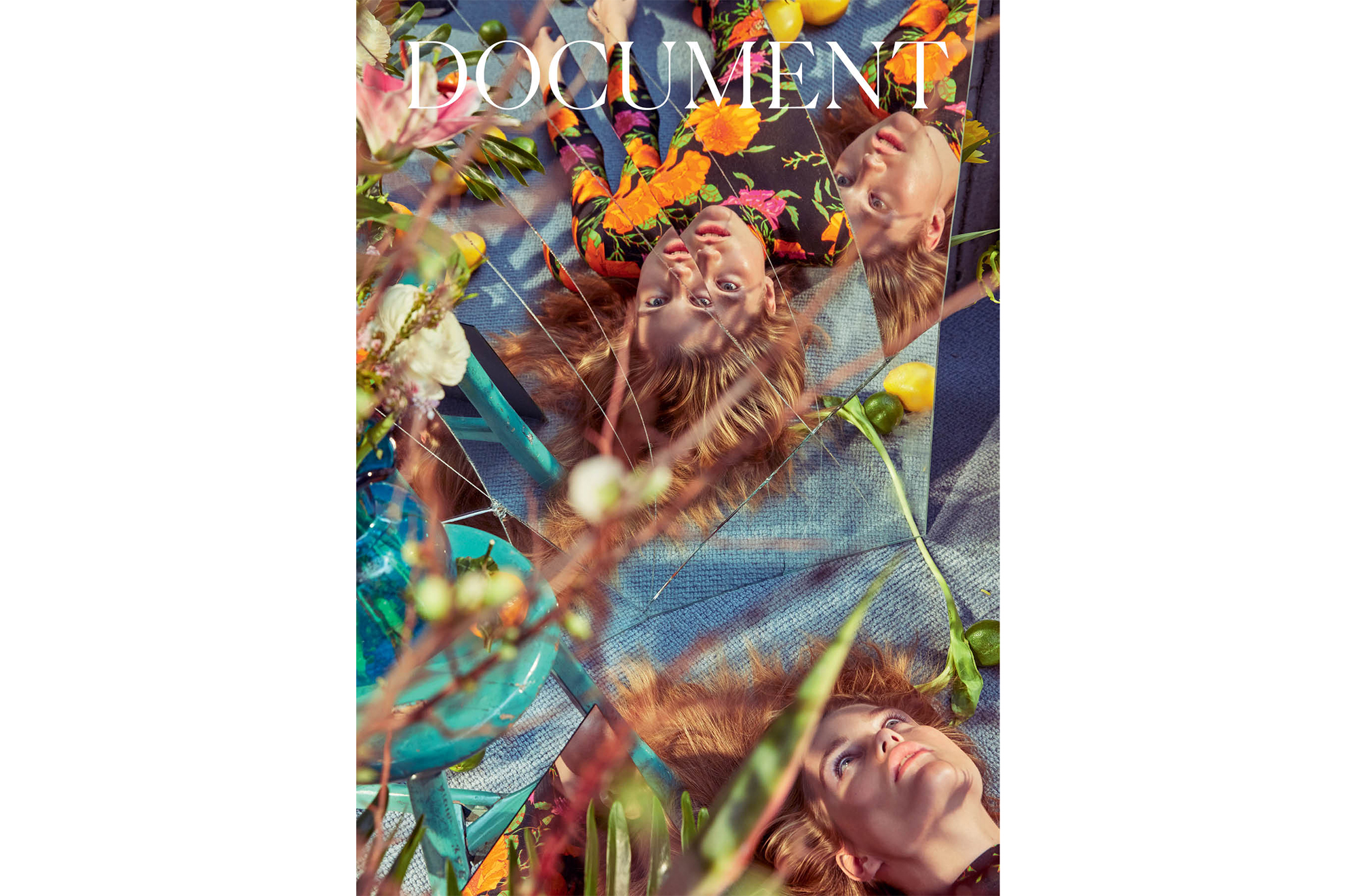 Luna Bijl by Mario Sorrenti
Photo: Courtesy of Document Journal
AD: In your personal opinion, what's the appeal of print?
NV: On a most basic level, I think that there's a beauty to the object. There's a beauty to holding it, opening it, exploring it, to going through it and feeling the paper. People always still talk about the smell of it—really like, visceral…how you interact with this object in front of you? But I think for me, it's also important to be able to do something that's cataloguing a time and a place, or multiple times and multiple places. It's something that you can go back and reference. For example, if you find an amazing article online, you probably can't find it the next day. And if you bookmark it, it might not be there in a year. Doing something that you can really put on your shelf, and that you can come back to and reference, I think there's a value in that.
AD: Do you ever bring that in when you're building the issue? Are you thinking about it as a "timeless" object as you're going through the process?
NV: Very much. I think the way we approach connections, especially conversations, and especially who we profile, is who is going to be relevant now, but also 10 years from now, and 20 years from now. Even looking back at the first issue, there's still articles that I would put in the 10th issue. So it's not just people of the moment, or things that are more fleeting, but things that really impacted culture in different ways.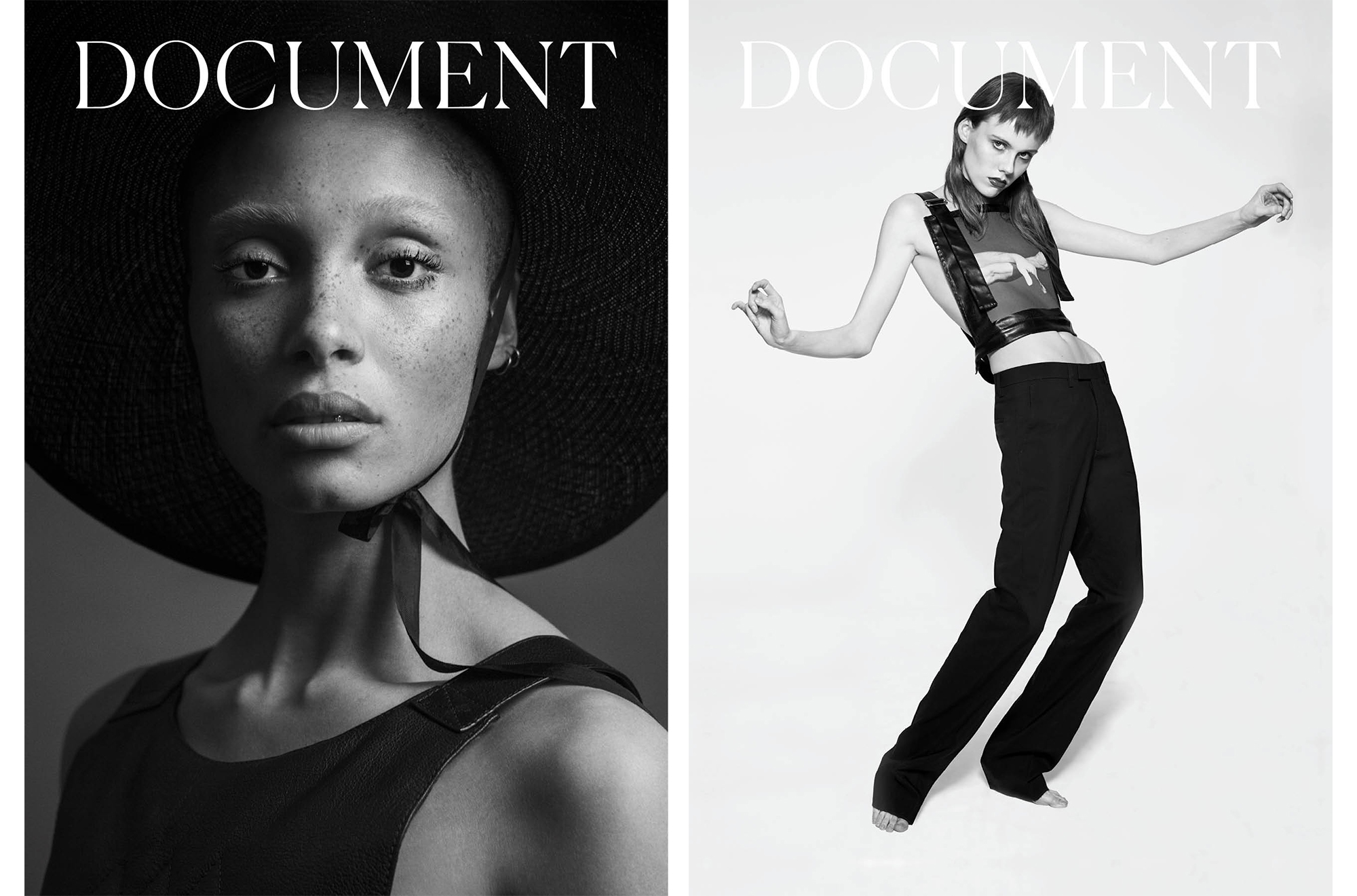 Left: Adwoa Aboah by Inez and Vinoodh; Right: Kiki Willems by Terry Richardson
Photos: Courtesy of Document Journal
AD: How do you measure culture?
NV: For me, measuring culture is about figuring out something that's unexpected. Something you haven't seen before. Something people are doing in a way you haven't seen done. And it's important for us to have a mix of unexpected contributors. So it's a contributor you might see in The New Yorker, or someone you might see on HBO. Someone that could be in Vogue or someone that could be in The Economist. It's really important to feel like it's a cross section of everything you come across.
AD: Where do you see the future of publishing going?
NV: I think that's the question everyone is trying to figure out. I mean, I think the easiest answer is that whether it's print or online, it's about the voice. Building the voice of the brand, regardless of the medium, is the most important part.
AD: What about Document, specifically? What do you see for the future of the publication?
NV: It was very important for me to set goals. My initial goal was a five-year goal, and then I had a 10-year goal. I think the goal for the next five years is to maintain print. Build print, and then also build access to it through online. We started Document in print because we had the values of print, which is just to say that we wanted to have that object quality, to have something in front of you, something to interact with and catalogue. But not everyone can afford a $20 magazine. And not everyone's in a big city and can find a store that has it. So I think it's important to me to build out that voice, but make it more accessible, too.
The new issue of Document Journal is available next week.
0 Comment