Yesterday afternoon, the world learned of a cold, hard fact that fashion folk have known for some time: The '70s are back. Until recently, this frightening resurgence was fairly well contained on the runways of Saint Laurent, Gucci, Chloé, and the like, as well as within high-end boutiques, retailers, and the pages of glossy magazines. But now, as so many fashion trends do, the craze has gone mainstream, infiltrating the U.S. government.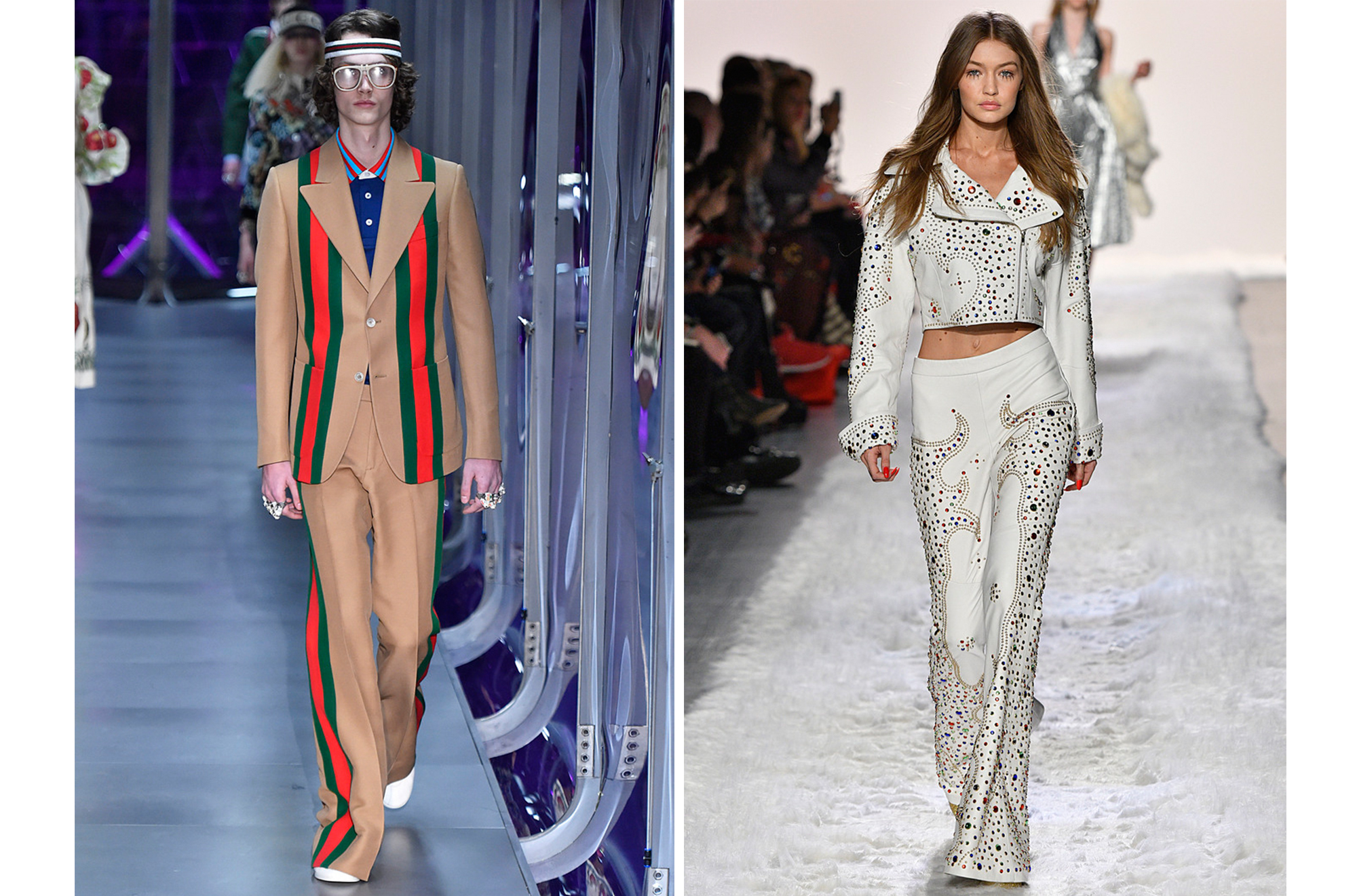 Gucci and Jeremy Scott Fall 2017 Ready-to-Wear
Photos: firstVIEW
Much like third-wave feminism (which also obviously started on the catwalk, thanks to Karl Lagerfeld's Spring 2015 supermodel protest at Chanel, a display that truly got to the root of the contemporary female struggle), POTUS 45's decision to fire FBI director James Comey while he was investigating the President's team for involvement with Russia—a move that recalls Richard Nixon's 1973 firing of Archibald Cox, a special prosecutor who was investigating him at the time for the Watergate scandal—could only have been inspired by Prada's Fall 2017 corduroy suits, or perhaps Jeremy Scott's Elvis-esque outfits. And honestly, given the commercial and editorial popularity of Saint Laurent's '70s rocker looks and Gucci's retro wares, maybe 45 is just trying to steal a page from Kering's book to up his dwindling approval rating. No signs yet that this has been terribly effective, but there have been whispers that 45 is looking to bring in Hedi Slimane (who no longer helms Saint Laurent, but is wholly responsible for the brand's ongoing '70s aesthetic) and Alessandro Michele as White House advisors. Given their complete lack of political experience, it's assumed that, if appointed, they'd also assist Jared Kushner with overhauling the government and brokering peace in the Middle East.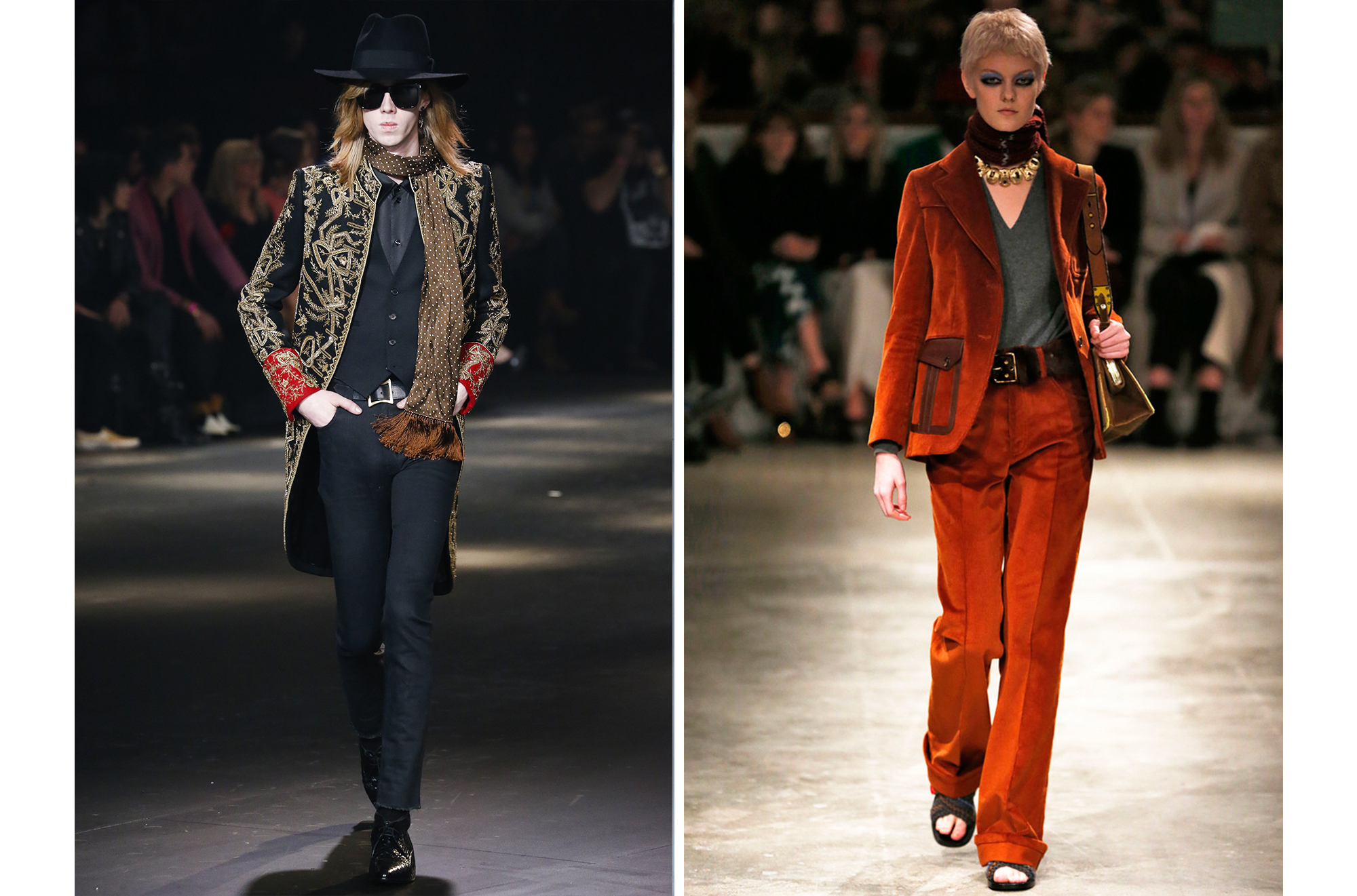 Saint Laurent Fall 2016 Menswear and Prada Fall 2017 Ready-to-Wear
Photos: firstVIEW
In truth, we should have seen all of this coming. Nixon's wife, Pat, was snapped wearing a pussy bow blouse during her husband's presidency, and the Dior gown Melania Trump donned to meet the Australian Prime Minister in New York last week was almost the exact same shade of yellow as Mrs. Nixon's 1969 inauguration gown. Um, hello, calling all conspiracy theorists, how did you not catch this?
Actually, now that I think about it, Russia is probably taking cues from fashion, too. Demna Gvasalia and co. are all about the vulgarity of the 1980s. Do you think Putin came up with this spying and tampering nonsense on his own? False. He was just checking out the Paris collections—specifically Balenciaga Spring 2017. Ugh, politicians are such cool-chasers. And you know, the '90s have been permeating the collective fashion consciousness for some time now, what with all that grunge and deconstructivism. What's next? A Clinton-style presidential sex scandal? Oh, wait…
0 Comment