"A beautiful print is a thing in itself," reads a quote from Irving Penn in the Met's new retrospective, Irving Penn: Centennial. A fine choice of words for an exhibit of images that are as captivating together as they are alone, and fitting for an exhibit that focuses on the artist's prints as he intended them to be seen.
Penn was one of fashion photography's seminal artists, with a career that spanned seven decades, and produced images that still circulate today. Co-curated by Maria Morris Hambourg and Jeff L. Rosenheim (the Joyce Frank Menschel Curator in Charge of the Department of Photographs at the Met), the exhibit—which celebrates Penn's 100th birthday—is one of the largest of his work to date, and the third monographic Penn show the museum has put on.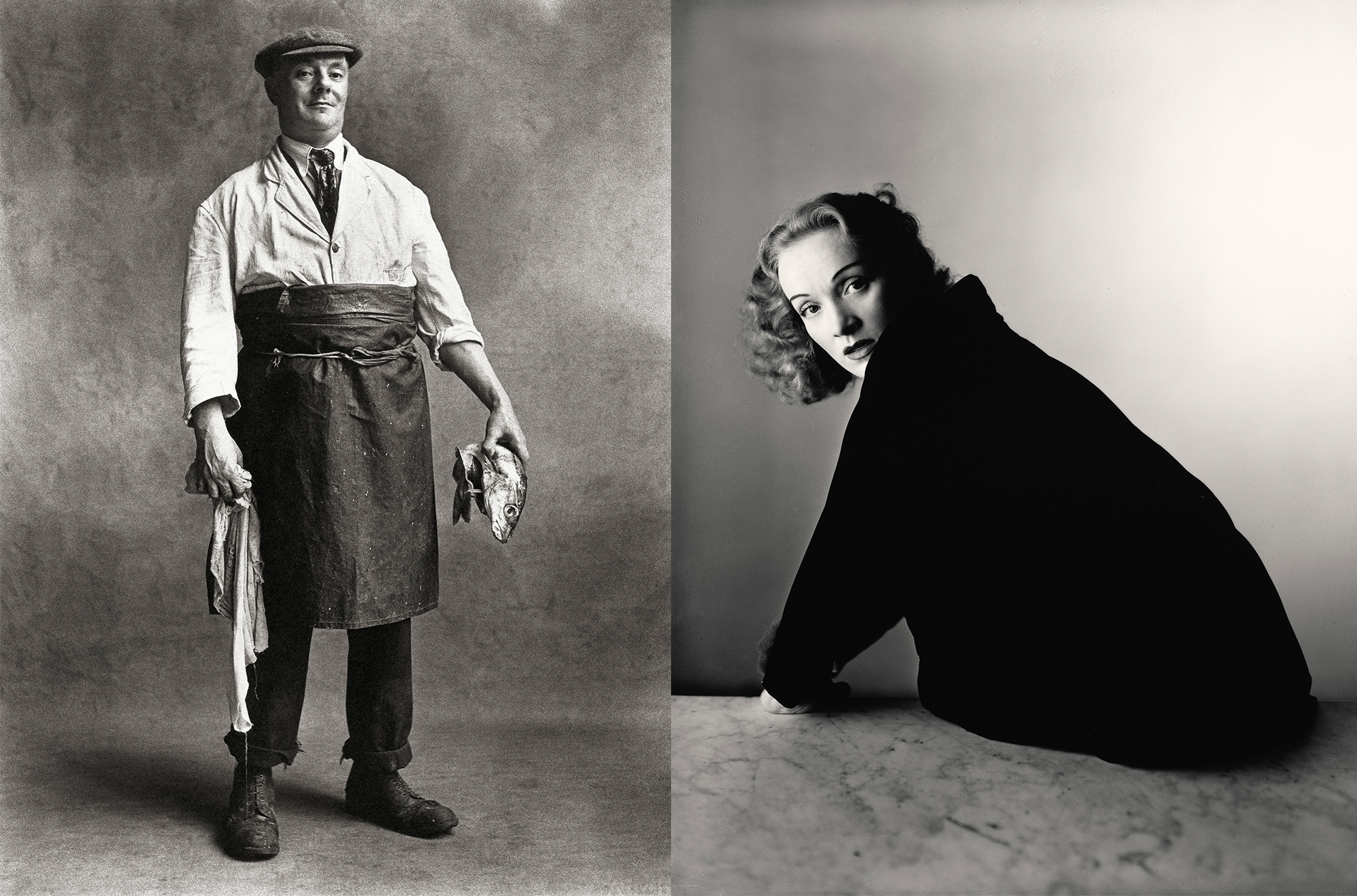 Left: "Fishmonger" 1950; Right: "Marlene Dietrich" 1948
Photos: Courtesy of the Metropolitan Museum of Art
"He was a consummate artist, so no detail was left unexamined," explained Hambourg, who also curated the Met's last Penn exhibit, Earthly Bodies: Irving Penn's Nudes, 1949–50, working with the photographer himself. "As a result, these pictures have a kind of authority, and an exemplary quality that is hard to deny. They simply are very great, very beautiful."
Penn's body of work, and thus what is on display, is wide-ranging. He crafted portraits of some of the 20th century's most influential figures (Marlene Dietrich, Truman Capote, and Pablo Picasso among them), as well as everyday people in their work clothes (the Small Trades series), with equal care and attention. His still life work ranged from flowers to discarded cigarettes found in gutters. The man was equally talented behind the camera as he was in the darkroom, experimenting with the printing of images to produce photographs that, on first glance, are deceptively simple. It is this mastery of portraiture and still life photography that Hambourg believes made his work in fashion excel—the ability to capture the qualities of the clothing, as well as the person wearing it.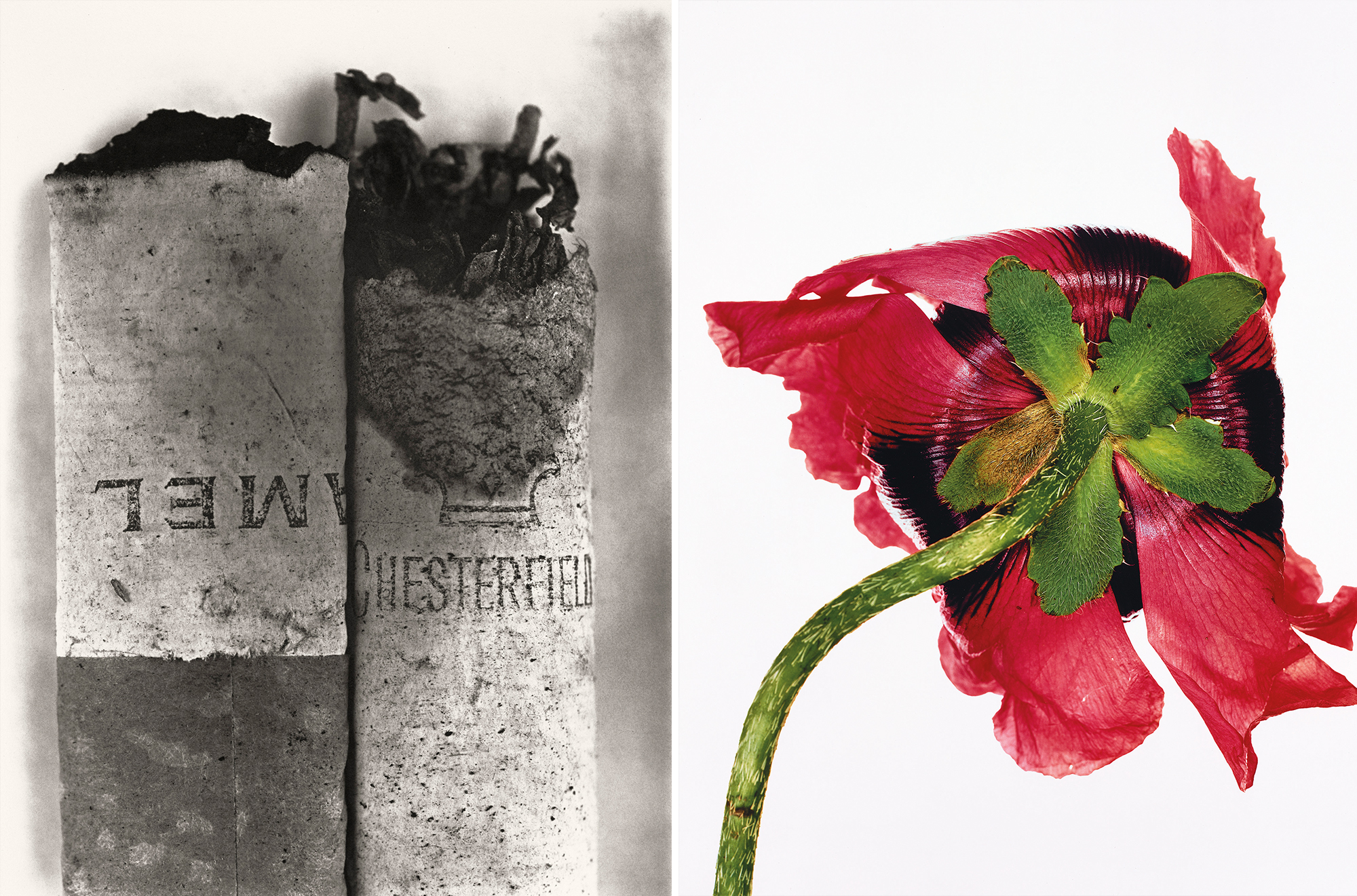 Left: "Cigarette No. 37" 1972; Right: "Single Oriental Poppy" 1968
Photos: Courtesy of the Metropolitan Museum of Art
"I think a lot of people are interested in making a splash in fashion photography, showing something that's sensational, that really draws your attention," she reasoned. "Penn was not sensational. He was interested in that kind of precision. Placement, precision, posing, perfect lighting, and of course, the gaze—what that model's face was doing in the picture."
In addition to Penn's work, the exhibit also includes the painted-over theater curtain he favored as a backdrop for many of his photographs, as well as rare video footage of him at work in Morocco, taken by his wife Lisa Fonssagrives-Penn—a model, and his muse, who appears in many of the fashion images on display.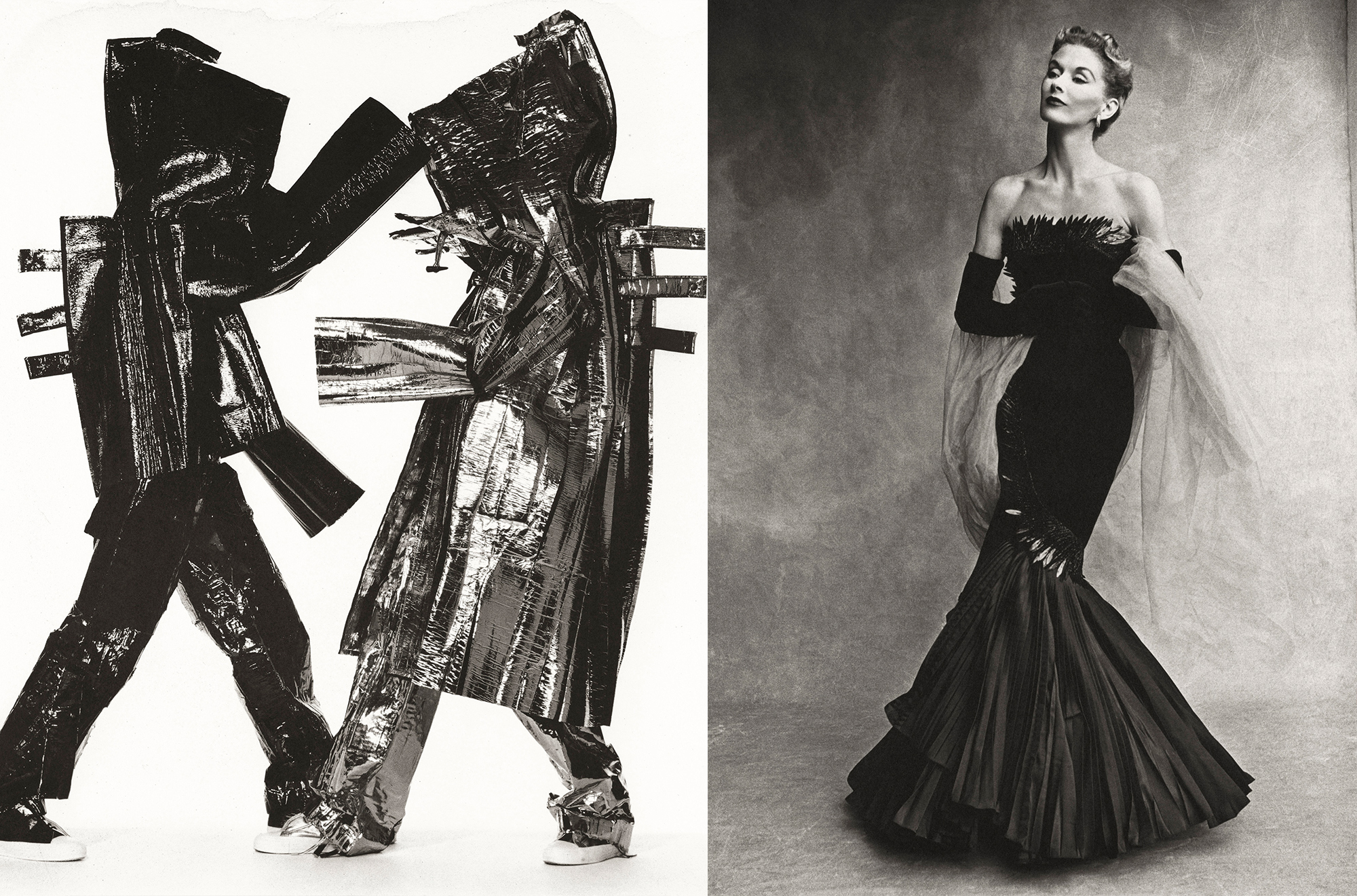 Left: "Two Miyake Warriors" 1998; Right: "Rochas Mermaid Dress (Lisa Fonssagrives-Penn)" 1950
Photos: Courtesy of the Metropolitan Museum of Art
"I think those four photographs of Lisa Fonssagrives are so arresting," Hambourg said, pointing to images of the model from 1950, when asked which photos in the exhibit catch her attention the most. "What seems to be a relationship to the viewer is so alive—she's so in the moment, and yet they are so distilled as form. The forms, and the tones, and the expression, and the fashion—it's all one thing in Penn."
Irving Penn: Centennial opens April 24 at the Metropolitan Museum of Art in New York, and will run until October 30.
0 Comment