The pieces in Known/Unknown: Private Obsession and Hidden Desire in Outsider Art, the new exhibit at the Museum of Sex, are almost embarrassingly compelling. Not because of their explicit nature, but because of their honesty. These works on display were not meant to be seen. Almost like a diary, they were made for pure enjoyment, often in secret. As a result, viewers may find themselves feeling like a voyeur, a vicarious trespasser into these secret lives.
"A lot of these works were not made for a public audience or made for commercial reasons. They weren't shown for many, many years, sometimes until the artist died," said Lissa Rivera, curatorial associate at MoSex. "It is a kind of intimate look at someone's fantasy, that's not necessarily erotic in a voluptuous sense. It's just a very privileged opportunity to kind of get a chance to be in someone's mind, in a way—to see what they were working through."
Opening today, Known/Unknown features over 100 pieces of art, including paintings, sculptures, and objects, all produced by untrained artists, many of whom lived in some form of isolation."We wanted to explore the outsider art world," said Museum of Sex Director of Exhibitions Mark Snyder. "We know [some of] the stories behind them. Sometimes we have to put those pieces together and intuit what the artist was creating or why."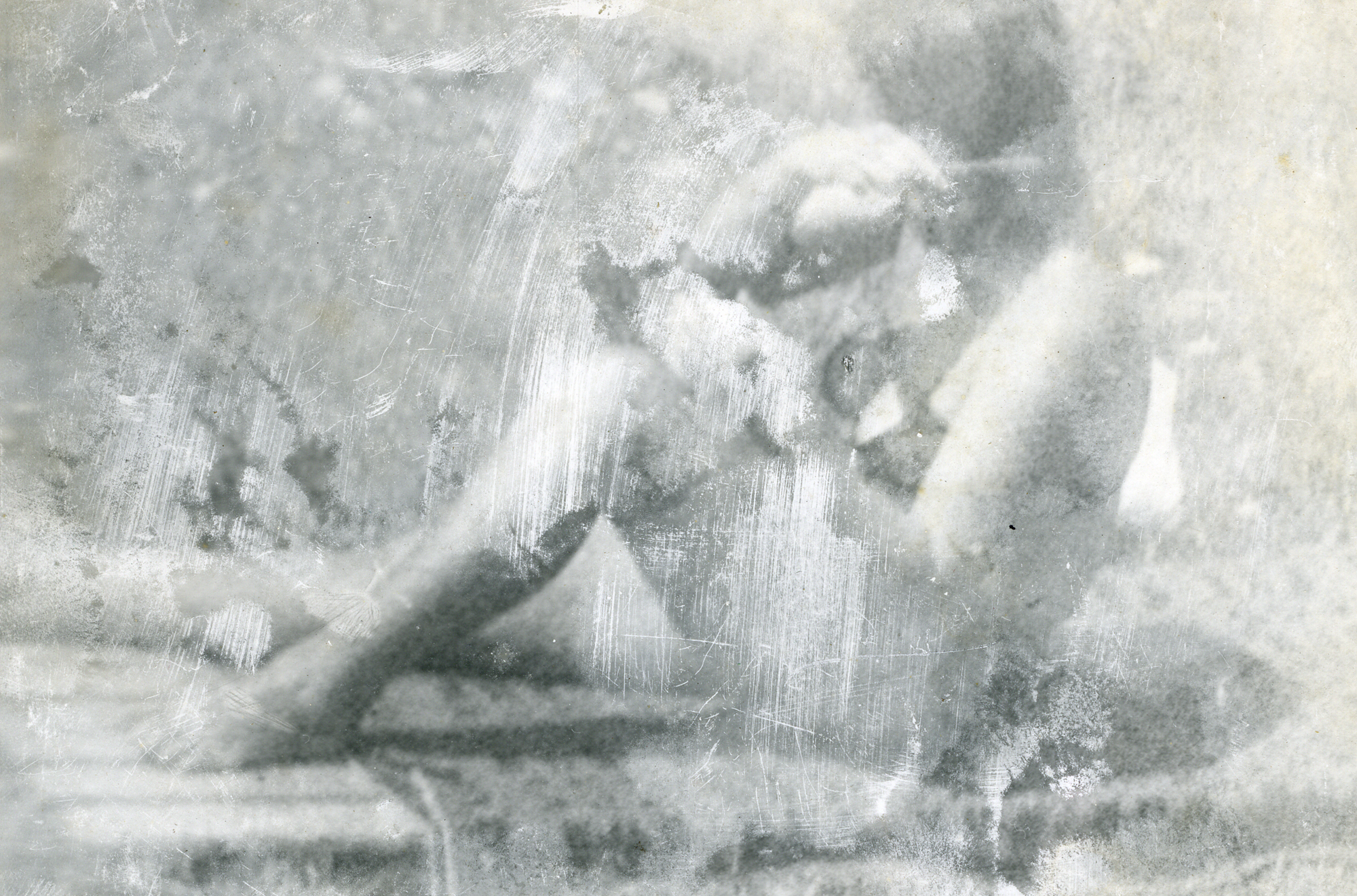 Mixed media on photography, on cardboard by Miroslav Tichy
Photo: Courtesy of The Museum of Sex
"The exhibition is entirely outsider, self-taught, and folk. You're talking about people who are operating outside of the art historical continuum. People who are not academics, people who are not formally trained," adds head curator Frank Maresca, who aimed to question if there was a difference between outsider art and the academic arena. "I personally don't think that there's a difference," he muses. "They manifest in different ways. But the level of excellence and the level of communication really is the same. Same as the best."
Among the highlights in the exhibit: the paintings of Royal Robertson (whose renderings of adulteresses were created following a mental breakdown that led to a paranoid obsession with his wife cheating); and the exquisite carvings of Gil Batle, who etched memories of his time in prison into ostrich egg shells (the particular eggs in Known/Unknown were made for the show). Not everything is so melancholic.Eugene von Bruenchenhein took fantastic nude photographs of his wife Marie. And Edwin Lawson who made a hobby out of depicting his interpretation of changing women's fashions. "We're trying to create a very diverse look at the different ways of manifesting sexuality, obsession, and desire," explained Snyder.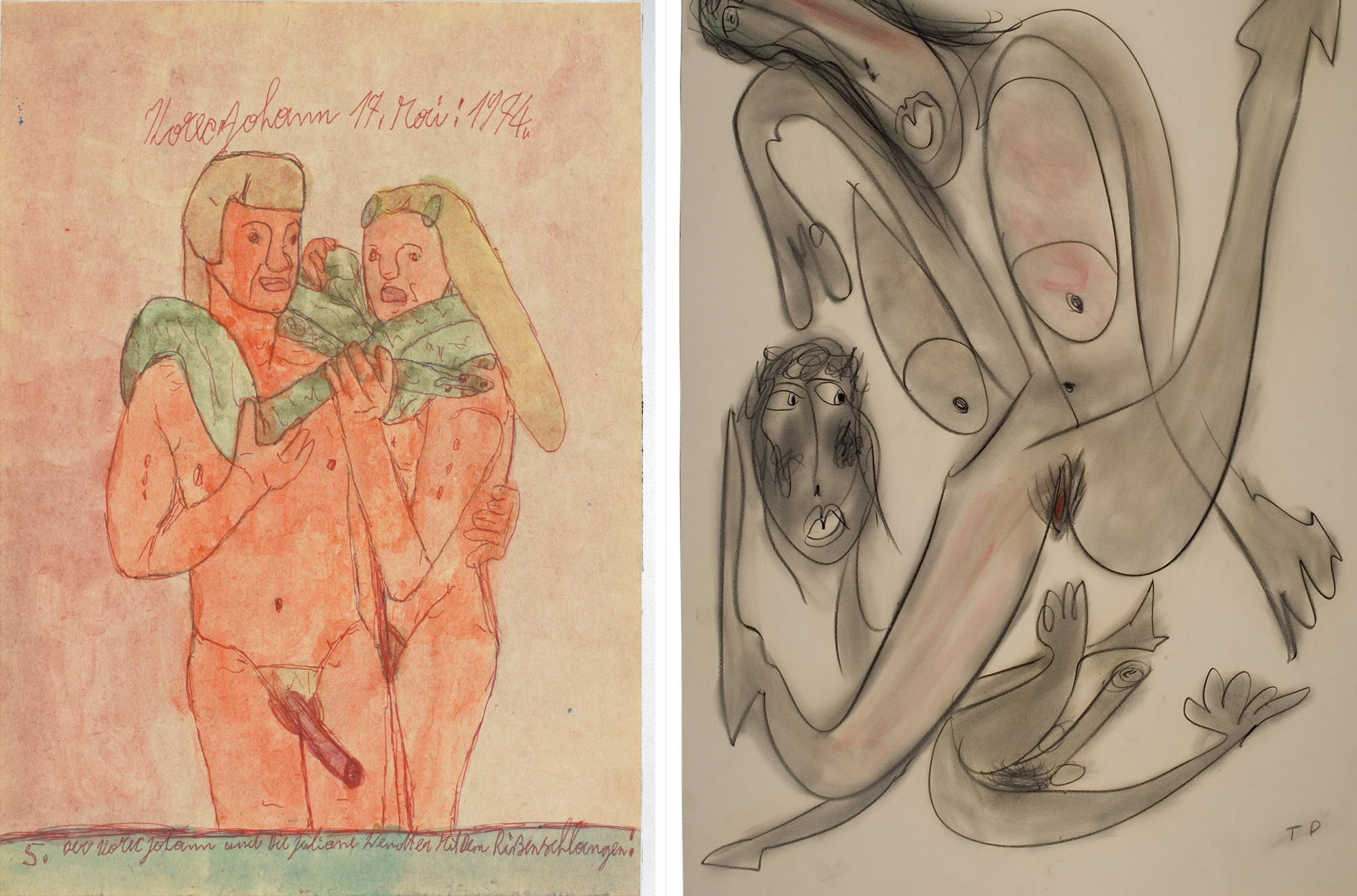 Left: Johann Korec, "The Korec Johann", 1974; Right: Thornton Dial, "Untitled (Two Hands Reaching)", 1993
Photos: Courtesy of The Museum of Sex
These deeply personal works of art don't offer a complete picture of who the creator was—it's often a complete mystery—but what is not lost is the raw humanity that runs through every piece. "We give our viewers a window into these lives, and hopefully also creates empathy for people towards themselves, when they see that there's a lot of different ways to have sexual expression," said Rivera. "And anyone can try to make art. It can be beautiful even if you didn't go to art school."
Known/Unknown: Private Obsession and Hidden Desire in Outsider Art is on view now at The Museum of Sex until September 16.
0 Comment