Academic consideration of the '60s often looks at youth and cultural shifts, usually pertaining to fashion's connection to identity and personal dress practices. It's understandable—the decade was a time of very radical change in society. But major changes in the actual business of fashion took place in this era as well—an actual shift in how the industry itself operates. When discussing the humanity of fashion in this era, many focus on London, but when assessing how we moved towards our modern idea of consuming apparel, how brands court consumers, and what we consider luxury, one must study Paris—which is exactly what Paris Refashioned, 1957-1968 does in detail.
Attendees arrive in the basement exhibit space to a room of couture that, for the most part, predates the time span explored. The result is two-fold, contextualizing what couture (and therefore, fashion) had been prior—thereby establishing what was being revolutionized—as well as introducing the names and houses to be further explored. "I talk about a very specific time period in French fashion, beginning in '57," said curator Coleen Hill. "So I start here because it really sets the tone for what we're going to see in '60s fashion."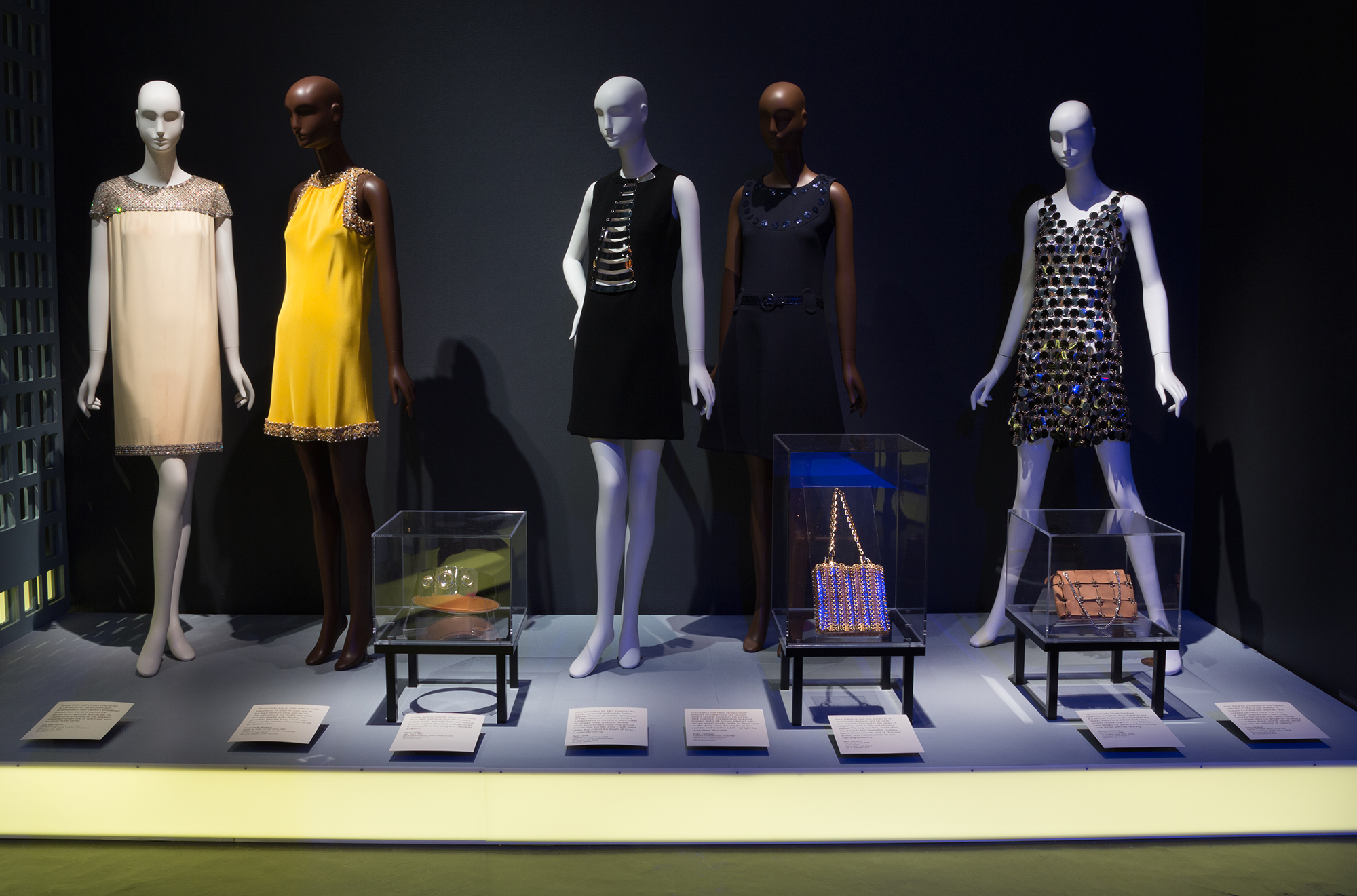 Main gallery. Garments, from left: Yves Saint Laurent, Pierre Cardin Boutique, Pierre Cardin, André Courrèges, and Paco Rabanne. Accessories (in cases) from left: belt by Pierre Cardin, bag by Paco Rabanne, and bag by Emmanuelle Khanh
Photo: Courtesy of The Museum at FIT
From there, one enters the main room, which mixes couture and ready-to-wear, often having multiple works from the same designer beside each other. "Unless you're a real expert, the only way you can tell what's what is by looking at the labels," she explained, noting her desire to underscore the increased importance of ready-to-wear in France. "It's not that ready-to-wear didn't exist in France prior to this period—it absolutely did. But it was essentially de-stigmatized. American ready-to-wear had been something that was developed and appreciated decades before. French-made ready-to-wear was kind of cheap--it was of inconsistent quality. A fashionable woman wouldn't really go near it."
Though ready-to-wear already existed prior to the decade, the modern way in which we regard it—in which certain brands are considered "high" fashion, despite not producing couture—began with some couture designers reaching out to youthful customers by expanding into off-the-rack wears. Dior introduced Miss Dior, Yves Saint Laurent famously opened his Rive Gauche line and boutique, and André Courrèges had not one, but two diffusion lines, Couture Future and the even cheaper Hyperbole.
"Courrèges has an interesting story in that when he started in 1961, he wanted to be known as a very modern couturier. Purportedly someone came up to him after his first presentation and said, 'I loved your clothes, but how can you equate your very expensive couture clothing with modernism? Isn't that expensive clothing distinctly un-modern?' And that really stuck with him," said Hill, explaining that he shut down his house temporarily in 1965. "When he relaunched in '66, this is what he came up with—these three distinct lines that he presents at the same time to give them even more of a democratic appeal."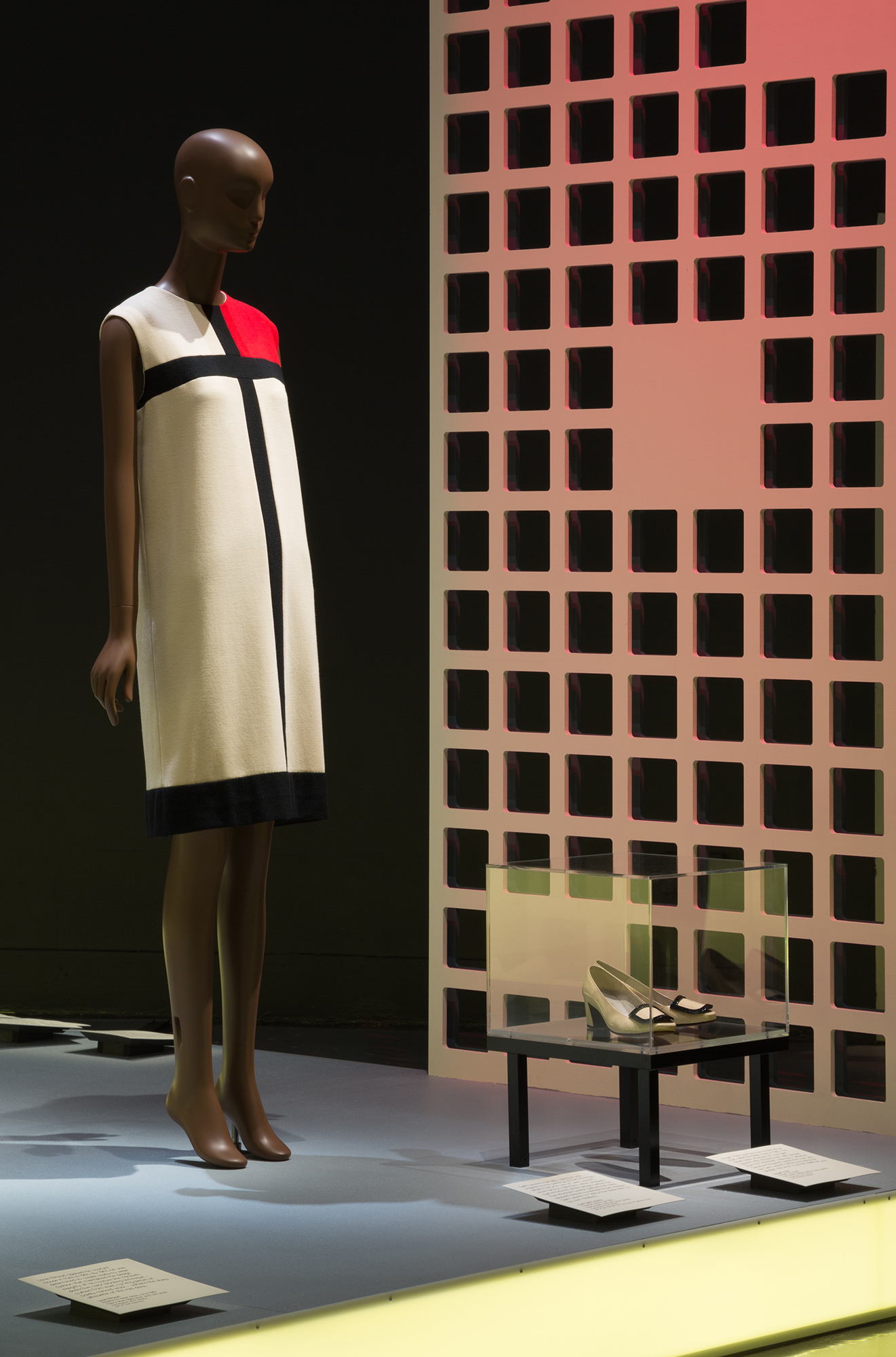 Main gallery. Dress by Yves Saint Laurent, shoes by Roger Vivier
Photo: Courtesy of The Museum at FIT
The rise of French ready-to-wear designers such as Emannulle Khanh and Sonia Rykiel is also a major part of what is on display, highlighting how the young designers were influencing the couturiers, sometimes driving them out of relevancy. The idea of youth changed not only the styles created, but the power the customer had.
"Once we get to the '60s, fashion is truly modern in away that we can all identify with, and probably all pinpoint something that we would wear in the show," she said.
Hill hopes people walk away with an understanding of how fashion was democratized in the '60s, both in style and price. "Prior to this period there were true mandates from couturiers, and basically every woman was wearing some version of a couture dress. Even if it was incredibly watered down and low-end, it was coming straight from the top. This is a time period that we do begin to see a lot more choices, a lot more individualization, and just a completely different approach to how we as individuals think about fashion."
Paris Refashioned, 1957-1968 is on now at The Museum at FIT, and will run until April 15.
0 Comment