In case you were unaware, champagne houses throw really great parties. Like, obscenely great parties. Take, as evidence, last week's fabulously bubbly Dom Pérignon fete in New York, during which it launched a trinity of new vintages—a global first for the brand. The Vintage 2009, Rosé 2005, and P2 2000 were all uncorked to much toasting and celebration at a swanky soirée held at Irving Plaza, where lucky guests danced, mingled, and sipped—to put it bluntly—pure luxury. The prestigious champagne house went so far as to commission a custom cabaret performance—in three parts, naturally—by Manko Paris, a favorite entertainment destination amongst the fashion set. The scene was very Glamorama, complete with confetti and '90s house music, and the whole party was as lush and decadent as each glass of champagne served.
Speaking of the fashion set, have you ever noticed how much fashion loves champagne? I mean, we love it. It's basically our primary source of calories. (It's not. I just had a cheeseburger for lunch. But stay with me.) Honestly, have you ever seen a picture of a fashion party that wasn't peppered with glasses of the effervescent drink? I thought not. So while attending a private tasting of Dom Pérignon's three new offerings with the house's Chef de Cave, Richard Geoffroy, and Master Winemaker, Vincent Chaperon, I couldn't help but ask, why is fashion so obsessed with champagne? I figured this pair would have some sufficient answers, given that Dom Pérignon is no stranger to fashion—if you'll remember, back in 2014, the brand collaborated with conceptual couturier Iris van Herpen, a project Geoffroy called "outstanding."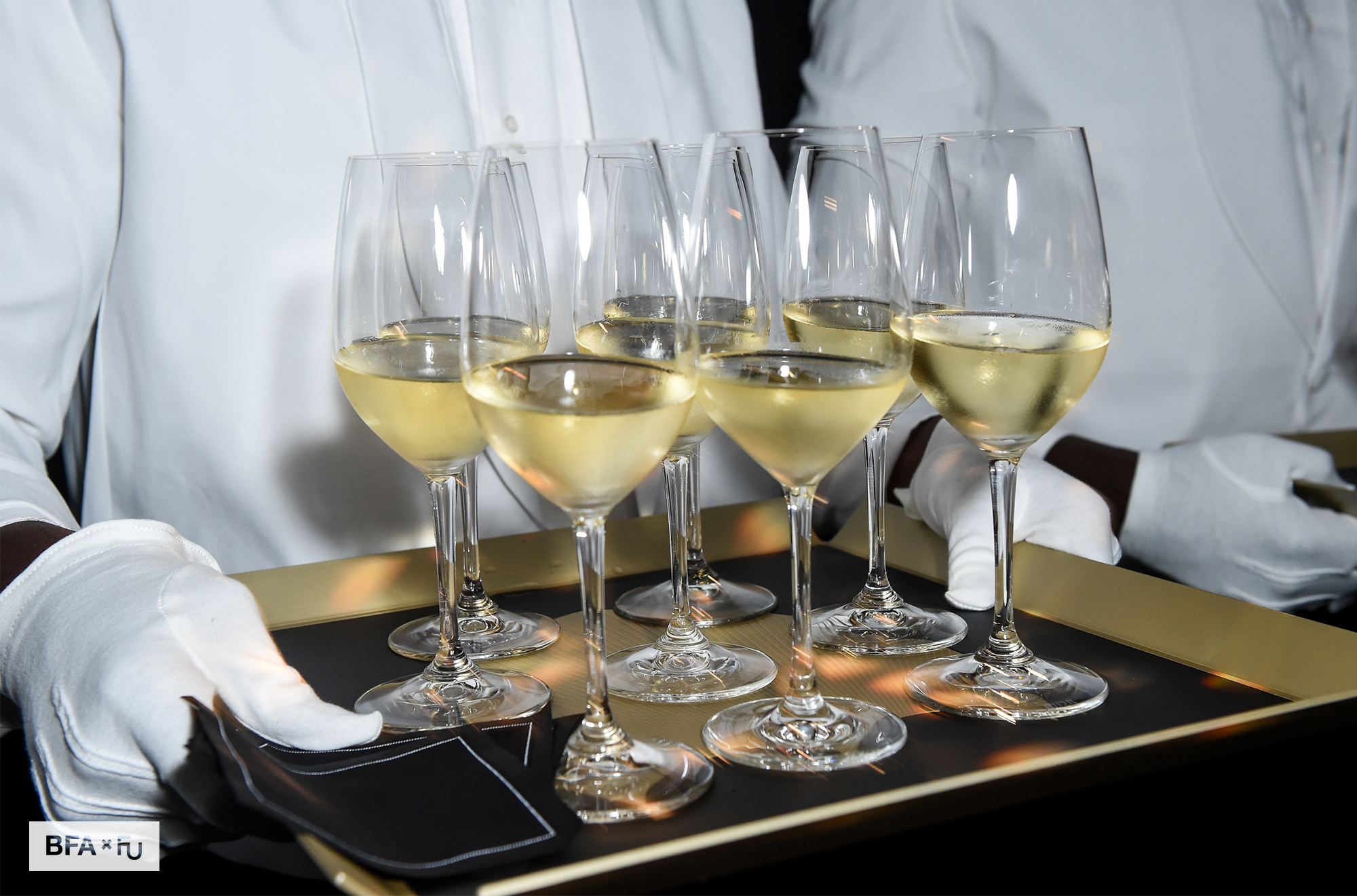 Photo: BFA.com. View more at BFA.com.
"Because champagne is spirited—it's extreme, it's something of a dream," explained an animated Geoffroy with a glass of the 2005 rosé in his hand. "It's magical, insolent, and then you have the touch, the feel, the texture…" My mouth began to water as he waxed poetic about the beverage's appeal, so I took a long sip of the P2, which, for the record, is the most full-bodied and buttery of the bunch—almost like liquid velvet with a kick.
"You wear clothing as a reflection of yourself," chimed Chaperon while staring straight at me, perhaps trying to figure out just what my polka-dot Comme des Garçons dress and bowler hat were reflecting (which is a lot, by the way). "There's something about [champagne] that's personal, emotional, that's introspective, and I think fashion is very similar," he said. "[Like fashion], wine is a way we choose to share."
As a general rule, I don't share my clothes or my champagne, but if one interprets that statement a little less literally, it makes perfect sense—both clothing and champagne foster interactions, conversations, and mutual enjoyment. Plus, both are just so darn fun, am I right?
So which one of these three libations is best suited to quenching fashion's thirst during next week's Haute Couture parties? "I'm wavering between the 2005 and 2009," mused Geoffroy, eyeing both bottles, which were displayed on the table between us. "But I would have to say '09 because it's a bit of…" he extended his arms over his head and made a "poof" noise, later comparing the experience of drinking said vintage to floating through a constellation of stars. As someone who (unsuccessfully) endeavors to consume champagne on a daily basis, I had to agree, if only because the '09 is oh-so easy to drink. It effortlessly glides over the tongue and down the throat, and its vibrant little bubbles infuse the entire body with a feeling of absolute joy—glee, even—which is something fashion folk could certainly use a bit more of. Once my all-important question was resolved, Geoffroy sat back in his velvet chair and added, "fashion and champagne forever!" Cheers to that.
0 Comment