Cheetos, French fries, and cupcakes floating in boozy milkshakes are not your typical fashion party fare. Maybe that's why most fashion parties aren't that fun.
Thankfully, Stacey Bendet and her team know how to throw a good bash, as evidenced by last night's celebration of the new Alice + Olivia x Basquiat collection.
"He's always been an artist that's inspired me, and one of my favorite artists," said Bendet, who was encouraged to pursue the collection by friends who had made films about Basquiat. One such friend put her in touch with the Basquiat Estate. And the rest, as they say, is history.
The 17-piece collection, the sales from which will benefit the CFDA (50% of the profits from certain pieces will go to the Council), features prints of Basquiat's work (such as "The Notary", "Beat Bop", and "Ascent") across an assortment of styles, and perfectly merges Bendet's knack for thoughtful details with the artist's expressive arrangements. The Resort lineup is available now, with prices ranging from $35 for a keychain, to $1,295 for a printed gownskirt.
"I wanted to bring his work to life, with a little bit of my touch," Bendet explained. "We printed his paintings in, I think, a really authentic way. Then we went in and beaded and embroidered over them. It was less about our beading and embroidery, and more about bringing his paintings, and his work, into a three-dimensional world."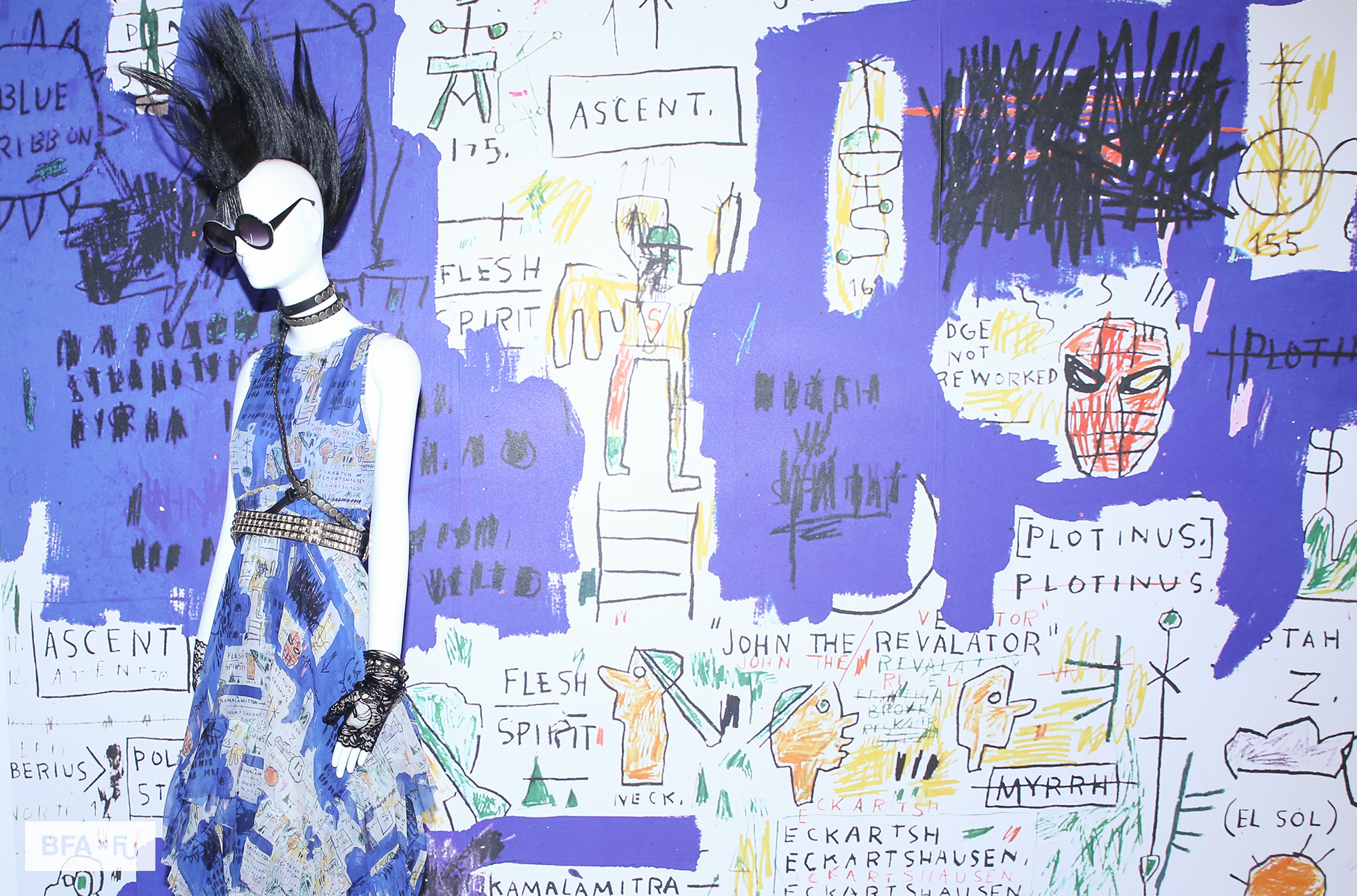 Photo: BFA.com. View more at BFA.com
The celebration itself was held at The Hole, a gallery space on the Bowery. With David Bowie, Talking Heads, and Madonna blasting, guests were invited not only to view the collection, but also dance (in a separate room with music provided by Margot and Mia Moretti), and paint in neon under black lights. Disco balls and mannequins dressed in the collection spun above partygoers' heads.

"I think the whole installation should stay up," said CFDA President and CEO Steven Kolb. "I think the whole spirit of it is a lot. Stacey's such a fan of art, and she appreciates the integrity of an artist's vision, and I think she's really done that."
What's more is that she managed to get New York's downtown cool kids, socialites, a few Hollywood types, and some casual royalty all in the same room—guests including actor Pierce Brosnan, actress Victoria Justice, Nicky Hilton, and Princess Beatrice of York all came out for the affair.
"I love it when art and fashion can come together," Princess Beatrice said of the collection. "There's no one who's able to pull it together quite like Stacey, so I'm really happy that it's such a fabulous collaboration."
Justice concurred. "I'm a huge Alice + Olivia fan and I'm a big Basquiat fan. To have them both together is incredible," said Justice, who was wearing a skirt from the collection. "I love that [Alice + Olivia] doesn't take itself too seriously. It's a little bit tongue-in-cheek, but sassy and fun at the same time."
The Alice + Olivia x Basquiat CFDA collection is available now in stores and online at aliceandolivia.com
0 Comment