"I really am shy," Donatella Versace insisted on Wednesday night, a Steven Meisel image of the designer naked projected behind her. She was seated with Eric Wilson in a curve-hugging mini dress and bad-bitch knee-high gladiator boots. Shy? "I really am!"
The designer was at the Times Center, doing a talk with InStyle's Eric Wilson as part of her book tour for Versace, her new coffee table book from Rizzoli. The 288-page tome is really a compendium of the designer's tenure at the house, chronicling the new era of Versace when Donatella took over artistic direction after the loss of her brother Gianni in 1997. The book is heavily photographic but also includes accompanying essays penned by the late Ingrid Sischy, Tim Blanks, and others.
During their 35-minute chat, though, Wilson and Versace focused on iconic images featured in the book—works from Irving Penn to Richard Alvedon to Bruce Weber—much to the delight of the fangirls in the audience. Here, we highlight the best moments of Versace's talk, from her candid discussions about friendships with superstars to thoughts on her dog, Audrey.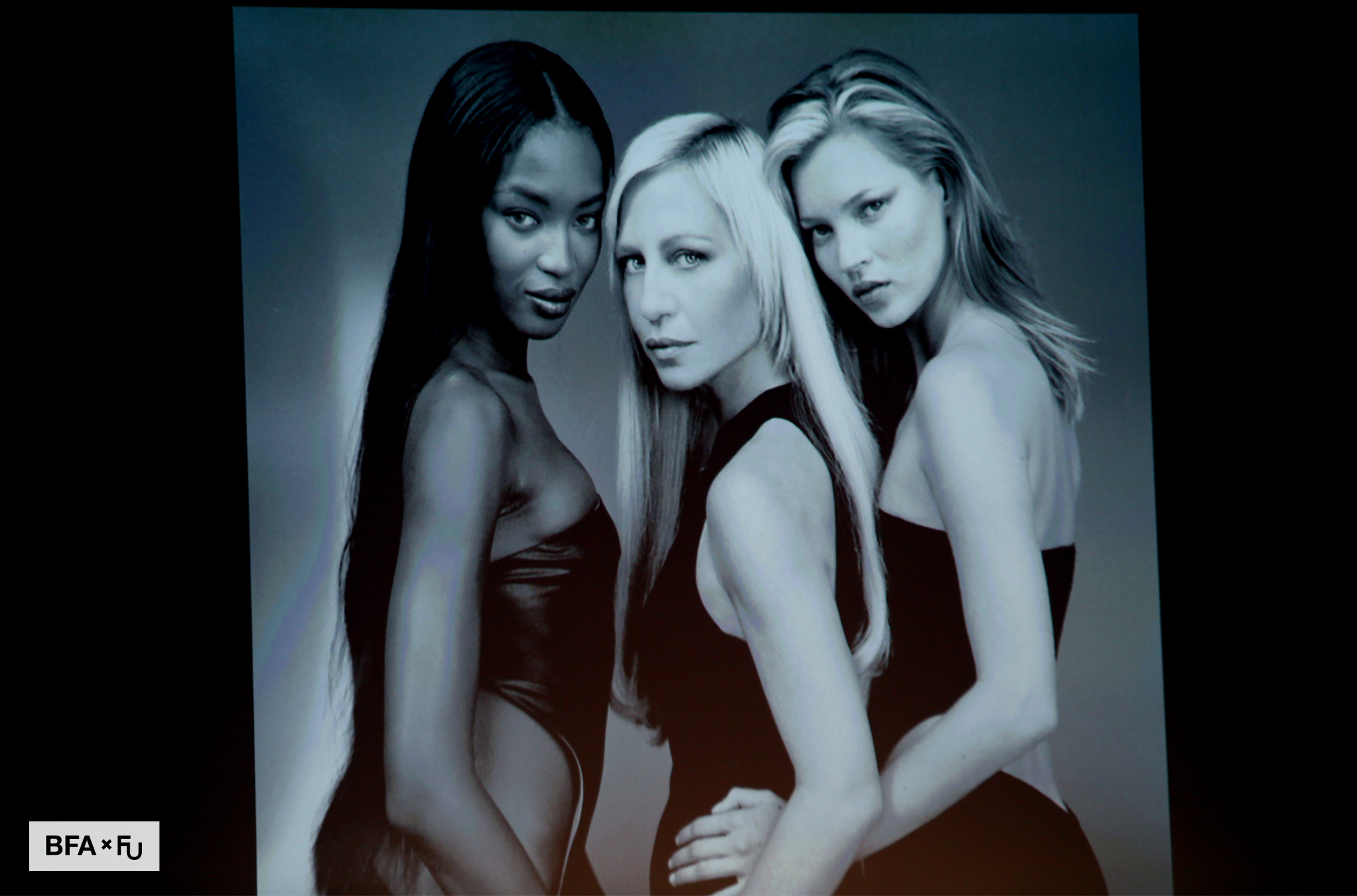 Naomi Campbell, Donatella Versace, and Kate Moss in a 1998 Versace ad campaign
Photo: BFA.com. View more at BFA.com.
On working with Richard Avedon:
"Richard was really, really difficult to work with, but he was a genius…I had a special relationship with him for a long time. I feel very fortunate. Gianni was not allowed on set [when I worked with Richard] because Richard and I would do everything. But Richard has such an imagination, he would create a story with the clothes."
On the Jennifer Lopez's infamous 2000 Grammys dress:
"I made a mistake and sent that dress to her. [J.Lo] called me and said, 'What will I do? The dress is so open.' I said, 'Put some double-Scotch [tape]!' I had no idea the dress would [have that impact]."
On the difference between working on editorials and advertising campaigns:
"Oh, it's completely different. In editorial, I'm not in charge. Somebody is in charge of you. I like to be in charge in general."
On appearing in the Fall 2015 Givenchy campaign alongside Riccardo Tisci:
"Well, it was so fun. I love my family, I love my friends… We took one hour [to shoot.] [People thought] it was revolutionary in the fashion community, but designers should help each other. We can learn from each other, always…I'm really proud of this campaign and really proud to be photographed with Riccardo Tisci."
On her relationship with Prince:
"He was a great person, creative and headstrong all his life. He was also so shy. He was always there for me. He was very good to me. He was [involved] in so many charities that people don't know [about]. He wouldn't give his name, he'd give anonymously."
On Madonna:
"That's a strong woman in charge."
On the Versace 2014 campaign starring Lady Gaga looking like a young Donatella:
"She wanted to play a part. She said, 'I want to be you.' But I want to be her! She's such a strong person, so intelligent. I'm very proud she wanted to be in my image."
On the supermodel era and the new generation of models:
"This for me is family—it's friendship: Naomi, Kate…After the [nineties] supermodel moment, it went the opposite [direction] — plain girls, no makeup. For me, it was sad. I couldn't wait for the supermodels to come back…It's always going back and forth. The [new generation of models] is gorgeous, strong, beautiful. The models today—Gigi, Kendall—this is the new generation of supermodels. They're not afraid to show it…They're not shy. I like that. They're strong, in charge."
On her dog Audrey, who currently has a loyal following of 11.6k on Instagram:
"She's a bitch and I love it."
0 Comment