Unsustainable environmental practices, business practices, and production calendars. Outdated modes of communication, and an inability to keep up with the information age. A changing customer, and with that, a change in power. These issues are the reasons why the fashion industry can't have nice things. But we've largely ignored these problems, keeping them out of sight (and certainly out of mind), largely choosing to focus on glamour and fantasy instead. And somehow, an industry full of forecasters, trend analysts, and individuals that pride themselves on being on the cutting edge of what's "next," has become reactionary rather than two steps ahead.
Enter Fashion Culture Design (FCD), a daylong "unconference" that took place last week. The brainchild of Simon Collins, an avid discussionist who brought the Conversation Series to Parsons School of Design (incidentally where FCD was held) during his six-year tenure as the dean of fashion, FCD's inaugural event aimed to spark conversations about the issues plaguing the fashion industry.
"What I think is happening, and you see this at other conferences, is people come out and they'll talk about their thing. Whether it's their products, or their company, or their brand, or whatever it is. They'll tell you a little bit about it, and it's pretty much scripted by PR because as a company, they can't really tell you anything secret." Collins told Fashion Unfiltered. "Now knowing that, what we're doing is putting questions that effect everybody in front of these people, and we're saying to them, Don't worry about what you're doing in your company, just use your brainpower to address this question over here."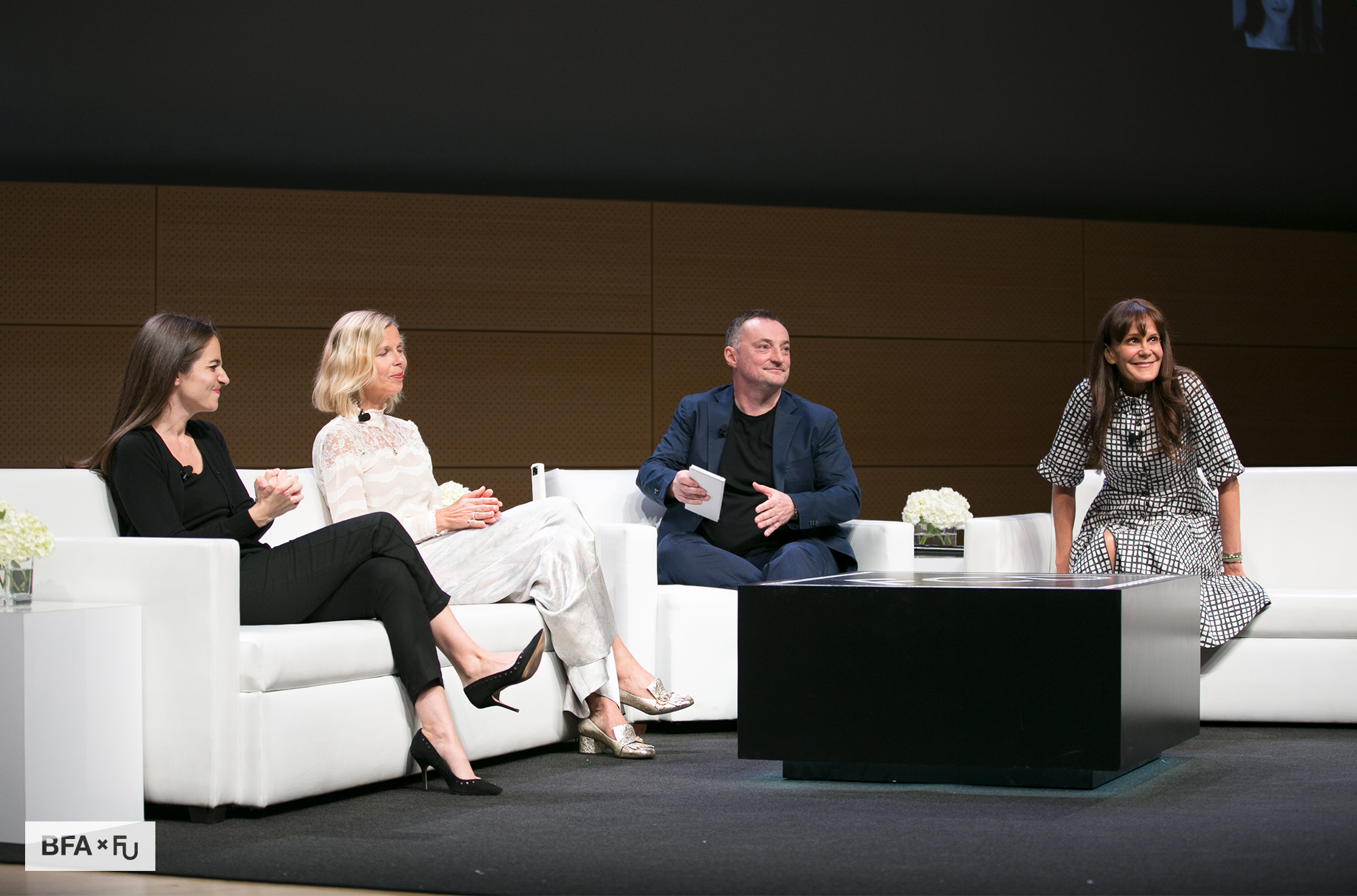 Julie Zerbo, Catarina Midby, Dominic Rushe, and Julie Gilhart / Photo: BFA.com. View more at BFA.com.
A diverse and quite frankly impressive group of panelists was assembled, with participants ranging from models such as Alek Wek and Ashley Graham, to editors including Joanna Coles and Vanessa Friedman, to lawyers, bankers, and CEOs. Fashion Unfiltered's EIC Katharine K. Zarrella moderated a panel titled "How Do You Solve A Problem Like Fashion Week". The topics covered focused on everything from the beauty industry, to technology, to fast fashion and the environment. Without a doubt, the biggest recurring themes were the retail landscape and social media, specifically Instagram. And while solutions were not found ("I'm not proposing to offer answers to any of these questions," Collins stated. "That would be naïve."), the discussions did shed light on the difficulties of industry. At the heart of it—perfectly encapsulated in the varying backgrounds of the panelists—was the fact that the industry is made up of several moving parts, each with its own separate goals, which are occasionally at odds with each other. For example, designers and creatives enter the industry to express themselves. But, as the word "industry" would imply, a business model needs to be in place, which means people are looking for profits. To be outlandishly creative with design and have mass market retail success is a lot like trying to have your cake and eat it too. This duality is one of the industry's leading issues, and with the shifting nature of technology, now is the time to realign before everything collapses.
"As we navigate through this period of change, I think it's important that we look at all different aspects and try to see where all the questions come from. And I think from that place, we can come up with some solutions that we believe in," offered consultant and FCD panelist Julie Gilhart. "We need to bring people together in an open, honest form of conversation."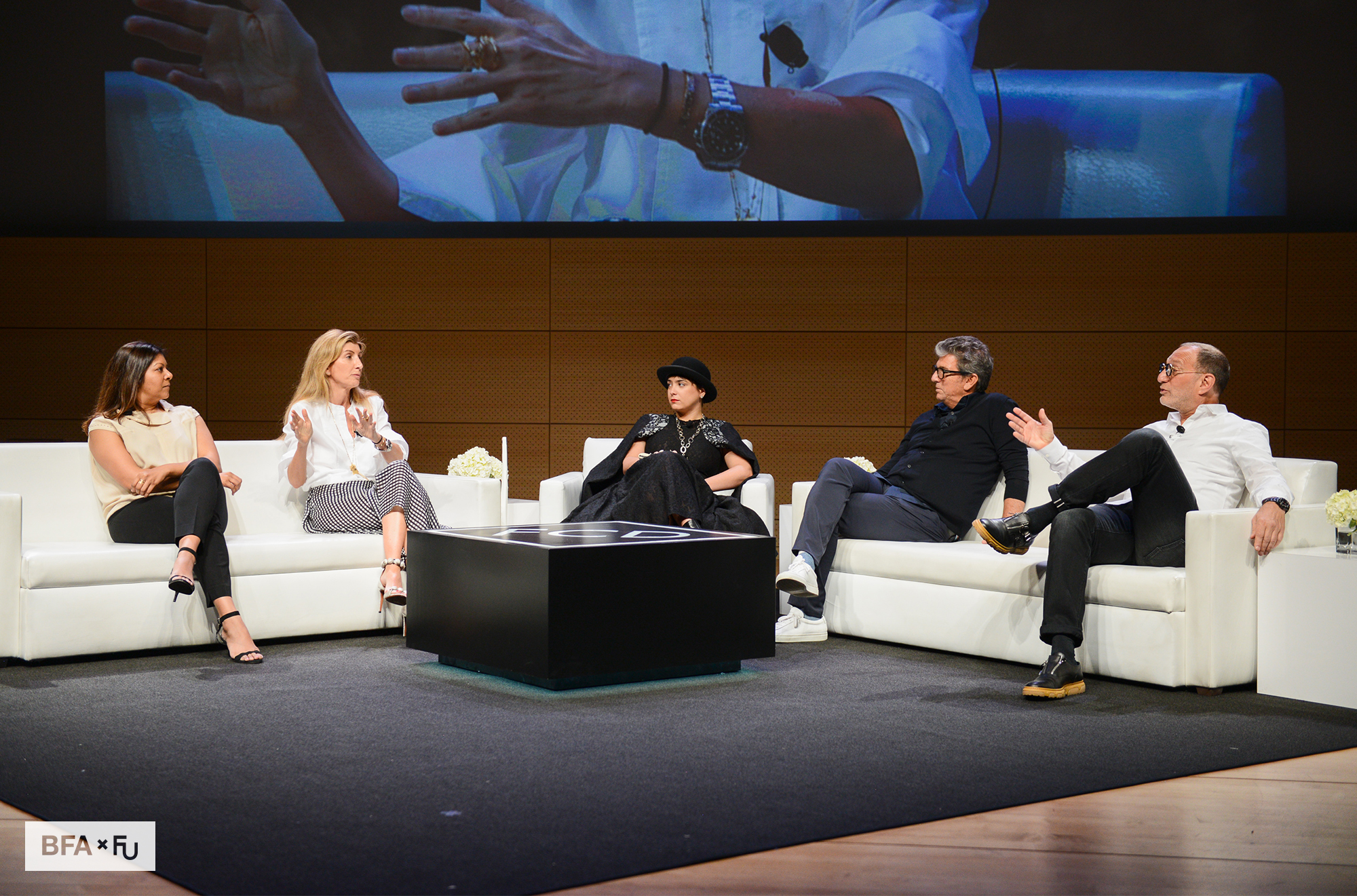 Rachna Shah, Sarah Rutson, Katharine K. Zarrella, Andrew Rosen, and Gary Wassner / Photo: BFA.com. View more at BFA.com.
Unlike a typical conference, this "unconference" attempted to widen the discussion beyond the panels. Collins wanted attendees to continue the conversation after the timer ran out, even encouraging the audience to turn around and talk to a stranger. Questions were posed to the audience, who could then express their opinions via an online poll, with results shown in real-time to the crowd. "What I'm doing is offering certain people's thoughts on [these subjects], so that the people who are attending will go away and think, You know what? I never thought about it in that way." Said Collins, "Because we've got panels where people are going to 100% disagree with each other."
"I really applaud Simon's bravery for forging forward and creating a space for the people he respects as well as new people. I think more people should be doing that," Gilhart noted, adding, "I'm sure big ideas and big conversations will come out of it."
It will be interesting to watch FCD evolve—and yes, the unconference will come again. In addition to smaller salon events, Collins plans to hold more daylong unconference in other cities. While there will be an annual FCD in New York, Collins hopes to hold three per year, with the other two cities changing each time. It will also be interesting to see how the conversations shift. One positive thing to come from the current issues facing our industry is the rise of intellectualism and criticism in trying to fix it. The fashion industry has long been accused of taking itself too seriously, but for the first time, it feels like we are treating it seriously—discussing it seriously. Because there are some deeply serious problems here that stretch far beyond Paris' posh ateliers, and they aren't going to fix themselves.
0 Comment