'Tis the season to unveil Spring 2017 campaigns. With daily drops of images, it gets harder to keep track of who is releasing what. But don't worry about it, because we've got you covered.
First up is Roberto Cavalli, which took Stella Maxwell and Jordan Barret to the desert for some sexy sand dune action. Shot by brothers Luca and Alessandro Morelli, the images are pretty much exactly what you would expect from the brand: Attractive people posing attractively, in clothing that accentuates how attractive they are. One almost doesn't even need to question what Maxwell and Barret are doing in the desert in the first place, nor worry for their well-being. They're fine.
The models for Givenchy are a different story—they, too, are in some desert landscape, and appear to be on some sort of mission. Or perhaps they're in trouble? Hard to say. Mert Alas and Marcus Piggott lensed the campaign, which alternates between outdoor scenes and studio shots that feature Givenchy mainstays like Lea T, Mariacarla Boscono, and Irina Shayk. But wait, there's more! The house has also released a video, which, if anything, only raises more questions.
And then there's Jacquemus, which stayed in-studio, and took the theme of the Spring 2017 collection to a delightfully eerie place. The clothes were inspired by the South of France, and to compliment this, the images are inspired by figurines from the area. Shot by David Luraschi, the model (Rose Van Bosstraeten—who also opened the show) stands like a statue atop a clay base in still-life scenes, holding wheat or sticks. When asked by Dazed what the Jacquemus girl would be doing for Christmas, the designer answered: "Apparently she's stuck on a ceramic base." And you thought your holiday plans were bad…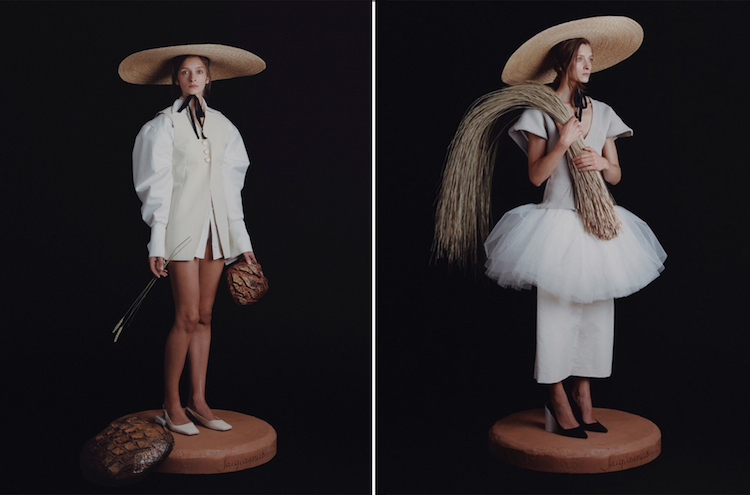 Photos: Courtesy of Jacquemus
0 Comment