It's finally Election Day! Have you already voted? If you haven't, you should probably get your ass to the polls, like, right now, seeing as this is one of the most crucial elections in American history. And do it in style, won't you? While we all sit and wait with bated breath for the results to roll in, we can't help but analyze what both camps wore as they headed to the voting booths earlier this morning, just like regular ol' citizens. So, let's dive in, shall we? (Also, is it too early to crack open the wine? Asking for a friend…)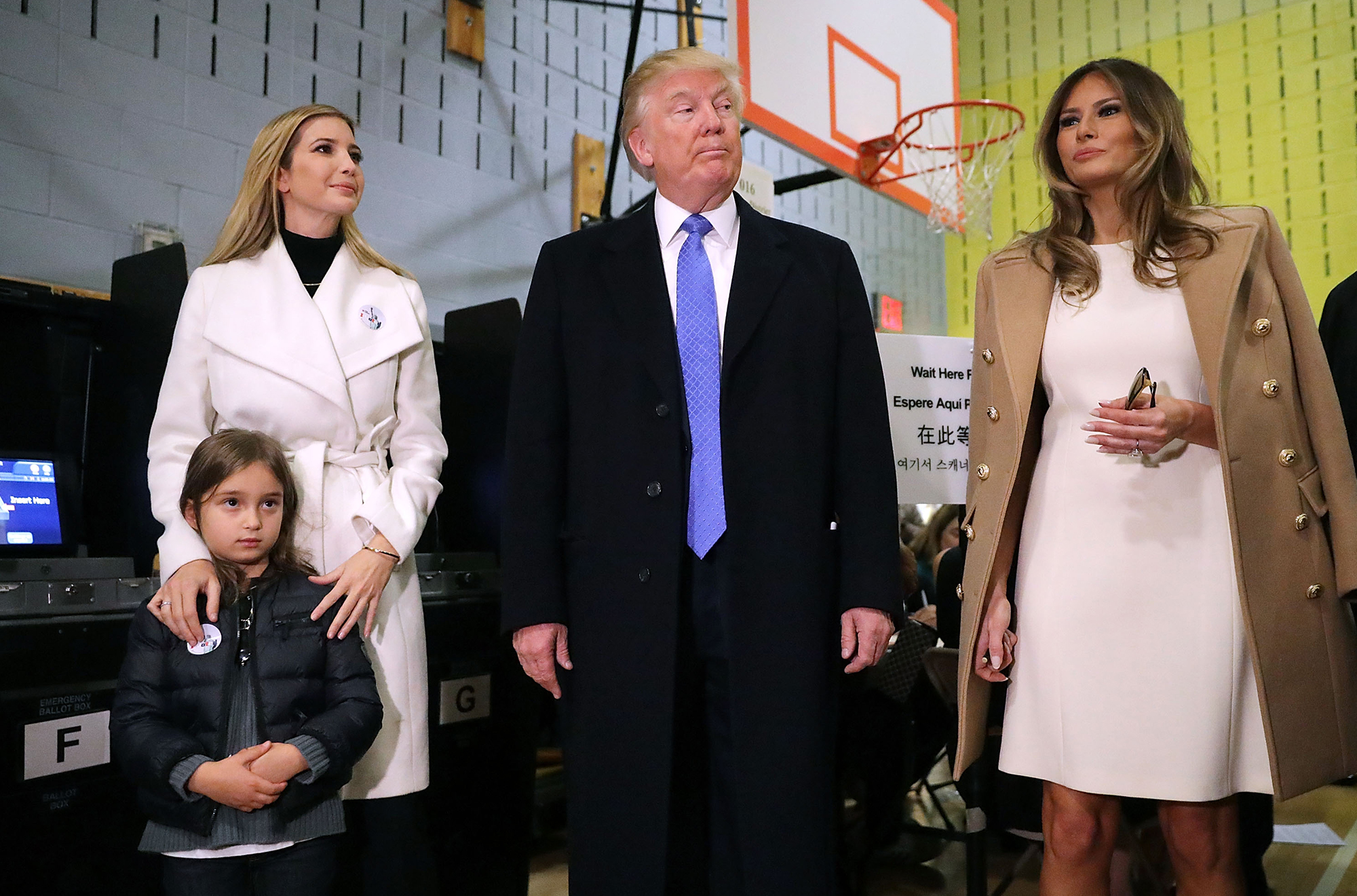 Photo: Chip Somodevilla / Getty Images
Let's begin with Melania Trump. The Slovenian-born former model and wife to curdled Pumpkin Spice Latte and presidential candidate Donald Trump has been fairly fashionable throughout the election, having sported an admittedly chic bell-sleeved Roksanda frock during the Republican National Convention back in July, a hot pink Gucci pussybow blouse (tee hee!) at a debate in early October, and an all-black Ralph Lauren jumpsuit (another pussybow moment!) at the third and final debate. This morning, though, as she waltzed into an elementary school in Manhattan to cast her ballot, Melania decided to deviate from her somewhat consistent knack for non-American designers—well, kind of—and sport a sleeveless Michael Kors Collection sheath dress in white, which is kind of ironic, considering the color is, after all, symbolic of the women's suffrage movement, as well as the unofficial color choice adopted by Hillary Clinton. Also, Michael Kors is a staunch supporter of Clinton, as are most of the big-name fashion designers, including Balmain's Olivier Rousteing. (Melania paired her Kors dress with a military-style Balmain camel coat.) Ivanka Trump also wore white to vote this morning, by the way. Could this mean Trump's female proponents are secretly #withher? Is that why he was nervously peeking at Melania's ballot while she voted? Was this a subliminal message of some sort? Please let it be a subliminal message of some sort.
When you're worried that your wife copied off of Michelle again. pic.twitter.com/cfLwDvHCn4

— Chelsea Handler (@chelseahandler) November 8, 2016
Hillary Clinton, "nasty" Democratic nominee and Ralph Lauren pantsuit aficionado, showed up to her designated polling station in Chappaqua, New York this morning in none other than—you guessed it—a khaki-colored Ralph Lauren pantsuit. It's worth noting that Clinton also wore a custom-made ivory number by the American designer at the Democratic National Convention back in July, and then again at the final debate last month, spurring the viral #pantsuitnation hashtag, and, evidently, upping searches for white pantsuits by seven percent, per the Times. This morning, Clinton kept it neutral, clean, and classic, and projected an "I-got-this" mentality. (Or maybe a "don't-fuck-this-up" mentality. Who knows.) What the former Secretary of State will sport tonight is still up in the air, but seeing that everyone from Joseph Altuzarra and Calvin Klein to Vera Wang and Donna Karan have pledged their support, whatever she wears will be just fine, although we wouldn't mind seeing her in some sparkly Versace ensemble à la Mobama, am I right?

As for The Donald, who presumably had an itty bitty hard-on while filling in the little bubble next to his name, there's really not much to say except that he wore another boxy Brioni suit and a bright blue tie from his own collection. That's about it! Anyway, here's hoping Trump, like the the recently ousted Justin O'Shea, will disappear very soon. Seriously, don't let this be the series finale of America.
0 Comment