Jeremy Scott is no stranger to the powers of digital media. Heck, he's got 1.4 million Instagram followers and his last Moschino show featured flat, paper doll-inspired looks—what better for a 2D Instagram photo, right? Never mind the fact that his cheeky, camp approach to prints and imagery is basically a cartoon waiting to happen. So he was a natural choice to collaborate with Google on its new Google Live Case.
Last night in New York, Scott rallied industry insiders like Carlyne Cerf de Dudzeele, Molly Bair, Patti Wilson, and Leigh Lezark to fete his new collaboration with the tech giant. The project centers around cases designed by Scott that are compatible with Google's Pixel, Pixel XL, Nexus 5X and Nexus 6P phones. Once you snap on the $40 case, which is covered with drawings of Scott's kooky characters, it activates an animated wallpaper, as well as a J'emoji keyboard that boasts a selection of emojis dreamt up by Scott. "I love emojis, and I felt like there were always emoji that I wanted to use to express myself [but weren't offered]," Scott explained. "So when Google asked me if I was interested, it was perfect, because I now had an outlet where I could make these emojis come to life."
He did just that last night, as performers in giant J'emoji costumes danced and mingled with guests. A bubbling champagne bottle is one of the designer's favorites, and he's also particularly fond of his "fingers crossed" emoji. "There are so many times that I'm like, Oh, I hope I can make it or, Oh, I hope it works out, but all there was to express that was this sweaty nervous guy," Scott said with a whiff of frustration.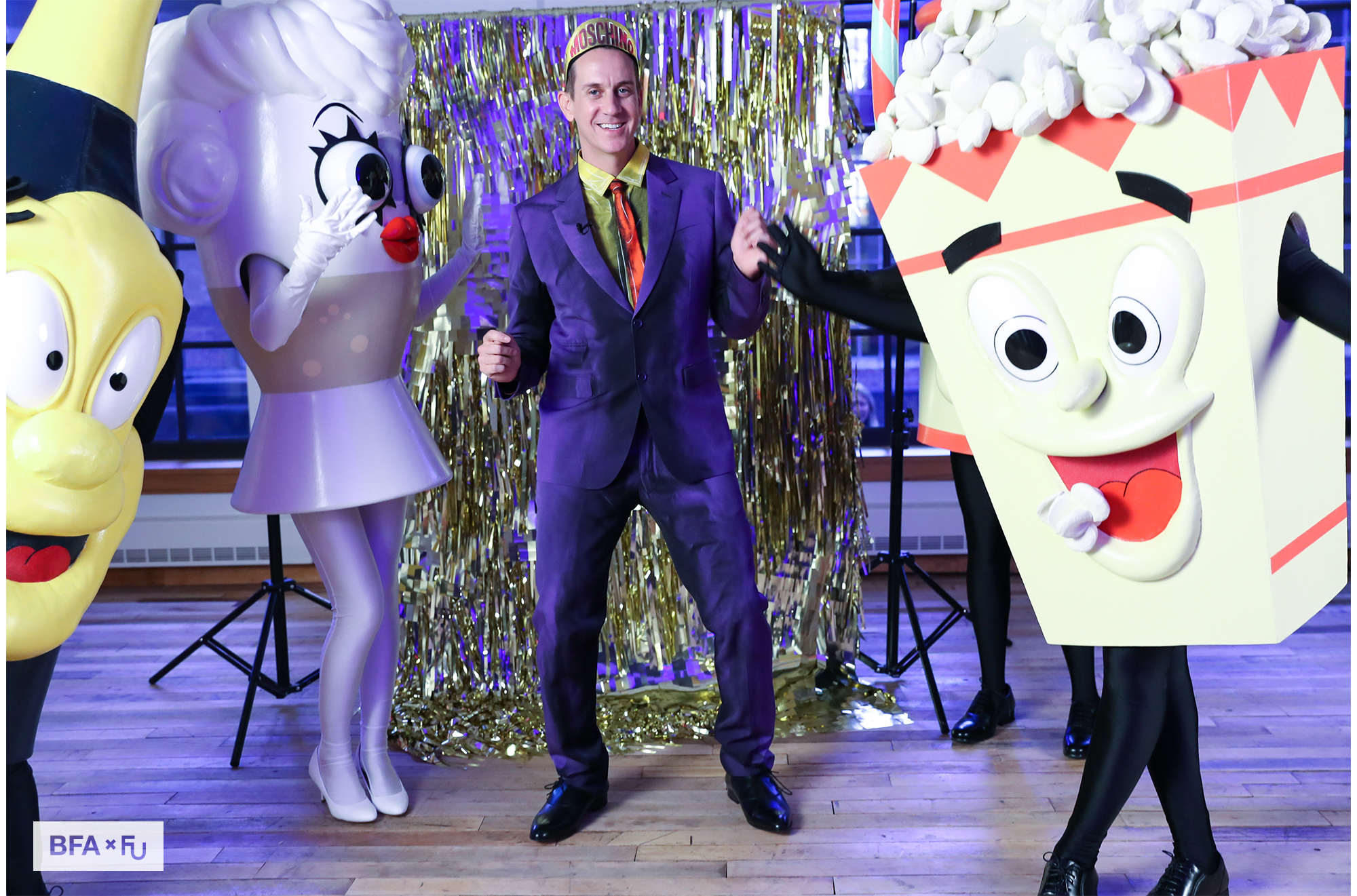 Photo: BFA.com. View more at BFA.com.
Speaking of sweaty nervous guys, the election was naturally on everyone's lips—no amount of free-flowing champagne could make us forget that Donald Trump is our President-elect. When asked how he felt we could use digital media to effect change, promote unity, and ensure all voices are heard during this tumultuous time, Scott replied, "I think you saw what happened yesterday." Naturally, he was referencing Wednesday night's protests against Trump. "A lot of that seemed to be arranged from Instagram, and that's why it was so spontaneous and instant in New York, L.A., Seattle, Oakland, and San Francisco. I think it's really important that the visual record of that gets out, so the people who weren't there can say, Hey, this is what we're saying, and that way he knows he's on notice. Ultimately, [Donald Trump] is a celebrity, and he wants to be liked, so that's no bueno for him, and it will make him act better. I'm sure of it. Honestly." Fingers crossed emoji.
CFDA/Vogue Fashion Fund runner up Adam Selman turned out to support Scott, and relayed that he wished he had an emoji that was "shaking his head in disbelief" to use over the past few days. Selman, however, feels social media is in part to blame for why so many liberal Americans got this election so very wrong. "We live in such a bubble on social media, and I think it's time to put down social media a little bit and start coming together in real life, like everyone did last night. It's time to come together, act on policy, and change things from the ground up," he added. "Sometimes, I feel like social media can cloud your judgment. Look at what just happened—I think that's the perfect example."
Partygoers continued to scoff at the election results while they played with their new Google Pixel phones and Jeremy Scott cases, often delighting at the fact that they could simply shake the phone and the camera would flip around to snap a selfie. Newly blond model Coco Rocha called Scott the "perfect human" to collaborate with Google, and said that she'd had the Pixel for some time. When asked about her thoughts on the election, Rocha replied, "I'm Canadian. Is that a good answer?"
Jeremy Scott's collaborative Google Live Case is available now through the end of January, 2017.
0 Comment