It's doubtful that Sophie Theallet knew the frenzy she would create when she released her letter to the industry a few weeks ago, stating that she would not be working with Melania Trump. Sure, she likely hoped that it would ignite an industry dialogue. She likely did not expect that her last few lines—calling other designers to join her—would become the number one thing journalist and fashion watchers need to know: Who will work with the incoming First Lady? Who will not? The fashion media is in a position of authority on a subject that is getting mainstream attention, and as such, it should be covered with as much gusto as humanly possible, right? The fashion media is so pumped for this—we even watched His Girl Friday in preparation.
Many publications have been discussing the topic, so we thought it necessary to compile a handy list to help you know where every designer stands. Essentially, we're keeping track so you don't have to.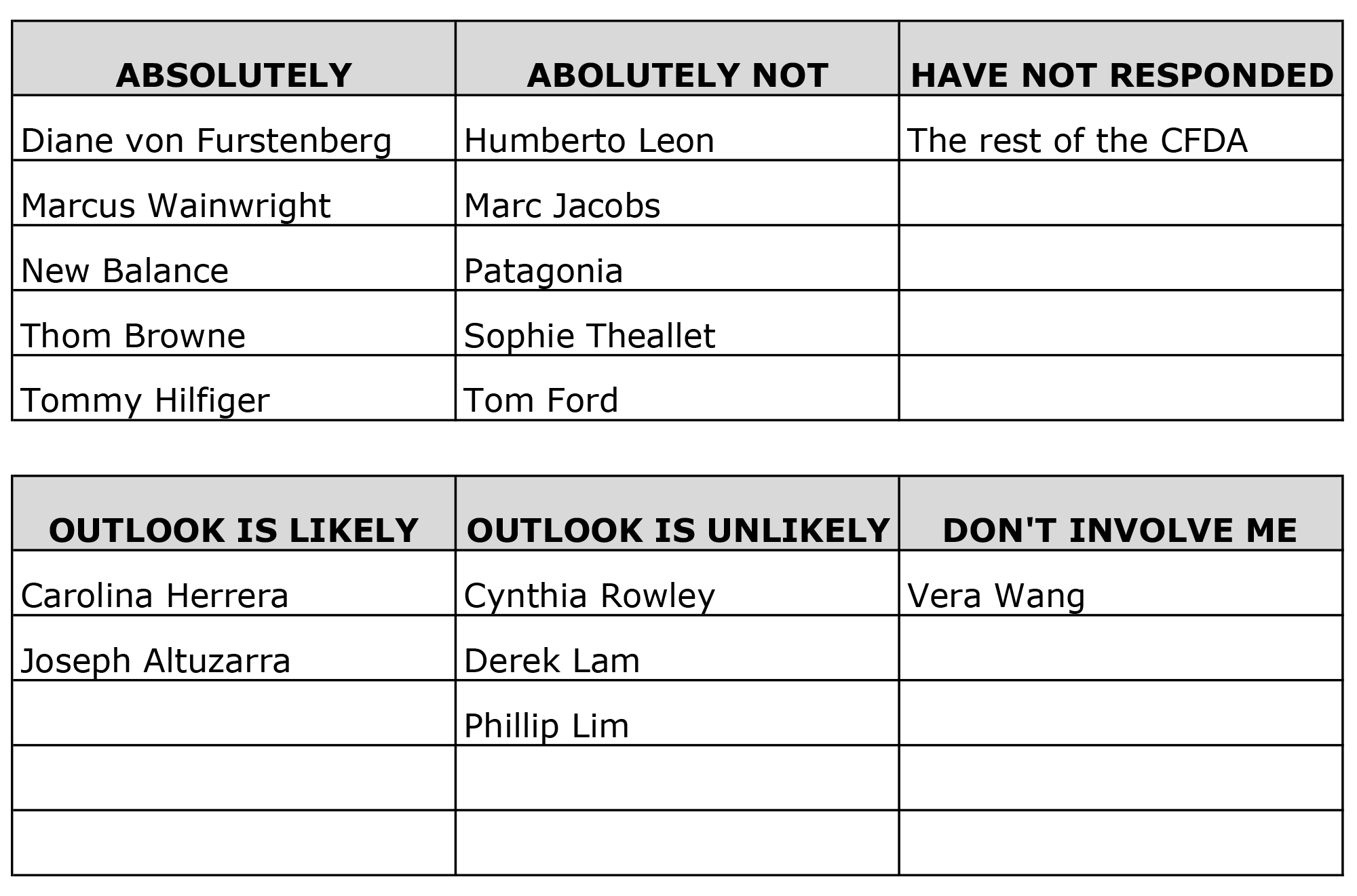 Below is a list of designers who have offered a statement:
Carolina Herrera
Stance: Probably.
Rationale: Melania Trump is the First Lady, and it would be an honor to dress her regardless. Herrera also believes that most designers will take this stance once Donald Trump actually takes office.
Cynthia Rowley
Stance: Neutral, but probably not.
Rationale: It's a moot point, as Melania can purchase whatever she likes, anyway. However, Rowley also told WWD that, "Just because she's shown wearing a designer does not mean that designer is endorsing her, her husband or any of their beliefs." So it's safe to say Rowley won't be whipping up any custom designs.
Humberto Leon, Opening Ceremony
Stance: No.
Rationale: He posted a link to Theallet's letter on Facebook and voiced his support of her statement, so this is political.
Derek Lam
Stance: Probably not.
Rationale: He doesn't want to alienate anyone, but it makes him feel icky.
Diane von Furstenberg
Stance: Yes.
Rationale: Melania Trump is the First Lady, so let's just all play nice and get along.
Joseph Altuzarra
Stance: Maybe?
Rationale: He used a double-negative to give a non-answer to The New York Times that kind of implies he would be open to it, but no explanation.
Marc Jacobs
Stance: No.
Rationale: Doesn't like Donald Trump's politics, and would prefer the conversation be shifted to how we can protect people who will be made vulnerable by the President-elect's impending policies.
Marcus Wainwright, Rag & Bone
Stance: Yes.
Rationale: Support the American manufacturing industry, even if that puts you at odds with your personal beliefs.
New Balance
Stance: Yes.
Rationale: According to The Washington Post, the brand likes Donald Trump's stance on the Trans-Pacific Partnership trade agreement. Also, following the election, a senior representative for the company praised The Donald and denounced President Obama in one breath, which caused Neo-Nazis to dub New Balance "the official shoes of white people." So, that.
Phillip Lim
Stance: Probably not.
Rationale: Ehhhh he seems to really be against Donald Trump's politics, although he doesn't directly say, "No, I will not".
Patagonia
Stance: No.
Rationale: They're all about the environment, and Donald Trump thinks Global Warming and science are pretend. Don't go after the trees, or Patagonia will go after you.
Sophie Theallet
Stance: Absolutely not.
Rationale: Have you not read her open letter and/or been on the Internet in the past two weeks?
Thom Browne
Stance: Yes.
Rationale: Respect for the position of First Lady.
Tom Ford
Stance: No.
Rationale: During a recent appearance on The View, he said that, even pre-election, Melania Trump wasn't right for his brand's "image." (Oh, the shade!) Post-election, she wouldn't seem relatable to the "normals" in his super-expensive clothes. Hey! The serf class can appreciate your clothes just fine, thank you very much. (Seriously, though, we do. When do they go on sale?)
Tommy Hilfiger
Stance: Yes.
Rationale: Melania is oh so pretty.
Vera Wang
Stance: Unclear.
Rationale: Flip the script! The Trumps have not contacted her, but she thinks they should definitely support American fashion.
If cable news channels have taught us anything, it's that infographics are of the utmost importance when disseminating data. Here is a visual breakdown of how many designers support dressing the First Lady: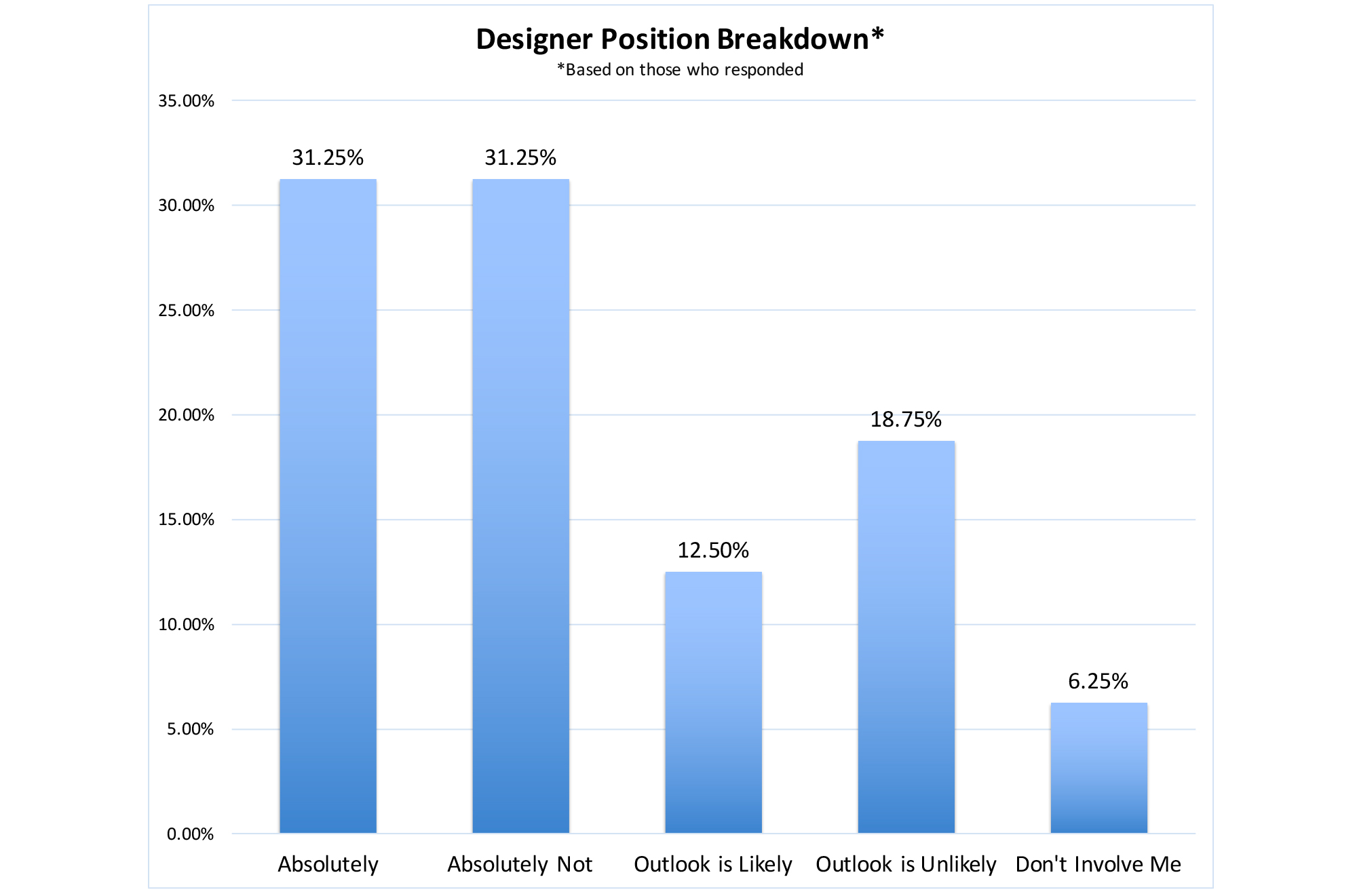 Here is the exact same information in a pie chart: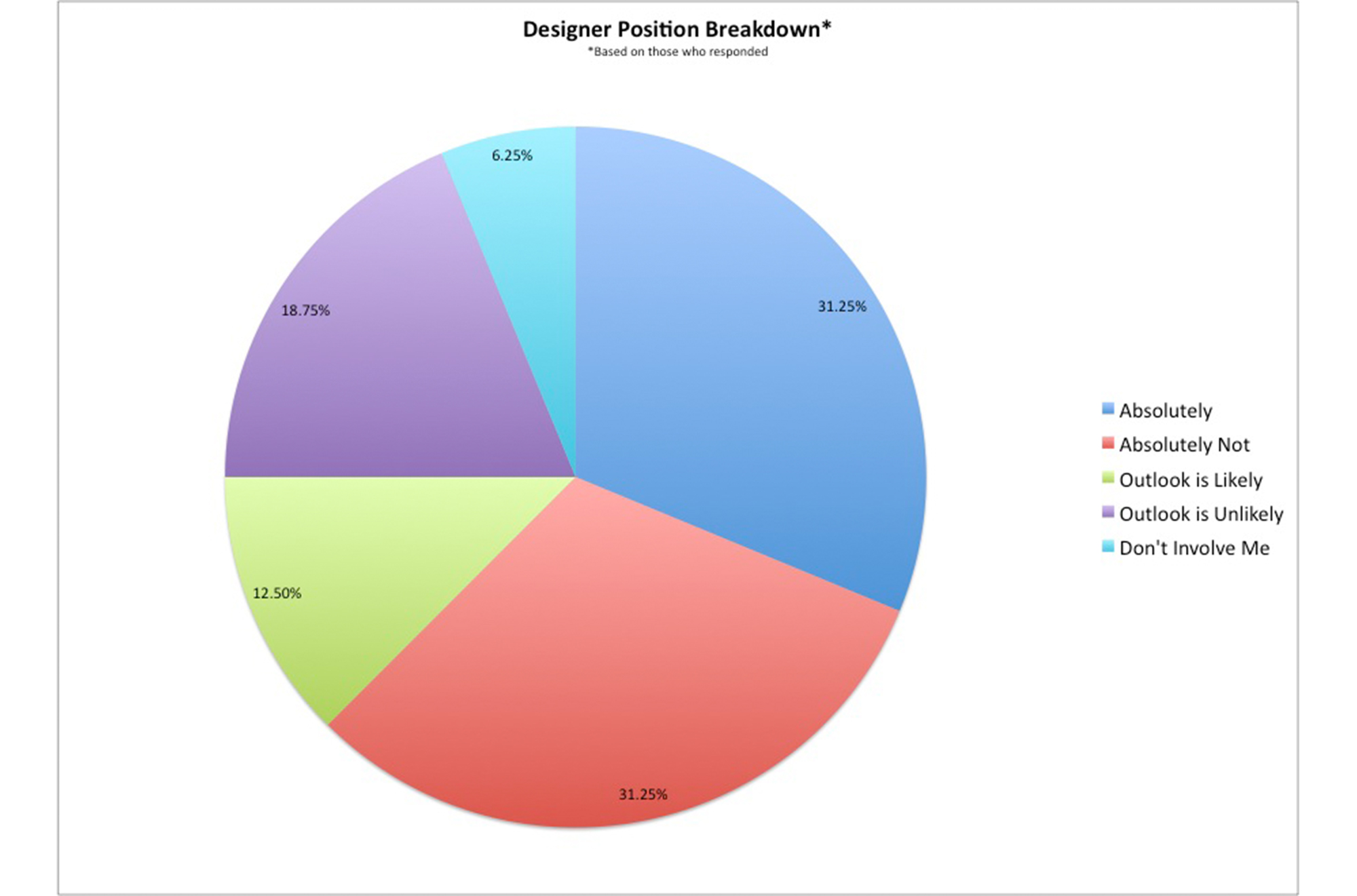 Here is the percentage of CFDA members who have responded to the matter so far: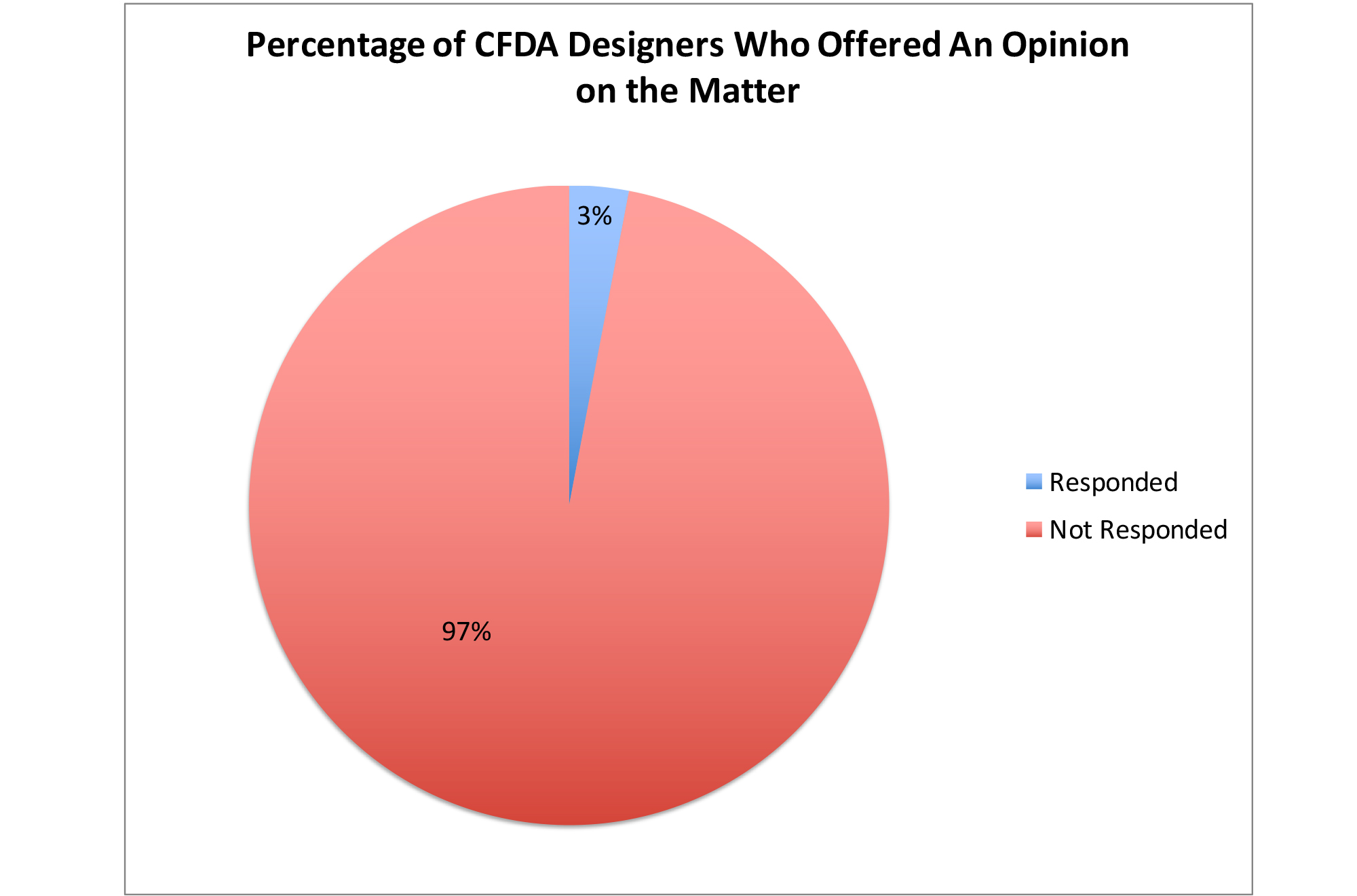 Information caps the CFDA designer membership at 500, and does not include Humberto Leon
Here is a pie chart explaining how CFDA members feel about pies: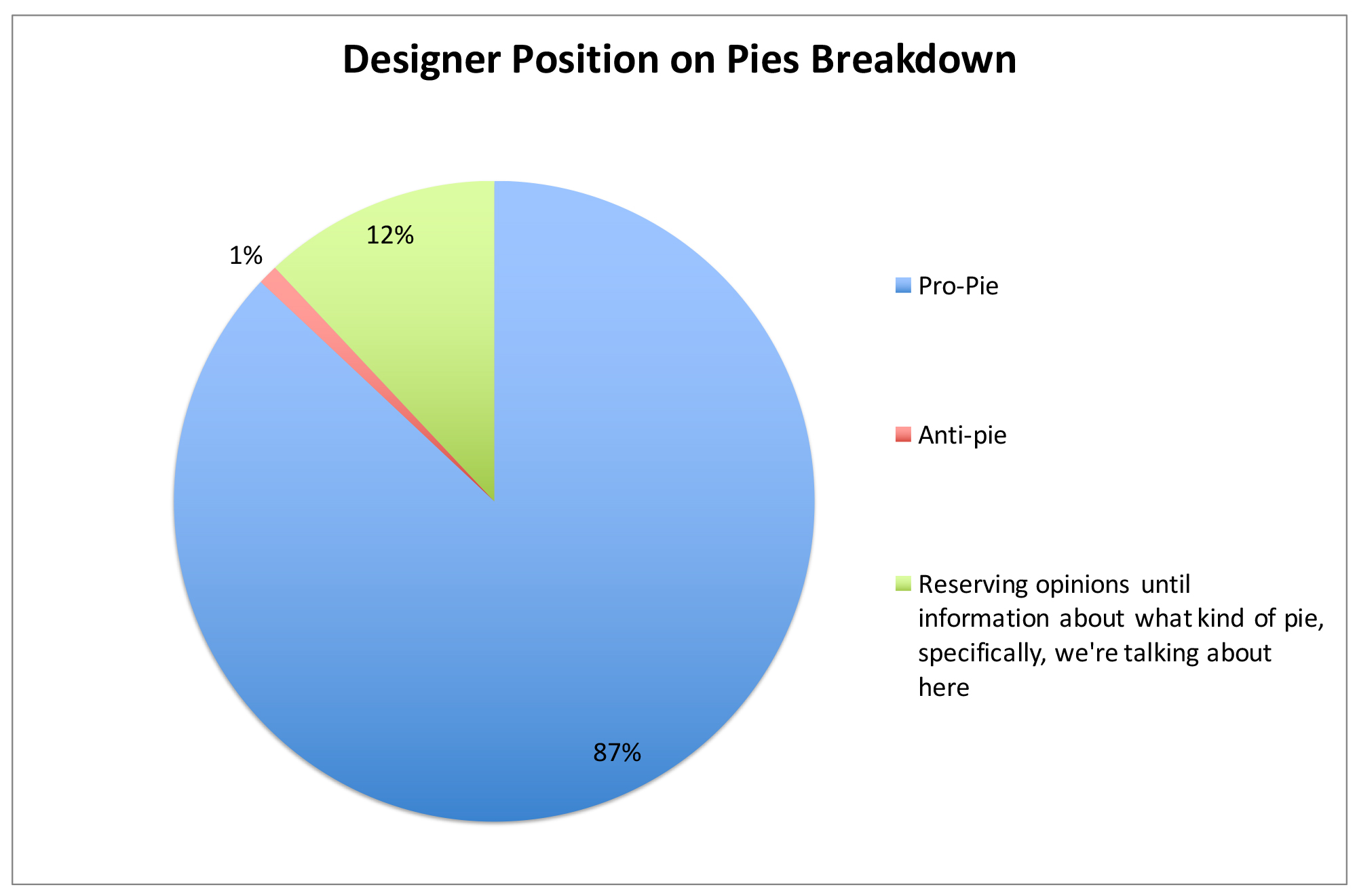 We'll continue to chronicle this all-important issue as designers continue to chime in. Stay tuned…

0 Comment