Fashion is one of the few crafts that vocally thrives off of artistic collaboration and experimentation. Whether it's designers calling upon artists, or artists re-imagining designs, there's a never-ending back and forth of ideas.
Drawing a new generation into this creative relationship, students studying in the Bachelor of Photography program at ECAL/University of Art and Design Lausanne have partnered with Pierre Hardy to create imagery that reinterprets the designer's biggest shoe designs. Their work is now on display in Paris at the brand's Place du Palais-Bourbon boutique in the exhibit Walk With Pierre Hardy.
"I really enjoyed interacting with the students. At ECAL, my role was very different from that of a teacher coaching the students on their work," Hardy said. "As I myself was the subject I knew the stuff inside out! Just show me half a centimeter of a heel and I instantly recognize the model which I created."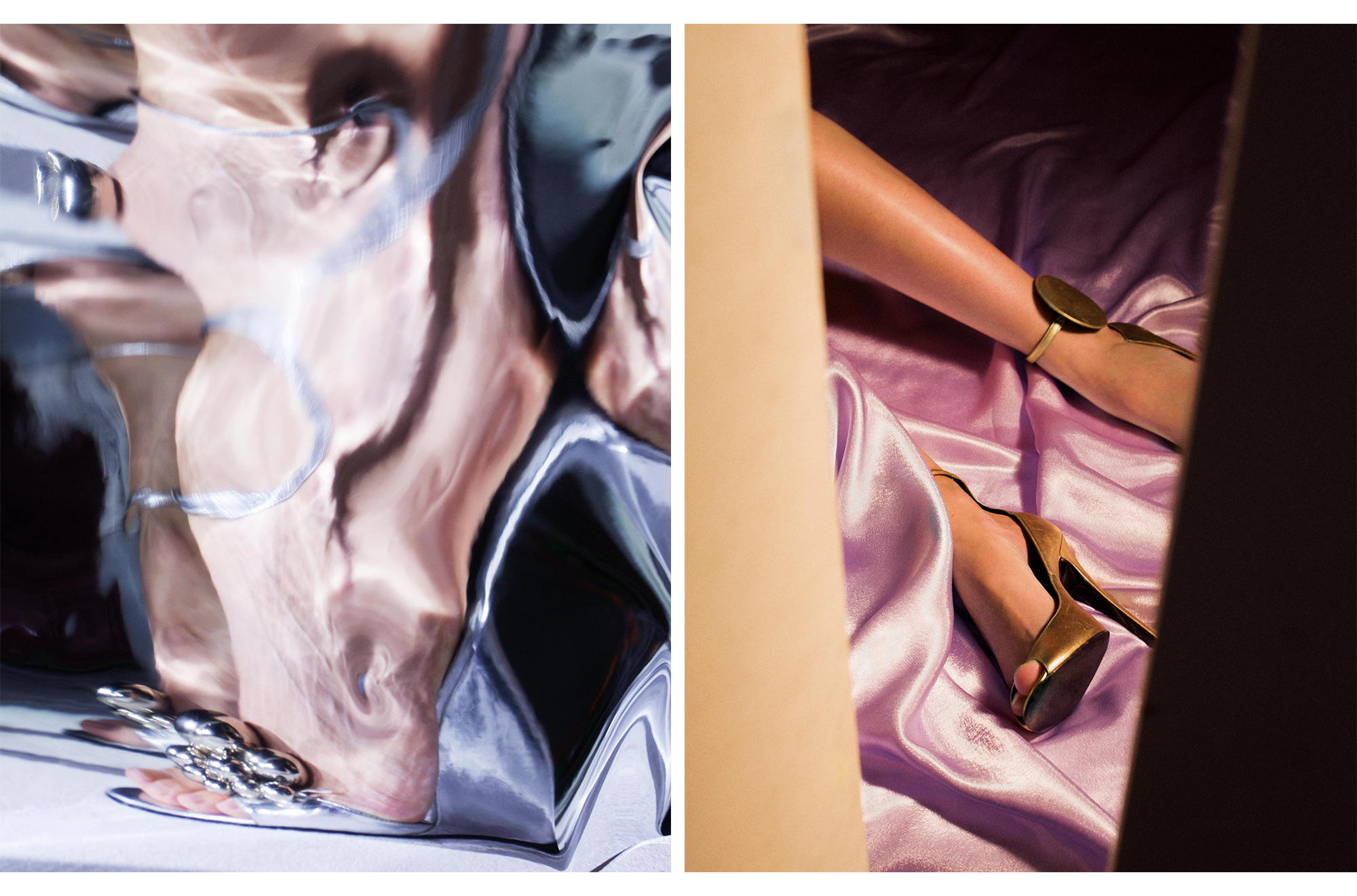 Left: Photography by Angélique Stehli; Right: Photography by Tanya Kottler
Photos: Courtesy of ECAL
Hardy is a bit of a jack-of-all-trades when it comes to design. He was an illustrator before he began his career in shoe design, working for Dior in the late 1980s. He then became the creative director for both men's and women's shoes at Hermès, and was later named the creative director for the brand's fine jewelry collection. In recent years, he has done everything from collaborating with Nicolas Ghesquière for Balenciaga, to designing a perfume bottle for Hermès.
In 1999, he started his own accessories label, which is what Walk With Pierre Hardy draws from. The students worked with 15 designs across the brand's history, which were selected from the archives with Hardy's team. The decision meant that students would have more time to work with the items, and also gives a timelessness to the project. Also, by not tying the pieces to a season, the items can be appreciated for their design qualities, rather than their place in a moment.
In addition to the images being on display, they have also been printed in a publication for sale on site.
Walk with Pierre Hardy is on now at the Pierre Hardy boutique on Place du Palais-Bourbon, and will run until Sunday.
0 Comment