Carine Roitfeld wore trousers last night. A pair of slate-gray, pinstriped ones, in fact, with a bit of flare at the bottom. "It's my new thing," said the CR Fashion Book editor. "It's very new for me to try. It feels…comfortable." Her wool blend pants are, of course, not only a deviation from her typical Parisian uniform of tight pencil skirts and sheer blouses, but they're also part of her latest collaboration with Uniqlo—her third with the Japanese retailer—and they come in at just under $50. (Actually, every item in the 43-piece range, which includes structured jackets, cropped pants, faux fur coats, and, yes, pencil skirts, is under $200.) In terms of inspiration for the line, Roitfeld and Uniqlo's design director, Naoki Takizawa, looked to "the beauty of the career woman," or, in other words, the woman who works hard, travels frequently, and wants chic, affordable closet staples—and perhaps also wants to dress like Carine Roitfeld. "I designed for Carine," Takizawa said. "It's automatically exciting for me because at the end of the day, she's going to wear [these pieces]."

There's a good number of little faux fur jackets for $99, as well as tweed blousons (Roitfeld wore the dark gray version last night, layered under another faux fur jacket). There are double-breasted wool jackets for $99, and a sleek faux leather trench coat for $169. Jungle prints, camo patterns, and jacquard weaving appear on merino blend sweaters, hip-hugging skirts (at $39, these will sell out fast) and cache-couer blouses. Obviously, there are sheer tights, too—for $10 a pop!—as well as silk scarves and shearling tote bags. The collection, while a stark departure from Uniqlo's minimalist aesthetic, is well-made, and is deliberately intended to be mixed and matched—something Roitfeld's daughter, Julia Restoin Roitfeld, said is the biggest fashion lesson she's learned from her mother. "[She taught me] to mix, and not wear one total look from just one brand," she said, adding that the pair of blush-pink pants and the faux fur leopard coat are two of her favorite pieces from the range. "I think it's amazing. I want everything. My friends want everything. That's a sign of success."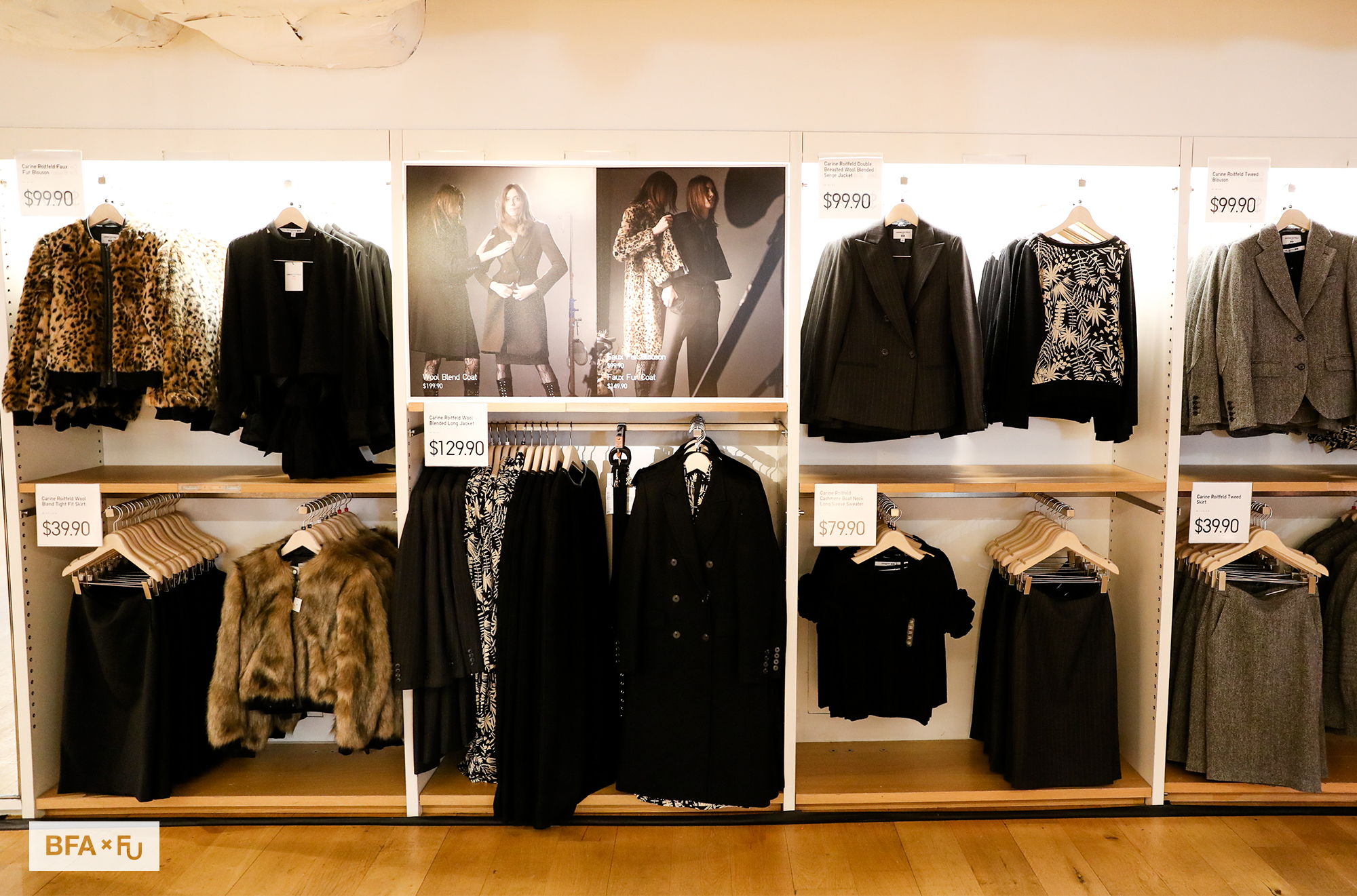 Photo: BFA.com. View more at BFA.com.
Uniqlo has tapped everyone from Pharrell Williams and Jil Sander to Opening Ceremony and Christophe Lemaire for its many collaborations, but never has it worked so steadily with one person as it has with Roitfeld. "She enjoys working with Uniqlo," said Takizawa. "Sometimes, when you work with another designer, with their big egos, I think it gets difficult. But she's someone who understands the concept and we can work together. There are many possibilities."

Roitfeld agrees. "Naoki made all my dreams become reality," she gushed. "He understands everything I'm saying. With the Japanese and French, it's a very different culture, but he's lived in Paris so he understands my way of thinking in fashion. I like that Uniqlo is doing fake fur and leopard for the first time—they never do that sort of thing."
"There were so many things she taught me, from a stylist's point of view. She knows how to make a woman beautiful. At some point, I think she was the teacher for me [throughout the process]," Takizawa continued.
With the approval of Roitfeld's star-studded industry circle—including models Lily Donaldson, Maryna Linchuk, and Soo Joo Park, photographers like Steven Klein and Sebastian Faena, and designers including Coach's Stuart Vevers, Tim Coppens, and Zac Posen—and, well, the fact that her last two collections for Uniqlo sold out almost immediately, this range, which Roitfeld has called her "favorite, by far," is destined to fly off the shelves.
"[Carine] is just the coolest chick ever," said Linchuk, who was dressed head-to-toe in the collection, sporting a black lace bra, a faux fur jacket, and a pair of cropped pinstripe trousers. "I usually don't like pants that hit at the hip, but the fit of these pants is amazing. And you can wear the fur with anything—jeans, pants…dress them up or dress them down."
Seeing as the collection was inspired by career women, one has to wonder what someone like Roitfeld wore to her first job interview. "Oh my God. My first job was a very, very long time ago," she laughed. "I was working for French Elle. I don't think I've changed so much—same hair, same makeup, and I think the same kinds of clothes. Maybe my heels were not so high…at the time, it was more flat shoes for me. I like a very simple wardrobe." Simple, yes, but with the kind of je nais se quoi only someone like Roitfeld can deliver.
Uniqlo x Carine Roitfeld is available today at select retailers and online.
0 Comment