"I'm not interested in bimbo shoes," Zac Posen explained at the launch of his shoe line last night at Ladurée in Soho. What Posen would describe as "bimbo" was not explained, although sexiness certainly does not fall under the umbrella.
"I wrote an essay when I was in high school, called 'Heels, Height, Femininity, and Power'," he recalled, launching into a discussion of the historical importance of heels. He brought up some very interesting points about the role women's footwear plays in our notions of social class and sexuality. Posen went as far back with his examples as the Renaissance: Shoes such as the chopine have toed the line (hehe) between social status (the high platform of the shoe meant more fabric was used for dresses at a time when textiles were extremely expensive), and the erotic (the unseen chopines were essentially lingerie to Renaissance folk). "It's also like jewelry for the feet. But there's [also] a control thing," he said, noting that shoe elements like lacing and danger are akin to corsetry. "Philosophically, the idea of enveloping a body part has a fetish-like quality to it."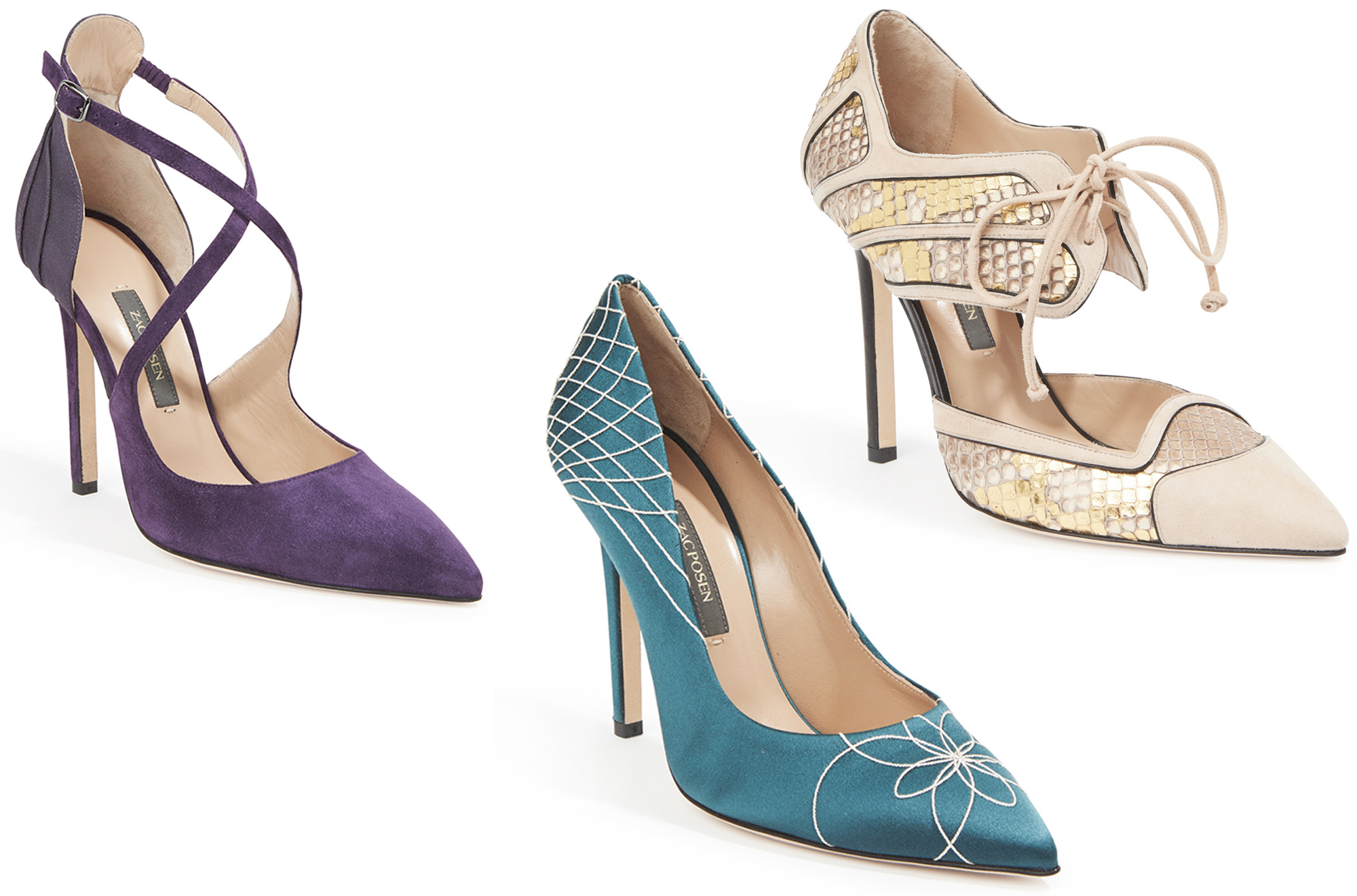 Photos: Courtesy of Zac Posen
But Posen's debut collection is not all spike heels and straps—there is a wide range of styles, from flats to boots. When one factors in the color combinations, there a bevy of options to choose from. While different, they are all familiar to Posen's unique and distinct aesthetic. Fans should be able to identify his footwear designs by the same array of directional seams that appear in his eveningwear. Some of the fabrics from his recent Pre-Fall collection have also been used, most notably the floral jacquard. "I've had wild shoes over the years on the runway, I've had very minimal shoes. I think shoes continuously evolve," he said of how shoes are part of an ensemble, fitting the needs of the wearer. "I think the correlation is about construction, quality of make, and about form. It's about giving something that's supportive, that has an empowered sexiness to it."
Posen's personal shoe taste has varied over the years (he's favored everything from Air Jordans, to the Saint Laurent Johnny boot, to just being barefoot), but the designer has spent a great deal of time learning about what shoes mean to women directly from the women in his life. He took notice when longtime friend Stella Schnabel arrived to her first day of high school in laser-cut stretch leather Versace stiletto boots. He fondly remembers his sister receiving the gift of vintage 1950s lucite heels. And he will never forget how his mother wore heels to work on Wall Street when he was growing up. "I used to go with my girlfriends, or on my own, and they would let me sit in the sales room at Manolo," he said. "I would see how women bought shoes."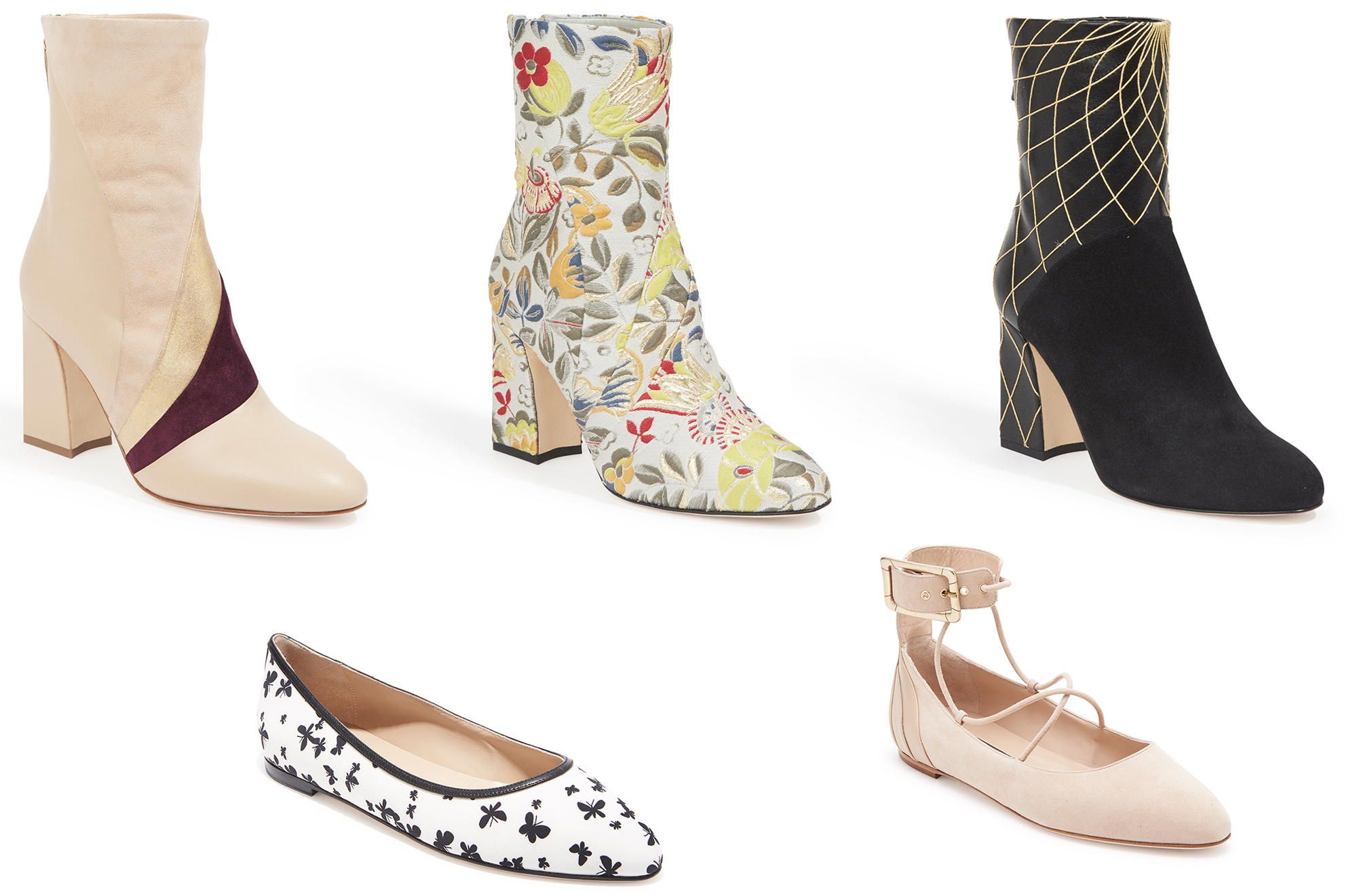 Photos: Courtesy of Zac Posen
For someone with such a deep knowledge and clear love of footwear one would have expected for Posen to have come out with this line much sooner. Much of the wait came from searching for the right partner. "I wanted somebody who had deep roots in Italy with manufacturing," said the designer, who is working with Stefano Maroni on his footwear endeavor. "It's really the first beginning for me was testing techniques and quality." Posen further explained that he wanted to make sure the boots had proper padding in the bottom, that they weren't too heavy, and that all of the heels passed a "wobble" test, making sure they could stand on their own. "It really has to have a three to four second recovery, otherwise it's not a well-balanced shoe."
Taking his time will likely serve Posen well—the long-awaited dip into footwear is only the tip of his expansion iceberg. "To be a success takes nurturing and patience. I always say, patience is a virtue, and when you find a partner like this, I say, opportunity is not a lengthy visitor."
Posen's debut footwear collection is priced between $525 and $995, and will be available online June 1st.
0 Comment