It's no secret that the fashion world has aligned itself with the resistance movement. At New York Fashion Week, there has been no shortage of examples. From the CFDA's pink "Fashion Stands With Planned Parenthood" pins to the Business of Fashion's white bandanas for the #TiedTogether campaign to numerous designers using their runways as platforms to speak out, it seems like everywhere you turn, there's someone lobbying for social justice by wearing their politics on their sleeve. Or coat lapel, for that matter.
If dressing is a powerful act, so too is the lack thereof. Sunday night, one model put this theory to the test by walking the runway in nothing more than gold chains and silky lingerie and then doing the unexpected—she stripped off her bra to reveal two post-mastectomy breasts. The move reflected a seismic shift in attitude: Breasts or no breasts, women should feel empowered. As emotional as it was, the crowd inside the Angel Orensanz Center responded with roaring applause.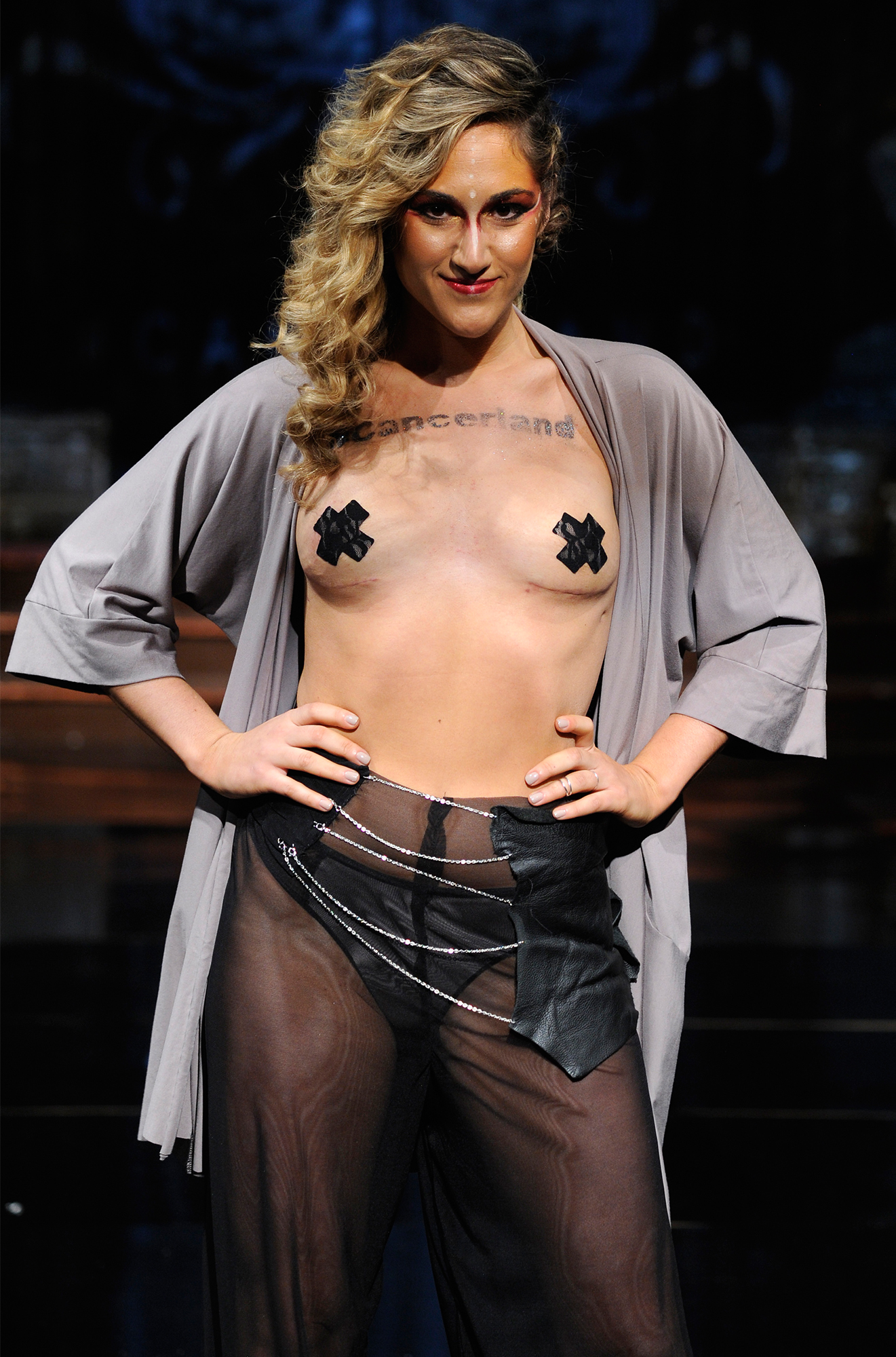 Photo: Courtesy of AnaOno Intimates
"A lot of us are trying to change the conversation," said Dana Donofree, a breast cancer survivor and founder of AnaOno Intimates, a lingerie brand that caters to women looking for bras to wear after a mastectomy, breast reconstruction, or breast surgery. Partnering with Champagne Joy of #Cancerland, AnaOno staged a Sunday night show featuring breast cancer survivors across a range of ages, shapes, careers, religions, ethnicities, and experiences, from ballet dancer Maggie Kudirka (currently seeking treatment) to tattoo artist Beth Fairchild (now stable).
Donofree avoids the word "survivor," a term that typically carries a negative connotation, and instead likens herself to a warrior. "It's not about what our bodies are, but who we are," she continued, waving towards the lingerie-clad models backstage. "I think of a Greek statue where her breast or head may have chipped off in the erosion process. We're beautiful, but we might be a little broken."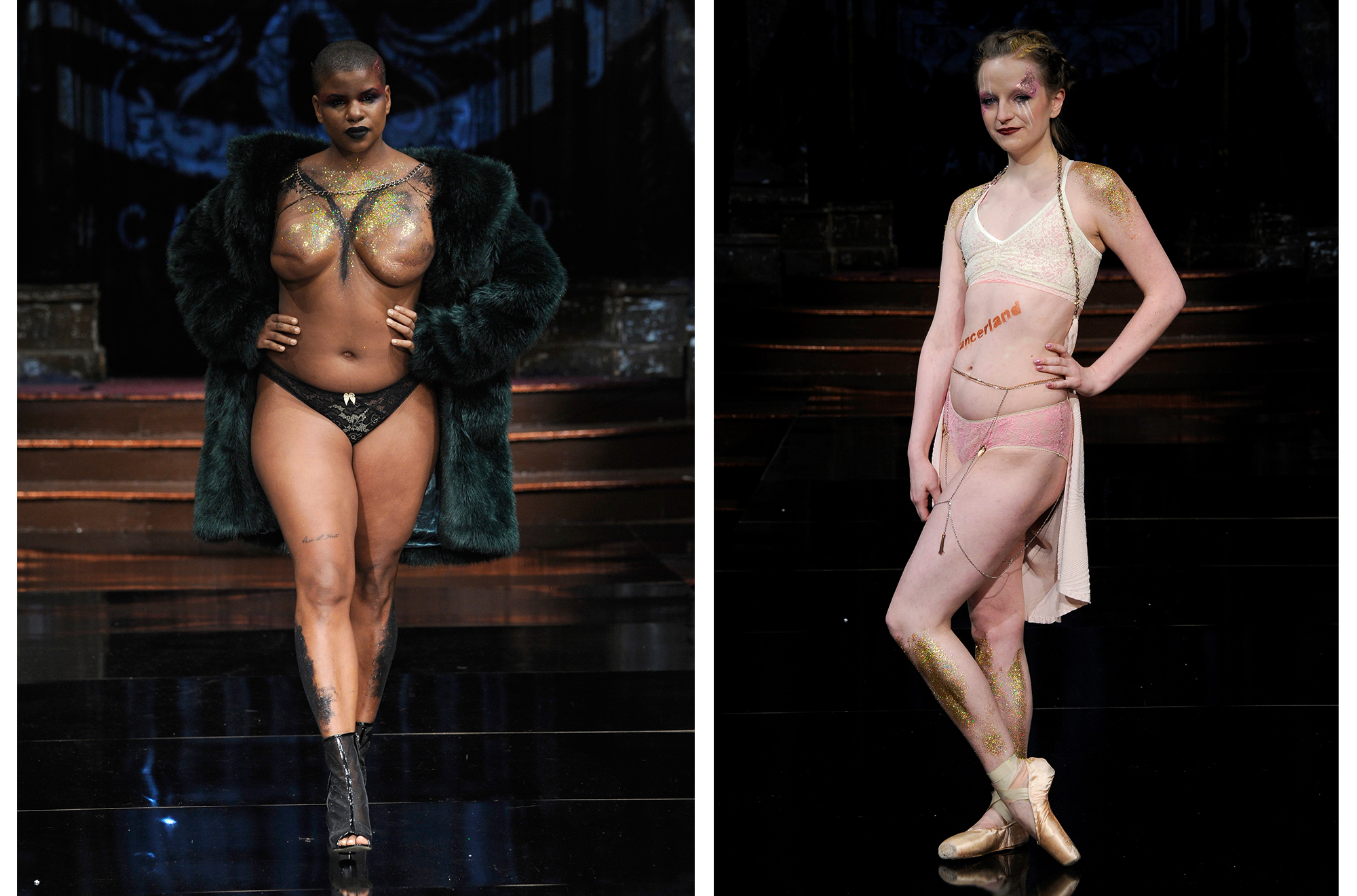 Photos: Courtesy of AnaOno Intimates
Mira Sorvino, the Academy Award-winning actress and show emcee, shared a similar view. A Goodwill Ambassador, she has marched the nation's capital in support of women's rights alongside longtime friend Joy, and like Donofree, she too has an all-embracing definition of beauty. "Be who you are with your scars," she said. "Be proud of it. Own it, share it, and get involved so we can solve this."
As Sorvino walked down the runway with Joy and Donofree during the show's finale, one thing was certain: There is no solution without a community to champion the search. And to be clear, the search doesn't stop with breast cancer.
"Every voice going towards women's issues during NYFW—it's all connected," said Joy. "If we rallied our voices together, we'd solve all the problems."
0 Comment