Over the weekend, Calvin Klein's three-story Madison Avenue flagship got a facelift care of newly appointed creative director Raf Simons and artist Sterling Ruby. The renovation is merely temporary, the brand said, and a complete store overhaul is planned for the future, but the transformation signifies a totally new era of Calvin Klein under Simons' helm.

The fresh interior is a major departure from the store's original minimalist design, with stark yellow walls (for those interested, the shade is Benjamin Moore's "Delightful Yellow") and intentionally placed scaffolding that serve as racks for clothing. According to a press release, the yellow shade represents caution tape and traffic signs—a nod to Simons much-talked-about arrival to New York, perhaps.
There's also floor-to-ceiling installations, large pom-poms made of yarn, vintage American quilts, broken mannequins sitting in the window, and giant candle-shaped sculptures covered in red and white stripes, which add to the under-construction theme and fit into Simons' obsession with America and its "gleaming highs" and "gritty lows," the label said.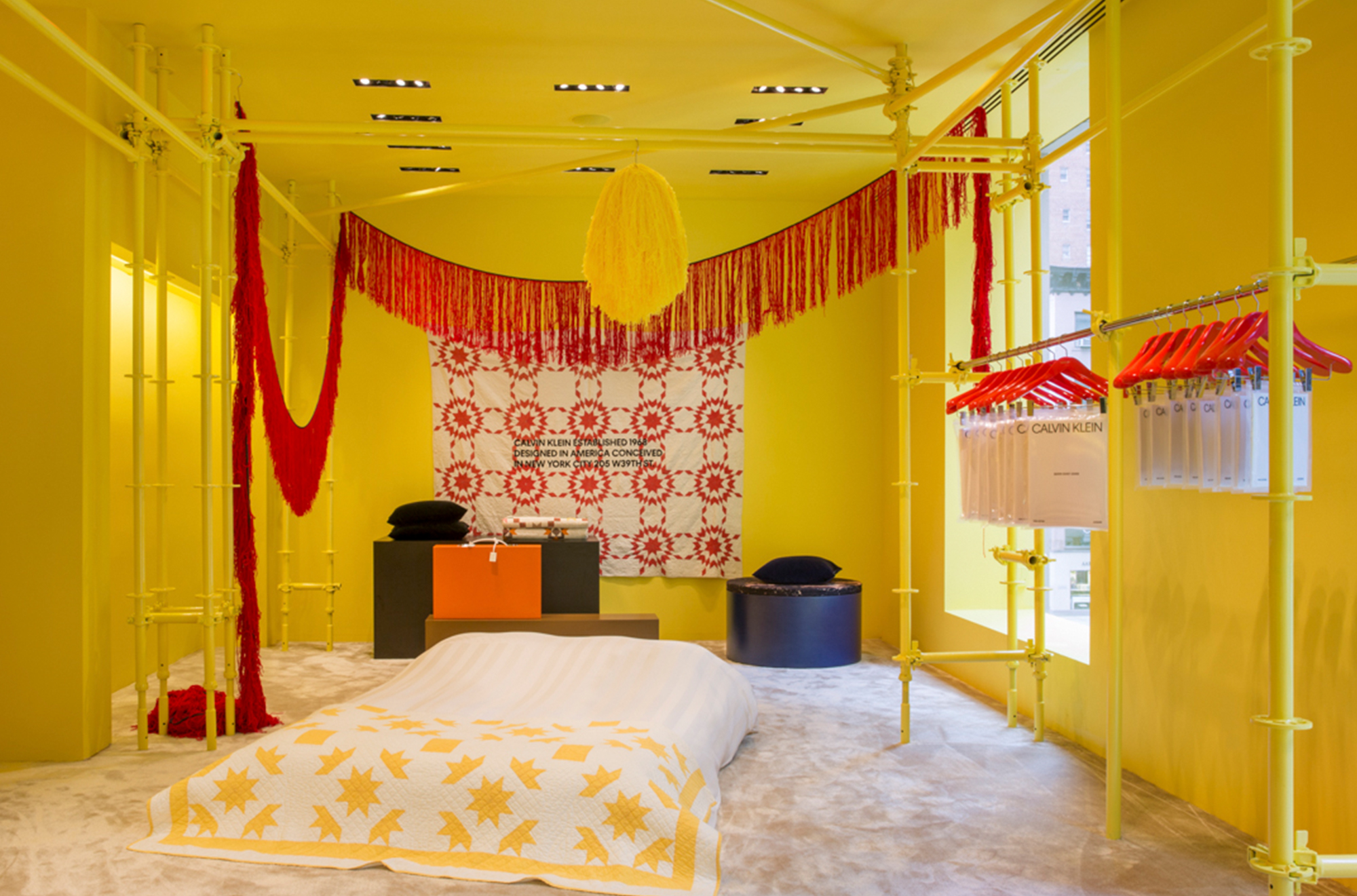 Photo: Courtesy of Calvin Klein
"I'm taking the Calvin Klein flagship store from minimal to maximal," said Sterling, who also designed the set for Simons' Fall 2017 men's and women's debut. "My design should be seen as a marker to celebrate the future of the brand. I wanted the store to glow from within, representing a new day for Calvin Klein."

It's worth noting that Calvin Klein just got a space at Dover Street Market downtown, also designed by Ruby. With the two shops and a pristine new logo, Simons is clearly wasting no time in revitalizing the storied American brand.
0 Comment