"Nostalgia's a nice thing," Christopher Kane said at the unveiling of his new Beauty and the Beast capsule collection at Lincoln Center's Alice Tully Hall on Monday. Like most people, the London-based luxury designer has a fondness for animated Disney classics. "I was such a cartoon snob growing up—I would never watch anything but Disney because, well, it was the best," he said. "I actually would turn things off and scream at my mom, 'This is not Disney!'" But it was the 1991 adaptation of Jeanne-Marie Leprince de Beaumont's fairy tale that he particularly enjoyed (and evidently still does, if watching it over and over with his niece is any indication). Now, Kane can finally check 'working with Disney' off his bucket list, having been tapped by the entertainment conglomerate to design a limited edition lineup of ready-to-wear pieces and accessories to coincide with the release of the new Beauty and the Beast film (out Friday) starring Emma Watson and Dan Stevens.

"It's something I've always wanted to do," the Scottish designer gushed. "When Disney approached me last October, I was between seasons and it was a really fast turnaround. But I was so excited that I just couldn't say no." Kane added that he only had about four weeks to design the collection, but one look at the intricacy and detail and you'd assume it was the result of months and months of intense dedication. But that's the magic of Christoper Kane—and the 34-piece collection, which is heavy on dreamy jacquards, romantic rose motifs, and twinkling Swarovski crystal embellishments, feels every bit enchanting as the tale itself. The color palette—majestic gold, icy blue, and inky black—was taken from the interior of the beast's castle, and the bold red, which runs throughout the collection, was a nod to the mystical rose.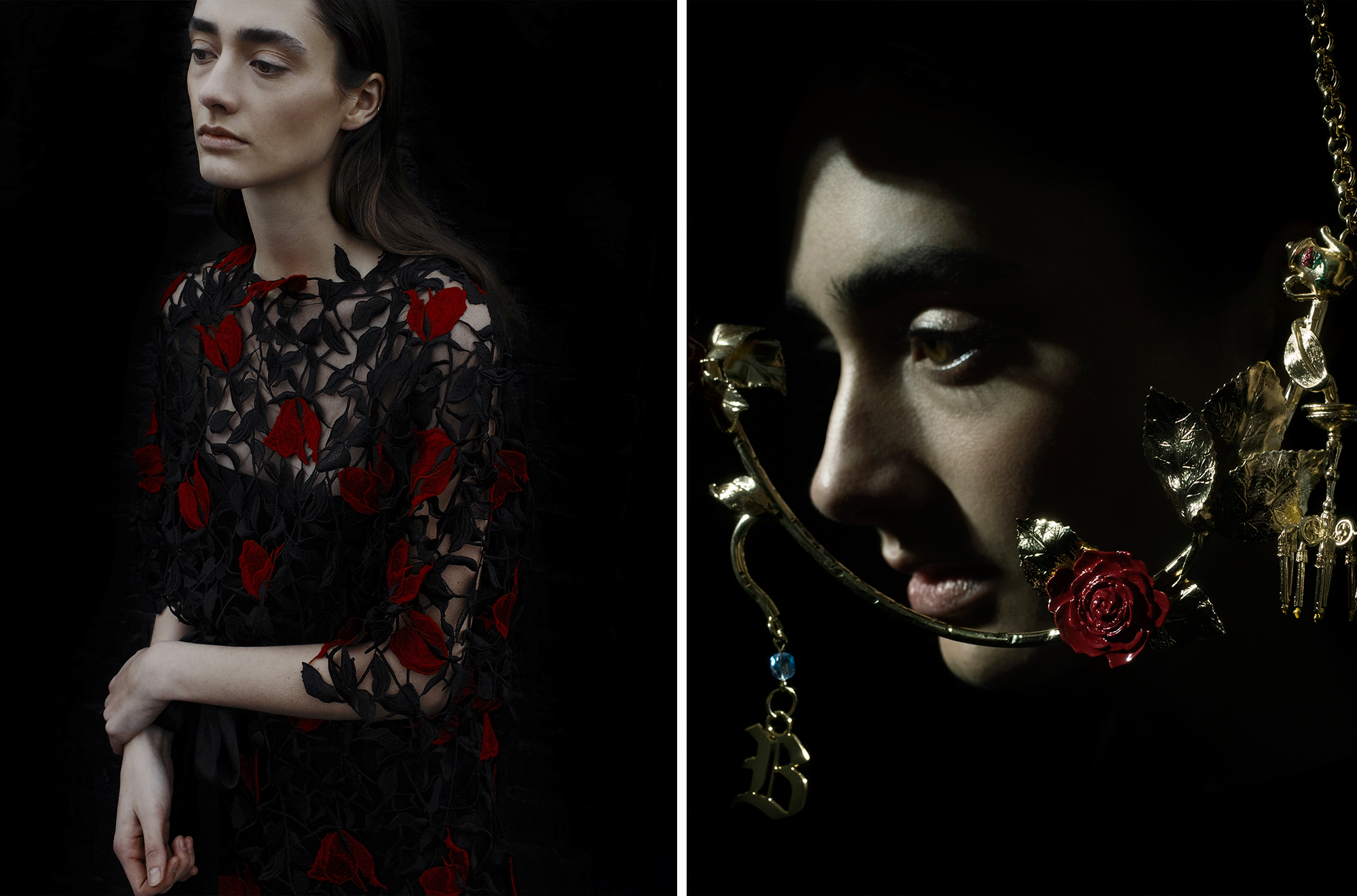 Photos: Courtesy of Christopher Kane
But there was also a sustainability element at play. For the first time, Kane and Disney teamed up with Eco-Age for the collection, and two of the pieces—an organic cotton T-shirt and a Swiss lace dress—have been validated by the Green Carpet Challenge, which raises awareness for sustainability and social welfare. While this isn't the first time Kane has worked with Eco-Age (he was one of the five designers enlisted by the company in 2013 to design an ethical and sustainable capsule collection for Net-a-Porter), it was Disney's first go-round with the company, which was founded by Livia Firth. "My starting point was, 'Oh no, it's a giant company so there will be huge mountains to climb," she said. "But I was very impressed with Disney's code of conduct with its suppliers. It's remarkable that there's this added element of storytelling."

"I think people need to remember that as a luxury brands you do need to be very responsible," Kane added. "We work in the field of creating fantasy [and] creating beautiful garments. I try to make sure I have a really close relationship with my suppliers so that I know [the clothes] are being responsibly sourced. I don't want to harm the planet or harm people." The designer said there were no challenges in designing it sustainably, and that he feels smalls steps—like this collection—lead to bigger steps in the long run. But the most fun part for him? "Seeing it all come together. I think this year has already been a whirlwind, but I think my favorite part has been working with Disney and having that advantage."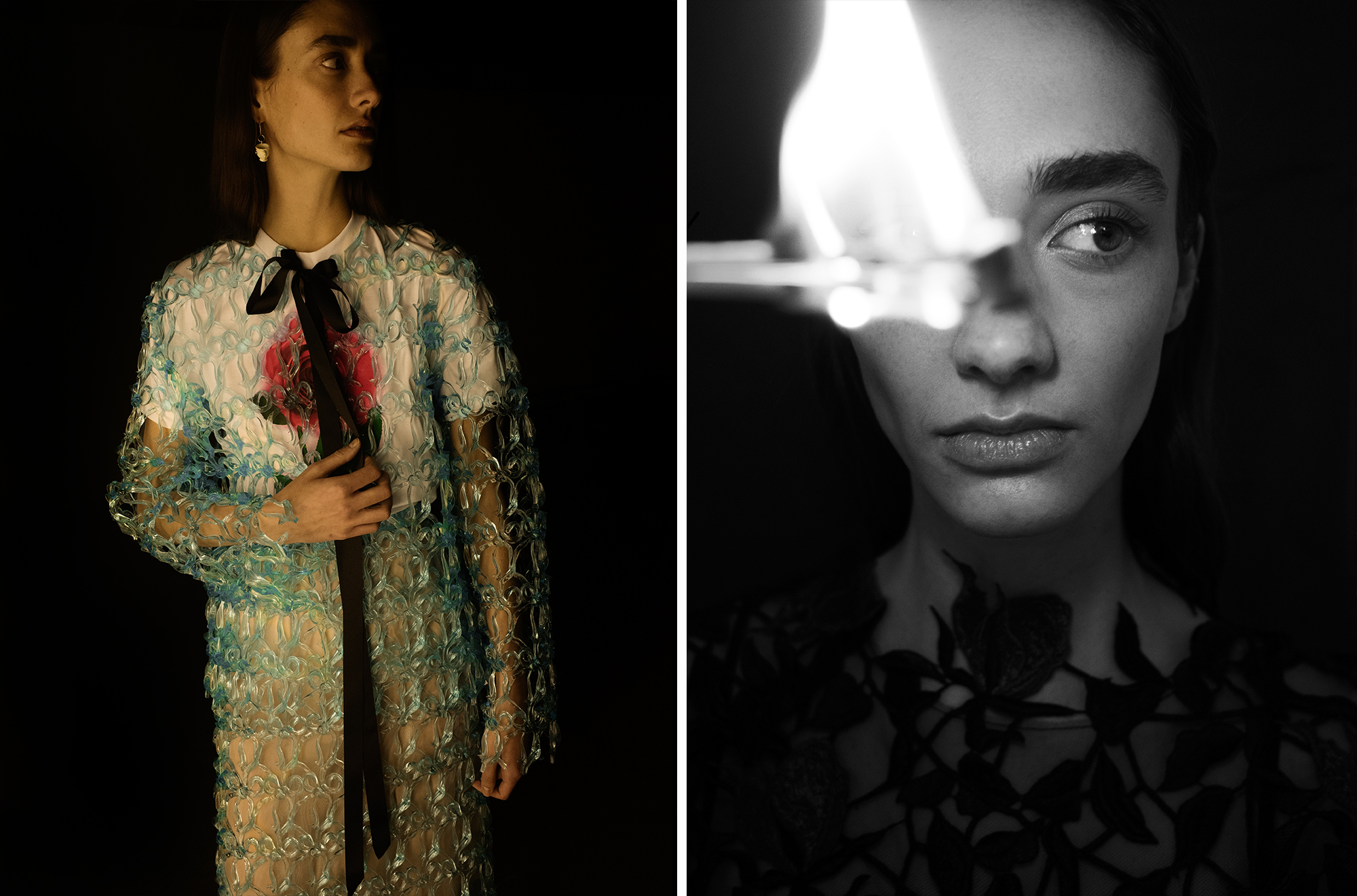 Photos: Courtesy of Christopher Kane
And speaking of favorites, Kane also dished on his favorite scene from the film. "It's when Belle is walking through the village in the very beginning, and everyone's like, 'Oh my God, who is this girl? She's treated like an outcast because she's smart and beautiful. How strange that [this scenario] still resonates with women today," he said. "I think we should be more radical, and I think Belle is very radical." It's no surprise, then, that Watson was given the role. Throughout the press tour, the British access-slash-activist made it her mission to wear sustainable clothes. And that's pretty rad.

Christoper Kane x Beauty and the Beast is now available online at christopherkane.com and in stores internationally.
0 Comment