"I'm super Colombian," said Esteban Cortázar Monday night on the Jardin du Pont Neuf, a barge-type vessel docked alongside the Seine. "This project with Colette celebrates our pride to be Colombian. We wanted to bring the feeling of happiness we see in the streets of the villages and small towns, so we chose products that really celebrated that."

Cortázar, the native Colombian by way of Miami, was on deck to celebrate the collaboration he orchestrated with purveyor of all things Parisian-chic, Colette. It just so happens that France has chosen Colombia as its cultural partner for the year as part of an exchange tradition that France participates in yearly. According to Sarah Andelman of Colette, she "would have said yes to a collaboration, despite the cultural connection," having highlighted countries like Japan and Argentina with Sofía Sanchez de Betak in the past. But the partnership is all the more reason to celebrate the fiery Latin culture that boasts its own brand of savoir faire when it comes to crafts, arts, and design.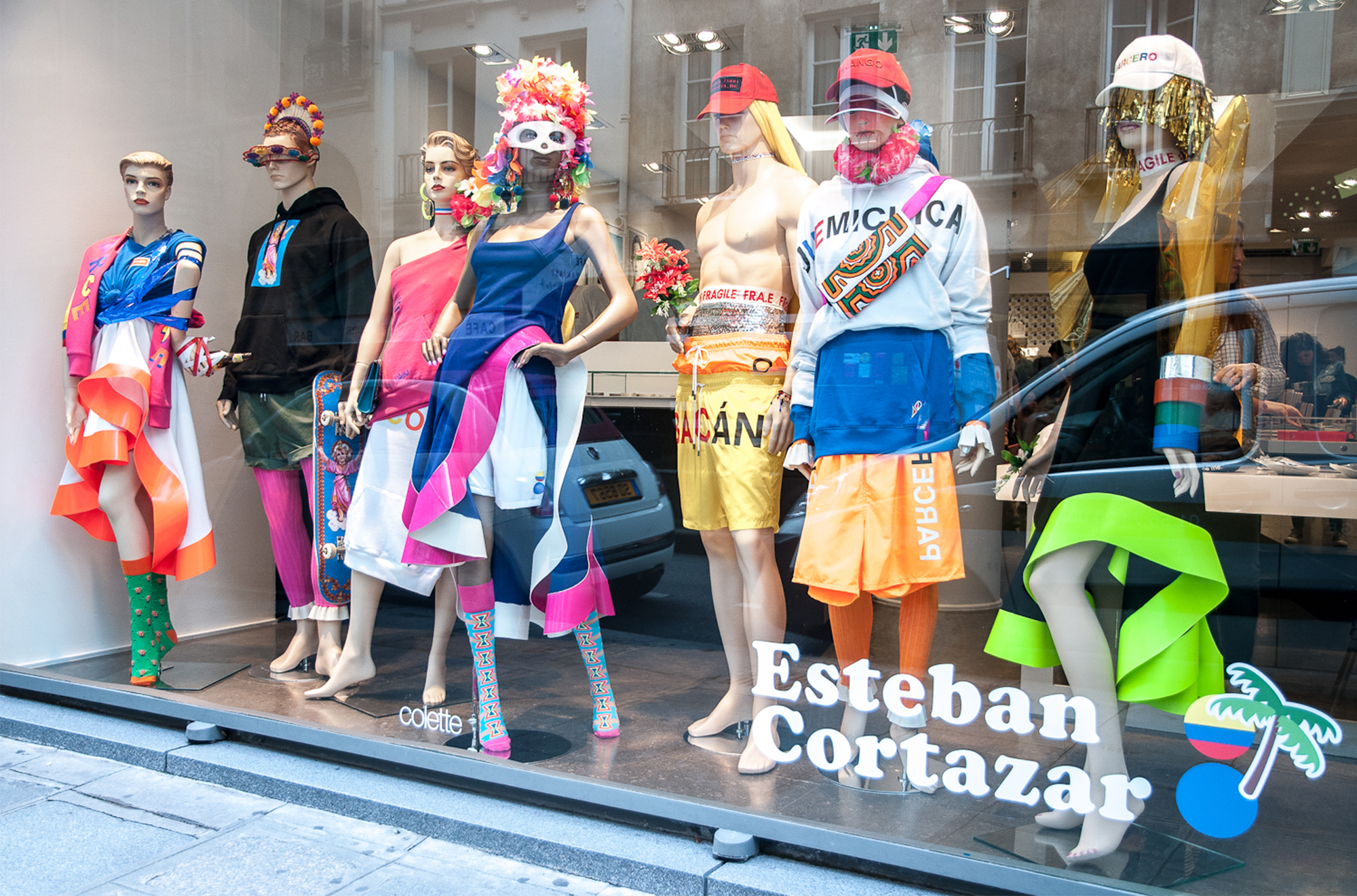 Photo: Benoit Auguste / Courtesy of Colette
Guests had gotten a sneak peek at the goods that Colette will carry from now until July 22 at a pre-party cocktail. On display were art books and Latin fashion magazines, woven chairs from furniture designer Ramon, a hoodie from Colombian pop star J. Balvin, and food specialties from candies to typical dishes that will be served in the Colette café. While Cortázar, of course, will customize some brand staples such as his neoprene dress, he also partnered with several Colombian brands to add to the mix, such as OndadeMar for swimsuits, Nancy Gonzalez for bags, Paula Mendoza for earrings, Mercedes Salazar for jewelry, Hunting Season for coffee table lighters, Casa Chiqui for earrings, and Magnetic Midnight for beautiful headbands that were made from dyed, dried palm leaves by indigenous tribes under Lucia Echavarria's design direction. Only a few items were not made by Colombians, such baubles by the plastic queen Yazbukey, who created earrings in the shape of bottles of Aguardiente, a typical Colombian alcohol, and Atypyk, who offered up a snow globe that depicted the Eiffel Tower in the colors of Colombia. Thus far, Colette and Cortázar are the first to collaborate on a fashion initiative in honor of the program.
A taste of Cartagena was brought on board with tropical plants, flowers, and faux parrots filling every available space. Mountains of fruit were on edible display, and partygoers enjoyed bananas along with candies and sodas from the South American country. Latin salsa favorites were spun by DJ Cosmo & Pablo while guests sipped La Hechicera rum, a classic libation from Colombia, and noshed on the occasional platter of plantains and salsa or grilled beef.
According to Cortázar, the Colombians even helped Paris' rainy, late afternoon skies transform into a beautiful sunset. "You see, we have the power to make the rain stop," he said. The designer drew some comparisons to the City of Light and Cartagena. "This is the capitol in our hearts—it's kind of the ambassador city. The cities share the same joie de vivre and passion for living life. The French are Latin themselves, so we connect in that way. I've always been moved by the welcome Latins receive in Paris," he said.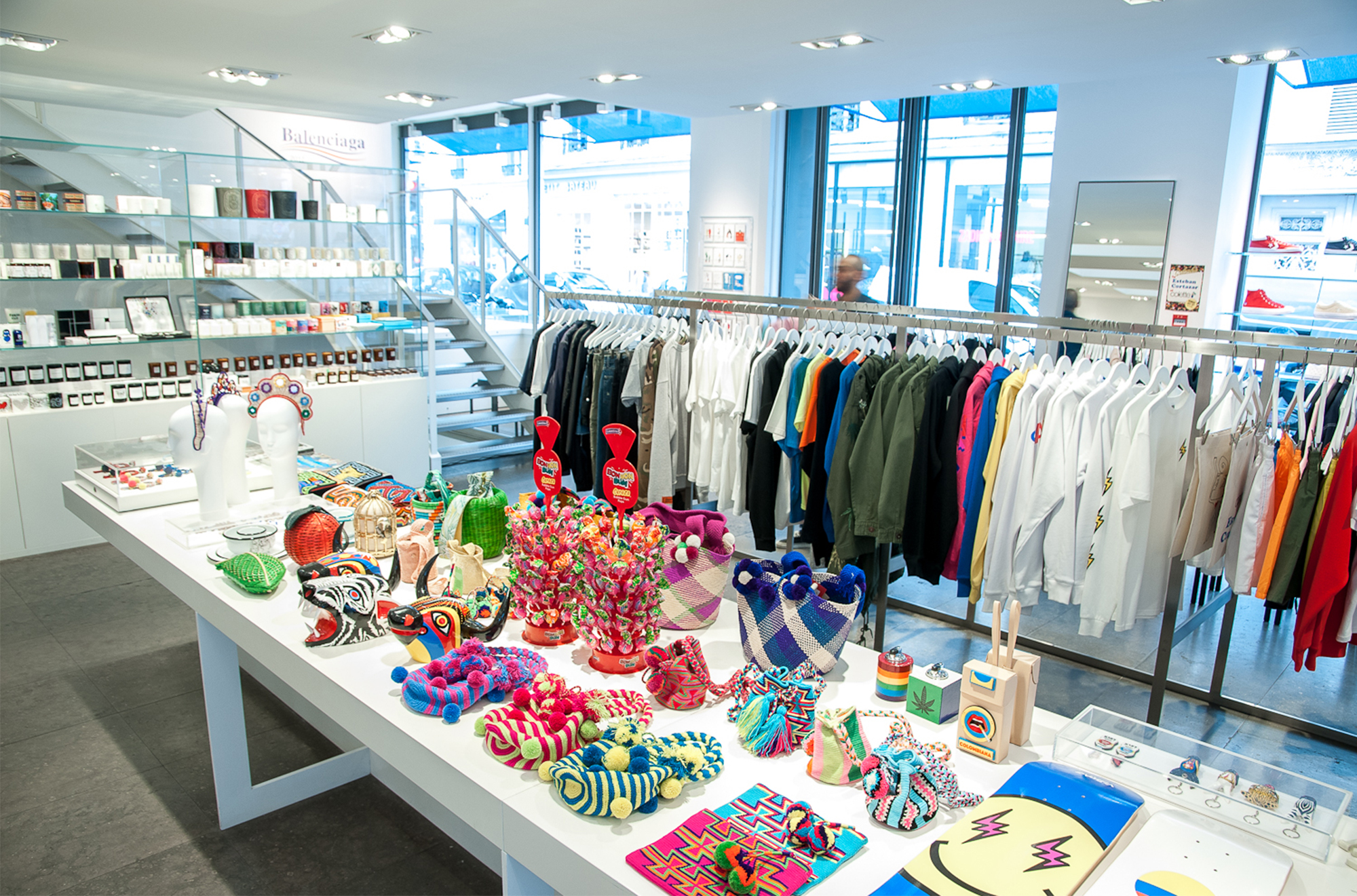 Photo: Benoit Auguste / Courtesy of Colette
Mendoza, the Colombian, New York–based jeweler who looked stunning in a one-shoulder red, green, and blue mosaic Cortázar dress, agreed. "French people and Colombians have the same passion—they feel for what they do. The Parisian way is a little bit more clean—simple yet strong in the way they show things. I think we are more loud and colorful."
The evening showed no signs of slowing once the sun went down and the lights of the Pont Neuf illuminated the ship. Cortázar took to the dance floor with a seasoned salsa dancer wearing one of his signature neoprene, tiered-skirt dresses that Andelman was also donning, but in different color combo. "Mine didn't come with the dance steps," she observed playfully. One got the feeling that if the rum continued to flow, soon everyone onboard would find their Latin groove.
Cartagena à Paris by Esteban Cortazar x Colette will be available at the boutique's 213 Rue Saint-Honoré location through July 22
0 Comment