At the tail end of Haute Couture, in a salon overlooking the Place Vendôme's famed column, Charlotte Dauphin de la Rochefoucauld debuted her latest collection for Dauphin, a line of fine jewelry she launched in 2014. The setting could not have been more fitting—in an ornate, historic French building in the square where Paris' most storied jewelry houses are headquartered, de la Rochefoucauld fused past and future, presenting her geometric wares atop modern interpretations of the Vendôme Column. It was a perfect metaphor for her jewelry line, which upholds the high standard of the old guard, while at the same time offering clean, minimal, youthful designs that can quite literally grow with the wearer.
"I never wore jewelry before I started making it," said de la Rochefoucauld, whose background is in fine art and art history. "I couldn't find anything I liked, and at one point, I started wondering why. I really wanted to create a new classic for a woman, and I felt that this didn't exist because you would either go to an historic house and get something very matchy-matchy, or you would go for something very fashionable that would just get outdated in six months."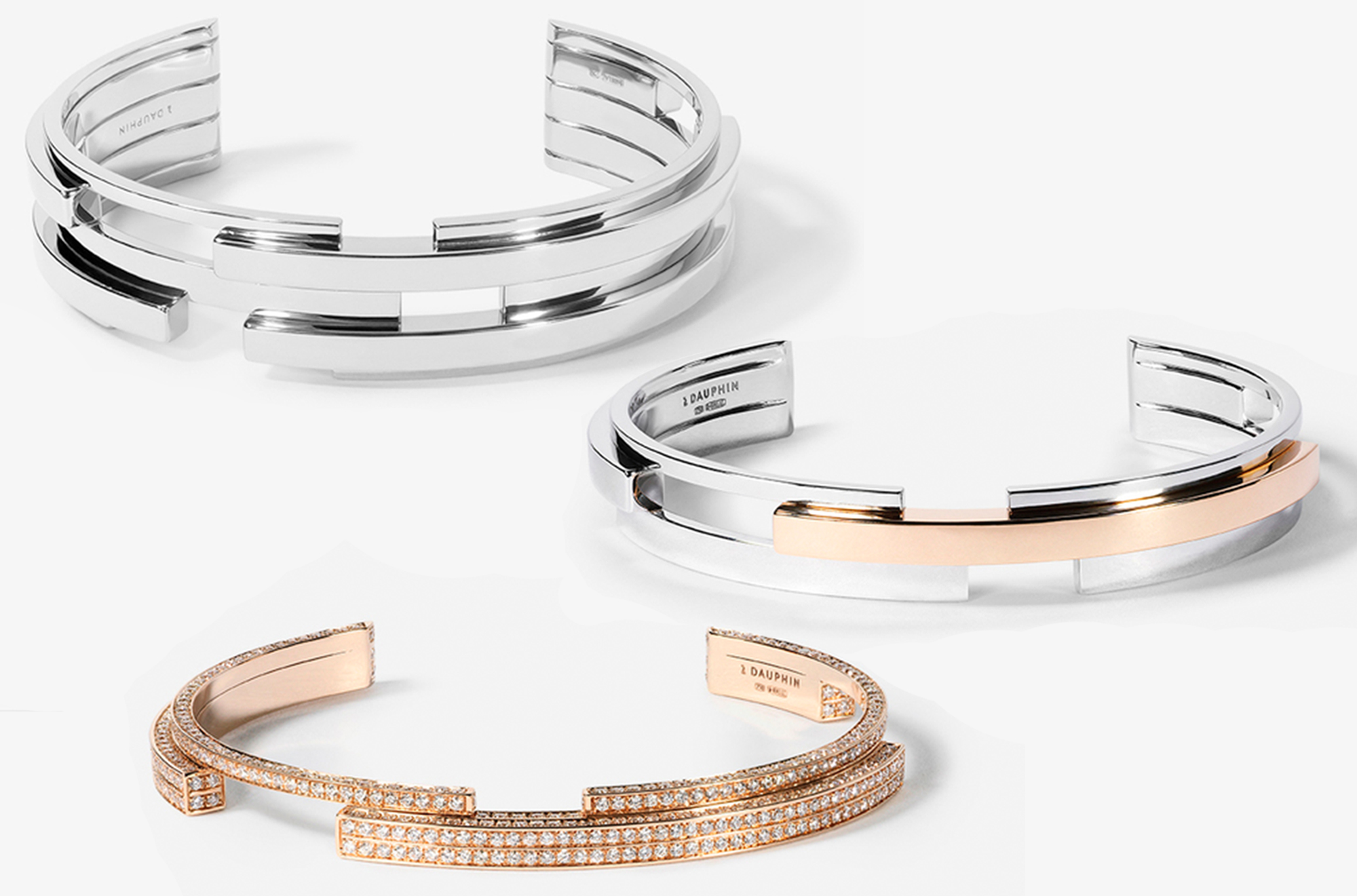 Cuffs from Dauphin's "Volume" collection
Photos: Courtesy of Dauphin
Enter Dauphin, a range of rings, earrings, cuffs, necklaces, and pendants (the latter of which are new for this season) that radiate with a natural, quiet beauty rather than ostentation. "Jewelry is a very emotional thing," said de la Rochefoucauld. "It has to connect with you inside—it transmits a lot from the inner self of the person, and I want Dauphin jewelry to melt with your personality."
Her newest collection, "Volume," takes that quest to the next level, with rings, bracelets, and pendants that can be stacked and combined however the wearer wishes. And while a single piece is the picture of elegant simplicity, I can't deny that the combination of the stacked rose, white, and blue gold (the navy is a signature—and its composition is a house secret) wares, all set with diamonds, are breathtaking.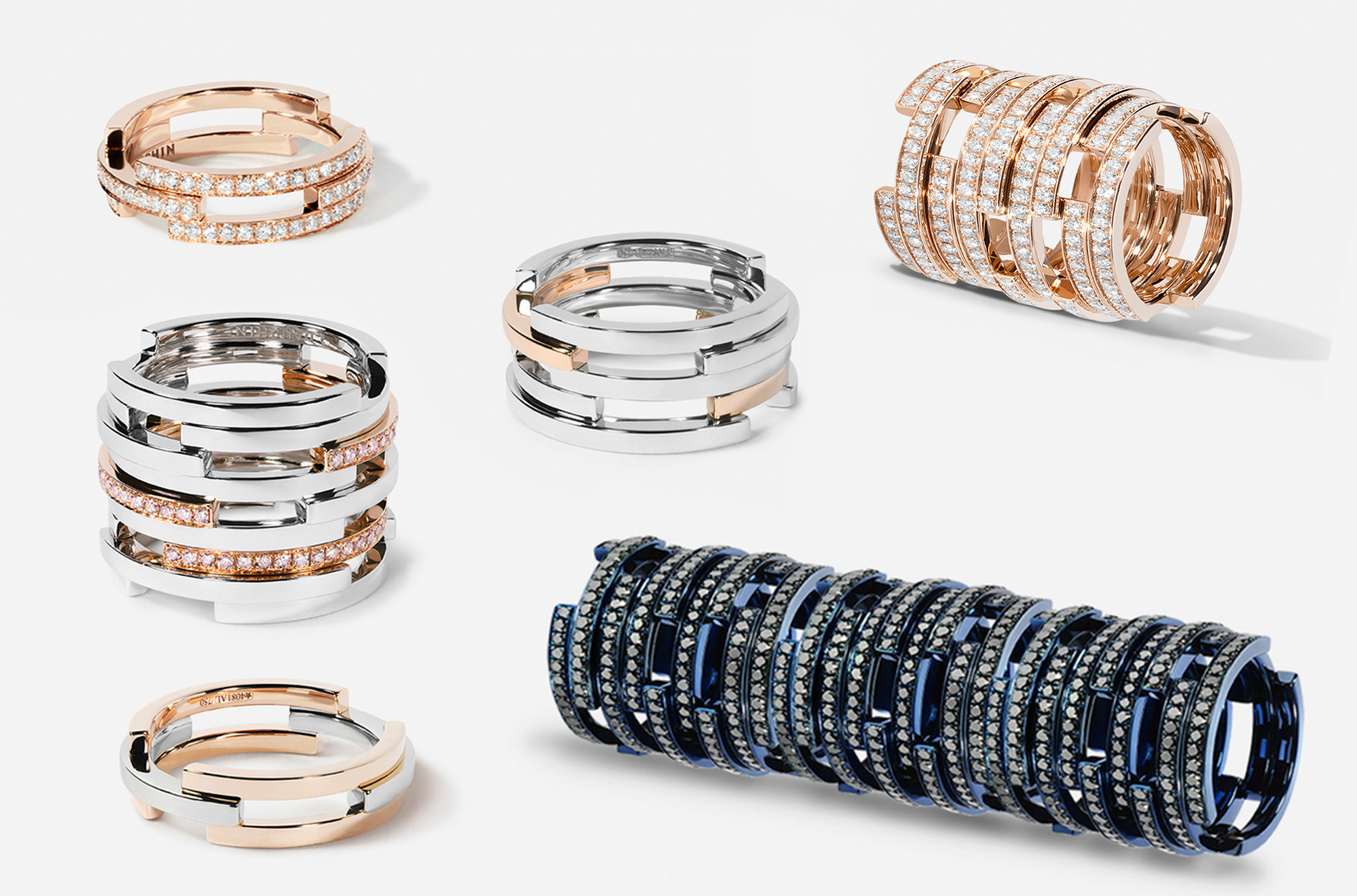 Rings and pendants from Dauphin's "Volume" collection
Photos: Courtesy of Dauphin
This week also marked the launch of Dauphin's e-commerce site, which will ship de la Rochefoucauld's refreshing designs internationally. "I wanted this new collection to make jewelry more relaxed—the idea of stacking, and even the use of pendants, is all about creating different ways to wear jewelry. So, considering we have a lot of people buying from different locations, it made sense to introduce a more relaxed approach to shopping for jewelry."
De la Rochefoucauld, who has a showroom in Place Vendôme and another location in London, has also worked with pink diamonds for the first time this season. The resulting delicacies are now available on her website, just in time for Valentine's Day. So what will de la Rochefoucauld be doing on the most romantic day of the year? "Nothing interesting—probably just wearing my own rings." Sounds pretty decadent to me. Diamonds are already a girl's best friend—why can't they be her sweetheart, too?
0 Comment