The fashion industry has been vocal about the current administration and its policies, either speaking about dressing (or not dressing) the First Lady, to supporting Planned Parenthood, to sending statement t-shirts down the runway.
Today, Diesel took it up a notch, releasing a series of ads that take aim at the highly controversial idea of a border wall, and proving that politically charged advertising is not reserved for the Superbowl.
The campaign, lensed by David LaChapelle, features the phrase "Make Love Not Walls" and celebrates coming together in a time of extreme division.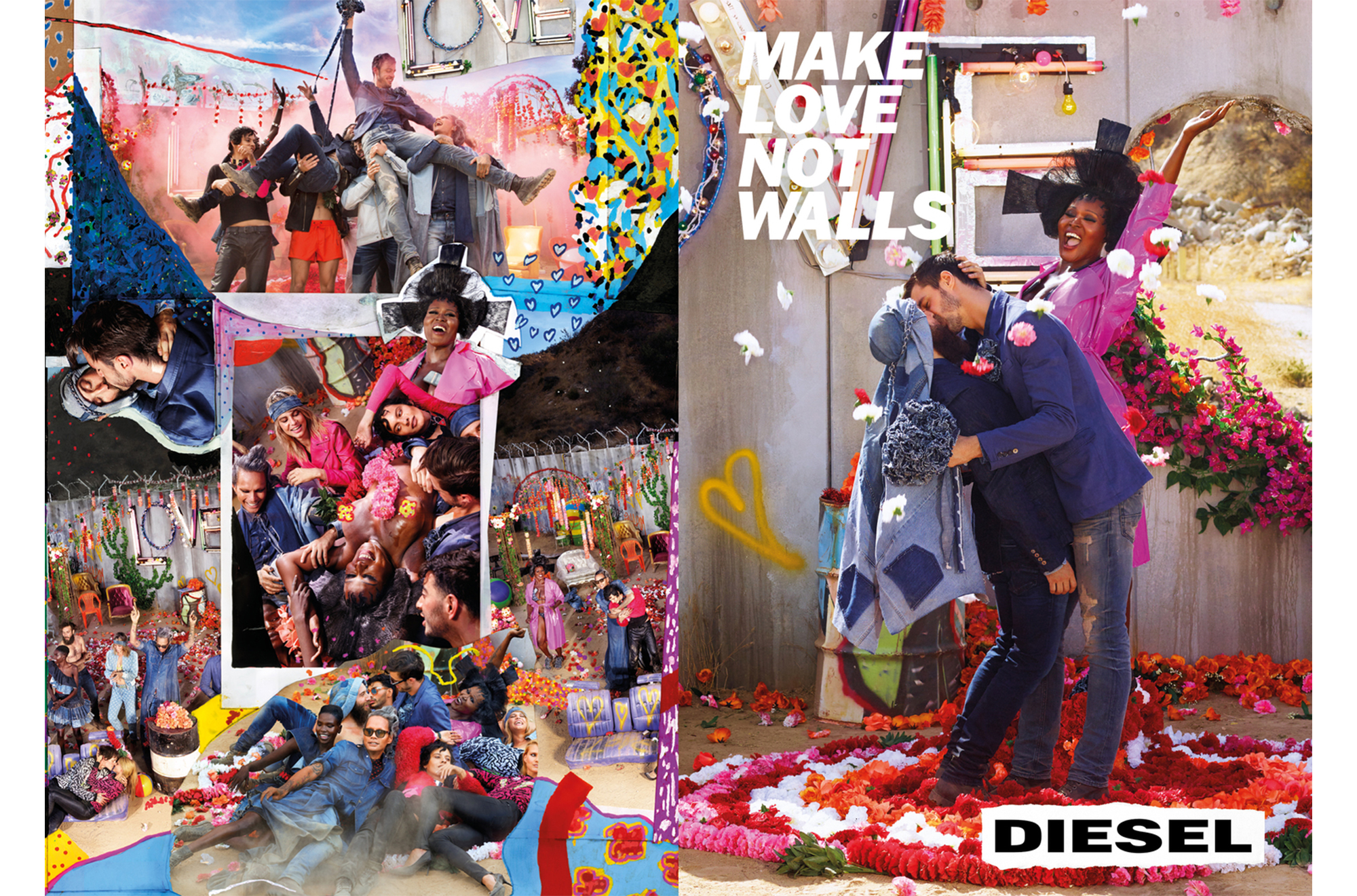 Photo: David LaChapelle / Courtesy of Diesel
"At Diesel, we have a strong position against hate and more than ever we want the world to know that," said Nicola Formichetti. "Love and togetherness is crucial in creating a society we all want to live in, and the future we all deserve."
In addition to the print ads, a rainbow-colored inflatable tank will be in London today, and will then travel to Milan, Shanghai, New York, Berlin, and Tokyo. Yes, tanks are a military tool, but here one is being imagined as something to break through walls with—and again, it's rainbow-colored.
Finally, a film is being released for the campaign, showing love in all different forms. Also shot by LaChapelle, the video stars ballet dancer Sergei Polunin, artist Stefan Meier, transsexual model Laith de la Cruz, artist Karis Wilde, Olympic Silver medalist Danell Leyva, make-up artist and drag star Raja, and transgender model/activist Octavia Hamlett.
While many designers and labels are choosing to make their political affiliations and opinions known right now, this is the first recent instance of a brand bringing it to the forefront in its advertising. In a way, Diesel is putting its money on the line—it's one thing to be vocal politically, it's another to promote your product in this manner. That being said, Diesel has done a very good job by focusing on a positive message: love. Who's going to argue against love?

0 Comment