If Heron Preston has proven anything about himself as a designer, it's that he's uniquely inventive when it comes to choosing whom he partners with, and how he showcases his line.
Preston is traveling the world to promote his first full collection for Fall 2017 (which, incidentally, he titled "for you, the world") with a series of pop-up shops that will take place in Tokyo, Milan, Seoul, London, New York (where the designer is based), and Paris (where he debuted the collection).
His first stop will be in Moscow, with a three-day event at the concept store KM20. Items from his capsule collection for the New York Department of Sanitation will also be available, while Virgil Abloh and DJ CYBER69 will be providing music alongside video and art installations.
His choice of Moscow is not merely because the fashion world is paying more attention to Eastern Europe these days—Preston has been interested in Cyrillic alphabet for a few years now.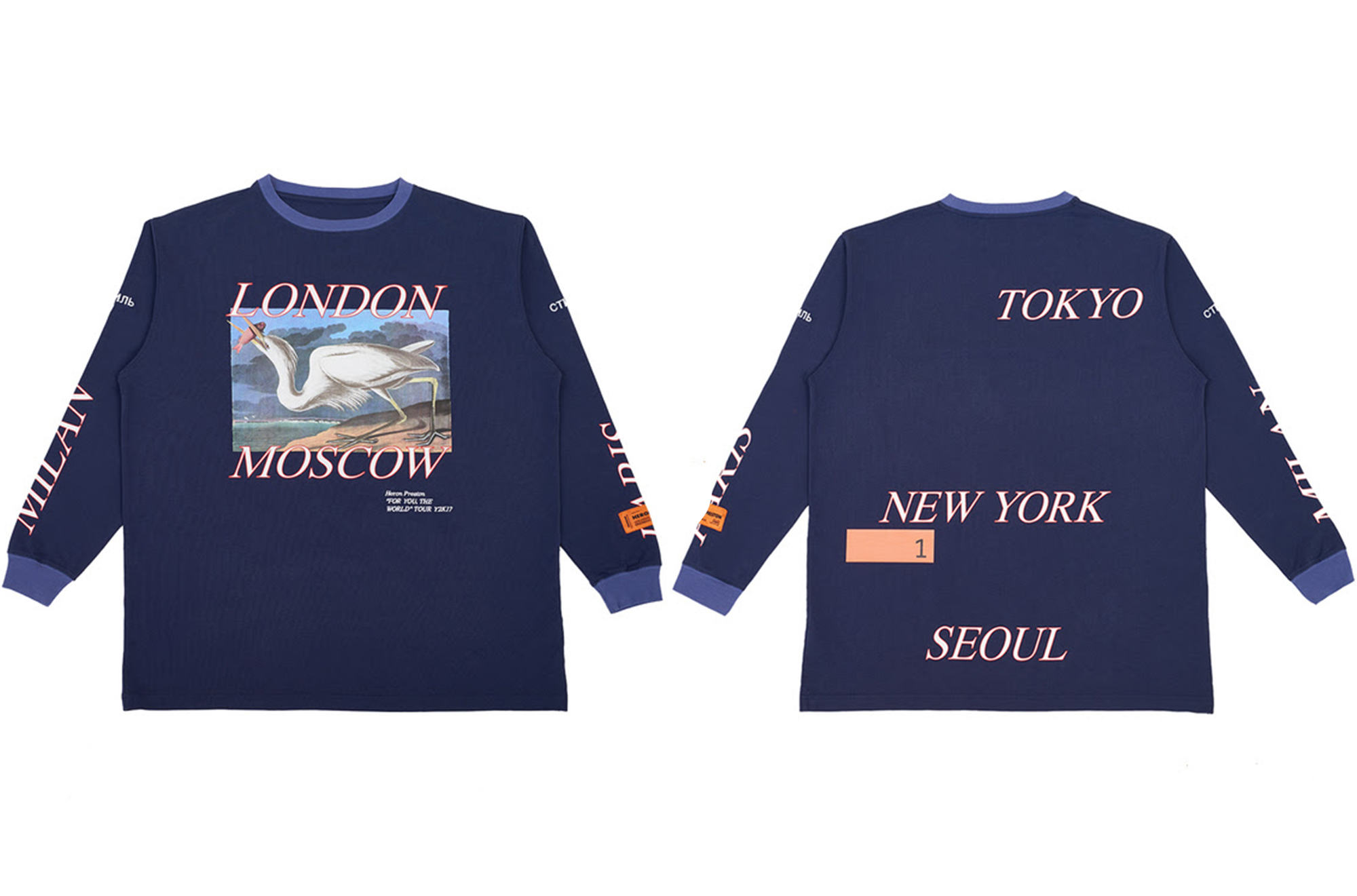 The limited-edition t-shirt commemorating the retail tour
Photos: Courtesy of Heron Preston
"In 2014 Nick Knight was curating a 'hip-hop in the '80's' photo exhibition in his SHOWstudio gallery and invited me to create a t-shirt for that project. For the direction, I decided to focus on hip hop culture's obsession with style and branding," he said of his "Стиль" sub-logo, which adorns many of his pieces, as well as his website. "For the launch of my first collection, I felt an American designer debuting in Russia would be different from what everyone else in the industry is doing while staying authentic to the story of my brand."
It appears his exploration of style and branding has not ceased either, as the designer has crafted a limited-edition t-shirt to commemorate the retail tour. The individually numbered shirts feature a 1832 rendering of a great white heron by John James Audubon, as well as all the cities the tour stops in, and will be available exclusively at the pop-up events.
Heron Preston's Fall 2017 collection arrives in stores on May 20. His pop-up at KM20 in Moscow will run from May 19 through 21. Other pop-up dates and locations have yet to be announced.
0 Comment