Today, Jeremy Scott announced a new collaboration with Ugg, set to hit stores September 13—about a week after the designer will show his Spring 2018 collection for his eponymous label in New York. The eight-piece capsule will apparently include a black boot decked out with colorful jewels and a brown version engulfed in a flame print, per WWD. Scott, an "undercover Ugg fan," told the trade he visited the California-based boot company's L.A. store and was inspired by its "surfer-dude" aesthetic. And while Ugg isn't entirely new to the designer collaboration game (the footwear label teamed up with Jimmy Choo in 2010 and will unveil a men's capsule with 3.1 Phillip Lim this October) and Scott, similarly, has a hefty list of collaborations under his belt (one of which drops today at Sephora), the news speaks to fashion's fairly recent obsession with "ironic luxury," and, more specifically, the ugly shoe.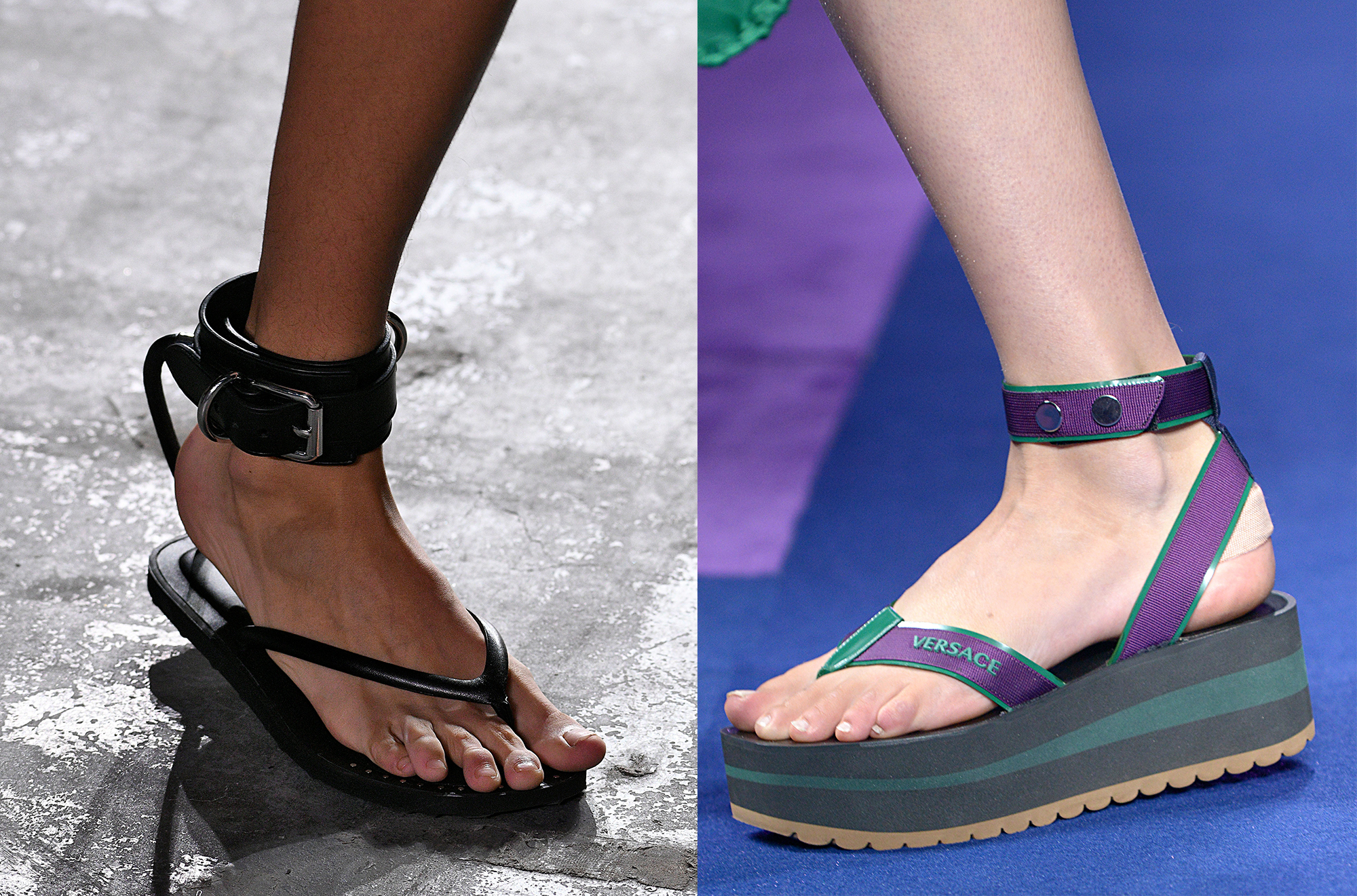 Alexander Wang and Versace Spring 2017
Photos: firstVIEW
Our industry's love affair with garish footwear likely brings to mind Christopher Kane's mineral-encrusted Crocs, which he introduced for Spring 2017 (and, like Scott's Uggs, which range from $90 to $1,195, the cost of Kane's version of the rubber slip-ons is exorbitantly higher than the average pair), but fashion's "camp shoe" mania actually goes back to 2012, when Phoebe Philo sent Birkenstock-like sandals down her Spring 2013 runway for Céline. The fashion set's response: head-scratching, but intriguing. Vogue's Sarah Mower called them "truly eccentric," but not ideal for "any work or social situations." A season later, another designer by the name of Miuccia Prada unveiled her version of the ugly shoe, encasing her models' feet with a chunky, bulky sandal embellished with high-wattage gemstones. (Think Tevas, but Prada-fied.) Marc Jacobs, Christopher Raeburn, Peter Pilotto, Bottega Veneta, and Burberry all got in on the fun, and soon, the hideous footwear movement expanded into pool-slider and flip-flop territory. J.Crew teamed up with Dr. Scholl's for Spring 2016, and for Spring 2017, Alexander Wang introduced his variation of clear thongs with an attached ankle cuff reminiscent of a probation monitor. Louis Vuitton, Chanel, Fendi, and Miu Miu have all incorporated sliders into their collections—and now, you'd be hard-pressed to find a designer who hasn't dipped his toes in the grotesque footwear pool.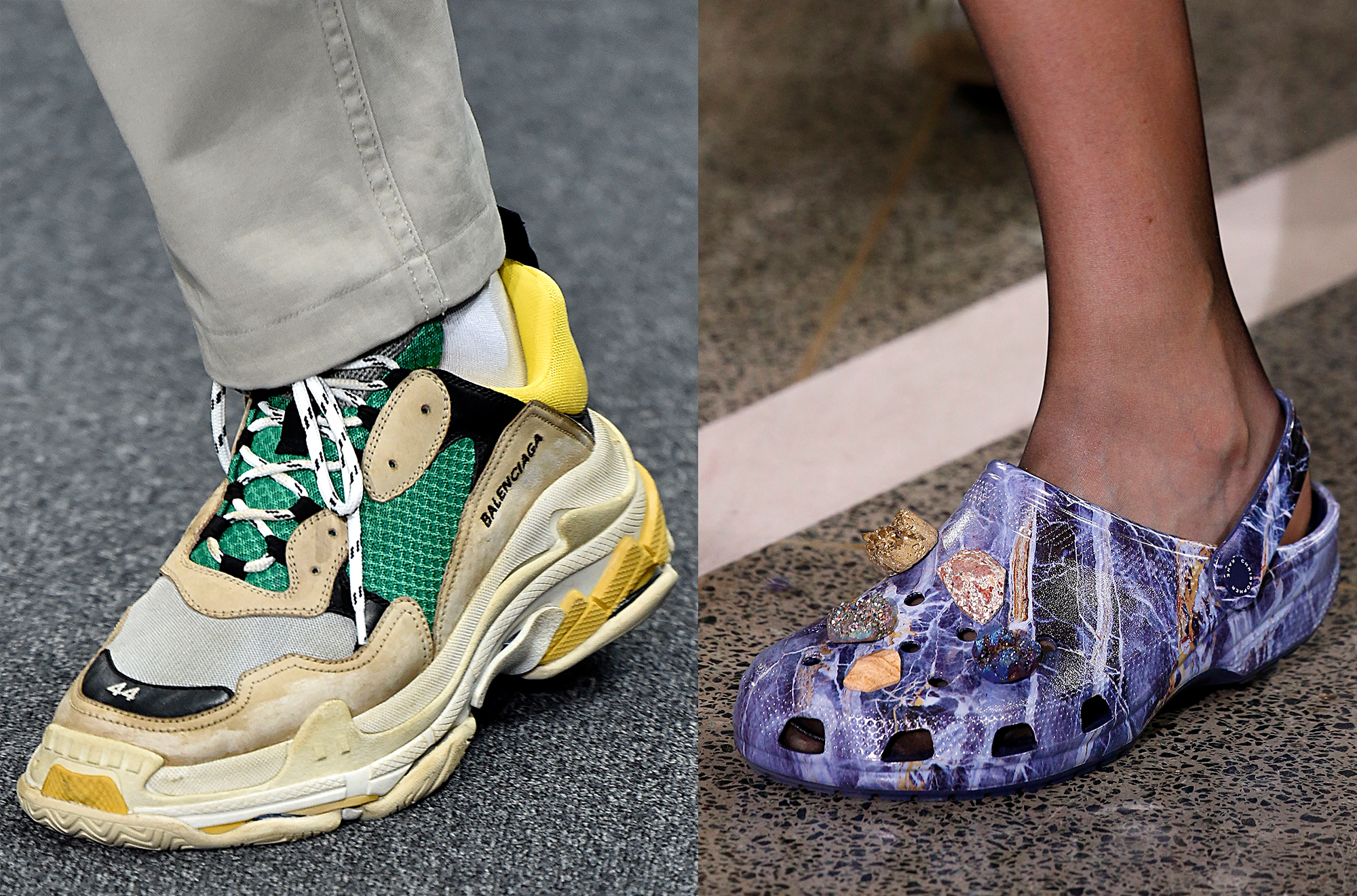 Balenciaga men's and Christopher Kane Spring 2017
Photos: firstVIEW
It goes beyond sandals, too. Designers like Demna Gvasalia and Gosha Robchinskiy have all recently championed a revival of the "white dad sneaker," incorporating some variation of the clunky, orthopedic-looking shoe into their collections.

The actual brands that produce this kind of footwear—the OGs, if you will—have been smart to capitalize on high fashion's fixation. For Spring 2017, Birkenstock presented a men's and women's collection in Paris, tapping PR powerhouse KCD to represent the brand. Tevas and Ugg have also enjoyed notoriety sans designer collaborations (the two even paired up last year to produce a hybrid sandal-boot that Bloomberg deemed "universally grotesque").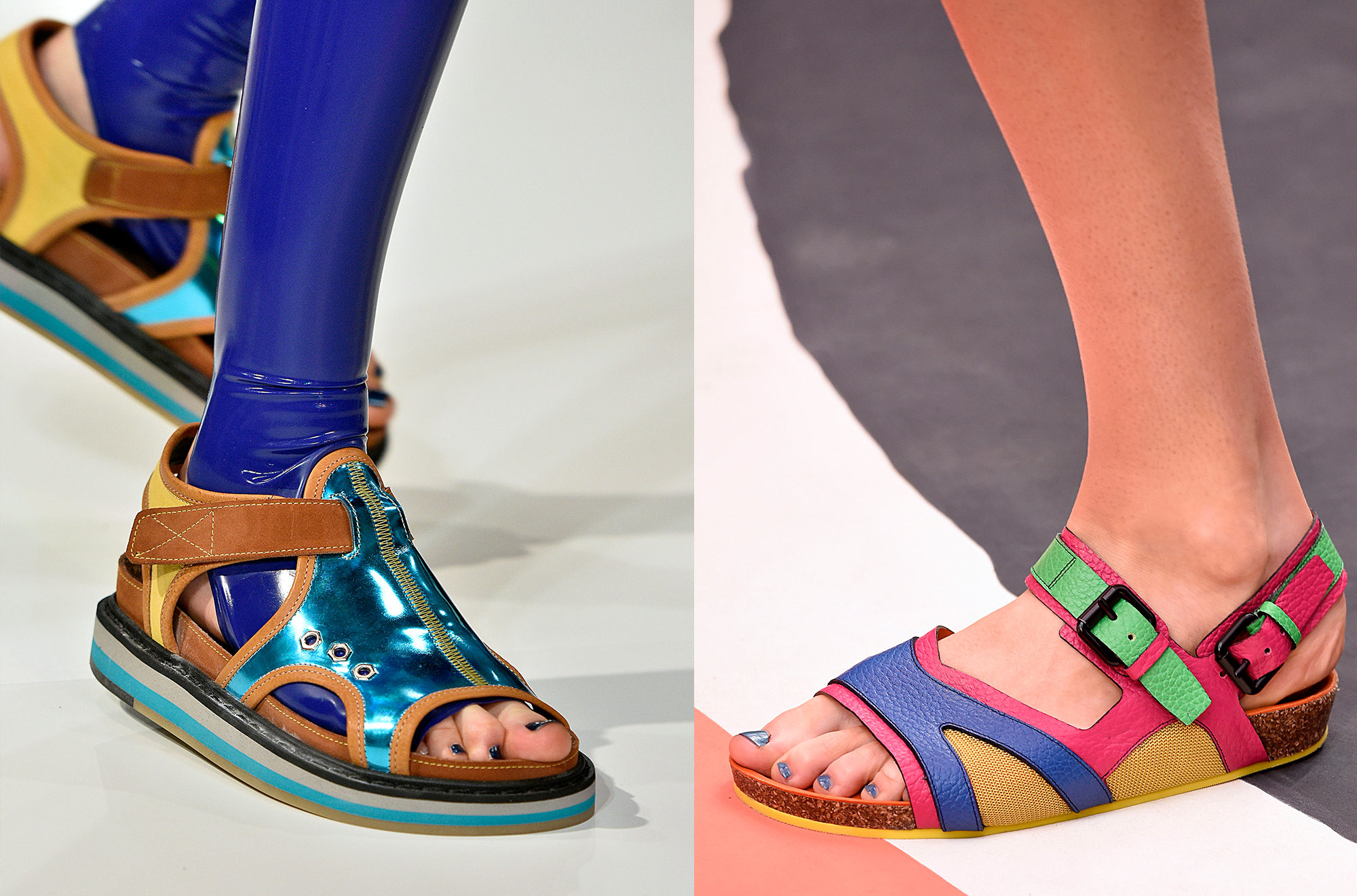 Maison Margiela Spring 2017 and Burberry Spring 2015
Photos: firstVIEW
This peculiar phenomenon isn't just a short-lived one-off. There's a reason ugly shoes—which, in all their Velcro-clad glory, are equal parts fascinating and repulsive—have staying power, and why, season after season, editors clomp to and from shows sporting unsightly (yet undeniably comfortable) footwear. Is it nostalgia for a bygone era, as Scott told WWD, and a collective yearning for simpler times? Is it part of the normcore-gone-wild obsession epitomized by Vetements? Maybe it's convenience (we are busier than ever), or perhaps we've simply run out of ideas. Either way, I'd take Gucci's six-inch T-strap pumps over any podiatrist-friendly abomination any day—until they start to hurt. Then, hand me the Uggs.
0 Comment