Last night at Parisian department store Le Bon Marché Rive Gauche, an unexpected event: the debut of "Entendu au Bon Marché," an exhibition-cum-product launch, and the store's third collaboration with noted journalist and documentarist Loïc Prigent.
On entering the store, the stark-black block capitals that covered the first floor were striking. Guests wandered about the space with glasses of cider, and handsome male models moonlighted as cater waiters with various hors d'oeuvres. A band of men sat in the center wearing custom vests with the black-on-white words wrapped around them as they played traditional Brittany wind instruments that sounded similar to the bagpipes of the Scottish highlands—noisy—and there were two crepe stations with lines so long, one had to wonder how hungry these people must be. But in their defense, crepes.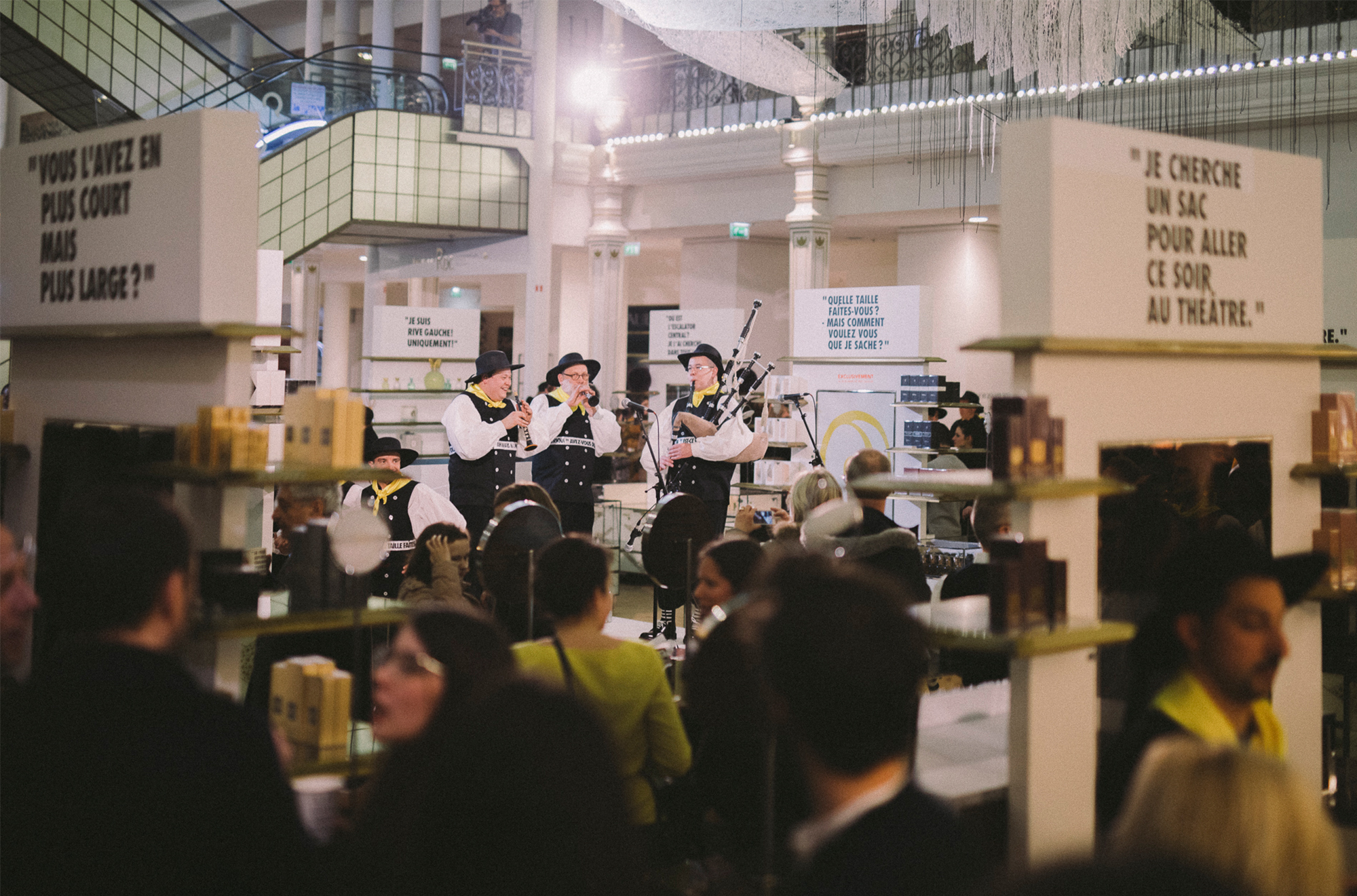 Photo: Courtesy of Le Bon Marché
A less ravenous rabble crowded around the product displays and perused the white and black offerings on sale—credit card holders, purses, tote bags, matchbooks, postcards, coffee mugs, and posters. One read: "C'est joli ce que tu portes. Je sais," which translates to: "That's a nice outfit you're wearing. I know." This and tens of other comments overheard by Prigent in the store were printed on inexpensive things, costing between $4 and $20 each. "I like this idea of consuming, not in a status way, but in an ironic way that's affordable and fun," said Prigent. "Here, we're positioned between Dior and Gucci, and now you can find something for four euros in the middle."
Prigent took trips to the store to listen in and take notes. I asked him if he wore a headscarf and dark glasses, or a fake nose and mustache. He did not. "I mostly took lunches with sales people in the fashion, lingerie, and kitchen departments, and just listened," he said. When questioned on how the collaboration came about, he replied, "Well, they called me for a project and I said, 'Uh huh,' and they were like, 'Uh huh," and they said some nos and I said some nos and then they said some yeses and I said some yeses and now here we are." I suppose that's usually how it happens, in a nutshell. "I'm allergic to beige, unless it's hysterical beige," "I'm looking for cocktail party coveralls," and "I hate my new hair, it's unsetting. I need to be lied to," were all comments I could personally relate to, so I bought them all. And spent less than 20 euros.
0 Comment