On the heels of Jeff Koons' "Gazing Ball" series, in which an iridescent blue sphere was placed was placed in front of repainted versions of various masterworks, classic paintings are getting the Koons treatment yet again. As part of a new collaboration with Louis Vuitton set to be unveiled at the Louvre tonight (the same venue where Nicolas Ghesquière staged his Fall show), the partnership will see the French luxury house's iconic bags—yes, that includes the Speedy—redesigned with five of the most iconic artworks in history, from Leonardo Da Vinci's "Mona Lisa" to Jean-Honoré Fragonard's "Girl with Dog."

In line with Koons' signature kitsch, each bag is adorned with gold block letters spelling out the artist's name, and the leather detail around the handle has been reconfigured as the New York-based contemporary artist's signature bunny. What's more, each bag also boasts Koons' initials in the same style as Louis Vuitton's signature "LV" monogram—a first for the house. Inside each is a brief description and portrait of the artist.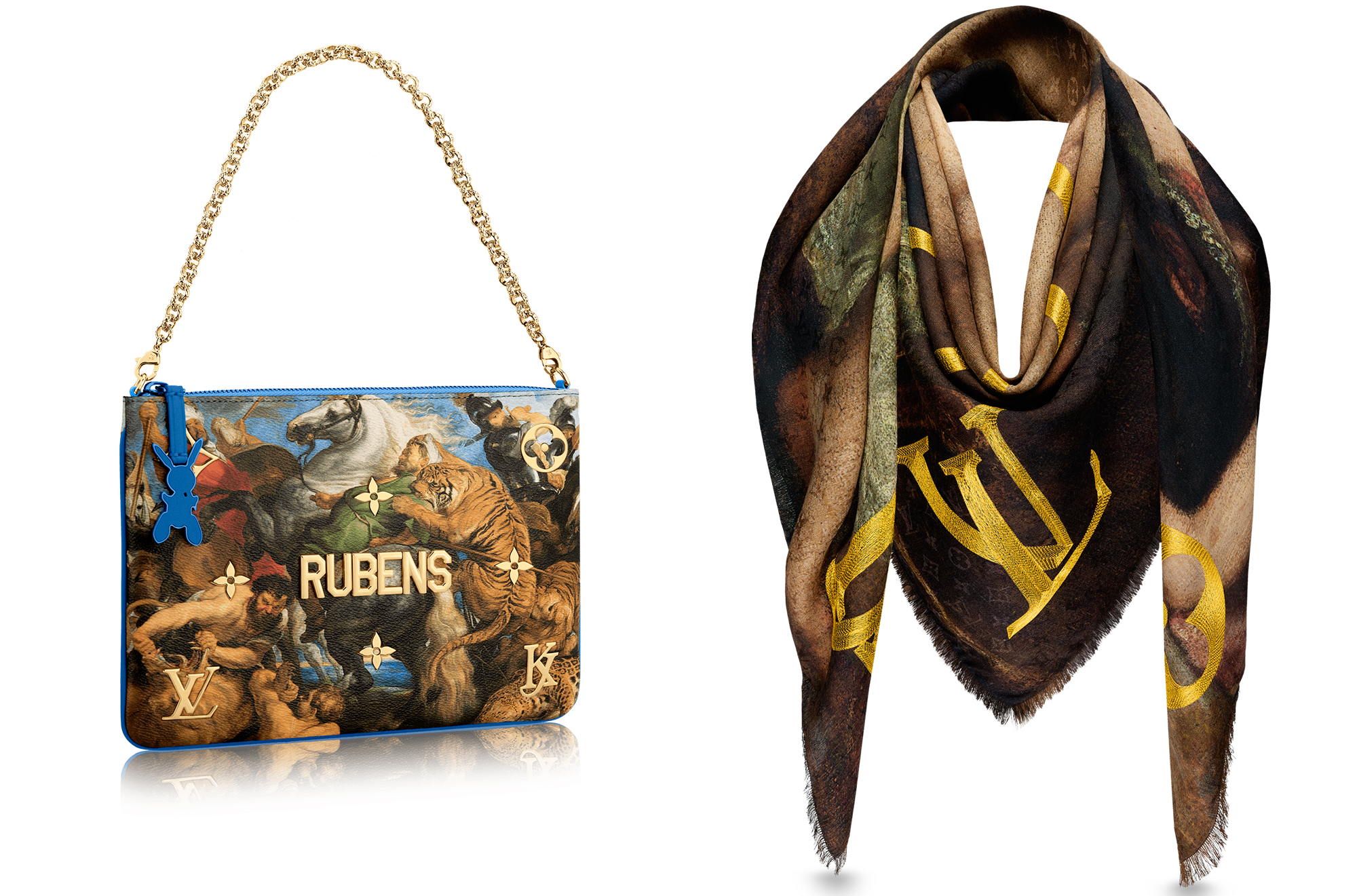 Photos: Courtesy of Louis Vuitton
It's worth noting that Louis Vuitton has collaborated with many artists in the past, with some of the most notable ones being with Yayoi Kusama, Takashi Murakami, Richard Prince, and Stephen Sprouse. Additionally, Louis Vuitton's parent company, LVMH, opened the Fondation Louis Vuitton in Paris in 2014. (The Frank Gehry-designed museum's collection currently includes works by Koons.)

Koons has also worked with other fashion brands, but never in this capacity; his collaborations with Stella McCartney and H&M were one-offs, and while a continuation of this collaboration with Louis Vuitton hasn't officially been announced, the house did release a statement saying that "further chapters" of the "ongoing project" will be revealed.
Launching on April 28, the 51-piece collection will extend beyond bags into scarves and small leather goods, with prices ranging from $585 to $4,000. Sounds steep, but given that Koons' "Balloon Dog (Orange)" sold for a whopping $58.4 million at Christie's in New York—the most expensive piece ever sold at an auction by a living artist—it's safe to say the pieces from the "Masters" collection will sell like hotcakes.
0 Comment