Well, it appears the White House isn't the only American institution with a Chatty Cathy on payroll, because for the second year in a row, someone has leaked plans for the upcoming Costume Institute theme to WWD.

On Friday, the publication reported that 2018's major exhibition will be Fashion and Religion. Considering that WWD was correct about the Met's Rei Kawakubo show (despite how unlikely it seemed at the time), we're inclined to believe them. Sure, this is still just a rumor, but like Kawakubo before it, it's one worth getting excited about, as it is an opportunity to present the complexities of society through the lens of fashion.
Indeed, it's a touchy subject, one that will need to be handled with care—something that will be difficult given the limited amount of space curators have to fully explain what is on display. This will be especially challenging given how broad "fashion and religion" is. The Met team will likely need to specify what it is they are exploring, and if the 2016 exhibit China: Through The Looking Glass (which heavily focused on how Western designers were inspired by the country) is any indication, the museum will probably investigate how the fashion industry has been influenced artistically by religion.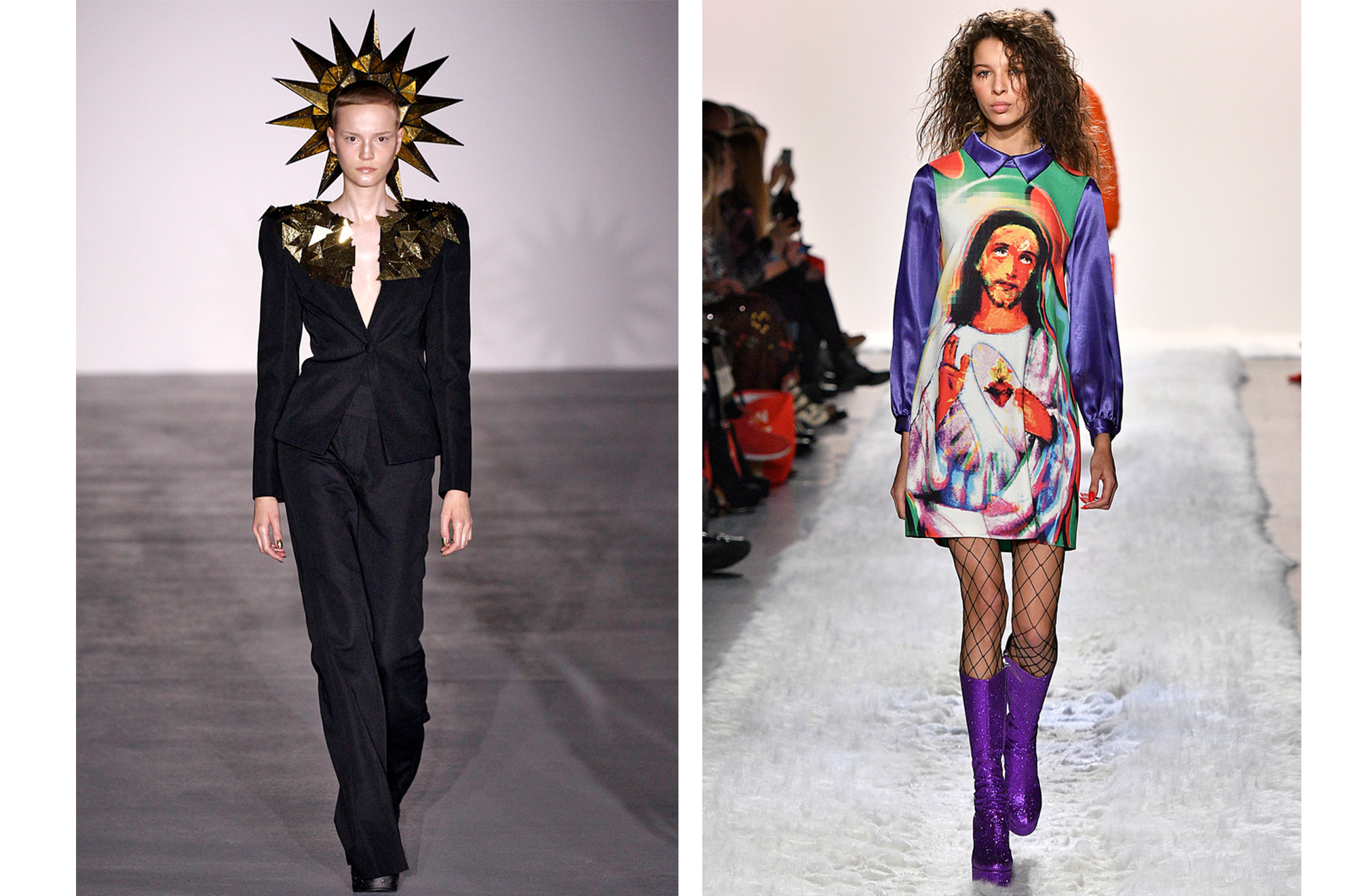 Gareth Pugh Spring 2017 and Jeremy Scott Fall 2017
Photos: firstVIEW
It would certainly be the easiest way to tackle the subject, as many designers have drawn from religious art and iconography. There are blatant references, such as Jeremy Scott's Fall 2017 show (featuring Jesus-covered everything), Dolce & Gabbana's Fall 2013 collection (which was basically Haute Catholicism), and Jean Paul Gaultier's Spring 2007 couture show (in which models wore headgear that turned them into saints). There are also the less obvious thematic explorations of religion and civilization, as seen in the ongoing works of Gareth Pugh and most recently, Rick Owens. This doesn't even begin to touch upon the religion-adjacent themes of afterlife and death, which have been interpreted by countless designers, including Thom Browne and Rei Kawakubo.

Meanwhile, Hussein Chalayan provoked many with his subversive criticism of religious dress for Spring 1998, a collection that featured models wearing increasingly shortening chadors (a garment that is supposed to completely cover women from head to toe, including their faces) to an extreme degree. And these are just fashion designers—photographers and editors have equally taken inspiration from religion for photoshoots, to varying degrees of controversy.
Of course, "inspiration" is not the only angle one can take when discussing fashion and religion. The Met would certainly have a lot to work with should the team choose to contemplate religious dress itself. Consider the vast differences between the ornate attire of the Pope and the modest wares of the Dalai Lama.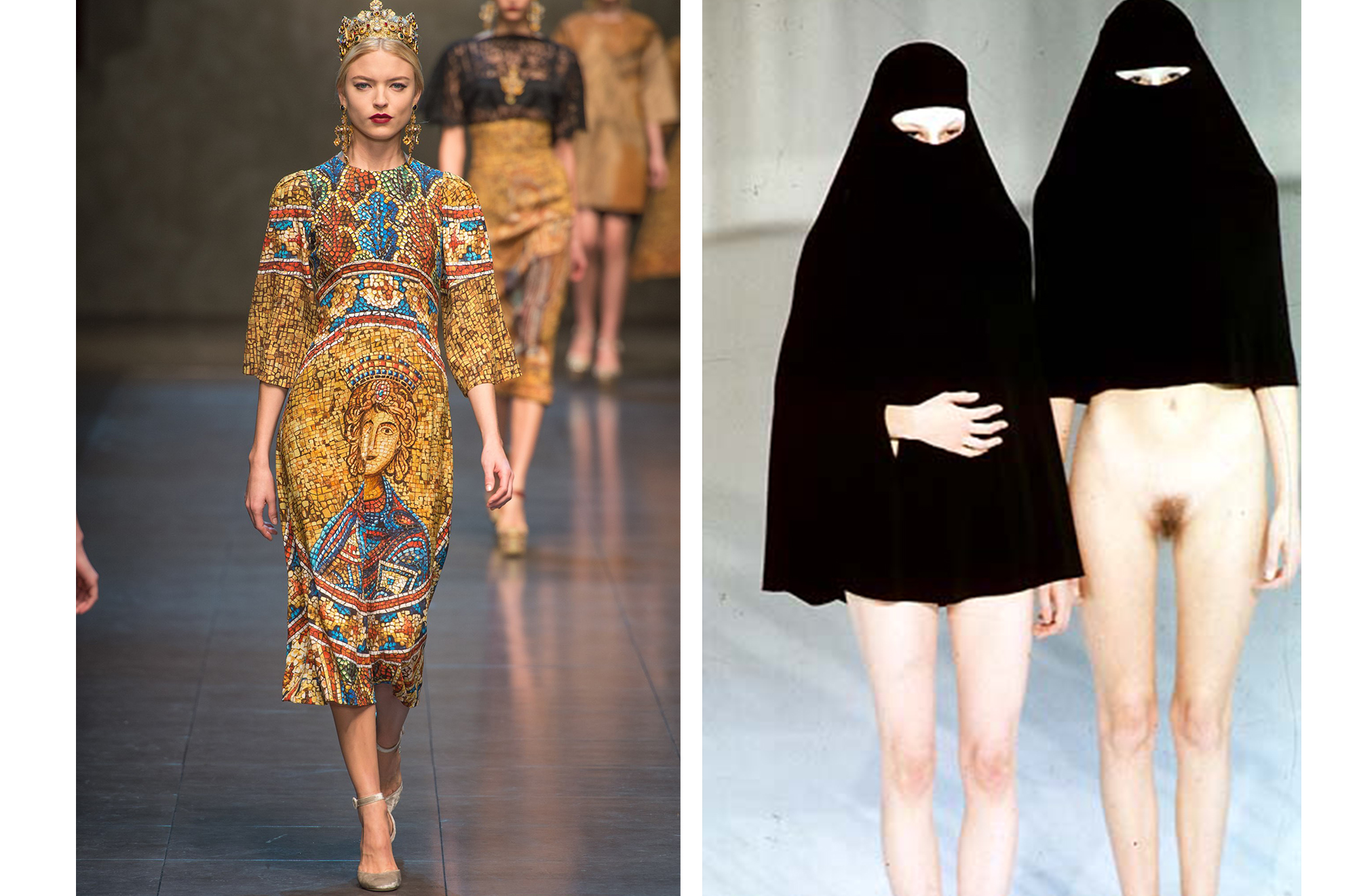 Dolce & Gabbana Fall 2013 and Chalayan Spring 1998
Photos: firstVIEW
Modest dress is a particularly fascinating topic. Some devote followers—the Amish, for example—have retained their clothing styles for centuries, while members of other faiths have found unique ways to make the modern fashion industry work for their needs (look no further than the luxury e-tailer The Modist for a perfect example of how modest dress is very much in fashion, and how an increasing number of designers are deliberately creating for this market).
It is also a subject that is highly politicized at the moment. Globalization has led to culture clashes, most notably last summer when a town in France attempted to ban the burkini, leading to police officials ordering women to remove them in public. Modest dress has since become a topic of debate in regards to feminism and empowerment—when are women truly free, and who gets to decide how they express themselves?
Religion is personal, political, and human—focusing entirely on the artistry that fashion designers bring to the runway would be beautiful, but would present the industry as superficial. Luckily, WWD's sources claim the project will be "serious and ambitious," which bodes well for the museum's approach. There is an opportunity here to have the audience make a connection between the clothing we don in everyday life and the social reasons as to why we choose to wear what we wear. Isn't that knowledge dazzling in its own way?
0 Comment