Off-White's Virgil Abloh has done just about everything since launching his line in Spring 2014. This year alone, the Chicago native (and former creative director for Kanye West) has collaborated with everyone from Nike to Ikea, not to mention his big Pitti Uomo debut in Florence last month (another collab, this one with artist Jenny Holzer) and his recent induction into the CFDA. So it's no surprise that Abloh's wildly popular streetwear label is making its first foray into the eyewear realm, teaming up with New York City-based eyewear darlings Warby Parker on a line of sunglasses.

The jet-black shades, which officially launched yesterday in Warby Parker stores and online, come in three different sizes—although each one has the same thick, angular frame—and are aptly called "Small," "Medium," and "Large." The pairs go for $95 a pop, but good luck snagging any, as they (predictably) sold out within mere hours and are now being sold for several hundred dollars on eBay.
"I wanted to think of something that was totally democratic, something that everyone can get into," Abloh told us at a lunch yesterday to celebrate the collaboration. "I can't decide on which pair I like most—that's the problem with Off-White. I have a hard time deciding between one or anything. I'm always in between."
Abloh added that the partnership came about naturally, as he's known the Warby Parker founders for years through friends. "It's kind of cool—friends of friends making product," he said.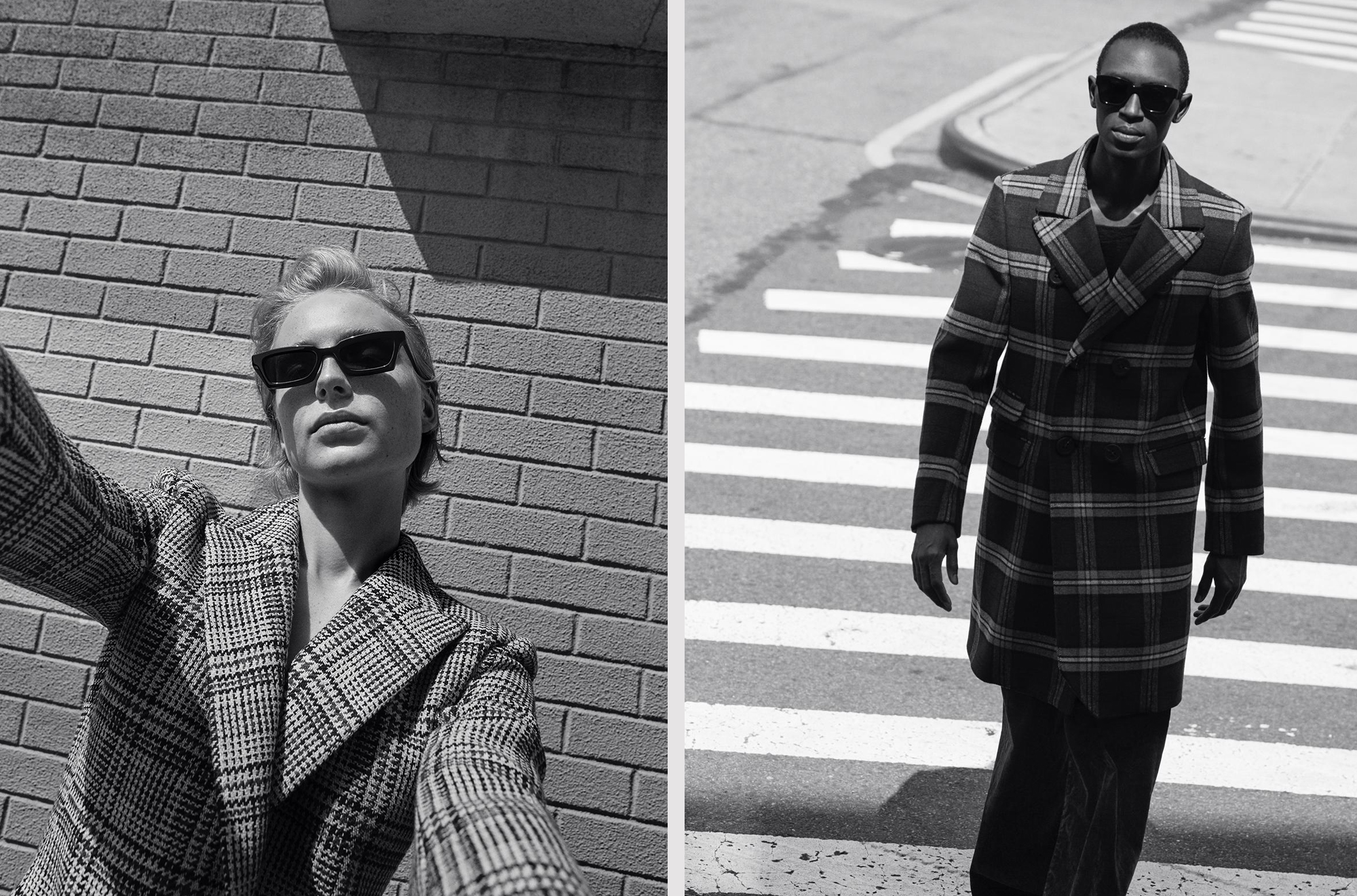 Photos: Courtesy of Off-White
"It's so funny—one of his best friends from college was my wife's best friend," explained Warby Parker co-founder Neil Blumenthal. "We got to chatting, and I realized Virgil hadn't done glasses before. He thinks about things wildly different than most people, especially because of his architecture background, so we were super interested in doing something."

Blumenthal said they gave Abloh "zero constraints"—as is the case with most of the eyewear company's collaborations—and that it began with Abloh designing a simple silhouette, which was then expanded and made smaller. "It was surprisingly difficult to get the three different sizes—and it's surprisingly difficult to get three different sizes of carrots as well." (For the lunch, burgers, crudités, fries, and milkshakes were severed in three sizes to match the theme.)
While guests like Petra Collins and model Luka Sabbot munched on food and tried on sunnies, Abloh was busy signing case after case of the new shades, which were boxed up and wrapped in yellow tape.
But does Abloh, undisputed cool kid and one of the most talked-about designers of the moment, have an embarrassing shades moment?
"The pictures are on the internet," he said, laughing. "There's a photo of me and my friends a few years ago—we're at fashion week and I had on these big, red glasses. That image didn't age well."
Luckily for Abloh, his new sunnies are perfect for, well, everyone. The small? For the Bella Hadid types (or fans of The Matrix). The large? For the fashion editor seated front-row (or anyone with a gnarly hangover). And the medium? Well, those are just right for pretty much any fashion fan.
0 Comment