"The last living designer who was a subject of a monographic exhibition at the Met was Yves Saint Laurent in 1983," recalled Andrew Bolton, Curator in Charge of The Costume Institute, during a Paris preview of the Met's forthcoming Rei Kawakubo / Comme des Garçons: Art of the In-Between. "At the time, if you were to ask any fashion journalist who they considered to be the most important and influential designer at that particular moment, the response unanimously would have been Saint Laurent. If you were to pose the same question today, the response, again unanimously, would be Rei Kawakubo."

One need only look at the Fall 2017 ready-to-wear collections to know that he is absolutely right. In a vast sea of sameness, Kawakubo's haunting Comme des Garçons offering, "The Future of Silhouette," stood out. But that's hardly surprising, because since first showing in Paris in 1981, Kawakubo has unfailingly presented collections that make us think, question, wrinkle our eyebrows, and reassess what fashion is in the first place—its purpose, its power, its point.
However, as Bolton pointed out while addressing the Paris fashion set, Kawakubo's real strength is embracing the void—exploring that space of, well, in-betweenness that at once separates and unites seemingly contrasting concepts, classes, and ideals. "In her work, Rei breaks down the false walls between...dualisms, exposing their artificiality and arbitrariness," Bolton said.
Photo: BFA.com. View more at BFA.com.
The exhibition, set to include 150 mannequins in creations spanning Kawakubo's entire career, will be divided into eight sections, each of which will delve deep into the "dominant and recurring aesthetic expressions of in-betweenness in Rei's collections: Fashion/Anti-Fashion, Design/Not Design, Model/ Multiple, Then/Now, High/Low, Self/Other, Object/Subject, and Clothes/Not Clothes." These dualities, as well as much of Kawakubo's work, are largely based on the Buddhist concepts of "wabi-sabi" (the acceptance or art of imperfection), and "mu" (meaning the absence of, not having, or without). The show will cover everything from Kawakubo's early '80s collections—which were then panned by critics as "bag lady-chic" or "drab"—to her more recent outings, which have eschewed the modern, Western conceptions of what commercial clothing must be in favor of abstract, sculptural expressions of our current times.

On display at the press breakfast during Paris fashion week were a handful mannequins (whose headpieces were made by hairstylist and CDG collaborator Julien d'Ys) wearing shocking red looks. There were, of course, two ensembles from Kawakubo's iconic 1997 "Body Meets Dress, Dress Meets Body" collection (more commonly known as "Lumps and Bumps"), which consisted of stretch nylon garments that were distorted with bulbous padding. It proposed, as Bolton put it, "a radical rethinking of the body…[that] subverted the traditional language of the fashionable body." Indeed, these looks—some of the Kawakubo's most sought-after and collectible—were not about idolizing the waif or the hourglass.
Also on view were two felt looks from Kawakubo's Fall 2012 "2-D" or "Paper Doll" collection, the premise of which, according to Tim Blanks' Style.com review, was that "the future's in two dimensions." Here, Kawakubo flattened bodies completely—not unlike what Instagram, Facebook, and those other social media apps do to your selfies. On a personal note, this collection was what led me to begin manically collecting CDG. On a conceptual level, it was the only Fall 2012 offering that truly spoke to what was happening not just in our industry, but in the world—we are projecting flattened ideas and personas through cyberspace. From an aesthetic perspective, it was bizarrely flattering, though I'm not sure Kawakubo would appreciate that assessment.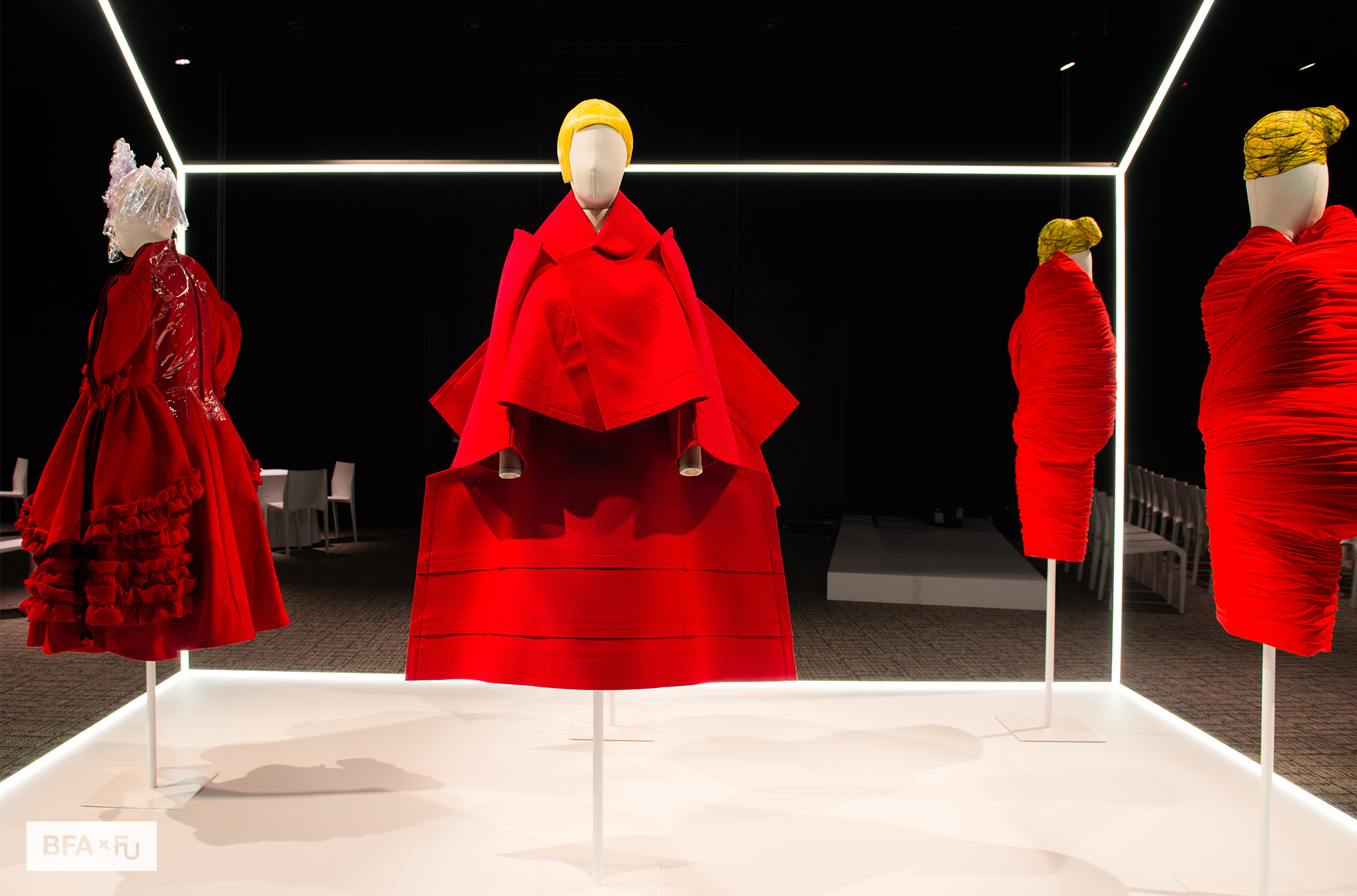 Photo: BFA.com. View more at BFA.com.
The final look on display was from CDG's Spring 2017 range, "Invisible Clothes." The runway piece—a gargantuan velvet babydoll dress with clear plastic on the bodice—is emblematic of Kawakubo's interest in subverting adulthood and childhood, as well as her affinity for distorting what Bolton described as "overblown 19th century silhouettes."

When I spoke to Bolton after the presentation, he touched on his experience working with Kawakubo, a meticulous talent who rarely speaks about, much less explains, her work. "She makes you step outside your comfort zone," he said. "In actual fact, she was incredibly hands-off when it came to the thesis of the exhibition—the narrative. She was more concerned about the space—about creating a space that she felt would anchor the clothing, and her narrative, which it does. What she's asking you to do, I think, is step inside the space, free your mind, and experience her work, instead of interpret it. But also, to encourage subjective interpretation. So, it's been a challenge."
This exhibition will also challenge the viewer, and Bolton feels that's intensely important—especially now. "Rei is one of the few designers working today whose constant pursuit of creation and originality is always evolving. I think we need that today. The fashion system sometimes disallows people like Rei to create work that is purely based on creation. More than any other time, we need to be reminded of people like Rei, who fights fiercely, independently for her own space in the fashion world, without any compromise. I find that really inspiring."
No doubt, those who go see the exhibition, which runs from May 4 through September 4, 2017, will be inspired too.
0 Comment