"We really love the idea of bringing what we do to the public, because Visionaire's been exclusive and expensive for so many years," said Visionaire co-founder James Kaliardos. "We just want to reach more people…You get a whole different take than if it's just a fashion and art crowd coming."
Though there was a private soiree on Saturday night, "KAWS: A VR Experience" was open to the public yesterday afternoon at the library. Forty virtual reality headsets played the two-minute long video, giving as many people as possible a chance to have the full experience. "So many people are talking about VR, and you keep hearing about VR, but so few people have actually done it properly," said Cecilia Dean, Visionaire's other co-founder, who noted that there would also be a version of the short film available on Youtube.
The project is but one of many public art installations Dean and Kaliardos have hosted over the past few years, although this time they were approached by an unlikely patron: M&M's. The colorful candy company was looking for an inventive way to celebrate its 75th anniversary, and came to the rather inspired choice to partner with Visionaire. Dean and Kaliardos had been wanting to do a VR-related project for some time, and pitched a film that brought to life the work of artist KAWS.
"We thought it would be just so perfect to animate [his] incredible paintings, and go to [his] studio and just to see the way he works," explained Kaliardos. "His paintings are so amazing in real life, you don't know if they're computer generated or if they're done by hand. He layers in thin layers of each color to get that vibrancy that is so him. And then he outlines everything in black by hand. He does the final black strokes free-hand, but they're so perfect."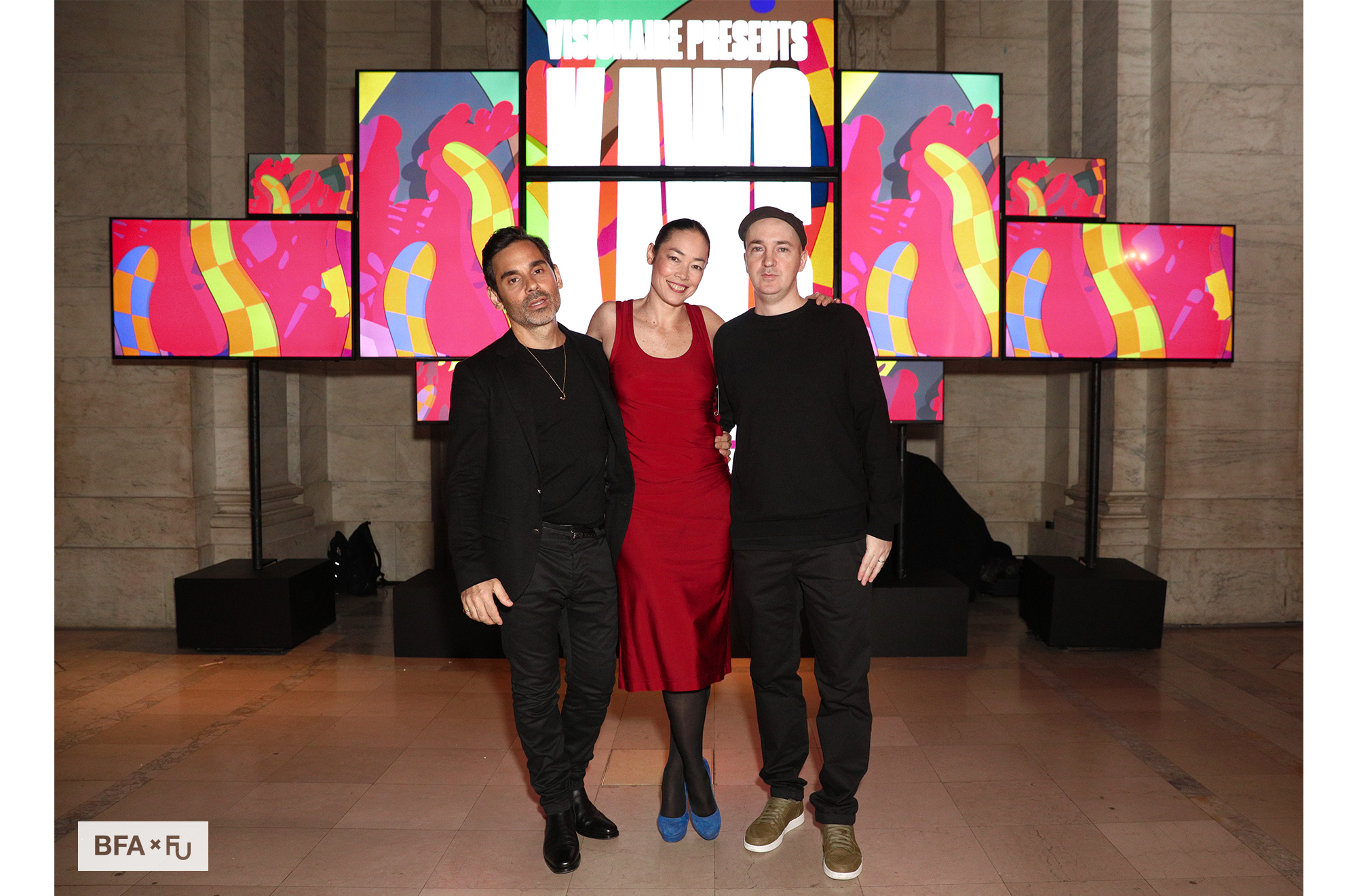 James Kaliardos, Cecilia Dean, and KAWS
Photo: BFA.com. View more at BFA.com
"It just made so much sense. He's part of pop culture, and the colors that he uses, and the characters..." added Dean. "They [M&M's] were into that, so then we proposed it to KAWS and thank god he said yes. We had a quick meeting, and we came up with this idea of a studio visit gone awry."
The short film takes the viewer into KAWS' studio, where (if you have the full experience) one is sucked into a world of color, greeted by characters, and dropped by a giant. Fun doesn't begin to cover it.
"I was lucky that working with Visionaire, who produced the film, put me in touch with the right people who really take the work and animate it," KAWS said of the partnership. "It just seemed like a fun project. I have a good, comfortable relationship with them. They have a good track record, so it was a good level of trust."
Of course, as fun as virtural reality is, actual reality always has a way of seeping in. Many a conversation Saturday night involved the protests happening at JFK airport in New York. There was a darkness to the evening that was inescapable, save for the two minutes in which one was lost in a trippy art experience.
"I think there are going to be ways of escaping, but we like to do these public installations to actually help people connect as well," said Kaliardos. "It's nice to actually interact with people, and talk to people, and connect with people. We are stronger together. It's nice to unite people and get them all in one room and see what can happen with that."
Dean, however, sees an opportunity for a new way to promote the arts. "I think what this particular project is a great example of is brands—huge companies like Mars, which owns M&M's—becoming a patron of the arts. We didn't produce a commercial for M&M's. They funded an incredible and artistic VR experience," she said, noting that funding organizations such as the National Endowment for the Arts was under threat. "I have felt for a long time that it is brands' and companies' duties to promote the arts. And if you can do it well, which I think we have done tonight, you can do a project that is authentic to the artist, but it also celebrates M&M's 75th anniversary. And they're a big commercial entity. It's a seamless relationship. Everyone wins."
0 Comment