Fashion loves a party. Iconic designer Paul Poiret allegedly threw the best all-nighters in his Paris atelier—he was doing '20s-level partying about 10 years before partying became cool in the actual 1920s. Truman Capote's Black and White Ball at the Plaza Hotel is still considered one of the greatest bashes of all time. And remember the Givenchy bender in that downtown parking garage last fall? Or when Topshop hosted a lavish seated dinner in Grand Central Terminal to celebrate the opening of its Fifth Avenue flagship last year? Fashion parties can be so good and so cool that they leave you simply aching for an invite.

Nonbelievers might think that fashion loves a party for party's sake—or that we just need occasions to wear all these damn clothes designers keep churning out—but the truth is that there is no problem a party can't solve. Looking to thank your design and retail staffs for a job well done? Rent out the Harvard Club and have a friends-and-family fete, as Marc Jacobs has been known to do. Did your brand make a key new hire? Introduce him at a no-cameras-allowed, super-intimate, über-chic dinner for 20 of the most important editors and buyers. That will get people talking.
And that is the ultimate goal of any fashion party: to get people talking. The most successful are the ones that, if even for just a moment, shape the industry's dialogue. And although fashion parties come in all shapes and sizes, the best ones have a few key elements in common.
First: Don't assume that fashion exists in a cultural vacuum. Fashion isn't just about clothes—it's about where they're being worn, who's wearing them, and how. We're always looking for what's new: the new restaurant, the new cocktail, the new musician, the new muse. Designers must find a way to show that the clothes they're trying to sell—or the brand they're trying to develop—are relevant to the cultural zeitgeist.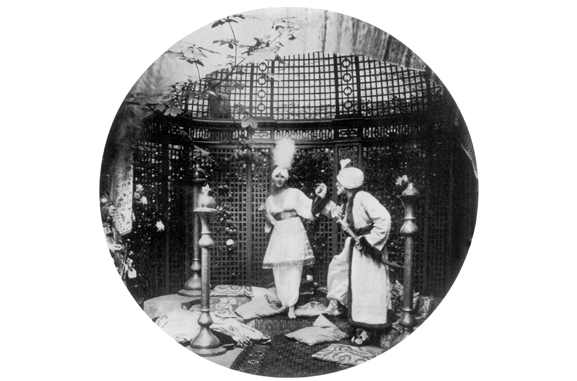 Paul Poiret and his wife at a party, 1911; Photo: Henri Manuel
Second: the guest list is everything. Start with a core group of people who know each other and can carry a conversation, but then throw in a few wildcards. It's no secret that the fashion industry is very, very, very small, and nothing gets fashions bored faster than seeing the same familiar faces night after night. Consider inviting a few "fashion adjacents"— people interested in fashion who might not necessarily work in the industry, but can tell the difference between a Vera and an Alexander Wang. One of my most memorable experiences, and one that has since blossomed into a wonderful friendship, was being seated with the young art curator Piper Marshall at a dinner for Tim Coppens. Piper might not work in fashion, but hell, the woman knows how to wear a perforated plastic Jacquemus top. And it's worth noting that, years later, I still remember that time Tim Coppens threw a wonderful dinner with the most interesting people.
Third: don't forget the food. Yes, we are in a constant struggle to pull off crop tops and squeeze into our couture, but fashion is hungry. Feed us. Nothing irritates fashion folk quite like a "dinner" of champagne and passed hors d'oeuvres. Or a "breakfast" of toast and vodka smoothies (true story). Because while some of us might (pretend to) only have tea for lunch, or a dry kale salad for supper, trust me—when the food disappoints, fashions remember.
Last but not least: make people a little nervous. Keep us on our toes. If there is one industry that loves to complain about how boring New York (or Paris, or Milan, or London…you get the idea) has become, it's fashion. The calendar is so impossibly overstuffed with shows, global fashion weeks, and shipping deadlines that fashion has developed an overwhelming sense of ennui. Consider hiring a contortionist to walk hands-first down the dinner table. Or have Victoria Beckham urge guests to join her in slamming tequila shots (another true story).
What it all comes down to is doing something sincere that makes sense for your brand. Do something memorable. Do something a little weird. Give us something to talk about and, more importantly, something to write about—because the last thing fashion wants to be is all dressed up with nowhere but a tired old place to go.
0 Comment