Bavarian-born designer Bernhard Willhelm is out there. Since launching his namesake line in 1998, just after graduating from the Royal Academy of Fine Arts in Antwerp, he has looked to McDonald's Happy Meals, the film Dune, the uniforms of American footballers, and surfboards, among other cultural notes, for reference. He worked under Walter van Beirendonck, Vivienne Westwood, and Alexander McQueen at the start of his career, and in the 17 years since going out on his own, his designs—boldly colorful, outsized, with enlarged silhouettes and crazed patterns underlying a complete disregard for the mainstream—have maintained a distinctly odd, triumphantly creative voice throughout. Willhelm casts porn stars on the runway, talks freely about (his own) exhibitionism, time at sex clubs, and love for gardening, and with just as much candor, speaks bluntly with regards to the very real issues with which the fashion industry is grappling. For one early 2000s show, he told Tim Blanks he cast his runway entirely from the customers at a local Paris Foot Locker. This is one designer who has never been predictable.
This week, the Los Angeles-based artist celebrated a new installation at Dover Street Market New York as a part of the concept store's bi-annual "New Beginning." The exhibition was centered around his Fall 2016 collection, "The Magic Potato"—a crunchy, Japanese kimono- and of-the-earth-inspired offering referencing a shrine modeled after a potato Willhelm saw on a visit to a temple in Japan. Here, Willhelm opens up about his outré DSM collaboration, how he relates fashion to religion and sex, and why time is his greatest, and perhaps his only, true luxury.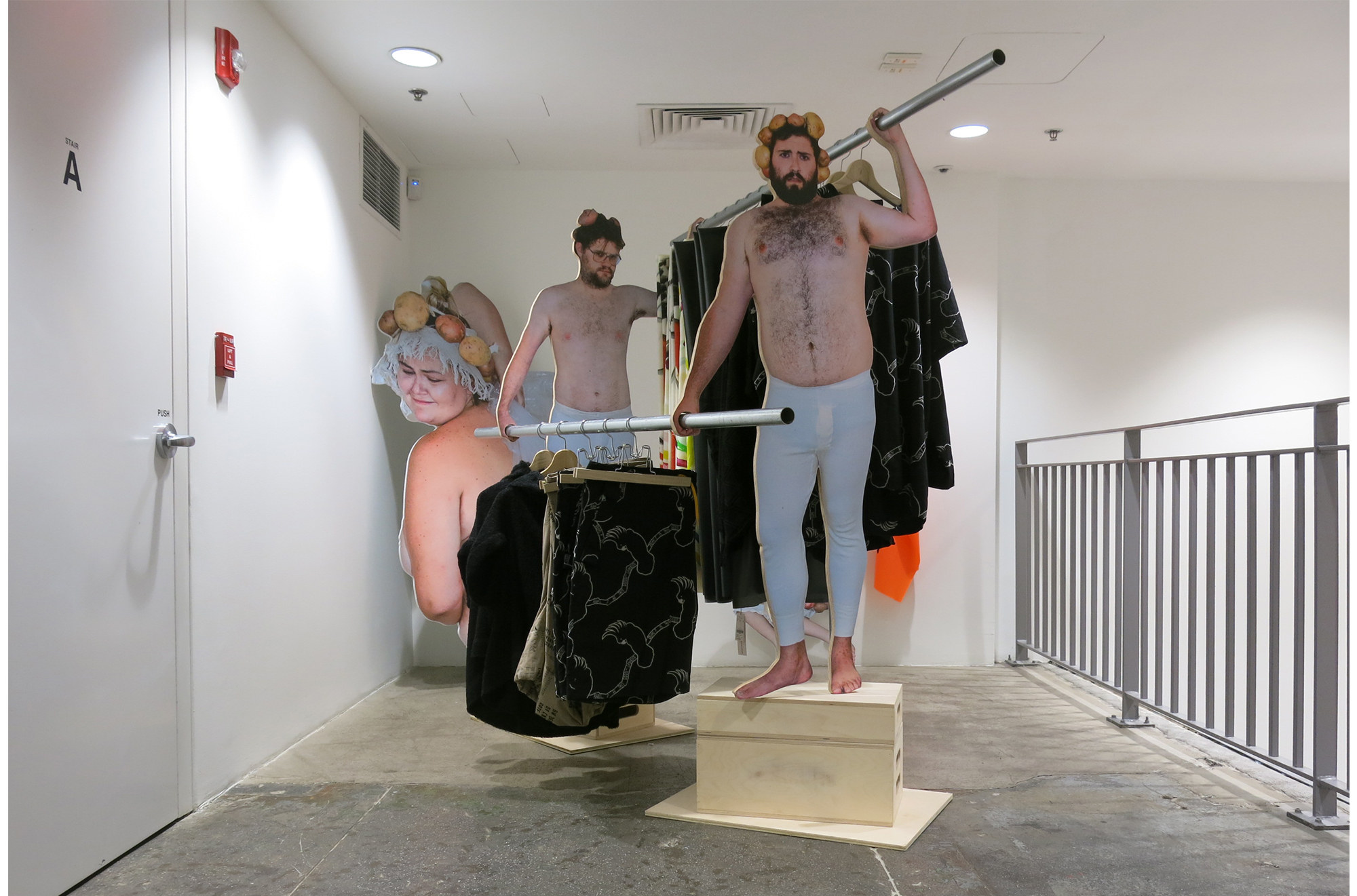 Bernhard Willhelm's installation at Dover Street Market New York; Photo: Courtesy of Dover Street Market New York
Ashley W. Simpson: So, I wanted to talk to you a little bit about "The Magic Potato" and what you're doing with Dover Street. To start, I'd like to address the idea of the potato itself. I read that it came from a visit to a shrine in Japan and also looking back on your parents and their diet.
BW: I mean, the potato, in that way, you can say it has a symbolic meaning and also a spiritual meaning. And it also goes back to the past, to my family. Somehow, it has been an important plant. And I'm somebody who's interested in plants and also in what they actually mean. And what part of our culture the plant has. And the potato has—I think [about] the Incas in Mexico—there's a very important meaning [to it], you know? It enables people to survive. And it also has religious meaning. It's a symbol.
In my case, I saw a story in Japan. Koyasan had this area where the monks, like 800 [years] after Christ, arrived, and they used the yam, the sweet potato. And they could raise the shrine. So, I experienced that [presentation of the potato in the shrine], and the collection is made in Japan. I'm very linked to Japan. I've been linked to Japan for over 10 years, so that is also in this collection. There are many Japanese references. And it's made in Japanese cotton. It's a very special [material]. And the collaboration—what you see at Dover Street Market—is between different artists and creative people. The idea of the installation is a tree in potato season. And the idea was two people are holding two metal bars, and on that metal bar, the clothes are hanging. And for the opening, Cutler modeled. He's an escort and a porn star, and I've used him many times. He was there at the opening and in the photographs. What else would you like to know?
AWS: You've given me a lot of things. You talk about spirituality. Are you religious? And what relation does religion or spirituality have to your designs?
BW: I'm born Protestant, so everything is little bit more easy. There is not so much obligation. I mean, the Bible was translated in the same language – everybody could understand. It's [my] religious tradition. But, what has been very important for me, at least in the last ten years, is Buddhism. That's also very linked to Japan, and I got to know it in Japan. Also, the meaning of Pagan religion, which is linked to nature.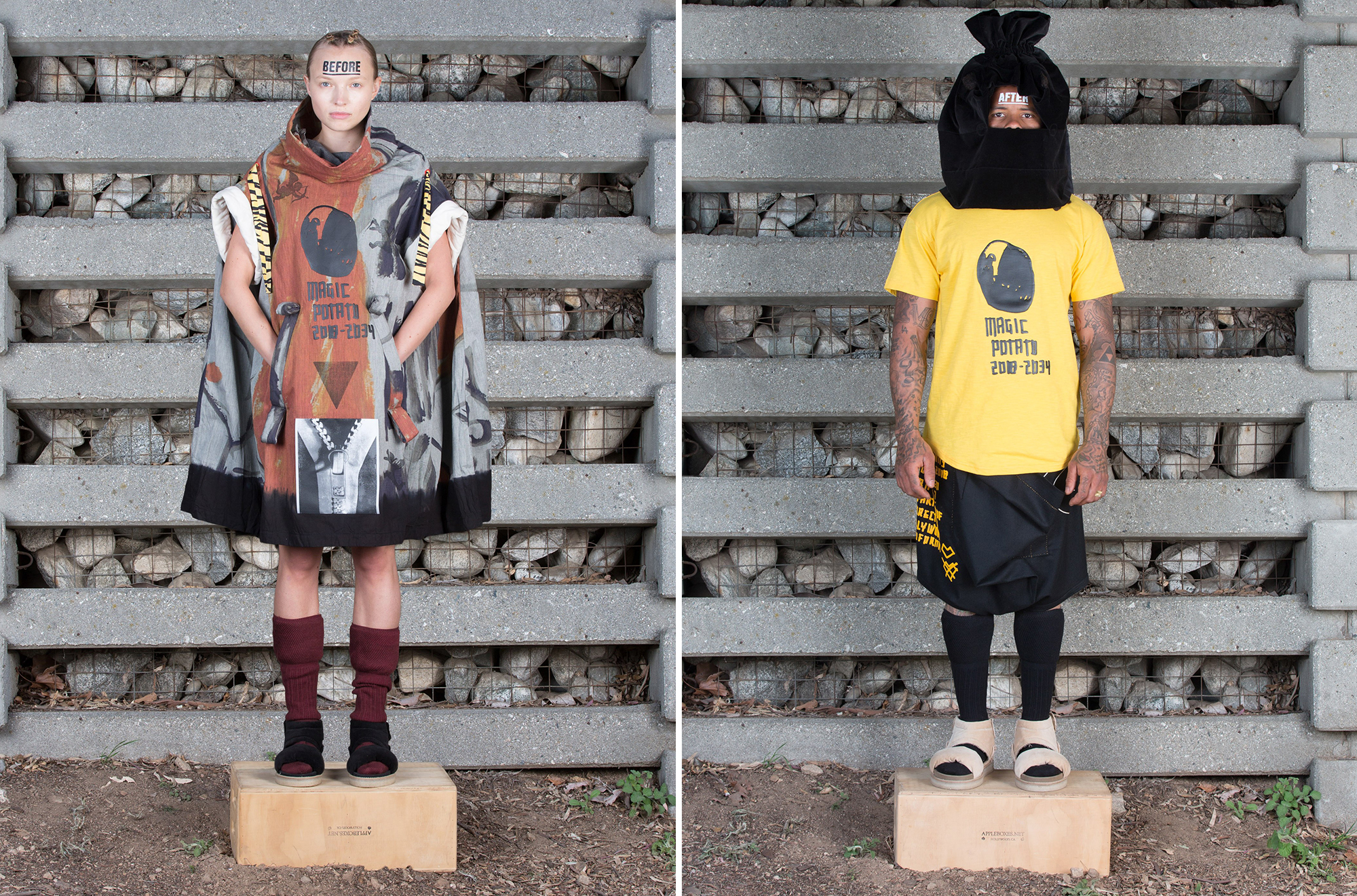 Looks from the Bernhard Willhelm Fall 2016 Ready-to-Wear Collection; Photos: Daniel Trese / Courtesy of Bernhard Willhelm
You've been working with that particular escort and porn star, Cutler, for some time over the years. How did you start working with him? And how do you relate sex and fashion?
BW: That's very interesting. People who work in porn— they are not ashamed. So, those who work with them can really be free for the images. Also, of course, Culter is a very special guy. There is a little Samuel L. Jackson in his face. And he's a very powerful person. African influence has always been important in my work. I find it culturally and aesthetically interesting. I also think [the clothes] look very different on black skin. And Cutler is a very special person because he's doing this job since – over, I think, 25 years. So, Cutler is 60 now.
AWS: Wow.
BW: Yeah. To do this job for such a long time, you have to be a very strong person. You have to be very organized. And he's somebody I like to photograph every season because you always see a different expression on his face. And he also makes me laugh a lot.
AWS: So, looking to your work more broadly, where do you start when you begin a new collection? What comes first?
BW: I work in a very small team. I work with one patternmaker and usually three or four students. This is how this whole process comes together. It's a totally new team every time except for me and the pattern maker. [The collections come] less from ideas and more [from] draping on the little doll, which is half the size of the big doll. I'm a really good draper—you don't see that always, but most of what you see in the collection comes from me draping on the little doll. It's 50 percent smaller than the big doll. After I drape the small version, my pattern maker makes it on the big doll. It's a very open field. The process comes from doing something with your two hands and a piece of fabric. I look at it and decide what I'm doing next.
AWS: And what are you doing next?
BW: In the past, we always split up the men's and women's collections. And three years ago, we completely stopped doing fashion shows and it became a unisex collection. There is not such a high demand for men's designer clothes. Now, it's kind of together. Also, this whole unisex and [non] gender-themed collection has become quite important and a lot of designers are [creating collections without assigned gender]. And most of the collections we do, like the Santa collection – after there has been press, it will go to museums all over the world so there is kind of a link also to show it to a different public, and then the pieces get archived.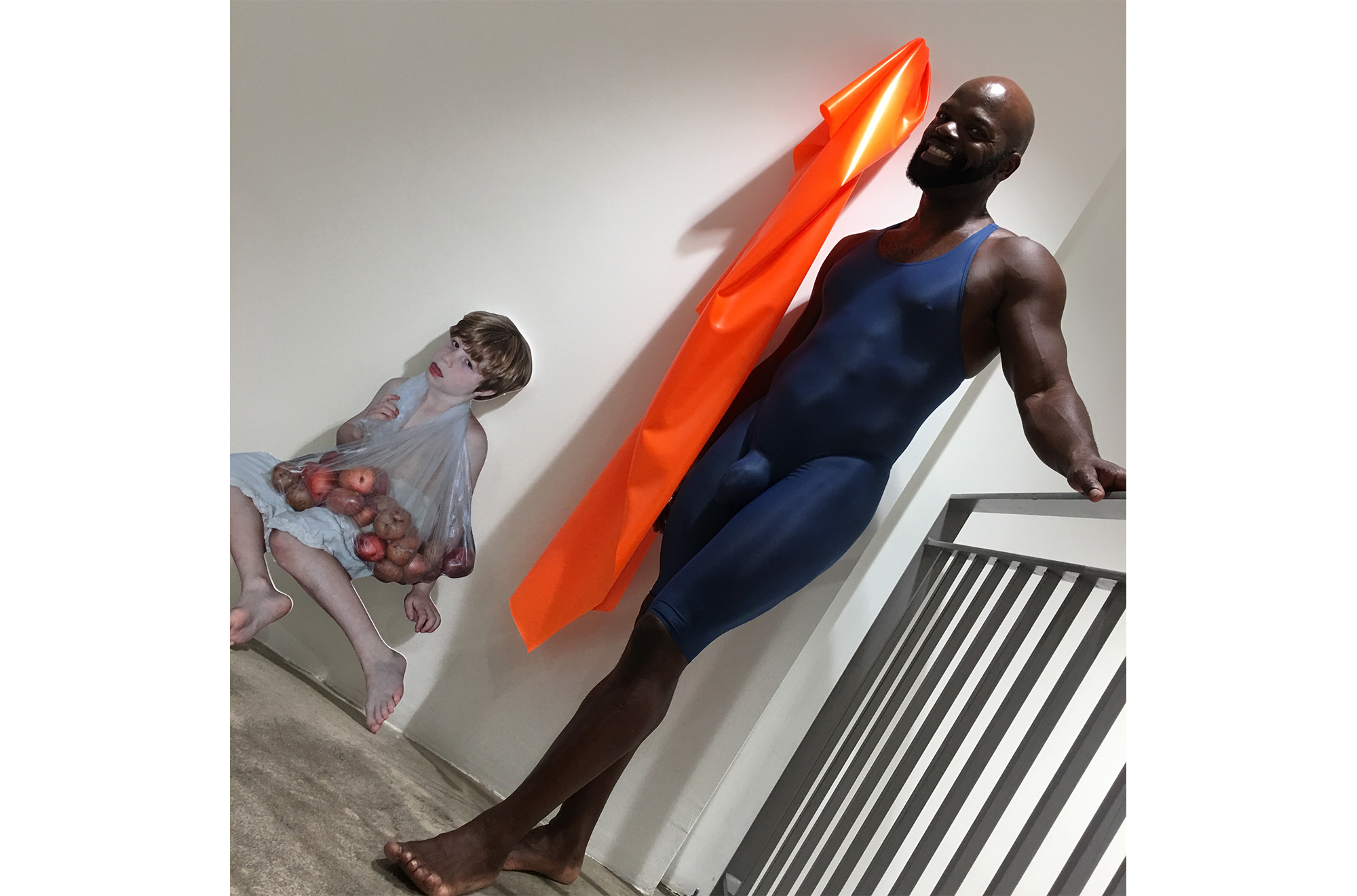 Cutler X / Photo: Courtesy of Dover Street Market
AWS: It gives the clothing another life.
BW: We try to sell more pieces, but in the past, there have been collections where we didn't sell very much. The Japanese have been supporting us so much. We need to show that we have the production qualities in order to produce [the clothes]. Of course, the shoes and the sunglasses are what make the money. But it all somehow goes together. We need the clothes for the other items.
AWS: How do you feel about the state of the fashion industry?
BW: You [can choose to] get very commercial. Or you do it like Comme [des Garçons] where [Rei Kawakubo] makes one collection only for the catwalk and the press and a completely separate one [for the market]. I think everybody right now is a little tired from going to department stores and always seeing the same kinds of commercial pieces. There is a very small group going for the special and experimental, collectable pieces. [Our team is] very small. There are just six of us. Me, the pattern maker, our students, and my business partner. It's ridiculous. It's really back to basics.
AWS: How do you keep maintain the work's integrity and this specialness with the pace of the industry and the pressure to commercialize?
Because it is so small, everything goes through my hands. It is a very unusual brand. It's very post-modern. I'm living in L.A. Production is in Japan. My business partner [Jutta Kruas] is in Paris. It's very abstract. I only see a little part of the work product, what is in my hands. What is hanging in the shop is not in my hands anymore.
It's also a big question of time—for all my friends who work in fashion, the big problem is the time. There's not even time when the collection hangs in the shop. We have this constant time pressure, so at least somehow you have to free yourself. I just handle the design process. That's the only luxury I have.
AWS: And it's a great luxury.
I try to have some free time. Today is my free day in New York. It's my last day and I'm going to the Antonio Lopez exhibition and I also did the Metropolitan, and now I'm going to Paris.
Bernhard Willhelm's "New Beginnings" installation is on view now at Dover Street Market, located at 160 Lexington Avenue, New York, NY
0 Comment