None of this will sound like it really happened, but all of it did. There's photographic evidence that Charliewood—a show by French designer, hairstylist, and all around artist Charlie Le Mindu, who is perhaps best known for crafting wigs for Lady Gaga—was very real. Featuring dancing mustaches, erotic ears, an illuminated blonde space Sasquatch, glitter people, and thumping techno, the art/fashion/dance spectacle was an absurdist's dream. Each layer was increasingly bizarre, and thus, increasingly spectacular.

"I've known him personally for a long time," said co-host Ladyfag of Le Mindu, although this would be her first time watching Charliewood. "I'm can't wait to see the show. I've been watching it in pieces, and to finally see it all together, and get to see other people experiencing it, I'm pretty excited."
Debbie Harry was the other co-host of the extravaganza, which was held at Cedar Lake in New York's Chelsea neighborhood. "He's a very good friend of a friend of mine," she explained, mentioning that he also crafted her lush, ass-length blonde wig and matching hair-covered coat. "She's a great icon [for] tolerance, and she's a very open person," Le Mindu said of asking her to host his American premiere. "I think [progressive] people of her age, like Bernie Sanders for example, are the future."
Photo: BFA.com. View more at BFA.com
Guests including Cindy Sherman, Rose McGowan, Leigh Lezark, Hanne Gaby Odiele, Adam Selman, Mel Ottenberg, Zana Bayne, and more sipped cocktails while awaiting a performance by Christeene—a self-described terrorist drag rapper, who began her show by bending over and pulling a glass butt plug attached to balloons out of her behind and letting it float to the ceiling—before the main event. There were boobs aplenty—between the nearly-nude entertainers walking the cocktail floor, to the topless hostesses passing around breast-shaped cake balls (complete with nipple sprinkle), to the naked performers, one of whom was wearing boobs on her head. Basically, everything was jiggling.
Burlesque performer Dirty Martini mingled with partygoers as the Chicken Lady. She pushed a shopping cart full of eggs and a KFC bucket, screaming "My babies!" "I like to play with bodies, and show everyone is having fun," Le Mindu said of his characters.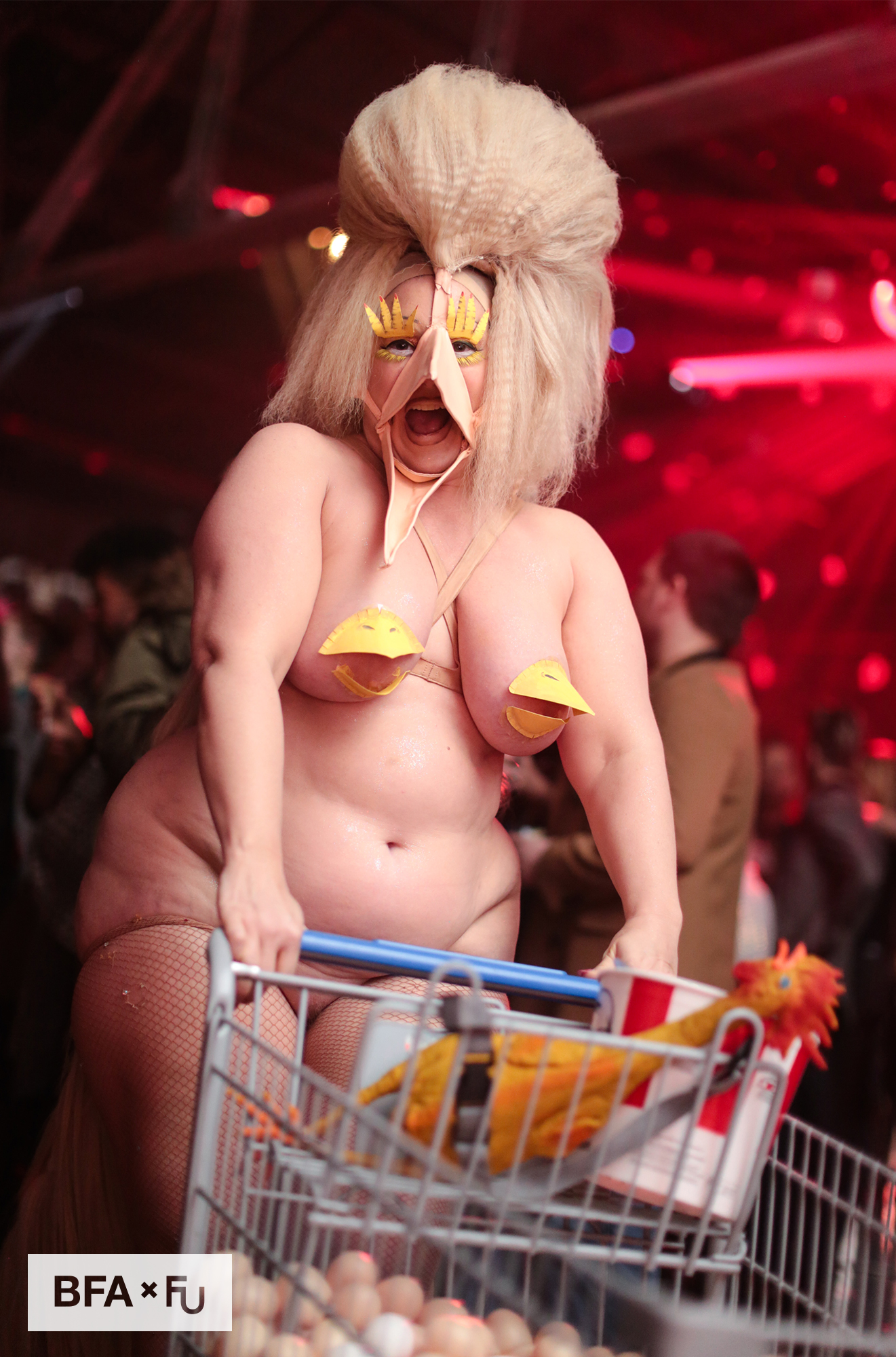 Dirty Martini as the Chicken Lady
Photo: BFA.com. View more at BFA.com
To say the show was out there would be a dramatic understatement. Guests were ushered from the cocktail room through an open mouth (a reference to the facade of Cabaret de L'Enfer, which was located in Paris's red light district from the 19th century to the 1950s), and finally escorted to an open space that held two stages. Drawing inspiration from everything from Le Mindu's childhood to Dolly Parton's theme park, Dollywood, Charliewood is more of an experience than a show. "[It's] like a rollercoaster, or like deep throat," explained Le Mindu—and no, he was not referencing Watergate. "When you do a deep throat you have lots of feelings. You have good feelings and awkward feelings. And the show is like a deep throat." Sure, Dollywood and dicks don't make a lot of sense together on paper, but while actually witnessing Charliewood, it's a perfectly apropos description.

CHARLIEWOOD from Charlie Le Mindu on Vimeo.
For many, this was the first time seeing Le Mindu's work in real life. Harry first saw his pieces in publications, and Paper magazine editor Mikey Boardman first stumbled upon the artist via Instagram. "I feel like Instagram is the place to find everybody these days," he said.
"Tonight is actually my introduction. I've seen stills, but never a performance," added Rose McGowan. "I'm looking forward to seeing it live. I think it will be incredible." Never shy about speaking her truth, McGowan touched upon the current political climate. "I think art is going to save us—it's our only hope right now," she said. "I think the more we fight back with our own weirdness, the better."
0 Comment