It couldn't just be a simple cocktail party, could it?
Upon arriving at the Guggenheim Museum on Thursday night for Marina Abramović's 70th birthday party, guests were given strict instructions. Printed in all caps on index cards handed out at the entrance read three directives:
• PUT ON NOISE CANCELING HEADPHONES
• REFRAIN FROM VERBAL COMMUNICATION
• WHEN YOU HEAR THE GONG, REMOVE YOUR HEADPHONES
Perhaps it was the all-caps that made one think of Kanye West, or the Yeezy-esque bait-and-switch into enforced performance art, but for the first 70 minutes (one for each of Abramović's years on earth) of the artist's birthday party, guests were forced to into monastic silence.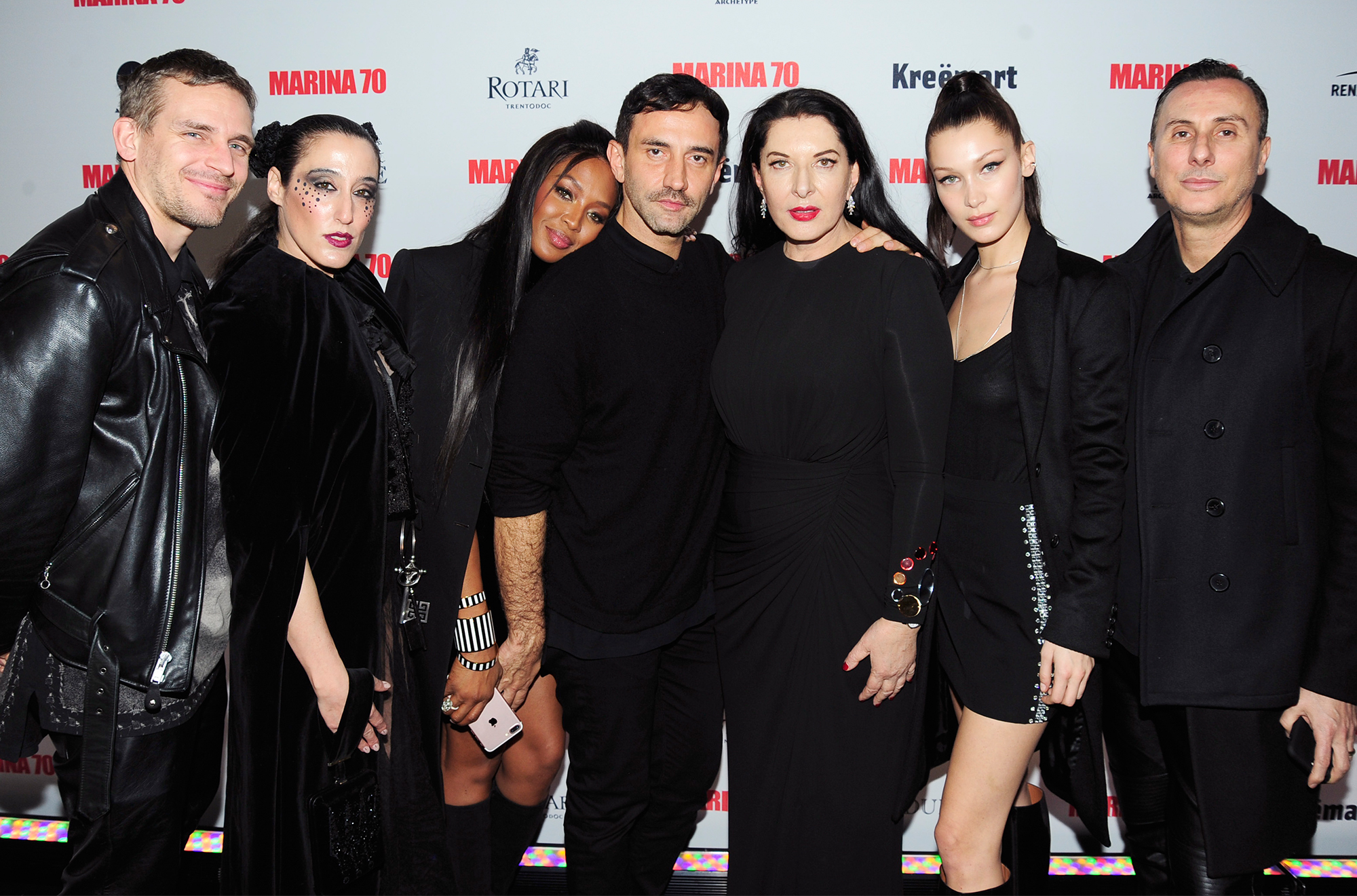 Ladyfag, Naomi Campbell, Riccardo Tisci, Marina Abramović, and Bella Hadid
Photo: Patrick McMullan
To be fair, sensory deprivation is all the rage these days with float tanks and whatnot—it's a sort of cursory reflex, a backlash to our very screen-friendly society. Though, ironically, it produced precisely the opposite effect at the party. Without the diversion of conversation, guests were more glued to their iPhones than ever. Rows of butterfly chairs were set up across the ground floor of the museum, and later they provided a front row seat to Abramović's performance, but for the first hour of the "party," people sat wearing their headphones and scrolling through their Twitter feeds rather than wandering upstairs to look at the exquisite Agnes Martin retrospective in "silent contemplation," as the press release read was the intention. And while the intended effect was surely of the soporific, hypnotic, meditative variety, it was just, well, irritating. The approach to performance art can be like a Rorschach—it means whatever you want it to be mean. But the takeaway from this reporter? It was a totally strange and totally pretentious exercise in tedious inertia.
Anyway.
After the excruciating 70 minutes of artful affectation, Abramović emerged to the stage with a friend, a figure dissembled in an all-black executioner's uniform. She banged on a gong and pulled out a scroll. "Friends and enemies," she began, reading alongside the executioner. "At 70, you realize you have two choices: You can make age your enemy or you can make it your friend. I have decided to make my age be my friend. Friends and enemies, you are both equally important to me…every one of you has played a role in the theater of my life." We sure have.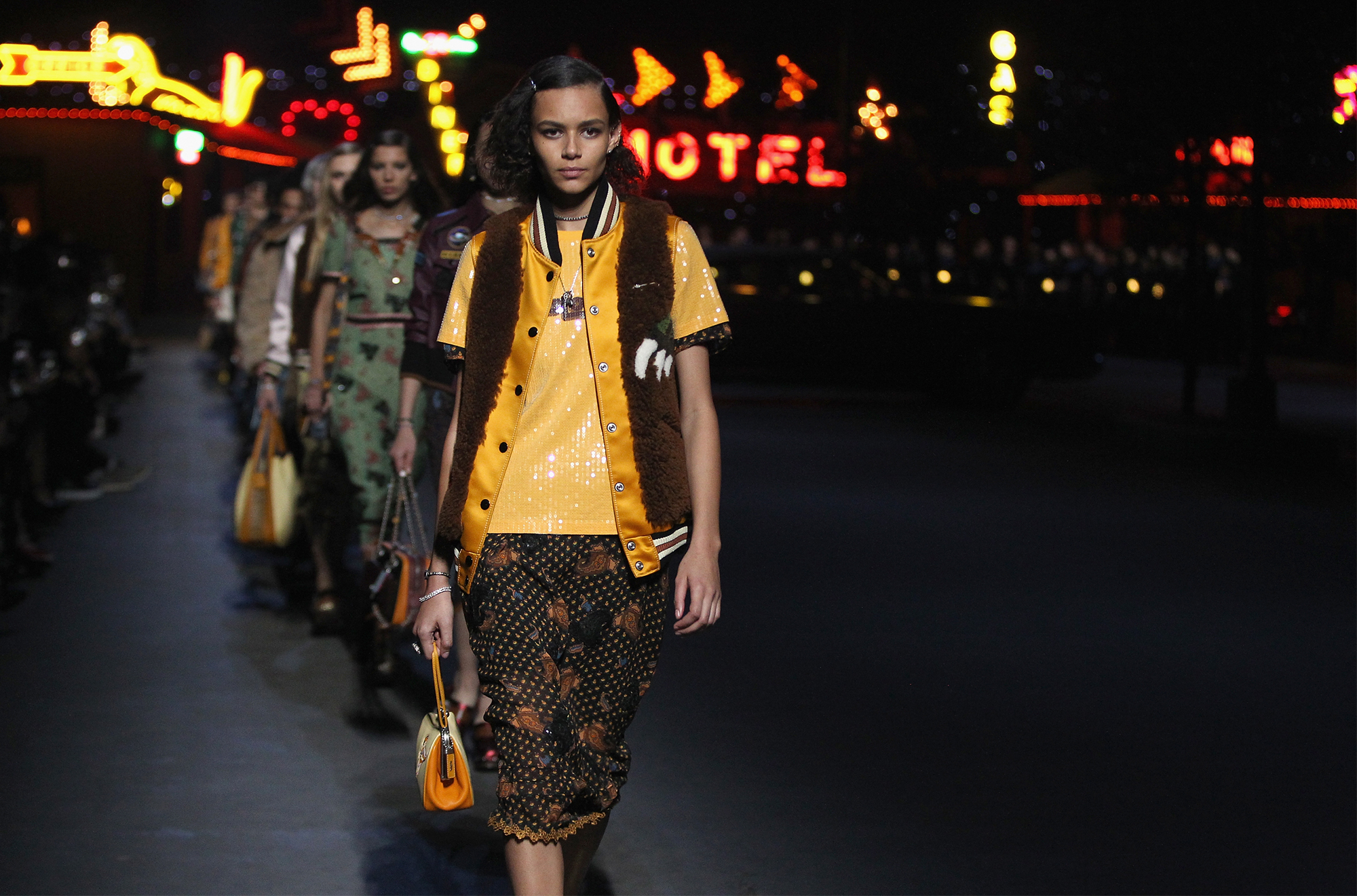 Photo: Courtesy of Coach
Across town, Coach was celebrating its twilight years with a bit more fervor. "Hey! Seventy-five is young," Stuart Vevers laughed. "At least in the world of traditional luxury brands."
True. And, appropriately, the brand was throwing a very hip bash for its birthday. The evening was show-cum-party spectacle, a celebration of the 75th anniversary of the brand prefaced by a men's (Fall 2017) and women's (Pre-Fall 2017) runway show.
The after-party was as fizzy and fun as an energy drink, a perfect antidote to the Abramović-enforced stupor. It was a good old fashion rave, held in the warehouse-esque space Pier 94, smoggy with cigarette smoke and lit by a huge disco ball. The median age hovered around 25 and everyone looked pretty cool.
It's indicative of the new era of Coach. In his short tenure, Vevers has taken what could be considered a sleepy, commodified brand—one most closely associated with tackily logo-laden canvas bags favored by suburban moms—to the epicenter of cool. Vevers is deliberately focusing on the label's New York roots as its path to cool-dom. "I wanted to celebrate New York City," he said. "It's our hometown!"
Photo: Courtesy of Coach
The evening drove the point home, acting as a sort of love letter to New York. During the show, a children's choir sang Alicia Keys' "New York" and Times Square-esque neon lights bathed the afterparty. The crowd was equally lit—Riley Keough and Zoë Kravitz manned the DJ booth, playing mostly early-aughts rap much to the delight of the revelers, mostly of the inky-armed hipster and pipe cleaner-thin model variety. Diplo was there, as was the perpetually chic Dree Hemingway. "The show was insane," she said. "I thought it was incredible and very New York. I'm so proud of Stuart, who I've known for so many years." Soko, too, was pleased with the lineup. "I really, really liked it," she said. "I love that everything was unisex, at least in my mind. I want all the jackets the boys were wearing." Pamela Love will also be shopping Coach come fall. "I thought it was so good, so happy, and so creative—it was everything we really need right now."
Around midnight, some editors may have felt aged out of the extravaganza. "I've got to get home," one sighed. "I'm too much of a cat lady for this."
0 Comment