It's nearly impossible to work in fashion—especially as a woman—and not be influenced in some way by Gabrielle "Coco" Chanel. Each member of the Fashion Unfiltered team has been impacted by the legendary designer's work, legacy, words, and determination in one way or another, so here, on what would have been Chanel's 133rd birthday, the FU editors share how Chanel has touched each of our lives. Happy Birthday, Coco, and thank you for inspiring women everywhere.
Katharine K. Zarrella, Editor-in-Chief and Founder
I'm a complete Coco Chanel fanatic. I have a wall in my living room dedicated to the designer, and my entire apartment, as well as the Fashion Unfiltered site and logo, were inspired by her signature elegant-yet-minimal aesthetic. Her wit, confidence, trailblazing career, and moxie have been a driving force in my personal and professional evolution since I was very young, but if I had to pick one thing about Chanel that truly tickles me, it's the fact that she famously borrowed a tweed ensemble from her then-lover, the Duke of Westminster, to go salmon fishing at his estate in Scotland. I adore the black-and-white photographs of Chanel reclining in pearls or puffing on cigarettes, but the 1920s snap of her donning the Duke's blazer, trousers, boots, and cardigan after a day of fishing with friend Vera Bate Lombardi is perhaps my favorite image of the singular icon.
Forget Alessandro Michele (well, no, don't—I just bought those glorious Gucci zebra-striped pumps with the tail growing out the back and can't wait to wear them), Chanel was the godmother of androgyny. But in both her own look and her designs, she explored it in a way that questioned gender and sexuality, but still championed feminine power. I am forever grateful to Mme. Chanel for helping to liberate women, both sartorially with her signature suits, and socially. Seriously, how many early 20th Century ladies can you think of that built an empire, revolutionized chic, had a spectacular string of love affairs, and never married? (One of my most beloved Chanel quotes is, "Men always remember a woman who caused them concern and uneasiness." I try to live by it, for better or worse.)
Also, in case you were wondering, which you weren't, but I'm going to tell you anyway, I named one of my rabbits, Mlle. Coco, after Chanel, because her fur is black, she's fiercely independent, deeply sassy, and kind of a bitch in the best way possible. You can see her pictured below, posing in the house of Chanel's faux pearls alongside a photograph of Chanel taken by Cecil Beaton in the 1960s. She scratched me about 15 times while we tried to capture this image. I imagine Chanel would have done the same.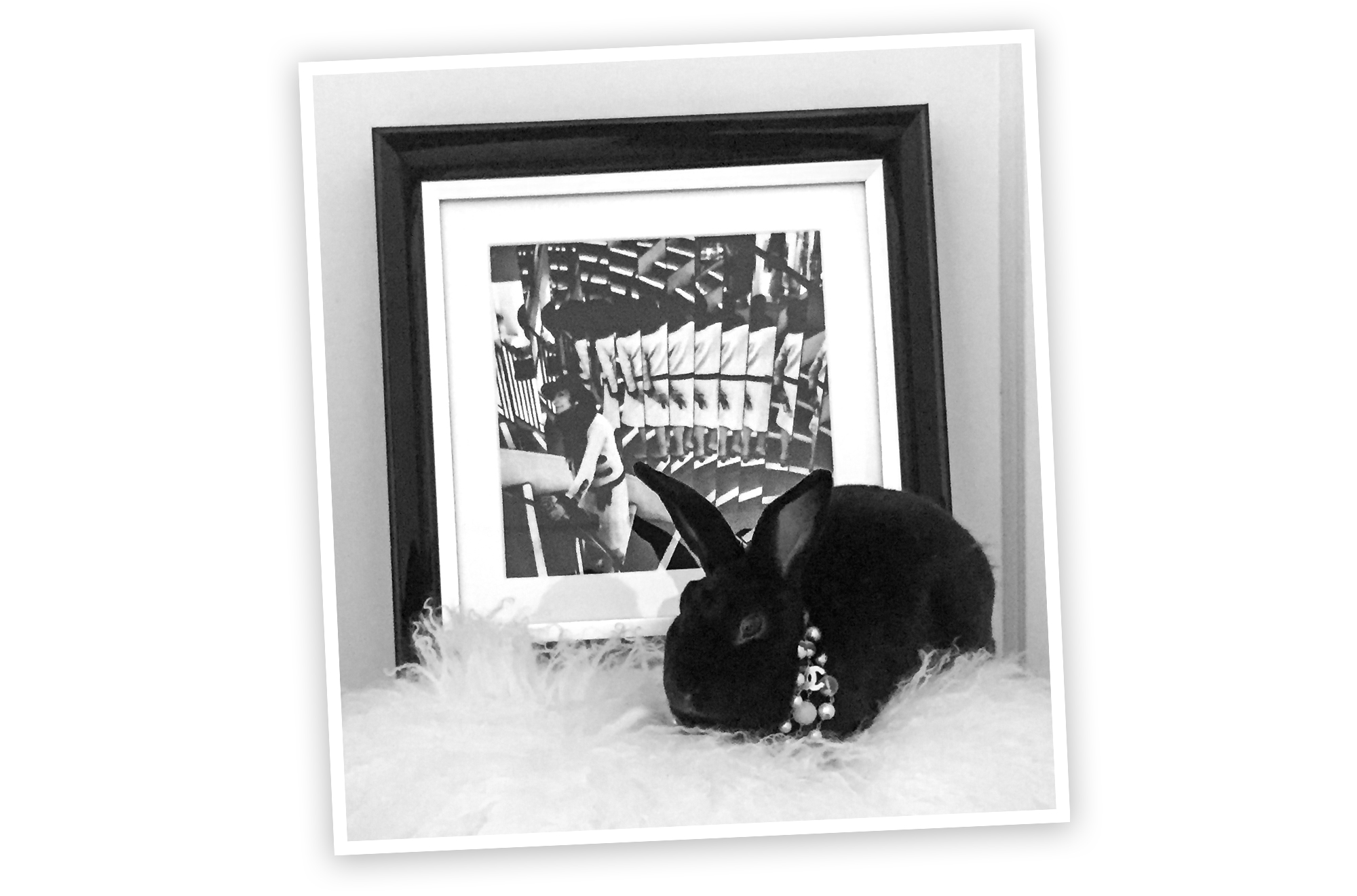 Mlle. Coco next to a Cecil Beaton photograph of Coco Chanel
Amber Kallor, Beauty Director
"If you're sad, add more lipstick and attack."—Coco Chanel
Many people have paid homage to the power of lipstick—Beyoncé, Elizabeth Taylor, and Audrey Hepburn, to name a few—but none more fiercely than Mme. Chanel. There are few things that pull you together faster than a quick swipe of scarlet. I also consider a pristine pout the beauty equivalent of the power shoulder, because nothing gives you more confidence than a classic-yet-badass bullet of red. In honor of Coco's birthday, consider reaching for her namesake shade, Rouge Coco Ultra Hydrating Lip Colour in Gabrielle.
Aria Darcella, News and Features Editor
If there's one thing anyone—in fashion or not—can learn from Chanel, it's that there are second, third, and fourth acts in life—maybe more (sorry, F. Scott Fitzgerald). There is no one path to success, and more importantly, there is no predetermined age or timeframe during which one must accomplish her goals.
Out of her many career rebirths—from a singer, to a milliner, to a designer—the one that especially resonates with me was Chane's second rise to fashion prominence in the 1960s. She reopened her house in 1954, after her storied brand had been closed during the Second World War, and worked to regain lost ground.
Fashion is an industry that favors youth, within a larger culture that also favors youth. While it's great to celebrate the "next big thing" or to ogle the prodigy, respect should also be given to age and experience. Chanel's third act (or fourth, or fifth, depending how you wish to break down her life) came when she was in her seventies. Please remember that if you're a recent fashion graduate who does not yet have your own line. Please remember that if you're anyone who wants to accomplish something. Past failure or your current age are not the end of the story—they're chapters along the way.
Erinn Hermsen, Site Director
"A girl should be two things: Classy and fabulous."—Coco Chanel
While this quote may be so overused nowadays that it's lost its meaning, it struck a chord with me as a young girl growing up in the Midwest. I especially took it to heart in high school, when everyone was trying to conform and fit in. Chanel made me realize that being classy and true to myself was way better than conforming to anything my classmates thought was "cool." With the dawn of social media, it's a mindset our generation would do well to remember.
Hilary Shepherd, Editorial Coordinator
"The most courageous act is still to think for yourself. Aloud."—Coco Chanel
Chanel's words have echoed within me since I first read this quote as a young, wide-eyed girl coming into my own. While the specifics of my initial discovery have escaped me, Chanel's powerful words still ring true to this day. Chanel is one of my ultimate feminist icons, as she was largely influential in freeing women from the tight constraints of the corset, as well as embracing a more relaxed, sportier silhouette. Chanel was prolific, brilliant, and authentic, and I'd be lucky if at least a twinkle of her influence ever seeps into my work.
Ashley Tschudin, Social Media Director and Founder of @ChoupettesDiary
"Keep your heels, head, and standards high."—Coco Chanel
Coco Chanel's view on life, one in which women are strong and fashion is a means of communicating one's feminine power, is the basis for Choupette's Twitter personality. I created Choupette's Diary with a sassy voice, one I imagine Chanel would embrace. Without Chanel, there would be no Karl Lagerfeld, and if there were no Karl, the fashion world wouldn't be lucky enough to have Choupette.
Julie D'Alessandro, Editorial Intern
"Fashion fades, only style remains the same."—Coco Chanel
Considering women (and men!) are still buying a bag she designed over 60 years ago, it's safe to say that Coco Chanel knew more about style than anyone. She created classic pieces that weren't just one season wonders, and when you buy something—vintage or new—that's been touched by her original vision, you know you have a piece that will stand the test of time. I am fortunate enough to own a few Chanel handbags myself, and I know they are something I will eventually be able to pass on to a loved one. And let's face it, that's not something you can say about most fashion items. For this reason, the ghost of Coco Chanel always comes back haunt me whenever I'm about to purchase something expensive. I'm often tempted to buy into the fashion hype of the season, but Chanel always brings me back down to earth. She might not approve of the platform Vetements boots I just snagged, but who's to say I won't be wearing those in 20 years? (Chanel is probably rolling her eyes at me right now—Coco, I promise I'll follow my own advice next time.)
0 Comment