The modern fashion industry has long been a game of musical chairs. So much so that one of FU's very first articles was a satirical take on how frequently everyone moves around. But 2016 was a banner year for (long gestating, less-than-secret) arrivals, and (swift, surprising) departures. Here, we chronicle the seemingly endless comings and goings, because we know it's pretty hard to keep track.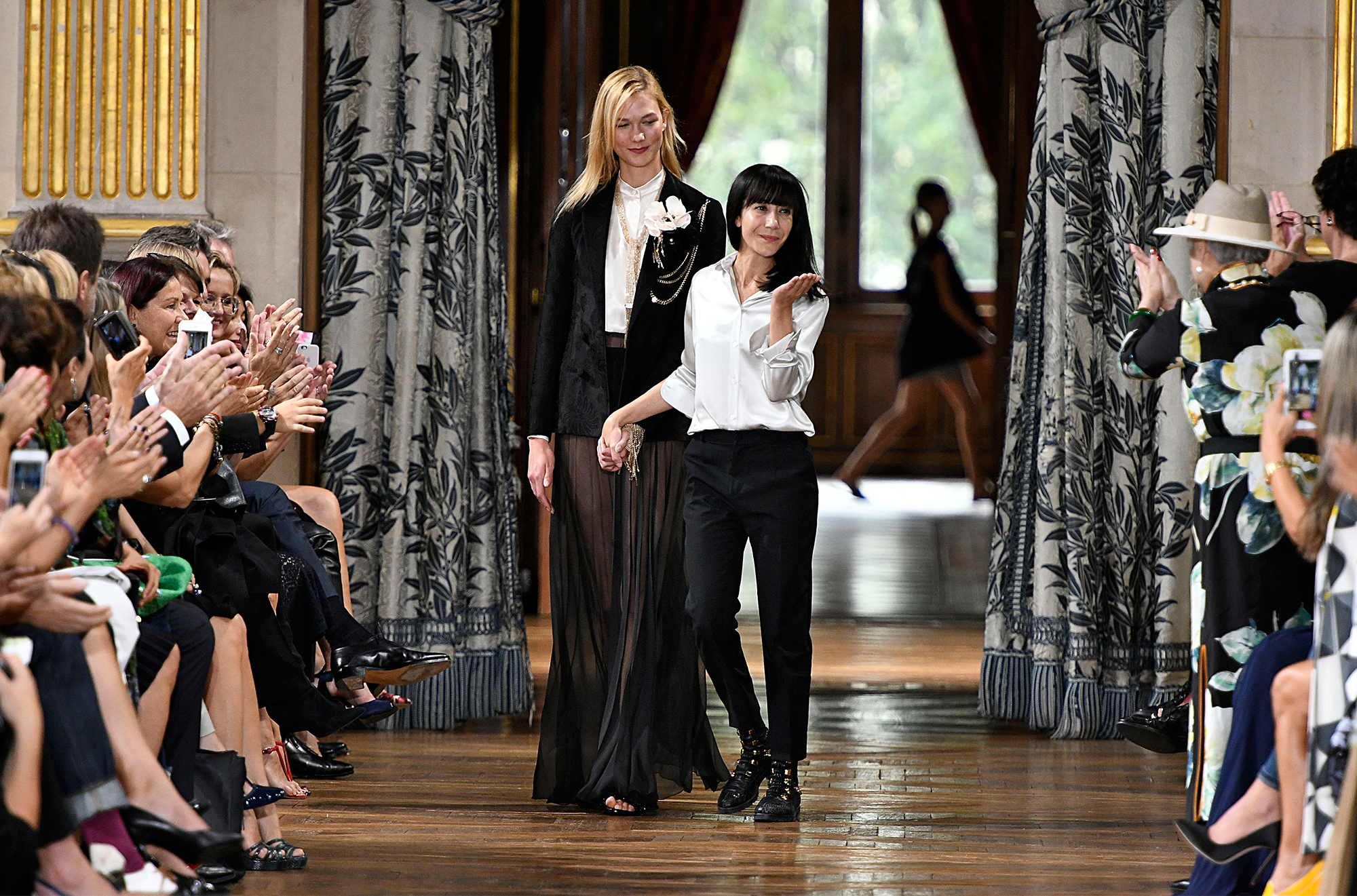 Bouchra Jarrar
Photo: firstVIEW
COMINGS
Demna Gvasalia to Balenciaga: Though his appointment was announced in 2015, Gvasalia's debut collection for the storied French house was for Fall 2016, and it was a promising glimpse into what we can expect from his tenure. Gvasalia ended up showing Vetements-like collections that were actually sly nods to the house's history.
Bouchra Jarrar to Lanvin: The couturier was appointed head of women's ready-to-wear in March, replacing Alber Elbaz. At the same time, it was announced that Lucas Ossendrijver, who worked alongside Elbaz, would head up the menswear line. Jarrar's first collection was Spring 2017, and it was lauded for being designed for the modern woman, with the inclusion of flat shoes and loose silhouettes.
Justin O'Shea to Brioni: The former MyTheresa.com buying director was announced as the creative director of the menswear label in March, despite not having any design experience. He officially started on April 1st. As you'll learn further down, it was not a great success.
Anthony Vaccarello to Saint Laurent: The designer's appointment was announced mere hours after he officially left his former position at Versus Versace in April. His first collection for Spring 2017 was hotly anticipated, mostly to see how closely he would follow the work of his predecessor, Hedi Slimane. His debut had a hard '80s edge, and brought back the original "YSL" logo—something Slimane largely eschewed.
Jonathan Saunders to Diane von Furstenberg: The British designer (who had shuttered his own label only six months before) was brought on as chief creative officer. His debut collection for the brand was Spring 2017, and it was critically acclaimed for its modernity and vibrancy.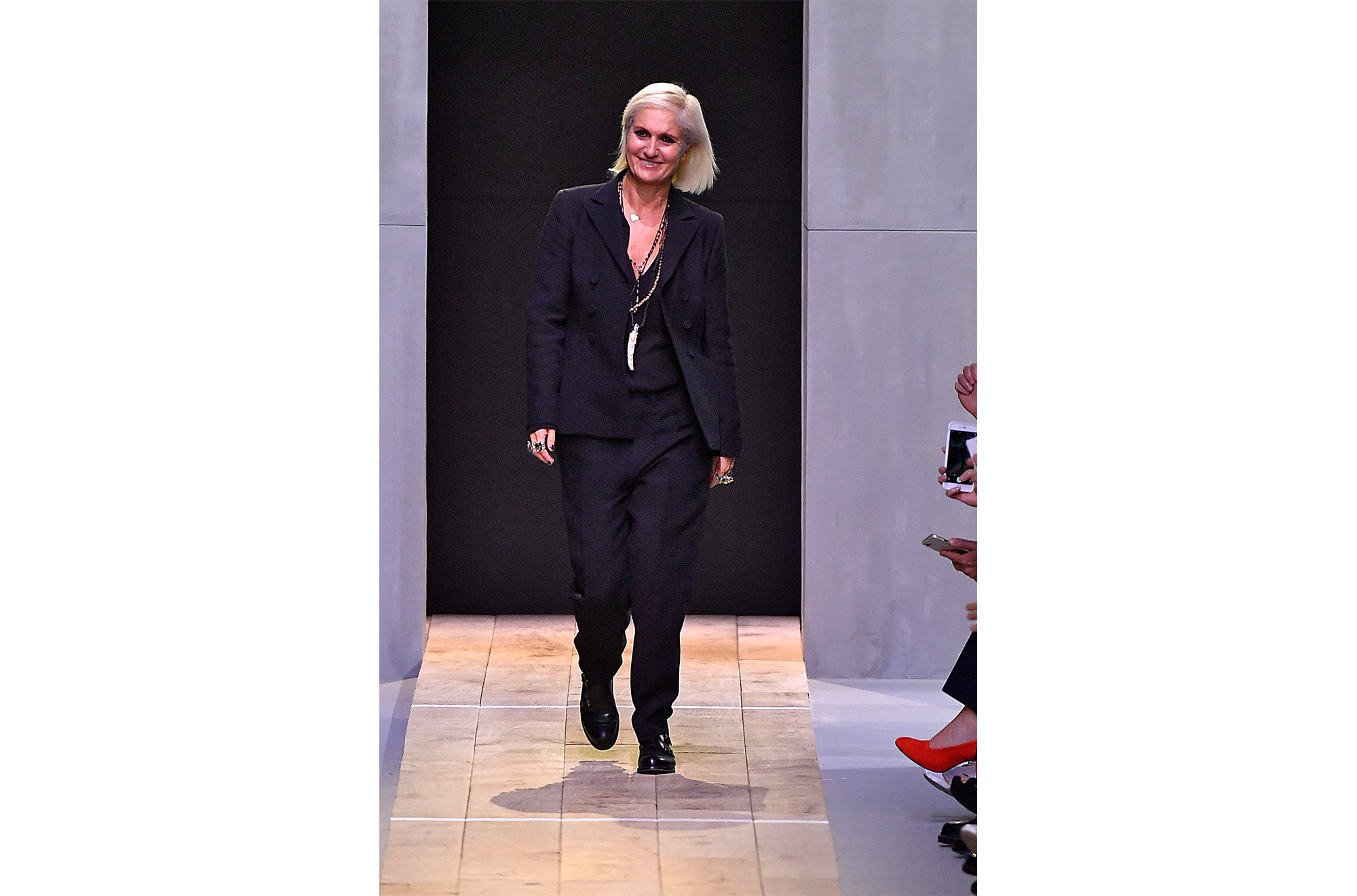 Maria Grazia Chiuri
Photo: firstVIEW
Maria Grazia Chiuri to Dior: In a whirlwind appointment, Chiuri went from rumored Dior designer to confirmed Dior designer in July. She is the first (and only) woman to helm the house in its 70-year history. Her first collection was Spring 2017, which was notable for being a female-driven offering, including a "We Should All Be Feminists" t-shirt.
Raf Simons to Calvin Klein: With a heaving sigh, editors were finally able to confirm fashion's worst-kept secret: That Simons was headed to Calvin Klein. The "rumor" mill began over a year prior, when he was still at Dior. He will be taking over all aspects of design, with his first collection hitting the runway in February.
Giovanni Morelli to Stuart Weitzman: The former leather goods design director for Loewe was a surprising hire for Stuart Weitzman, but it will be interesting to see if he takes the commercial brand in a more fashion-forward direction.
Unnamed Belgian Designers to Band of Outsiders: In August Band of Outsiders' parent company CLCC SA announced that it would revive the brand a year after it shut down, albeit without its founder, Scott Sternberg. Their first collection was Spring 2017. Reviews were tepid.
Haider Ackermann to Berluti: The summer ended with exciting news that the avant-garde designer would be taking the reigns at storied Italian menswear brand Berluti. His first collection will debut during men's week in Paris this January.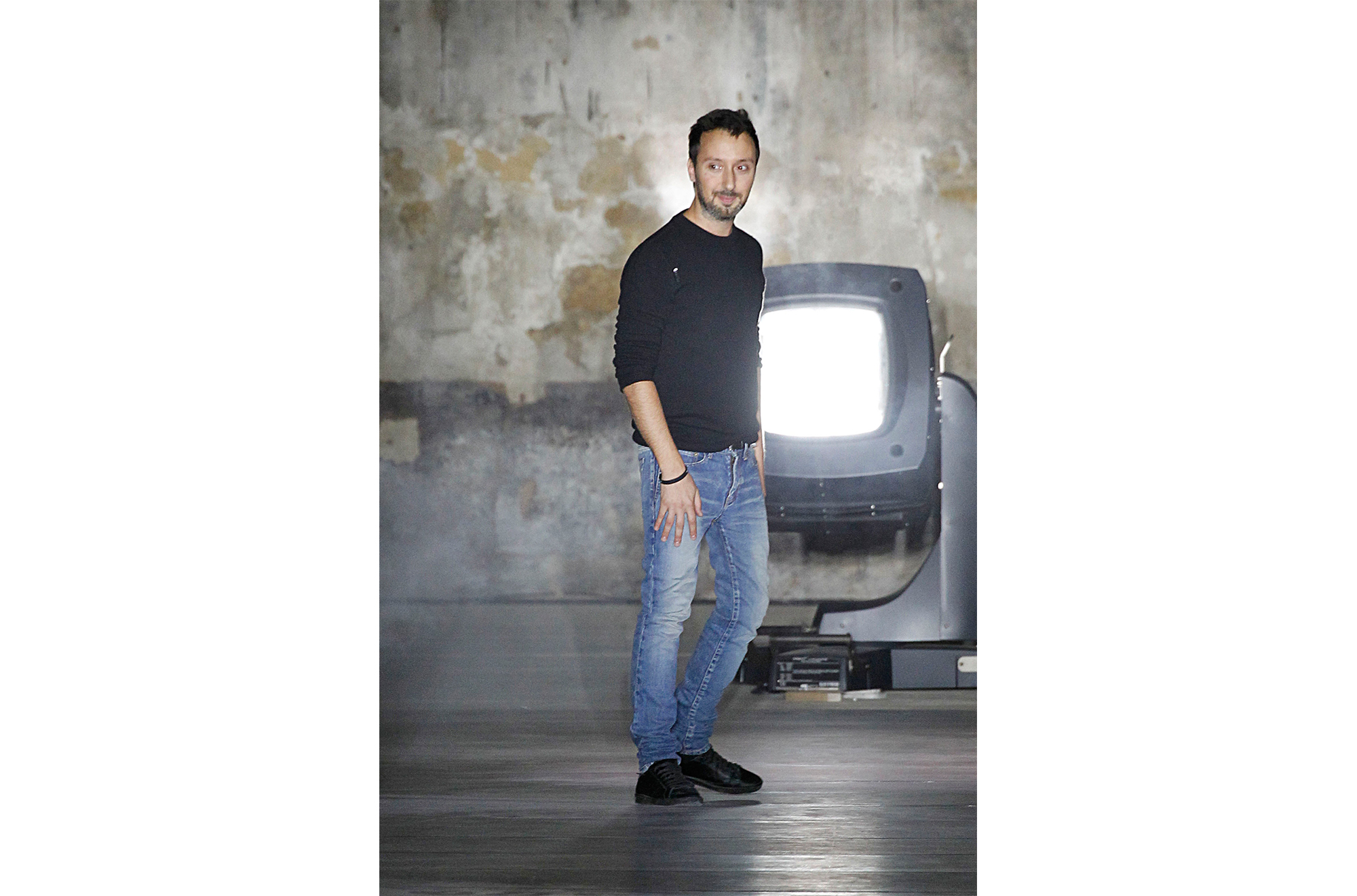 Anthony Vaccarello
Photo: firstVIEW
Laura Kim and Fernando Garcia to Oscar de la Renta: In September, it was announced that the duo behind Monse would take the reigns at Oscar de la Renta. It was heartwarming news, as they had both previously worked for the house under the late de la Renta himself. Their first collection will be Fall 2017—although Kim is currently caught up in a non-compete lawsuit with her former employer, Carolina Herrera.
Paul Andrew to Ferragamo: In September, the house announced that the shoe designer would head up its women's footwear line. His debut collection will be for Pre-Fall 2017.
Fulvio Rigoni to Ferragamo: The house finally announced Rigoni's appointment in November. He had been working as part of the in-house team under former designer Massimiliano Giornetti and was promoted. Way to keep it in the family!
Francesco Risso to Marni: In October, Risso was announced to succeed Consuelo Castiglioni at Marni. One could assume that Risso was selected with Castiglioni's approval, given the fact that her stepping down was not a surprise to those within the company.
Susie Crippen to J Brand: J Brand's original co-founder is back. The brand was heralded as the reason for the skinny jeans craze, so there's a good chance Crippen is getting ready to shake up the denim game again.
Daniel Hettmann and Angelo Van Mol to Band of Outsiders: The duo (among others) was recently tapped to helm the second restructuring of the brand. The first one really didn't go so well—apparently the Belgian design team wasn't too well versed in California aesthetics. Will two more Europeans be able to figure it out? We'll find out soon—their first collection will be for Fall 2017.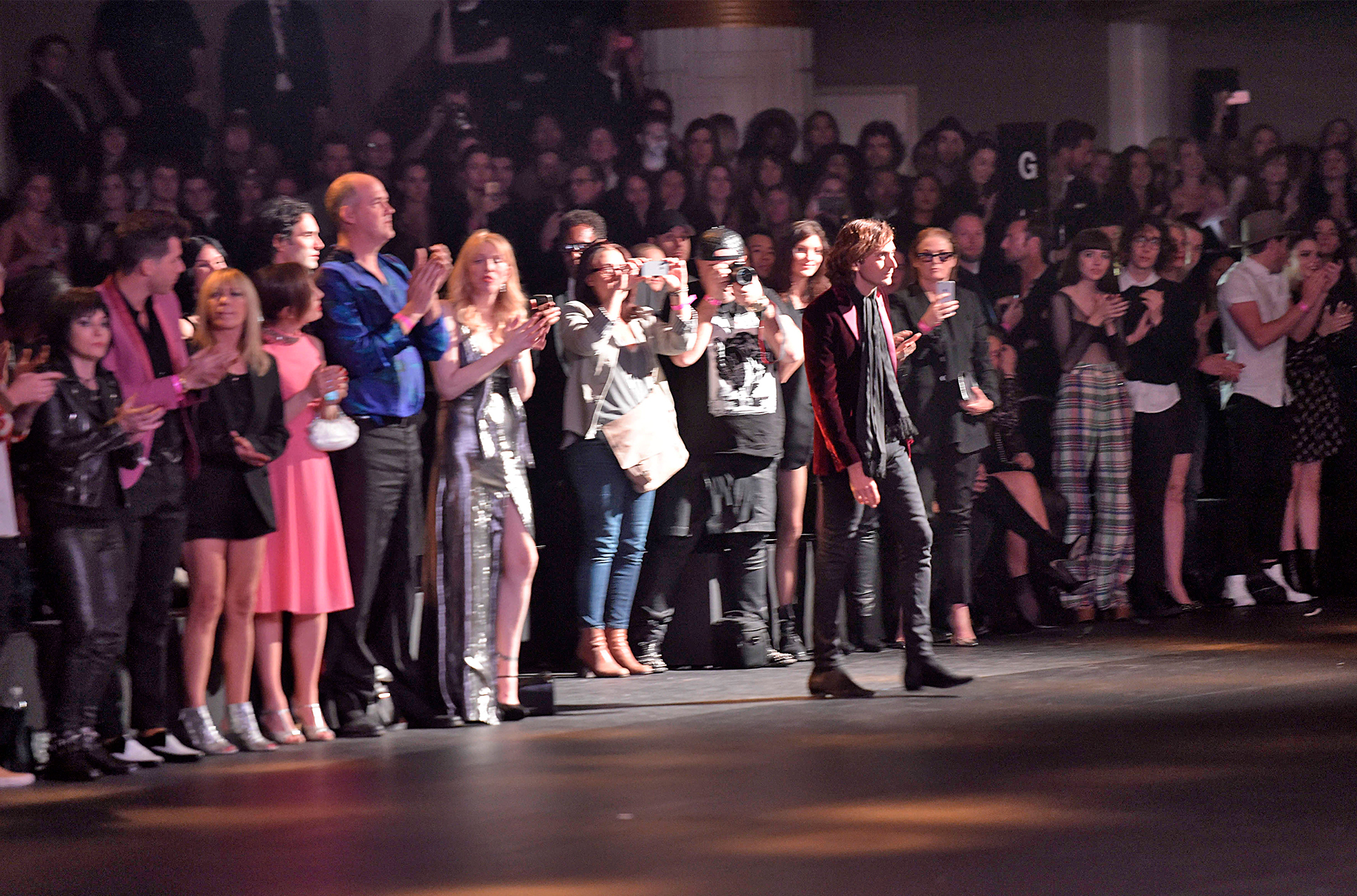 Hedi Slimane
Photo: firstVIEW
GOINGS
Ennio and Carlo Capasa from Costume National: In March, the Capasa brothers left the brand they founded and helmed for 30 years. Their final collection was Fall 2016. In the meantime, the brand's parent company, Sequedge, has taken over.
Massimiliano Giornetti from Ferragamo: The designer stepped down after 16 years at the house (five as director of both men's and womenswear). His final collection was Fall 2016.
Hedi Slimane from Saint Laurent: Slimane left Saint Laurent at the end of March. He did not go quietly (there was a confusing lawsuit with Kering, and some Twitter drama). His final collection was Fall 2016, but his tenure at the house made its mark—his removal of "Yves" from the brand name has stuck, and Anthony Vaccarello seems to be following in his rock-n-roll footsteps.
Anthony Vaccarello from Versus Versace: In April, Vaccarello left Versus to take a gig as the head of Saint Laurent. He had been with the brand since 2014, and some looked to his work there for hints of what he would bring to Saint Laurent.
Francisco Costa and Italo Zucchelli from Calvin Klein: The duo was ousted from their positions as heads of womenswear and menswear, respectively, in April. Though there were long rumors that Raf Simons was headed to Calvin Klein, the news was sudden and surprising.
Michael Herz from Diane von Furstenberg: In a surprising announcement, Diane Von Furstenberg replaced Hertz with Jonathan Saunders as chief creative officer in May. Hertz had been in the position since 2014.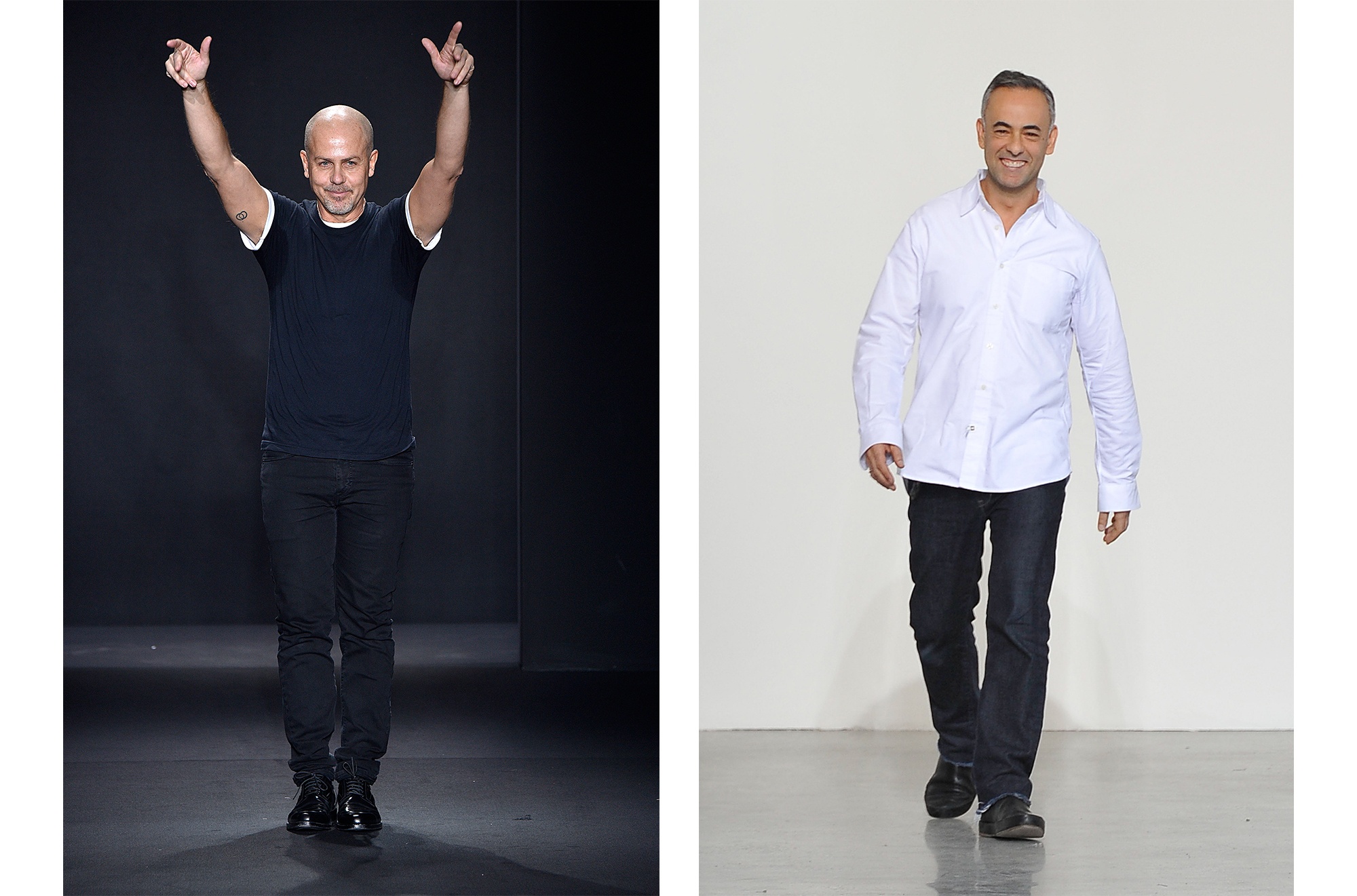 Left: Italo Zucchelli; Right: Francisco Costa
Photo: firstVIEW
David Neville from Rag & Bone: The co-CEO stepped down from his position in June to help his wife, Gucci Westman, launch her beauty line. He remains on the board, and continues to be a major shareholder. One also assumes that he and Marcus Wainwright are still besties.
Peter Copping from Oscar de la Renta: Copping mysteriously and abruptly left the house in July, citing "personal circumstances." Though Oscar personally selected Copping to be his successor, many felt that his work was an underwhelming, hollow version of the brand. His final collection was Resort 2017.
Maria Grazia Chiuri from Valentino: The designer left her position as co-designer at the house, solidifying for many the then-rumor that she was headed to Dior. Her former partner, Pierpaolo Piccioli, is now the sole designer at Valentino. After each of their first-ever solo collections debuted, it was plain to see exactly who brought what to their partnership. That being said, both were solid on their own, which is great news all around.
Stuart Weitzman from Stuart Weitzman: In August, the designer stepped down from his eponymous label after 30 years at the helm. He remains with the company as chairman, but he's leaving the creative stuff to the youths.
Justin O'Shea from Brioni: O'Shea was dropped as creative director at Brioni a mere six months after his arrival. During his tenure, he produced a whopping one collection, changed the logo, and tapped the members of Metallica (of all people) to front his first and only campaign. His ideas—though implemented—more or less went over like a lead balloon, proving once and for all that just because someone looks good in suits doesn't mean he can design them.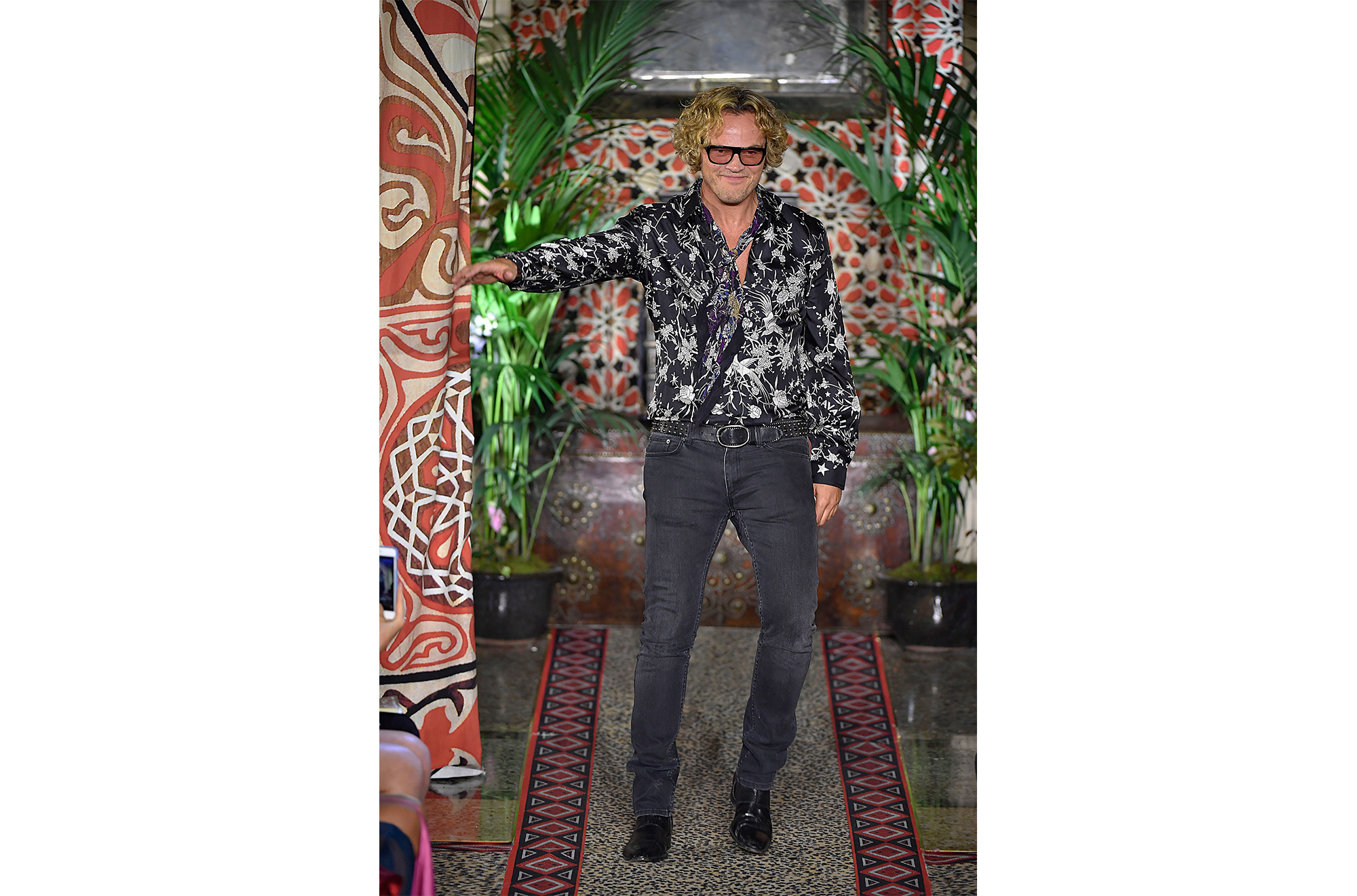 Peter Dundas
Photo: firstVIEW
Peter Dundas from Cavalli: In October, the designer was unexpectedly dropped from the Italian house, which is in the midst of massive restructuring. He had been at the helm for a year. He seemed to be the perfect fit for the brand, considering his prior experience at Pucci, and the fact that he had previously worked for Cavalli. His last collection, Spring 2017, was very much in the vein of what the house of Cavalli did best: Loud prints, sexy silhouettes, and lots of fun.
Consuelo Castiglioni from Marni: In yet another unexpected departure for an Italian house, Castiglioni stepped down at Marni, a brand she founded. She cited wanting to dedicate time to her "personal life" as her reason for leaving. Fair enough, she's earned a break. Her last collection was Spring 2017.
Alexis Martial and Adrien Caillaudaud from Carven: The duo was ousted from the Parisian label in late October. They were only with the brand for a year and a half, prompting many to criticize parent companies for putting too much pressure on new designers to swiftly succeed or risk being dropped. Their last collection was Spring 2017, and it is a shame they were not given a chance to grow.
Maxwell Osborne and Dao-Yi Chow from DKNY: The duo was dropped from the label in December, after LVMH sold DKNY to G-III Apparel Group Ltd. Their final collection for Spring 2017 was given a splashy, star-studded show on New York's Highline. Since departing, Osborne and Chow have announced that things will return to business as usual at their brand Public School.
Unnamed Belgian Designers from Band of Outsiders: In the final weeks of the year, CLCC SA announced that it was reforming the brand (again), and that the Belgian designers hired to resurrect it were out. Their only collection (Spring 2017) did not go into production. This writer will always remember this announcement as the time she was allowed to use a cat gif in a news piece, thanks to the epic absurdity of this real-world situation.
ON HOLD
Anthony Vaccarello: The designer's eponymous label was put on indefinite hold in August while he focuses on Saint Laurent. To many, this move made quite a bit of sense, given how big a role he was taking on at Saint Laurent. In retrospect, given the amount of scrutiny Vaccarello was under, it was a smart move to make, lest one (or both) of his collections had faltered.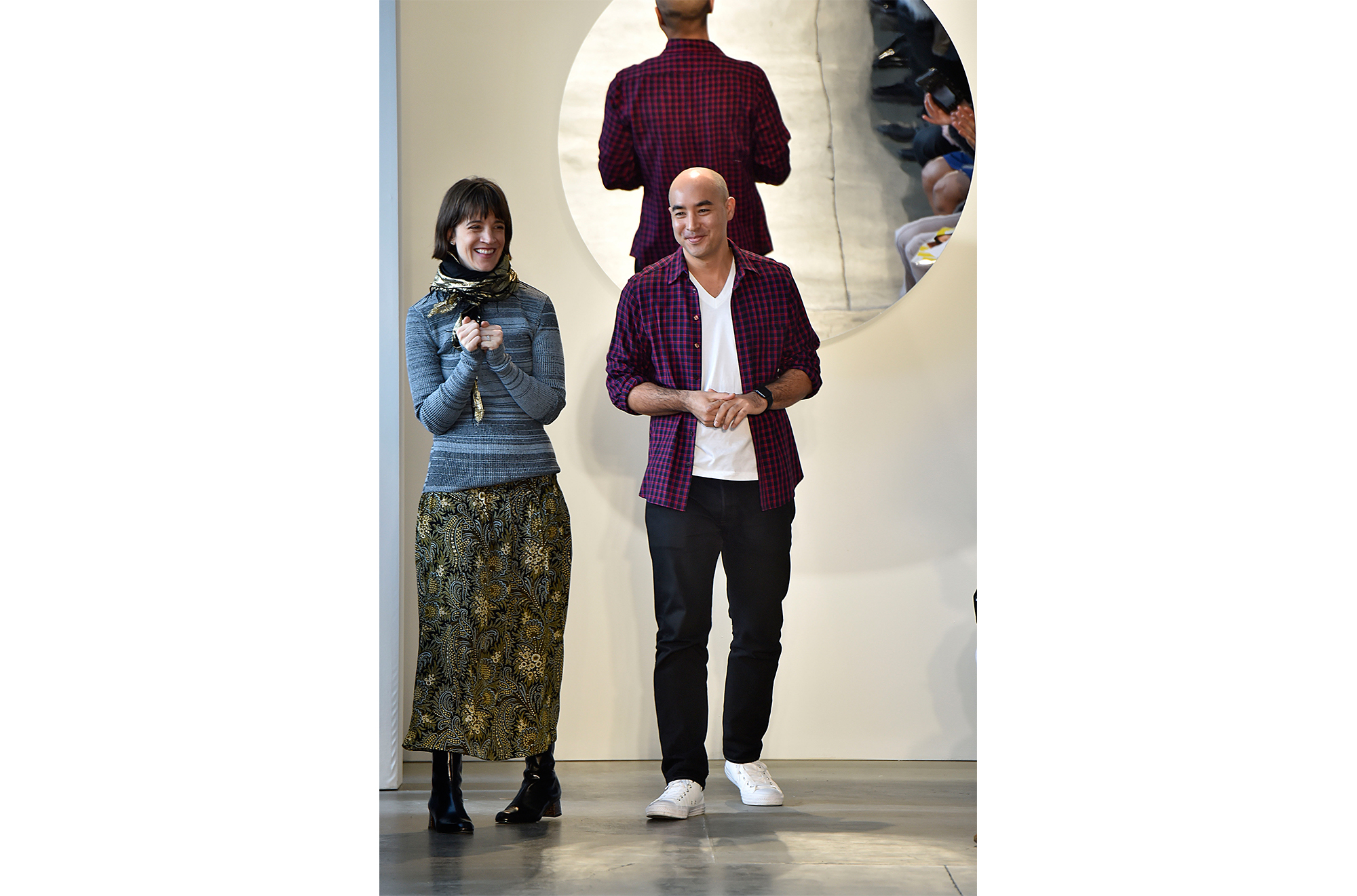 Erin Beatty and Max Osterweis of Suno
Photo: firstVIEW
GONE BUT NOT FORGOTTEN
Ohne Titel: In April, Flora Gill and Alexa Adams shuttered the label they founded and helmed for nine years. The line gained a lot of critical acclaim in its time, and was twice up for the CFDA/Vogue Fashion Fund.
Trademark: The label discontinued its clothing line in May, shifting focus to accessories. Trademark, which is run by sisters Louisa and Pookie Burch, was well received, thus proving how difficult it is for young brands to make it in the current retail market.
Carven Menswear: It was announced in July that the menswear line of the French brand would be discontinued. Barnabé Hardy was in charge of design at the time. As it turns out, his counterparts in the womenswear department weren't safe either.
Sonia by Sonia Rykiel: Just two months after founder Sonia Rykiel passed away, the company announced that it would close the diffusion line, citing a troubled international economy as the reason for downsizing the brand.
Suno: Partners Max Osterweis and Erin Beatty shuttered their brand in November, after eight years in business. Their Spring 2017 collection did not go into production. Much like its recently shuttered contemporaries, Suno was critically acclaimed in the New York fashion community.
BACK FROM THE DEAD!
Band of Outsiders: The west coast preppy label which shuttered in 2015 was revived in August—hooray!—and then again in December—what?—because figuring it out as you go along is a better idea than taking the time to think things through.
Olivier Theyskens: Theyskens returned to the fashion fold after a two-year hiatus, much to the delight of fashion fans everywhere. His first collection for his eponymous label was presented in September at a surprise show in Paris.
0 Comment