Franca Sozzani, longtime editor-in-chief of Vogue Italia, passed away today. She was 66 years old.
The news of her passing comes as a shock to the industry. Earlier this month, Sozzani attended the Fashion Awards, where she was honored with the first-ever Swarovski Award for Positive Change for her work with the United Nations to end AIDS, world hunger, and cancer, as well as founding Child Priority, a non-profit organization that helps give underprivileged children opportunities for work.
But Sozzani is best known, and most revered, for her nearly three-decade tenure at Vogue Italia. She was appointed to the top position in 1988, around the same time that Anna Wintour became her counterpart at American Vogue. Where Wintour turned her publication into a successful pop-culture tome through featuring A-list celebrities, Sozzani repositioned the Italian edition as one of the most important publications in the fashion world, especially for the creative class. Photographers, stylists, make-up artists, and creative directors were seemingly given free reign to produce some of the most visually stunning and arresting work in mainstream magazines. Images were a top priority, as evidenced by the issue covers, which often featured avant-garde photography and layouts (at least in comparison to its Vogue brethren), and were famously sparse in text. Additionally, the magazine would often include supplementary issues, including a biannual couture collection review, which would be almost entirely comprised of editorials featuring the new haute couture collections.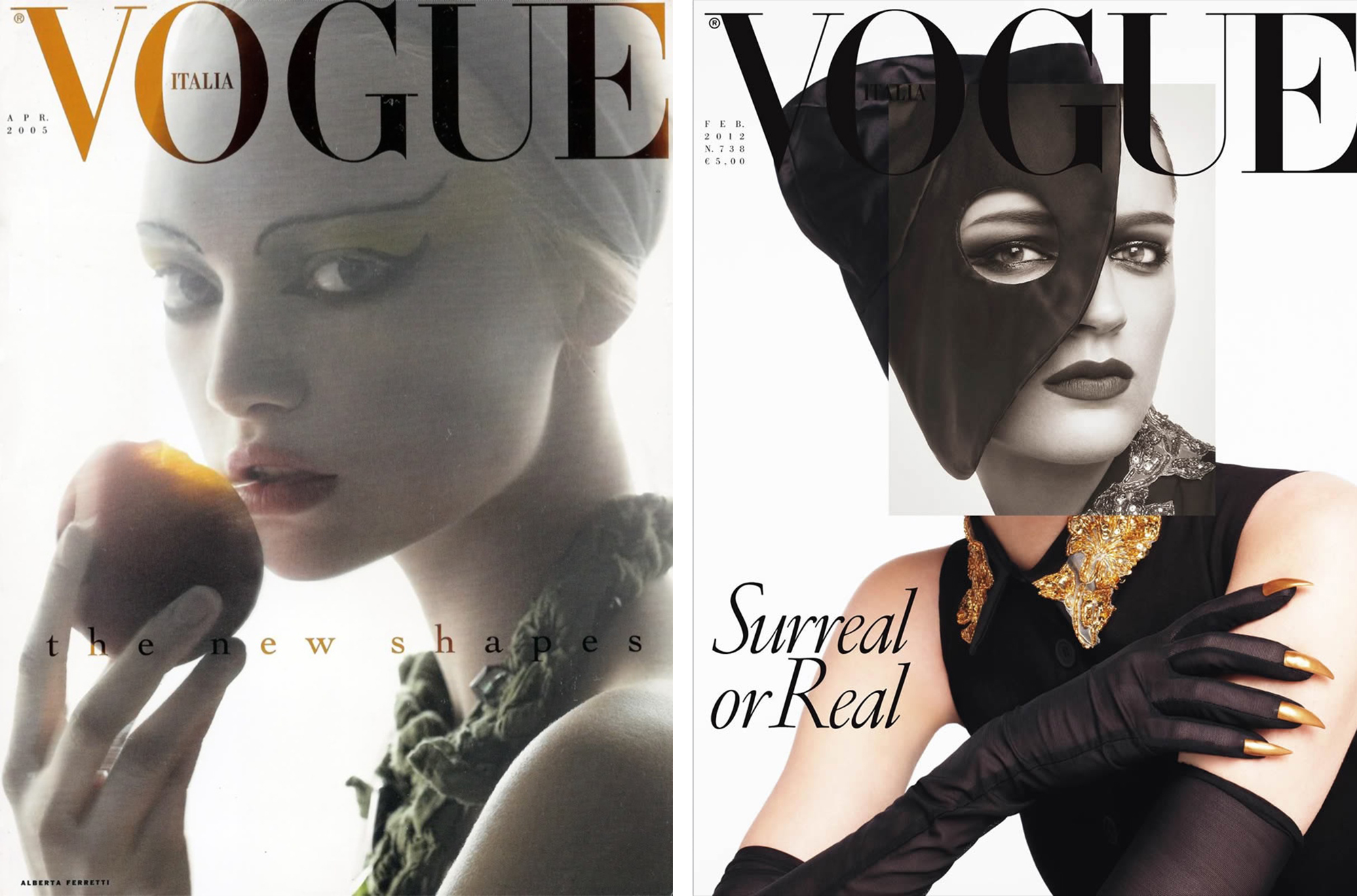 Left: The April 2005 cover; Right: The February 2012 cover
Photos: Courtesy of Vogue Italia
Working for Italian Vogue meant that one had "made it" in the fashion industry, and the publication only worked with the best of the best. Pat McGrath, Paolo Roversi, Carlyne Cerf de Dudzeele, Bruce Weber, and Steven Meisel, the latter of whom famously shot nearly every cover since Sozzani's appointment, were just some of the regular all-star contributors. For models, landing in the publication was a career game changer. Not only did it put them in a room with the industry's biggest players, but it also exposed them to the high-fashion community at large.
Earlier this year, Sozzani's son, filmmaker and photographer Francesco Carrozzini, released a documentary about his mother titled Franca: Chaos and Creation. Familial bias aside, Carrozzini was not wrong in his belief that she was an interesting enough figure to warrant a film.
Like many of the most talented minds in fashion, Sozzani did not have a fashion education. She actually held a degree in Germanic language and literature, and philosophy. She began her career in the fashion publishing world in 1976, working for Vogue Bambini before eventually becoming the editor-in-chief at Lei magazine in 1980 (and in 1982, Per Lui, the men's version). By the end of the decade, she returned to the Vogue fold as editor-in-chief at Vogue Italia, a position that had a rocky start. "During my first two years as the editor-in-chief, the magazine wasn't successful at all," she told Forbes in a 2015 interview. "Those were two years of hell—we didn't have any advertisers. I wanted to take the magazine in a different direction, which I knew could get me fired. But I still did it—and it worked out."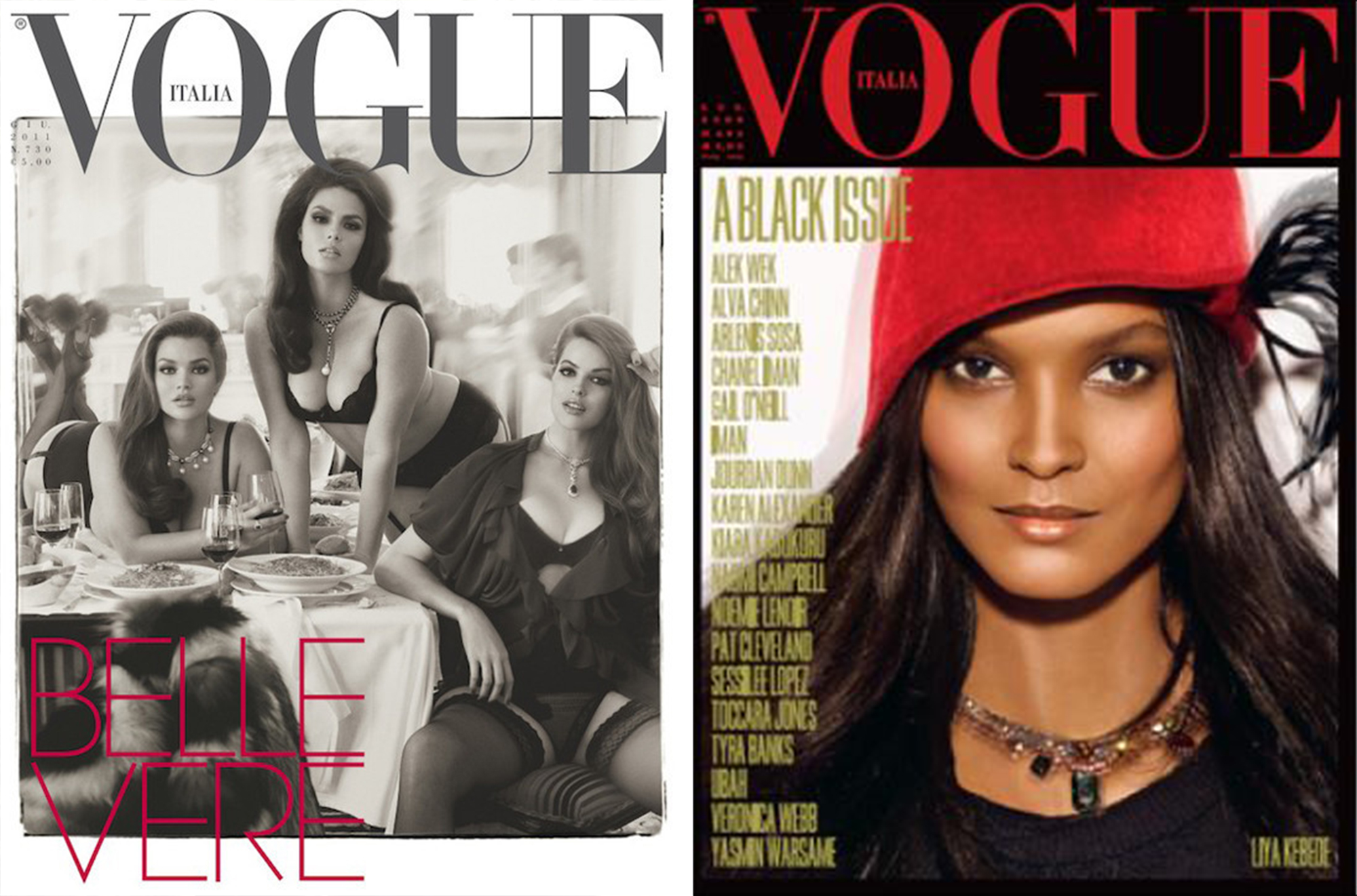 Left: The June 2011 cover; Right: The "All Black" issue, July 2008
Photos: Courtesy of Vogue Italia
Her boundary-pushing visuals were often met with controversy. The cover and accompanying spread for the August 2010 issue (which was inspired by the massive BP oil spill only a few months before) drew harsh criticism for seemingly glamorizing an environmental disaster. And while 2008's "All Black" issue, which featured exclusively black models, was a huge success (it sold out internationally in 72 hours), many noted that more could have also been done to include more models of color in the magazine in general. Similar criticism was drawn after the launch of the June 2011 issue, which featured three plus-sized models on the cover, a practice that did not continue despite positive feedback. The Vogue Italia website features special sections dedicated to fashion through the lens of black and plus-sized women (titled VBlack and VCurvy, respectively). For some, it is a breath of fresh air for a mainstream and highly respected fashion publication to publish content that speaks to more diverse issues. For others, the separation is a sore spot, as true diversity requires inclusion. Regardless, credit should be given to Sozzani for at least making an attempt, which is not something many other magazines can claim.
While Sozzani usually stayed mum on controversy, she did feel the need to speak out against allegations of promoting extreme thinness, specifically after the December 2011 issue, which featured a particular image of model Karlie Kloss that many deemed disturbing. The photo in question was removed from the website, but in an open letter, Sozzani later defended the photo, and Kloss, against the criticism.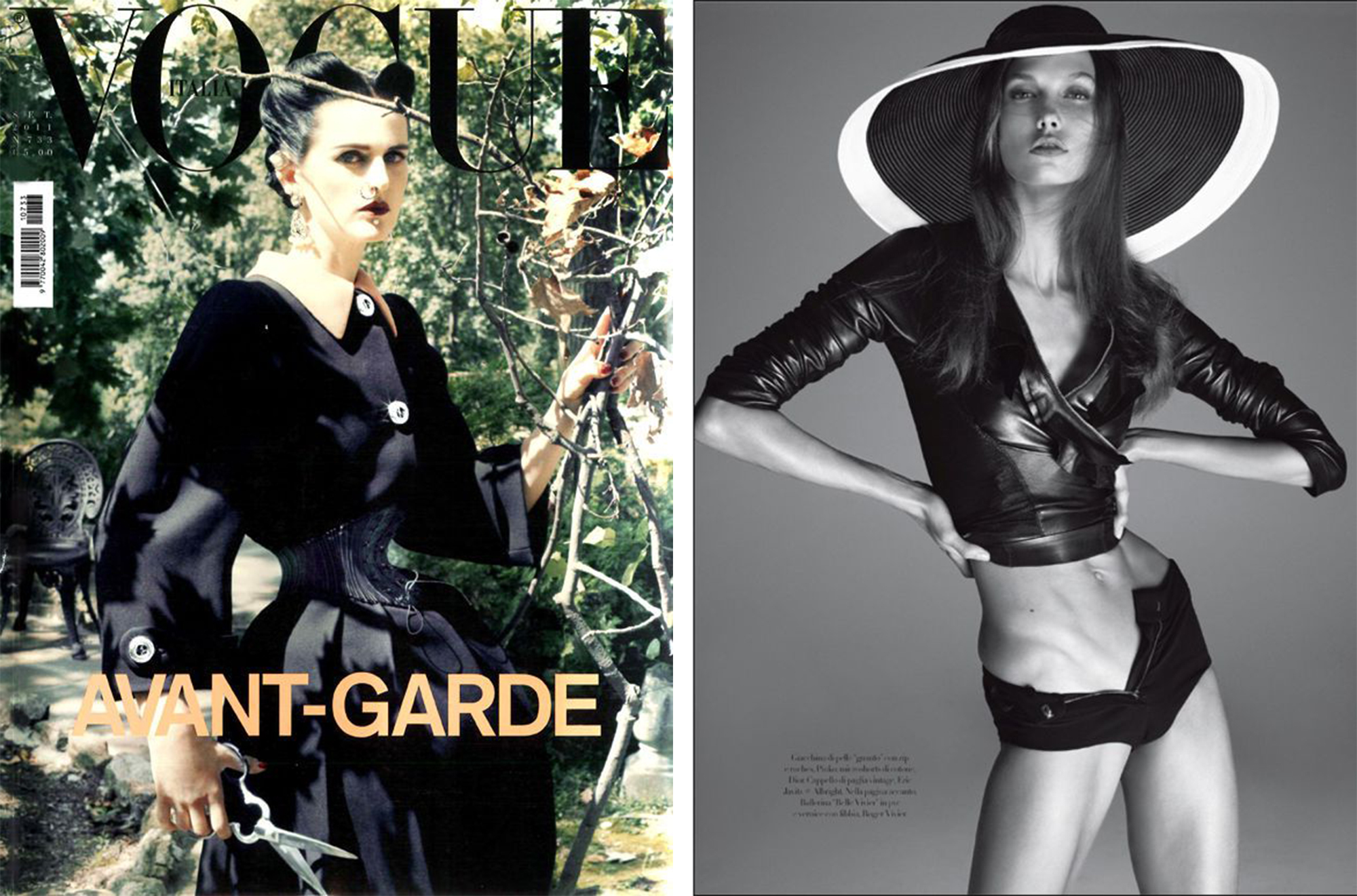 Left: The September 2011 cover; Right: A controversial image from the December 2011 issue
Photos: Courtesy of Vogue Italia
"I did not remove the first picture from the site because I thought it set a bad example due to its thinness, but because I am aware of the fact that people can easily attach labels without thinking, so I believed I could avoid a pointless debate," she wrote. "I made a mistake. I had to do what I thought was right, that is leave the picture and let everybody express their opinion freely. The picture is beautiful and that's all." Sozzani also launched an online petition to shut down pro-anorexia websites that were using the image as "thinspiration".
Much of the Kloss controversy was propelled due to another issue that came a few months before, which featured a cover and editorial by Meisel with obviously retouched images of Stella Tennant with an impossibly small waist. The reason behind the edits was that Meisel's editorial was inspired by real-life tight lacer Ethel Granger, and as always, Sozzani wanted to put the needs of the image first. Like most Vogue Italia covers and editorials under her leadership, there was no message behind the pictures, no promotion of an ideal, no agenda. The only thing that mattered was creating a publication that entertained, that intrigued, and that lasted beyond the retail season. For that, Sozzani must be lauded as one of the most successful and important Vogue editors, not just of the international editions, but of all time.
0 Comment