Glenn Martens, the 33-year-old Belgian creative director of Y/Project, looks a bit like a mysterious, modern-day pirate. "It's really important that you have fun wearing your clothes," he told me while reclining on a terrace in Paris' 10th arrondissement. "Why shouldn't we have fun?'
The designer practices what he preaches. When I met Martens, who was a finalist in this year's LVMH Prize, he was wearing black-and-brown striped pants with rolled cuffs, a denim shirt layered over a white tee, black trainers, black socks, and little round sunglasses that looked like something out of the '90s. Dark roots peeked through his bleached hair, and an ornate earring dangled from his right lobe. It's an antique accouterment from 1906, and belonged to his great grandmother, who received it on her first communion. He's worn it every day since the age of 25, when he graduated from Antwerp's Royal Academy of Fine Arts, where he studied fashion. "It's about being flexible," he said of both his personal and professional style. "And being able to own every situation. That's what I try to do with my collections. I don't want to question how I'm going to wear it. I can clean it up and go to a cocktail on the Champs-Élysées, and afterward, I can mess it up a bit, it becomes complete trash, and I can go to a rave." Martens admits that, these days, he doesn't have much time to do the latter, but on the rare occasion that he's able to party all night, he does it "very well."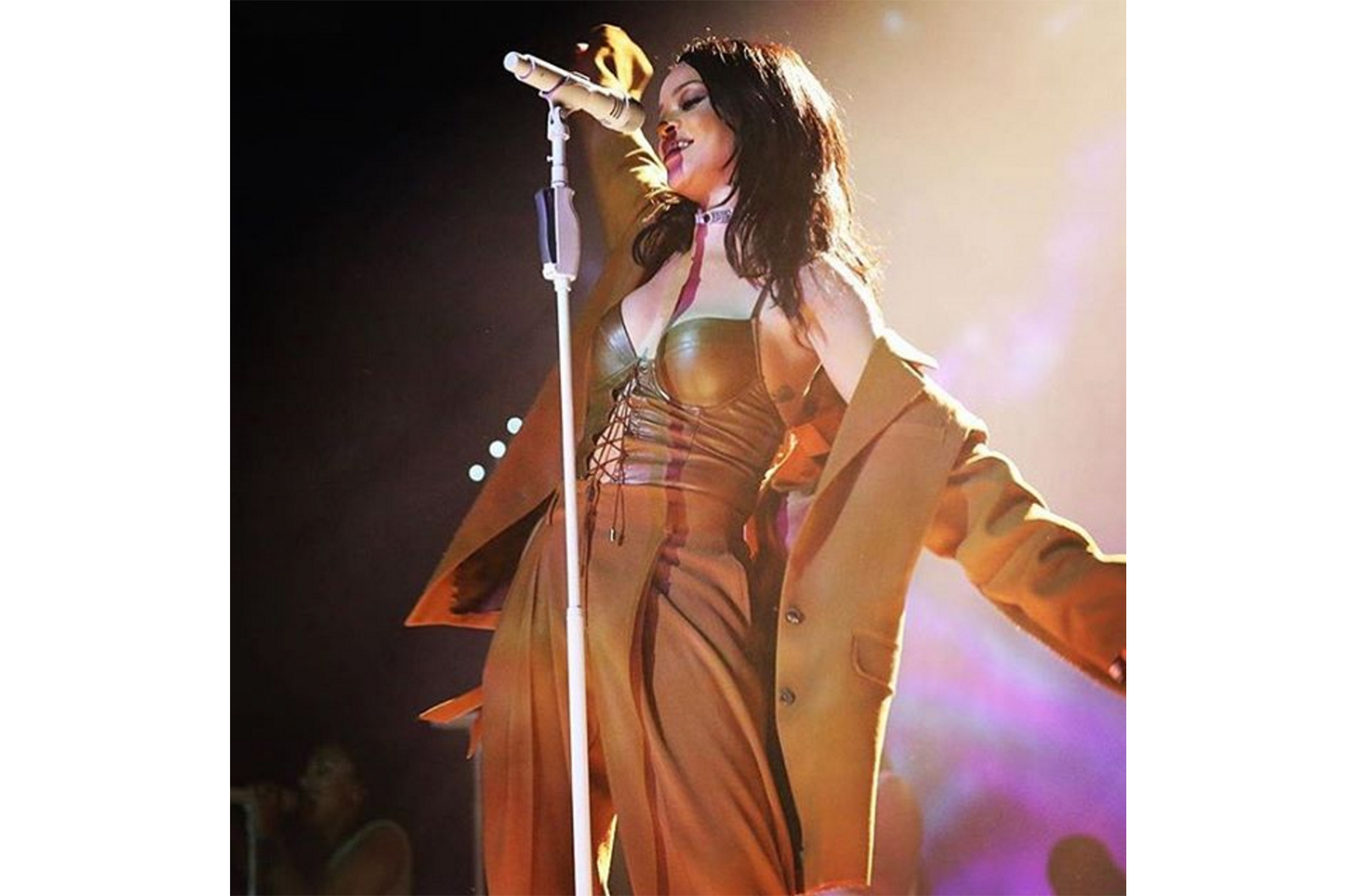 Rihanna in custom Y/Project / Photo: fenty24com / Instagram
One gets that sense from Martens' designs, particularly those in his last two Y/Project collections, for which fused history, subculture, and forward-thinking wearability to create a rough, romantic aesthetic that seems to encapsulate the now. His work is so intriguing, in fact, that Rihanna's stylist Mel Ottenberg asked Martens to design an oversized, caramel suit for the singer's current tour. "It was so unexpected to receive the request," Martens said. "She already wore something from us, and [Ottenberg] knew what he wanted—a suit based off a blazer from the last season. The thing about Mel is that he's kind of a king stylist, and he's supporting small brands like us, so it's of course a massive honor," he continued. "I think Rihanna is the biggest star right now, so it was a crazy experience to see the most beautiful singer wearing my clothes. And she seems like a really cool girl—I think she could go raving with me."
This raver-friendly fairytale hasn't always been the look of Y/Project, which began as a cult menswear label in 2010. Nearly a decade ago, Martens worked under the brand's founder, Yohan Serfaty, whose look he described as that of a "dark knight," akin to Rick Owens. Serfaty passed away after battling cancer in 2013, and the brand was left without a creative director. That's when his business partner, Gilles Elalouf, called Martens.
By this time, the burgeoning talent had already worked for the likes of Jean Paul Gaultier (in fact, that was his first job out of school), and launched a critically acclaimed (though now shuttered) line that was one part sportswear, one part gothic aristocrat. "At first, I was like, 'Hey, Gilles, thank you for proposing this to me, but I cannot be the director for this, because the brand was Yohan. It was really his personality, and he was the muse of his own collection,'" Martens recalled.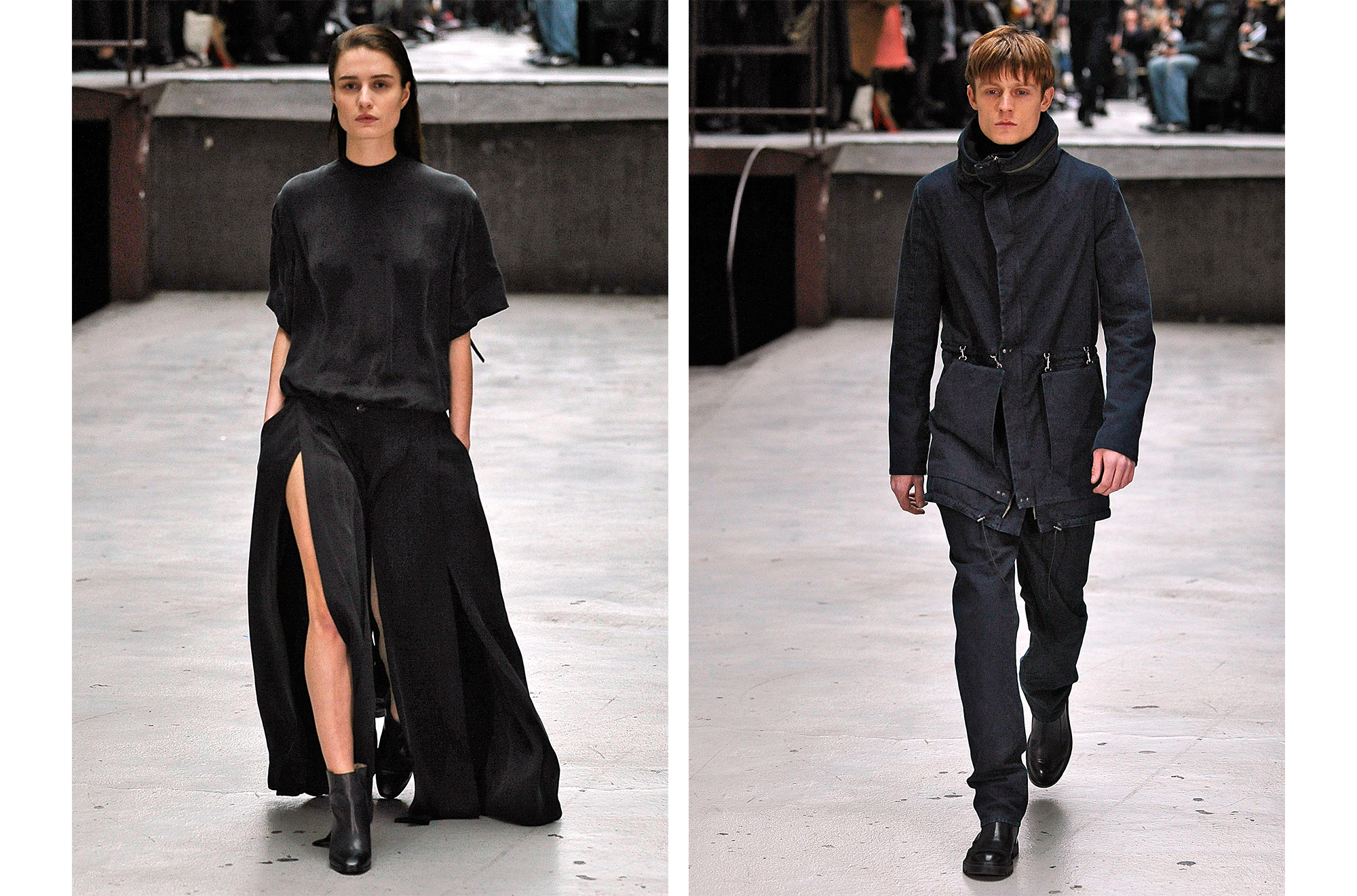 Fall 2014 Menswear collection / Photos: firstVIEW
However, there's something attractive about stepping into a house with an infrastructure that's already built, an existing fan base, retailers, a backer, a studio, et al. Thus, eventually, Martens was convinced to take Y/Project's reins. But he was going to do it on his own terms. "There was no point in recreating Yohan and what he was doing, because I'm not Yohan," Martens said. "I'm sure that now, he would see a different brand, but I kept the codes of Yohan, which I've translated in my own way."
That's no easy task, taking over a brand that's rather young and completely reinventing it. But since his debut collection in 2013, Martens has slowly molded the house into his vision. The first outings were all black, heavy on leather, and coyly featured but a few female models. Today, it's filled with sophisticated tailoring, lush fabrics, unexpected color palettes, and a full-blown womenswear division, the clothes in which, to be fair, currently share a 40 percent overlap with the menswear line. Hey there, androgyny.
But those codes Martens mentioned are still there, like, for instance, the brand's signature Y insignia, which in the Spring 2017 menswear collection, was translated into branded cufflinks on military-inspired wares, "pelvic cleavage," and peek-a-boo cutouts on convertible jeans. And fans, both those who were loyal to Serfaty, and new fashion-savvy cool kids drawn in by Martens, are eating it up—the brand has picked up 40 new retailers since Martens' instatement.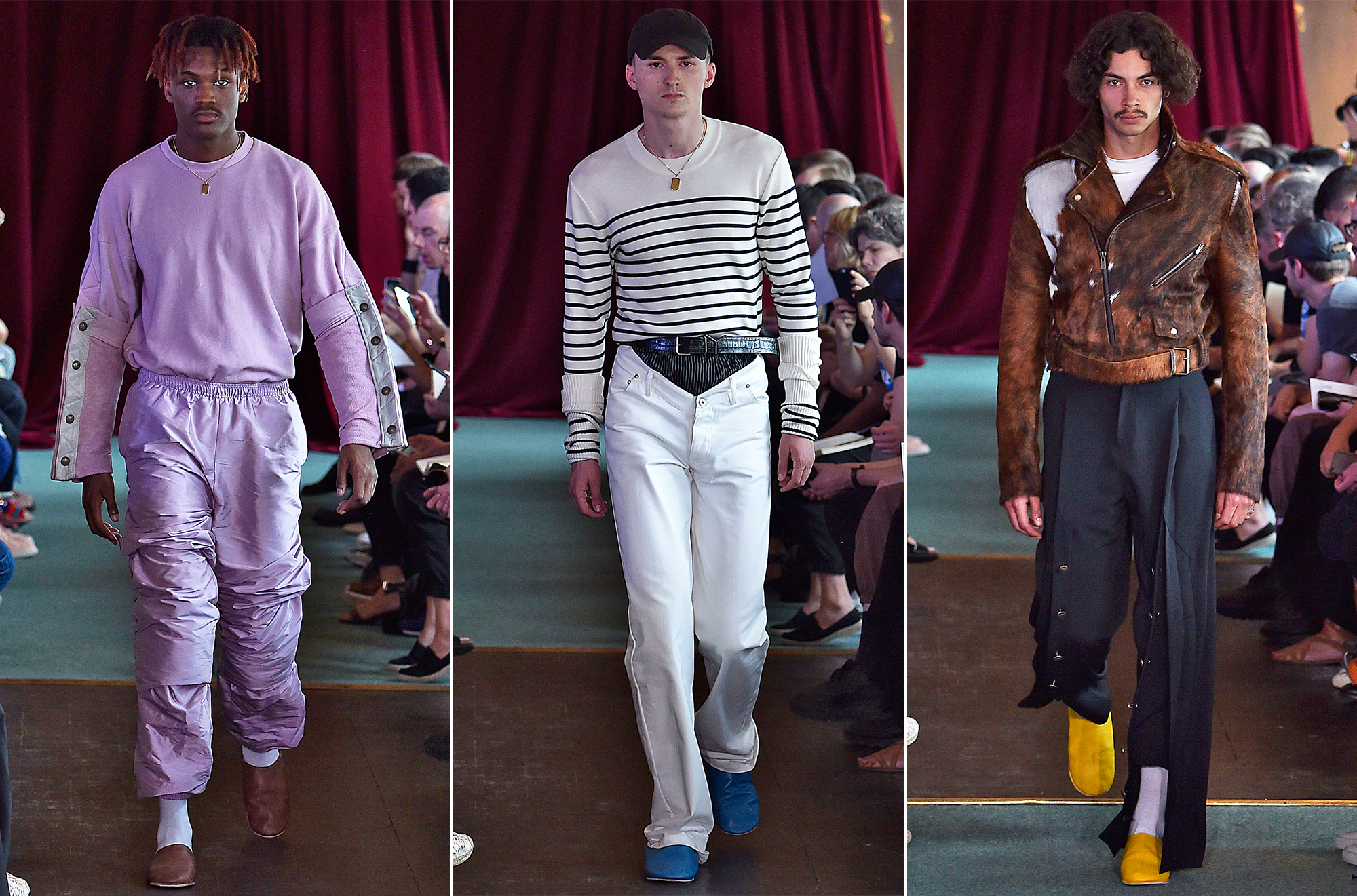 Spring 2017 Menswear collection / Photos: firstVIEW
Part of that success comes thanks to the fact that Martens has his finger on the pulse of the new wave Paris fashion scene. With his own line, he was perhaps one of this generation's first young, Paris-based designers that veered towards "anti-fashion," his peers being Vetements (obviously) and Jacquemus among others. Actually, when you think about it, Paris now is mildly reminiscent of what it was in the 1980s, when Yohji Yamamoto, Comme des Garçons' Rei Kawakubo, the Antwerp Six, and later, Martin Margiela, literally ripped fashion apart, turned it inside out, and sent its reimagined skeleton down their runways.
The new generation of conceptually rambunctious up-and-comers seem to be focusing on how completely absurd fashion has become, imbuing their clothes with a humor that our frenetic, big-money industry has largely forgotten. But their cheeky, sartorial slights come from a place of knowledge and skill, especially in the case of Martens.
Martens' gritty, irreverent aesthetic stems from his hometown of Bruges, about which he can speak for hours. I was regaled with tales of the city's prominence in the Dark Ages (according to the designer, it was the birthplace of the first diamond ring, which Maximilian I gave to the Duchess of Burgundy for their engagement), its role in spurring the Renaissance, and how its harbor later dried up, turning the medieval metropolis into Europe's Rip Van Winkle. "I grew up in this ghost town with gothic cathedrals, but it's also a tourist hotspot, so you have all these trashy things, which are really [emblematic of] consumption. It's a tension between consumption and ornate elegance, which is something I definitely project in Y/Project." Consumption and ornate elegance—could he have summed up the fashion industry more succinctly?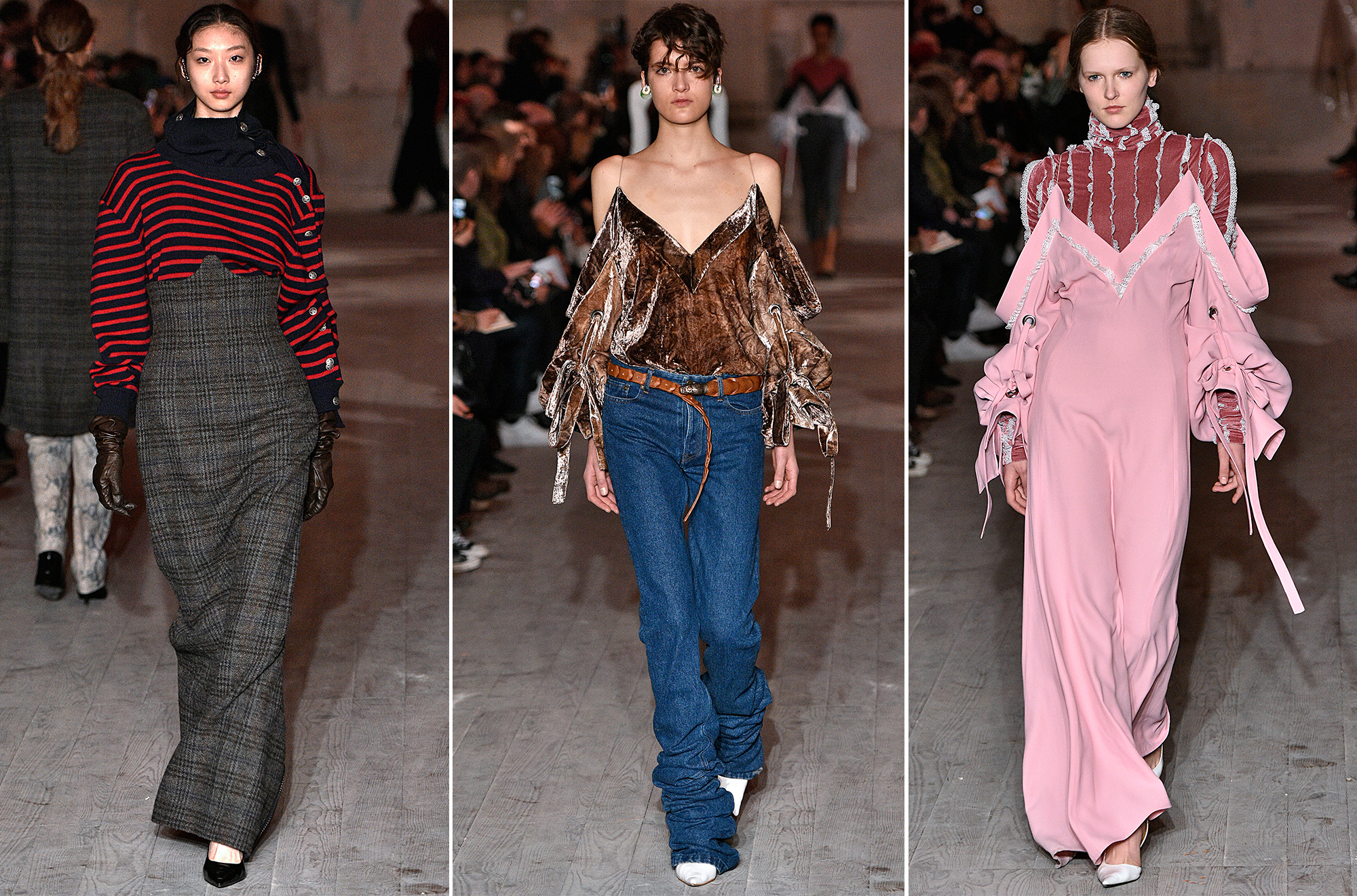 Fall 2016 Ready-to-Wear / Photos: firstVIEW
With a background in architecture, Martens produces designs that are, quite frankly, technically genius. For Spring 2017, there are taffeta track pants that can be buttoned into about five different styles, jeans with patches that can be removed depending on how scandalous you might want to be, and jackets with multiple layers, the addition or subtraction of which transforms the look entirely. The tailoring is impeccable, to boot (a Martens signature). This kid knows his craft, and its rules, which is why he's so good at breaking them.
"We always have a touch in the collection that's a bit over-the-top," Martens said with a sly smile. "It's often fabrics. It's kind of like Belgium, which is pretty ugly, actually. I like finding the charm in something that's not in-your-face beautiful. It's always much more challenging and exciting. It's more of a surprise." For his Fall womenswear outing—his first collection dedicated to the girls—Martens made a grommeted, taupe, crushed velvet top look like the most covetable thing on the planet. How's that for a surprise? "I'm always scared that people will take us too seriously," he added. "There's always a second part of the joke in there, and you never really know if they're going to get it or not." Considering Martens' recent, hard-earned success (Rihanna!), it seems like more than enough people are in on the gag.
To be sure, Martens has had a whirlwind three years, what with taking over his former mentor's label, reinventing said label, introducing womenswear (read: two more collections a year), competing in international fashion prizes, dressing mega-stars, etc. "I already feel like I'm 80!" he laughed. But he's not stopping. Martens teased a handful of forthcoming collaborations, and he's dead set on growing the brand. He wants to introduce jewelry, sunglasses, footwear, and accessories. He wants to create a Y/Project world—within reason, of course. And if getting there means he can't hit another rave for a while, or sleep, for that matter, so be it. "It's fun though," he told me. "I enjoy it. And you have to enjoy yourself. It's very important."
0 Comment