Joseph Abboud—both the brand, and the man—is the epitome of masculine, American elegance. When I meet the silver-haired designer at his Madison Avenue flagship, he's in black jeans and a black t-shirt, which, for him, is very dressed down. Just weeks before, he took a bow after his Spring 2017 New York Fashion Week: Men's show wearing white trousers, a louche white button down, and a smartly cut rust waistcoat. The rugged-yet-suave ensemble embodied both his Ernest Hemingway-inspired collection, and his menswear range as a whole—classic, refined, and masculine in the most traditional sense, with just a hint of pizzazz.
Born and raised in Boston, Abboud came from a modest beginning, and got his first taste for fashion while working retail at the famed Louis Boston department store. His quest to make Stateside gents inherently stylish led him to study in Paris at the Sorbonne, design menswear for Chanel, work alongside Ralph Lauren, and finally, in 1987, launch his signature range of luxurious, tailored wares. He soon became a pillar of the American menswear scene, setting himself apart by producing his garments and accessories in his New Bedford, MA factory at a time when most brands were manufacturing in Europe or Asia. In fact, Abboud's made in America ethos was at the center of his lauded return to the runway during the second edition of NYFWM last February. The catwalk comeback came just three years after Abboud was reunited with his label, which he sold, along with his name, in 2000. What's more is that it kicked off what's been a banner year for the industry vet, who won both the American Apparel & Footwear Association's Person of the Year honor, as well as MR Magazine's Lifetime Achievement Award.
With that in mind, we at Fashion Unfiltered couldn't resist grilling Abboud about all things menswear. Will NYFWM last? What's the point of a menswear show, anyway? Is androgyny here to stay? How do men digest fashion differently than women? And honestly, why do so many American designers feel the need to be "pseudo-European"? Here, while discussing his brand and his legacy, Abboud answers all that and so much more.
Katharine K. Zarrella: Last February, you staged your first runway show after a 15-year hiatus. Why was that the right time to return to the catwalk?
Joseph Abboud: There's a DNA around the Joseph Abboud brand, and it was time to reestablish that, because over the years, it moved away from where it should have been. By doing the last two shows, whether you liked them or not, they were so true to the DNA. Also, for me, the value of doing a show is that it makes me stretch myself. When I design for retail, I have one hat on. When I design for the runway, it stretches me. And then it's a boomerang effect—I bring some of that back to the more commercial pieces. It also helps us stay relevant in the world of fashion and to speak to the fashion press. A show is more than just the splash of 41 handsome guys walking down the runway. And not every season is the right season to do a show, but it was right for us.
KKZ: Do you plan to keep doing shows?
JA: Yeah. I think the time to stop is when you feel like you don't have anything to say. I don't mean that you're not being creative, but there are moments in men's shows that are somewhat of an oxymoron. Here's the deal: In womenswear, you can stretch out and go as far as you want, and it's ethereal and experimental. When you do men's shows, there are two risks: One, you go too far, so there's no connection to reality. And two, you're too close to what people want to buy, although it may be beautiful. It's a fine line between being editorial and understandable. And that's why some of the men's shows I detest, because I think there's no connection. Men are much different than women when it comes to style.
KKZ: How do men approach, view, and digest fashion differently than women?
JA: It's like two different universes. Guys are more pragmatic by nature. We've got all the editors coming in and buying their clothes, and you'd be surprised how pragmatic they are. Even if they are the extreme fashionistas, guys tend to come back to that genetic memory of a guy saying that he needs certain kinds of clothes—a navy suit, for example. I love women. They're much more experimental and much more fun. And they also can make a connection from the theatre of the runway to their lives. Guys can't make that connection—they don't have that same gene. And they don't have that same filter to understand how fashion works. That's why my job is sometimes harder, because I've got to [inspire] the guys, but they also have to feel comfortable.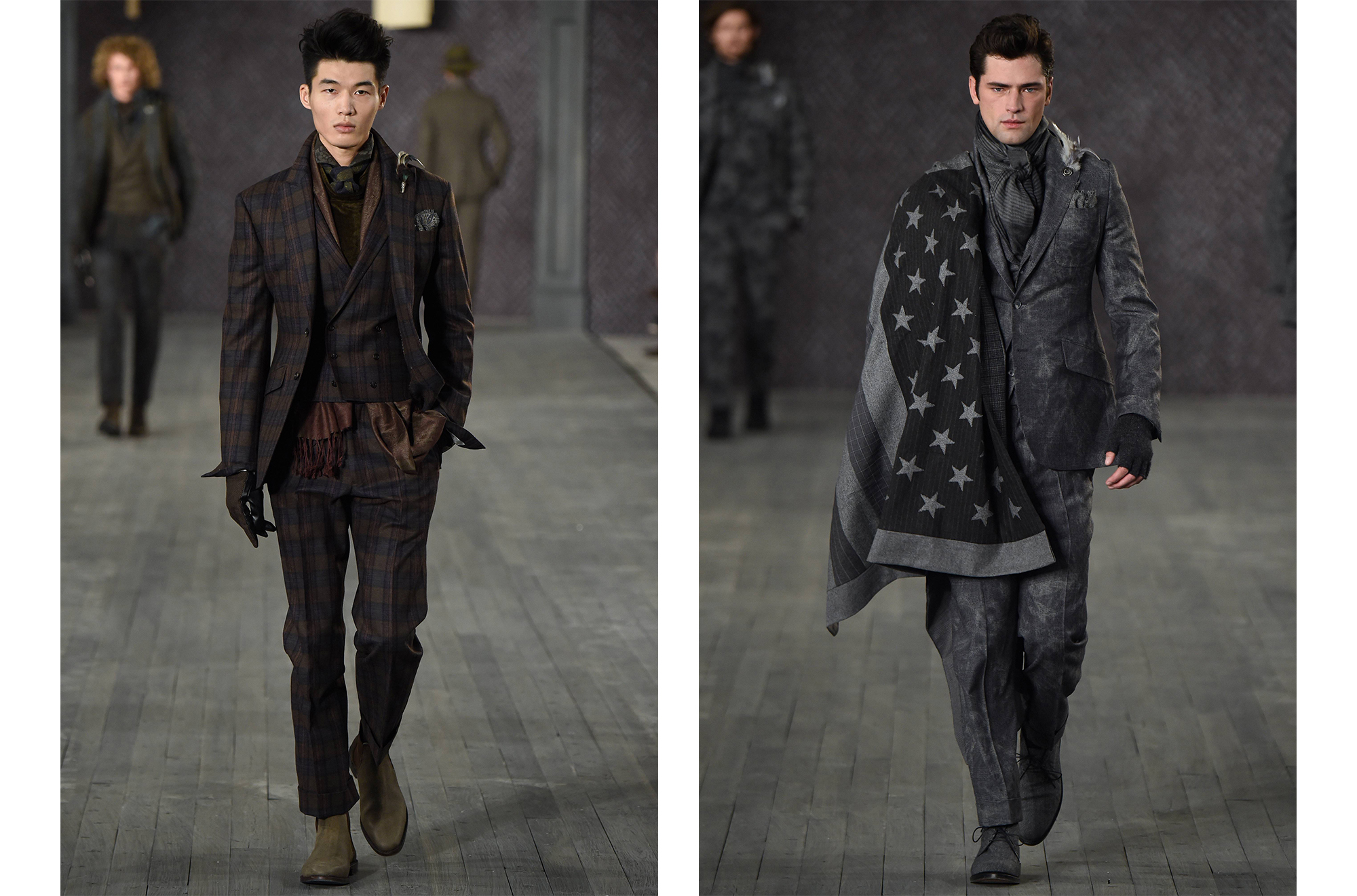 Looks from Joseph Abboud's Fall 2016 collection / Photos: firstVIEW
KKZ: When you returned to the runway for Fall 2016, you placed a huge emphasis on the fact that you're an American brand, and that the product is made in America. Why is that important to you?
JA: Well, being an American designer, it's great to be able to make it in America. We are the only American designer menswear brand that has its own factory. It's a competitive edge for me. I can drive up to New Bedford, and in three days I can put a collection together. I don't have to send it to Asia or to somewhere far away. It's a much more hands-on. There's certainly a patriotic aspect to it, which I'm proud of, but I'm not just waving the flag. There's a distinction about being made in America and being made well in America. I'm so proud we can have speed to market, that we're made in America, and that we have 800 of the most dedicated employees. To be able to create beauty from that is a great thing.
KKZ: I think a lot of American designers try to project this pseudo-European edge, because they feel Europe is fashion's motherland, so to speak. Do you think there's a stigma against being made in America?
JA: I don't think there's a stigma about being made in America, but I think there's an insecurity with American designers feeling like they're stepchildren to the European designers. I've always felt that was one of the reasons why I tried to not to be a pseudo-European designer. That was never my goal. My goal was to be an American designer, and to prove that American style can be global. We have a lot of people that come into the store from all over the world. I've got Italians shopping in my store, and they've got access to the most gorgeous product. You can't ask for a greater compliment. So, I think people like made in America, but they don't want to pay for made in America because of the label only. They want something inherently valuable. That's what we offer.
KKZ: What percentage of your customer base is not American?
JA: Oh, it's huge, especially in our flagship. Here, it's 50 percent, maybe 60.
KKZ: Speaking of European versus American fashion, New York Fashion Week: Men's, while only two-seasons-old, hasn't quite risen to the level of Pitti Uomo, or Milan fashion week, or even London Collections: Men. What will it take for NYFWM to become a major player?
JA: [NYFWM] really needs to have that critical mass. We need the support of the press. In the United States, menswear has taken a backseat to womenswear. I get it, women are much more interested in fashion. But the press has to embrace the American menswear design community if they want it to continue. If they don't support it, men's fashion week in New York will go away, and that would be a terrible. I've been through this before. We did this in the '90s and it lasted for about two years and then it disappeared. The press needs to support it.
KKZ: Along with Ralph Lauren, you've become the poster child for American menswear. However, you went to the Sorbonne in Paris. Why did you make that decision and how did it change your outlook and understanding of American fashion?
JA: It changed my view and my life completely. I was probably 18, my grades were great, and my family was a blue collar, working class family. My tuition was $200 a year, and I had to go get a scholarship. I got this opportunity to go to Paris, and I'd never traveled, and I got a scholarship to go to the Sorbonne.
I grew up in Boston, and when I saw the world of Paris, and I saw the café society and the people—I get chills thinking about it now—I was amazed at how the men and women dressed. The thing that struck me the most was when I was on the metro. I was on the way to school, and the metro doors opened at L'Opera, and a man walked in wearing a tuxedo and a woman walked in in a gown. I said, "Nobody in Boston on the T wears a tuxedo and a gown." It was unbelievable, the beauty. So when I came back, I was so inspired and thought, Can I help American men understand what style really is?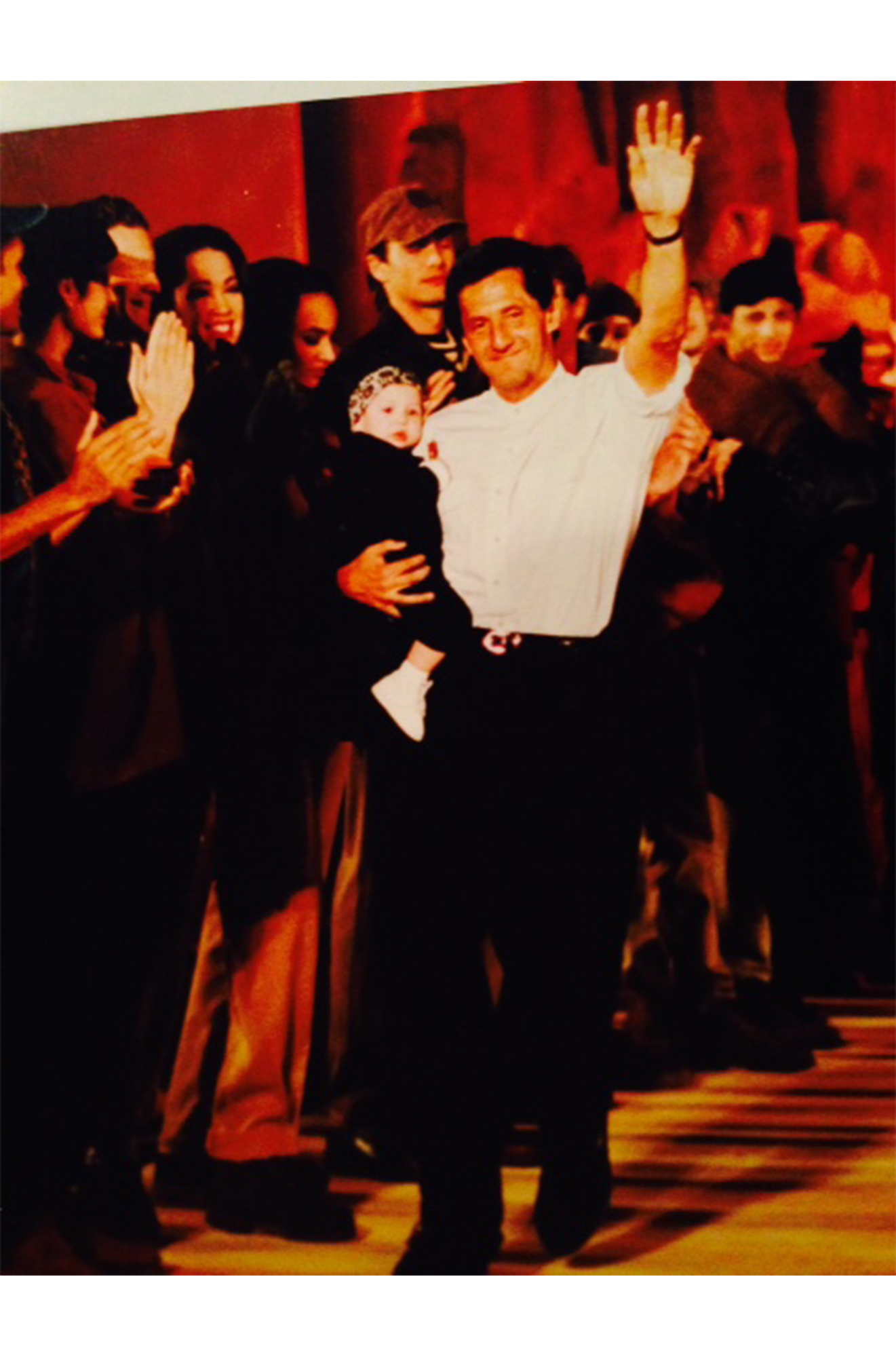 Joseph Abboud walking down the runway with his daughter 24 years ago, when she was one year old / Photo: Courtesy of the designer
KKZ: How do you define style?
JA: For men, the big play is style versus fashion. I think with women, it's all about fashion. Men, the sexiest guys are the guys who have style. It's about the whole package. It doesn't mean that guy has to go spend $6,000 on a suit. There could be a young guy who knows how to wear his tie, and that, to me, is priceless. You're also not defined by what brands you wear. You're defined by who you are. That is all about style. And it's all about menswear.
KKZ: Fabulous. On a different note, androgyny seems to be on everyone's lips—and runways. You, however, are all about flattering the masculine form. Do you think that androgyny in menswear is going to stick?
JA: It never does. Who can pull it off the most beautifully? Women. Guys can't. The magic of a woman is that one day, she can wear a dress and the next day, she can be in a tuxedo. It's so intimidating and so inspiring. Guys can't do it. The worst thing that could happen to menswear now is to learn too much from womenswear. We can't use the same rules. If you want to do something on a runway or theatre, and you do this androgynous thing, fine. But it's like men in skirts—it's just not happening. Maybe in 3,000 years.
KKZ: There's been a lot of talk about heritage and legacy lately, what with all the designer switch-ups. What legacy do you hope to leave? And, not to be morbid, but would you want someone to take over once you're gone?
JA: The way I look at it is, if you're fortunate enough to create something that can live beyond you that has a point of view, that's great. I worked for Chanel for two years—I did all their menswear from 1986 to 1988. When I was at Chanel, it was as if she was still there. It was extraordinary. It was at Rue Cambon and I loved working with them and for them. The Wertheimers were the most gracious people. When I went there the first time, they took me into [Coco Chanel's] apartment. People would think Chanel's apartment is black and white. In fact, it's all browns and beiges. It's beautiful. They fully respect of the DNA of Coco Chanel. If I could have any legacy, it's that people adhere to what the DNA, because so many brands, once a designer is no longer a part of it, it becomes something else. Not Chanel. They pay homage to her every day. And I don't need to be dignified, I don't mean it that way.
KKZ: You don't need cufflinks with your face on them.
JA: Right. But the idea is that if you created a brand that had something, then anybody who takes it on has to understand that. You have to evolve, but look at Ralph [Lauren]. Ralph has been such a force. His design tenets stay very narrow, and that's good for him. I just hope that I'm able to create the foundation of a brand that can live on and represent something to the male consumer.
KKZ: You worked at Chanel. You worked at Ralph. Which of your jobs do you think most shaped your career?
JA: The most impactful thing was working retail at Louis of Boston. The thing about Louis was that you learned everything. You learned the endgame. When I was at Louis, I was designing product, buying it, putting it on the shelves, putting it the window, and I was selling it. I always say that I'm a retailer trapped in a designer's body because I love the interaction with the consumer. If I can connect with a customer and they can buy into what I believe, what other reward can you win?
KKZ: These days, a lot of designers come and go. What does it take to build an enduring brand?
JA: I launched the first collection in 1987. I have seen so many stars come and go and disappear. They're the darlings of the press, they're this, they're that, and then they're gone. Everybody loves newness, but what really keeps a brand going is its integrity and whether it really has something to say. Do you have a brand that isn't a wannabe? Ralph Lauren said something nice to me. He said, "You know what, Joey? I really admire you because you went and did your own thing. You didn't try to be anybody else." When I was at Ralph, as much as I loved working with him, I knew that I had a different point of view. And the fact that he recognized that and we're still [friends] is really, really great.
0 Comment