"Just because the fabrics are ethical and sustainable doesn't mean that they can't be beautiful, and luxurious, and a beautiful quality," said 23-year-old New Zealand-based talent Maggie Marilyn of designing with the environment in mind. Although it has its challenges, Marilyn, whose debut Resort collection has been picked up by Net-A-Porter and dropped today, finds this approach worthwhile. "I could never feel comfortable with having a business that only really benefitted the business and the consumer. It has to benefit everyone involved in the supply chain."
Through research, Marilyn has found a cotton grower and manufacturer in Turkey that recycles the water it uses from the cotton dying process to then water its crops (an otherwise highly wasteful system in fashion). Meanwhile, her silks come from a company that pays weavers a proper living wage, and only harvests silk after the caterpillars have turned into moths, rather than killing them.
"You can't just go to the fabric merchant and just choose a fabric that you fall in love with," she says, noting how difficult it is to trace a fabric's origin. "I guess it is limiting, but it's also what excites me, and I enjoy learning about where the fabrics come from."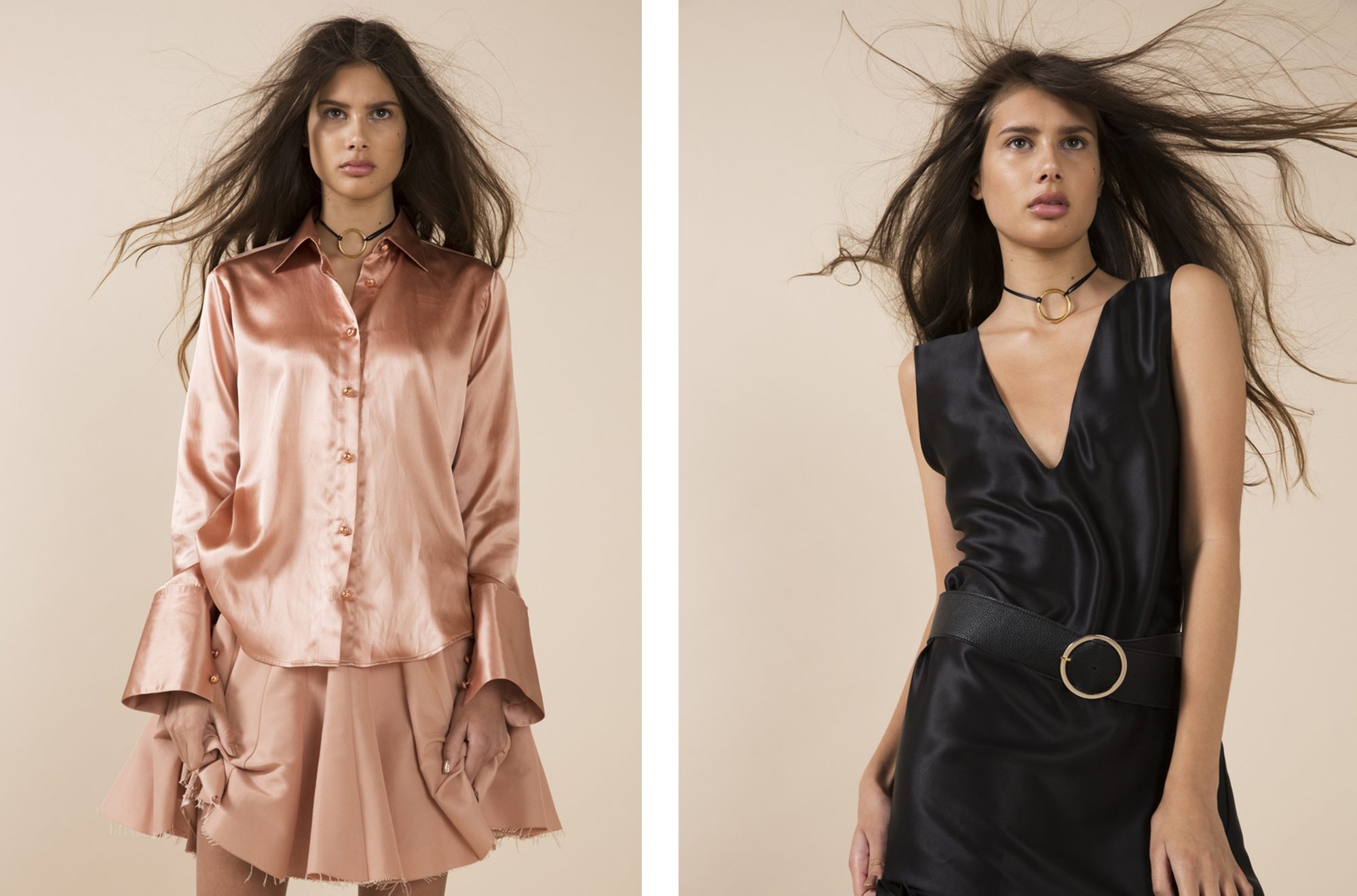 Lookbook images from Maggie Marilyn Resort 2017 / Photos: Courtesy of Maggie Marilyn
Thankfully, Net-A-Porter is hugely supportive of Marilyn's efforts. "They've been amazing. I think that was a really strong thing that Lisa [Aiken, the retail fashion director] was drawn to when we first met with her," she explained. "Everything is consciously created and created with love. I know who's made every garment, because we have such a strong relationship with our factories. I definitely think that [Net-a-Porter] really loves that side of the brand."
Apparently, the mega e-tailer loves the clothes, too. The collection is very feminine, made in a mostly neutral color palate with some dusty rose mixed in. Bell sleeves and ruffles add to an ebb and flow of volume and sheathes, while raw, unfinished edges (inspired by Italian Renaissance art, specifically unfinished carvings by Michelangelo), are a subtle detail that adds a lot of impact. "The whole Net-A-Porter rollercoaster has been such a dream come true," Marilyn said. It's certainly a whirlwind, considering she only graduated at the end of last year.
One of Marilyn's biggest assets is partner Jo Knight, the former managing director for Richard Nicoll. The duo was introduced through a family friend. "She just brings a whole world of context and knowledge and experience that I don't have," Marilyn said of Knight. "We started working together, and she was helping me figure out how to sell a collection that I'd already built." It was Knight who made the call to buyers like Aiken, and also suggested that the best course of action would be to start with Resort, when buyers would be on the hunt for something fresh. "We decided to drop the collection ahead of usual Resort drop time because we wanted to give the brand space to breathe," she explained. "We wanted it to gain momentum on it's own before other designers [released] their Resort collections."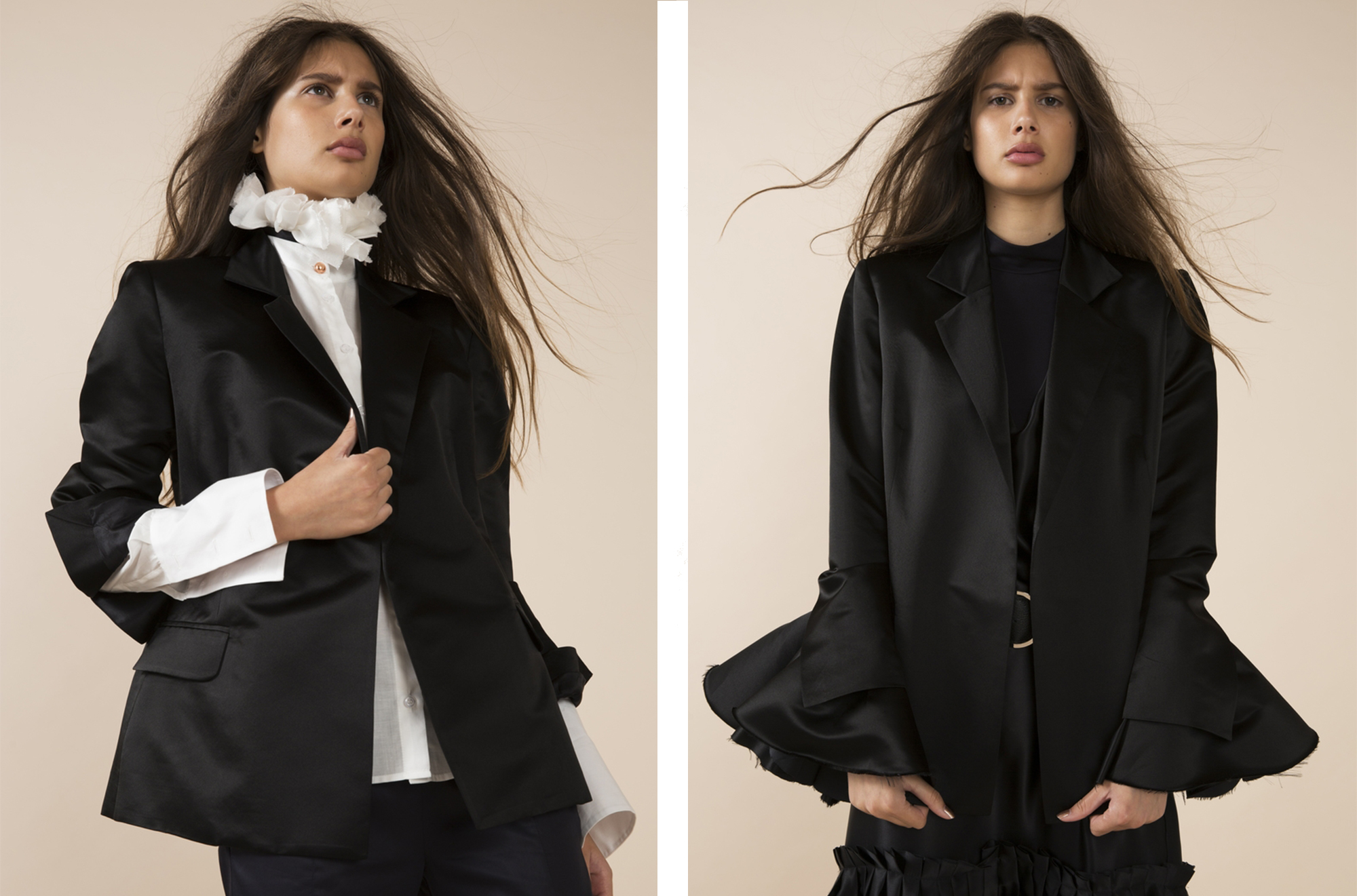 Lookbook images from Maggie Marilyn Resort 2017 / Photos: Courtesy of Maggie Marilyn
At the end of the month, Marilyn and Knight will be headed to Paris for the buying season and to show off the Spring 2017 collection, which will be three times the size of what she produced for Resort, and will be pan-seasonal (Marilyn is still based in New Zealand). It will also bring in elements based off the works of sculptors like Dillon Marsh, who works with metal. "It's has a similar color palate [to Resort], but brings in stronger, bolder colors, and some really interesting fabric manipulations, which is quite important to my aesthetic. I love playing around with different ways of manipulating fabric."
Maggie Marilyn's Resort 2017 collection is available for sale on Net-a-Porter beginning today.
0 Comment