Introducing "Un Petit Café Avec...", a new column in which Paris' Tina Isaac-Goizé converses with the French fashion set's most fascinating characters.
The fashion world has a favorite calligrapher, and his name is Nicolas Ouchenir. FU recently sat down with the 38-year-old who, in addition to lending his writing skills to everyone from Miu Miu to Dior, is also a burgeoning artist and man about town, to discuss his latest projects (not counting the approximately 10,000 invitations for men's fashion week and the forthcoming couture shows). These include Christmas windows for Les Marquis de Ladurée, a project for a Richard Mille shop in Geneva, and putting the finishing touch on L'Institut Darphin, the Paris beauty institute belonging to the Estée Lauder-owned botanical brand. Typically for Ouchenir, who, it's worth noting, just won a Webby, what began as a conversation about beauty now quickly spun into opinionated meanderings on the state of fashion as it is and (more often) where it should be. Read his musings and recollections, from working with Saint Laurent and Margiela to why print's not dead, below.
Tina Isaac-Goizé: First, beauty: You've worked with almost all the beauty majors. What about a niche botanical brand won you over?
Nicolas Ouchenir: Darphin was on my radar because they did a collaboration I loved with Antoinette Poisson, a niche artisan brand that revived 18th-century wallpaper-making techniques and used them in a really modern way. Also, Darphin is very Parisian and so am I. The Darphin client knows who she is, what she wants, and where to get it. She makes things happen. There was a story to tell there because writing—and by extension calligraphy—is a part of the French art de vivre. So what I did was create scenes of Paris the way a Parisienne might see things, incorporating words. They also asked me to do an herbier, drawings of plants for each treatment room door, and I'd never done that before. So the drawings reprise some of the star ingredients in Darphin products, but Darphin was cool enough to let me render the essence of the plant without having to get literal or obsess over perfection. I created the Darphin Rose, which is real and not idealized. The attitude is pure and modern. And anyway, to me, beauty without imperfections is completely uninteresting— that's why I made splatters part of my signature.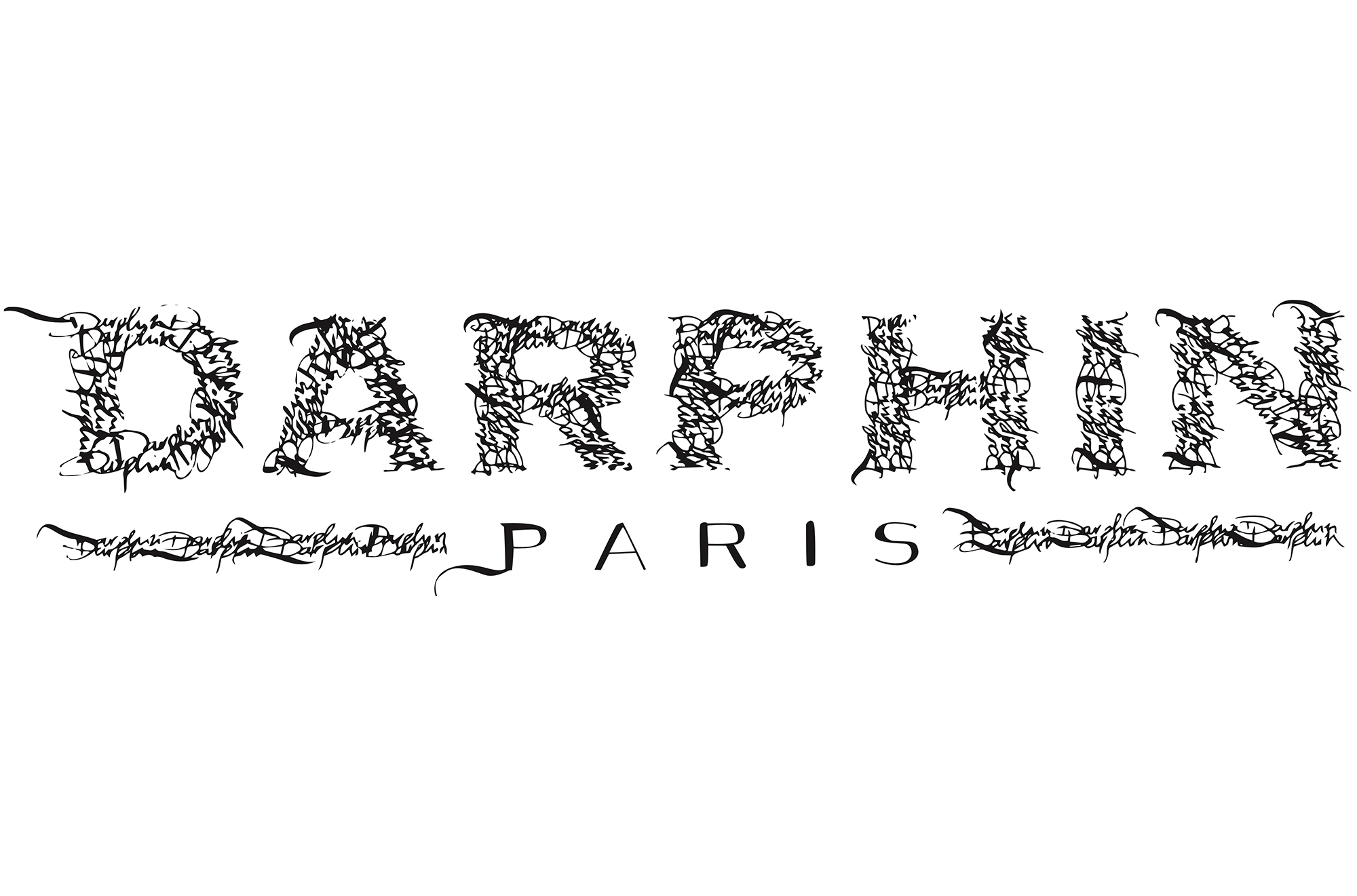 Darphin logo by Nicolas Ouchenir / Photo: Courtesy of the artist
TIG: Where do calligraphy and a beauty institute intersect?
NO: Calligraphy is the science of knowing how to craft letters. It's not just about making something beautiful—it's understanding what's behind the beauty, and that's where Darphin lives. For me, beauty is a state of mind—you have to move toward it, it's a decision. I also like their discretion. They have an authenticity that's hard to find.
TIG: So, in a person that would be….?
NO: Carine Roitfeld, always. Diane von Furstenberg. Simone Weil, believe it or not. They all have character and talent to back it up. That's what a real muse is. Betty Catroux is another. She may not really know why she's a muse, but we do. Marie-Agnès Gillot. Garance Doré. Technology is great but also tricky — it's not enough to just photograph your own life. You have to give something more, and when someone is generous it makes a huge difference. You see that in fashion now, too.
TIG: Off the top of your head?
NO: Jacquemus paved the way. OK, Simon's a friend so I'm not very objective, but beyond that there's what he creates and the success he's building. It's not story telling, it's not just fashion, and it comes from a real place in his life. He's opened a new window on fashion design. The most important thing, to me, is to really look at all these prizes for new talent because those are the designers who will inspire women tomorrow. It scares me when major houses make decisions that are purely driven by marketing. It's time for a new generation and finally we're moving toward things that are really new. When you look around, it's super rare that houses find someone who can pick up on house codes and add their own style. With Sebastien Meyer and Arnaud Vaillant, Courreges is going to hit a whole new generation, it's really smart. Guillaume Henry at Nina Ricci—you can sense he's a reader. Balenciaga, too, with Demna Gvasalia. Vetements is part of this wave of designers that reiterate past fashions, but they do it so well it becomes interesting. On the other hand, Karl Lagerfeld is extraordinary in every way, but he is intensely respectful of Mademoiselle Chanel. Do you really see Karl in Chanel? Not really.
TIG: What did you think of the Balenciaga show?
NO: I think [Demna Gvasalia] took the codes and archives that are interesting and did cool things. He totally turned away from Vetements and created another world for Balenciaga. There's an influence, cuts and shapes that are rooted in the house's history.
What I love about Vetements, on the other hand, is that they are creators of style more than designers. It's about styling. And it's really good styling. Carine Roitfeld x Uniqlo by Nicolas Ouchenir / Photo: Courtesy of the artist
TIG: When did you become obsessed with fashion?
NO: It came with the writing, actually. My pediatrician, Dr. Kerber, was this extremely elegant man, a real fan of Savile Row, very Charvet, etc. His wife, who was a child psychologist, was very Chanel, Van Cleef. A little Madeleine Albright. It dates back to that. My mother was also a coquette, actually, they were both always really well turned out. She began wearing trousers late—and then only Saint Laurent. She knows who Pierre Bergé is, she knows the houses. Fashion was important to her. I don't think she has ever worn flats. But she'll say, "My foot is too big for that shoe." She'll never say it doesn't suit her.
Where I really got hooked was with Mugler and Gianni Versace. Glamour. Glam-sex. Avedon's pictures of girls jumping—I was totally captivated.
TIG: How old were you when you decided you wanted to work in fashion?
NO: Fifteen, 16 years old. You know you're drawn to it without necessarily knowing you'll work in the industry. You have opinions even if you don't necessarily have the culture—you analyze skirts and handbags everywhere you see them and you just can't help it. And then, very quickly, when I started doing invitations for Saint Laurent, that was it.
TIG: Who gave you that break?
NO: I can't remember. I met Loulou at a restaurant in the 14th, L'Assiette, and eventually I met Pierre Bergé. It was very natural. But I always thought, beyond having a lucky star, that luck is only luck depending on what you make of it. When I first started out I worked with Josephus Thimister who really taught me all the codes—he was a real Pygmalion. He's a monstre sacré like Galliano or Helmut Lang—not always an easy mix with big groups.
TIG: Meaning that big groups wring designers out?
NO: It's mostly a question of the designer's personality. Hedi Slimane didn't get destroyed. You have to be strong. It's like dealing with a strong woman—you have to watch out, that's all! People can criticize big groups, but Bernard Arnault was the first to employ a designer like Galliano and that was extremely visionary. Some people can't handle their success, like Alexander McQueen. But Riccardo Tisci is thriving and there are others who have been there forever because they inspire the whole world. And Olivier Rousteing—people can say whatever you want, like they used to about Versace, but he has a signature, he uses incredible artisans, he has real talent. And he's not going to do something just to please a market. You recognize who he is and who's going to wear his dress. He designs to please himself, first.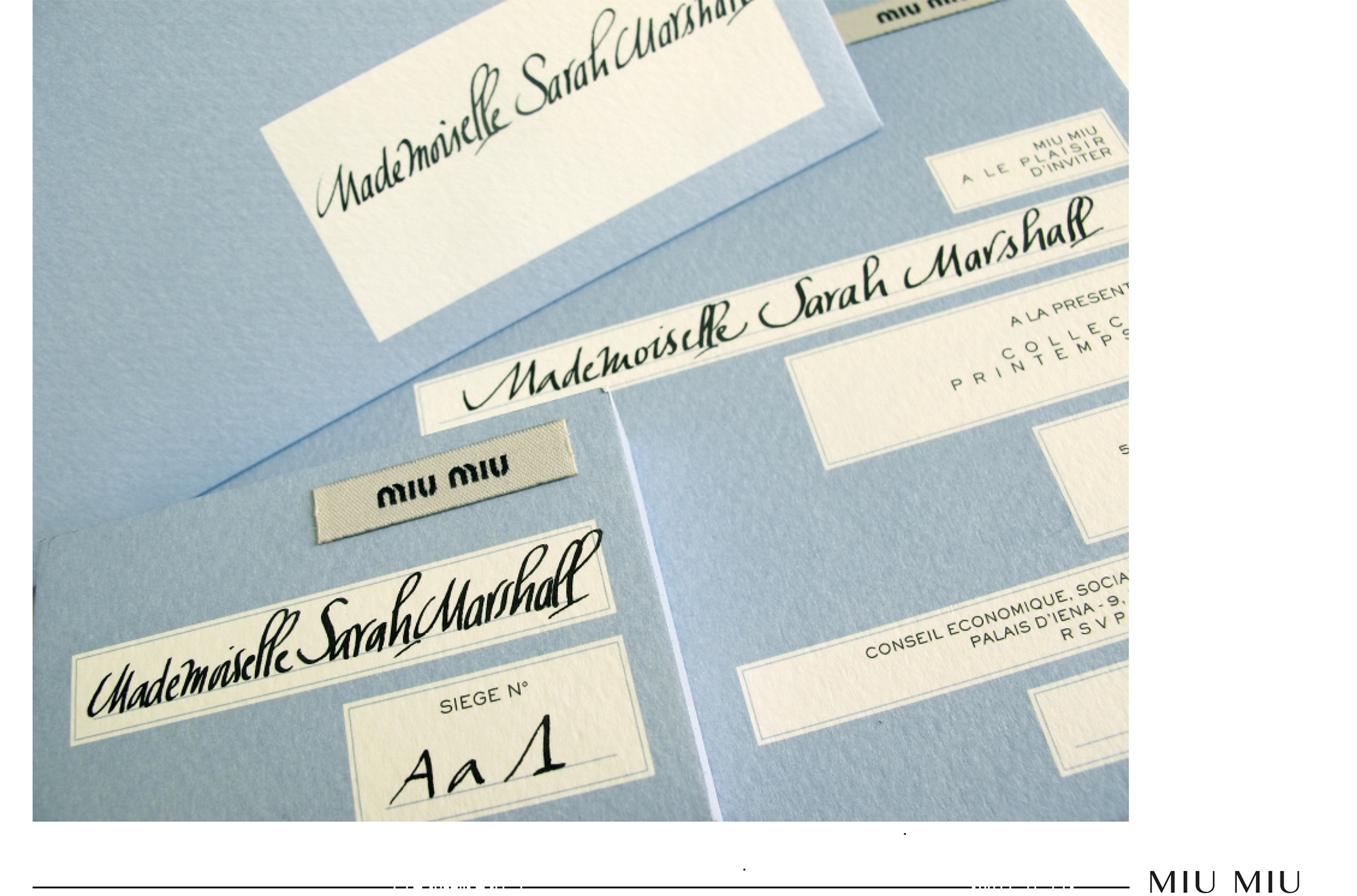 Miu Miu invitation by Nicolas Ouchenir / Photo: Courtesy of the artist
TIG: So if you could change anything about the fashion landscape, what would it be?
NO: We French invented the word "luxury". Fashion comes from here. For me, fashion is not necessarily something that's extremely snobbish that just belongs to the bourgeoisie or aristocracy. Today, for me, fashion is a notion of what people want and desire—that they would have the culture to go buy a watch at a fine watchmaker, to buy shoes from a real footwear designer, to seek out craftsmanship and the human hand. I'd like for people to realize that it's not about instant gratification—pleasure is something that is achieved step by step. You have to wait to appreciate it, like at Hermès—a Kelly arrives months and months later because there are artisans behind it and that's why it's expensive. There are lots of brands that are expensive for nothing, and those creations will never appear in the fashion dictionary.
TIG: Speaking of craft, what are some of the craziest things people have asked you to do?
NO: Two years ago, Margiela had me do seating cards in white ink. White on white. People were expecting black light, but no, they had to deal with it. It was a zoo. There was the Russian oligarch who wanted me to do the invitations for his daughter's wedding in blood—cow's blood.
Calligraphy is the science of forming letters, but beauty is very personal—you have to divine the text between the lines, the cadence, the swoops and swirls. When you look at a dancer, you divine her emotion. It's an interpretation. I interpret sentiments on paper. I think that people actually write less and less these days because they're afraid of their own emotions.
TIG: Yet journals are huge...
NO: The people who buy them don't necessarily write in them. Journals reassure them. What reassures me is when people write notes in what they are reading, like children do. People are reading less, but at least they want to remember what they've read.
TIG: What's your take on the fate of print?
NO: Print is not dead. Great magazines are run by editors who do what they like above all; they're not trying to cater to some sort of survey. In France and elsewhere, you can sense which [editors] are really cultivated — they don't need to just construct a tiny microcosm around themselves. Jefferson Hack never did that. Neither did Fabien Baron. They consider others and differences—that's all very important. Today, everyone's interested in fashion, it's not so hermetic. It's important to be open to the world. That's what inspires people most. If I so happen to inspire others through an interview, I can also be sure that someday those people will inspire me in turn. It's cyclical.
0 Comment