In July, Parsons teamed up menswear tradeshow PROJECT New York for the inaugural "Next in Class" program, which afforded five of the school's top graduates a chance to meet the buyers who help make the fashion industry tick. Here, the emerging talent and "Next in Class" participant Ace Kim shares his experiences, hopes, and plans for the future. Stay tuned in the coming days to read the stories of his peers.
Neither Bill Gates nor the Ebola virus are things one normally associates with fashion, but for Korean designer Ace Kim, a recent Parsons graduate specializing in menswear, it was the basis for a whole collection. "I chose Ebola as my starting point because it's a very contemporary issue," he said, at first thinking of a way to bring his family occupation (Kim comes from a long line of pharmacists) into his work. As he researched, things became more political. "I figured out that the Ebola vaccine [which does not exist yet] was actually under development a decade ago, and that ended because it was not marketable enough for Western pharmaceutical firms," he explained. "I just thought that was very selfish, because pharmaceutical firms are advertising themselves as 'We will save your lives!' but actually, all they really want is money." When the virus spread globally in 2014, Bill Gates became a vocal advocate for a vaccine. But Kim noted that, despite Gates' good intentions, he would still potentially be profiting from the matter. From there, a quirky concept was born.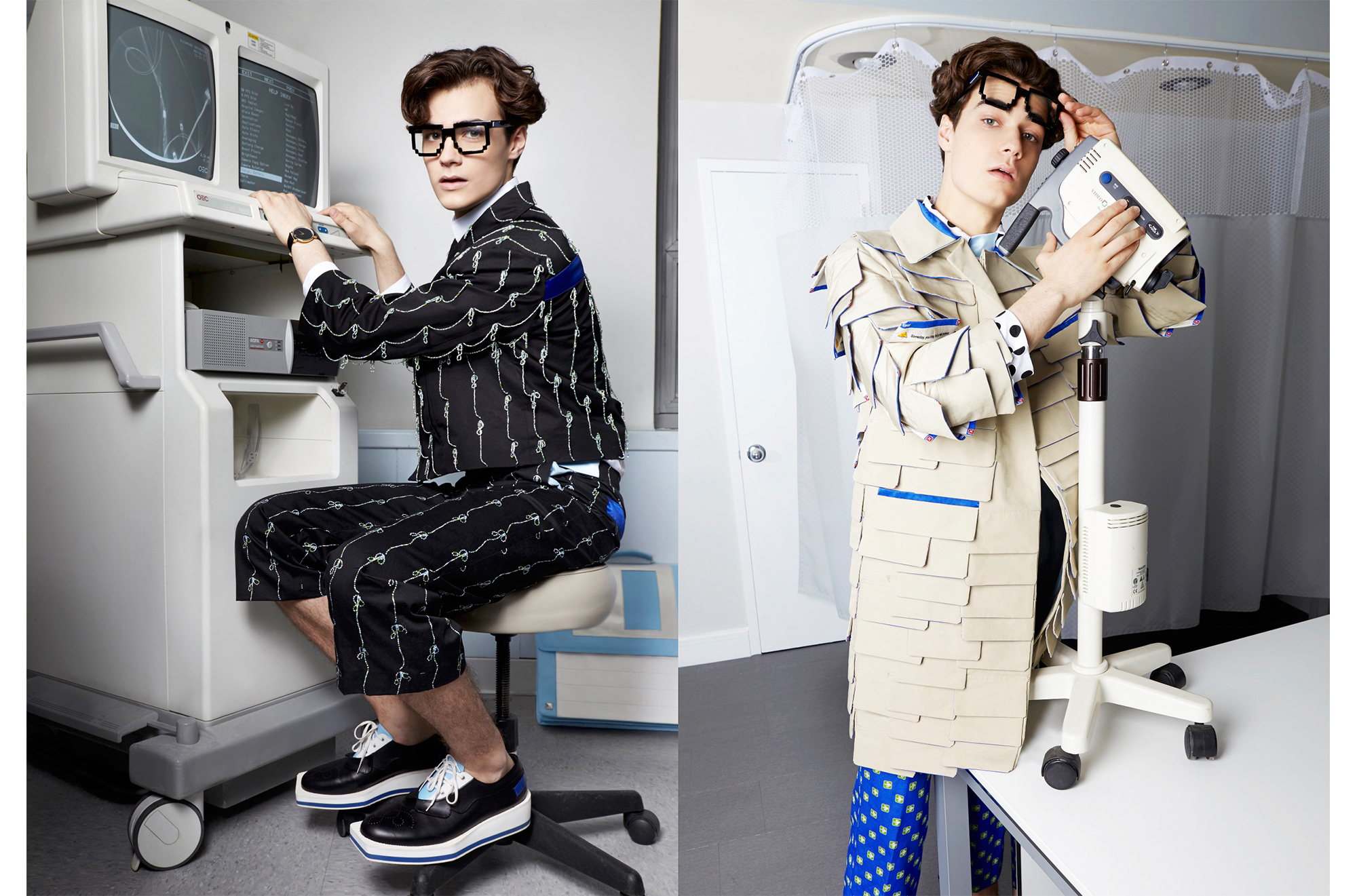 Ace Kim lookbook images / Photo: Courtesy of the designer
Designed with a teenage Gates in mind, the collection's silhouettes are meant to evoke nerdy chic. The clothes are deliberately made to seem as if they don't quite fit, as if borrowed from an older sibling. An impressionist aesthetic is also added in details—from far away, the patterns and prints look like classic menswear attire: Plaids, pinstripes, and paisley. But upon closer inspection, one seems that Kim has distorted them with the shape of the Ebola virus, and the Microsoft Windows logo. "I think my forte is [exploring] serious issues with humor," he mused. "So people can approach [the ideas] really easily, and have more interest."
Kim's interest in fashion is somewhat unexpected. For years, he wanted to design roller coasters for Disney World. "Fourth grade was the first time I came to the United States as a tourist, went to Disneyland, and was like, Ok, this is the place I need to bury my bones," he said, "Then that kind of led me to think that I should study abroad." Kim moved to the United States by himself at 16 in pursuit of the Disney dream. Post high school, he studied architecture and industrial design, however he had to return to Korea in order to fulfill his required two years of military service. Because he was away from an artistic space, this was when everything changed. "I was thinking, who am I as a designer or artist?"
"Everything I did in high school art class was Disney-related," he admitted. "I felt like I was kind of enslaved by Disney, but there [was] nothing original about Ace Kim. So I was like, maybe I don't want to be one out of 10,000 employees on Walt Disney's ground, but maybe I want to be someone as cool and amazing as Walt Disney."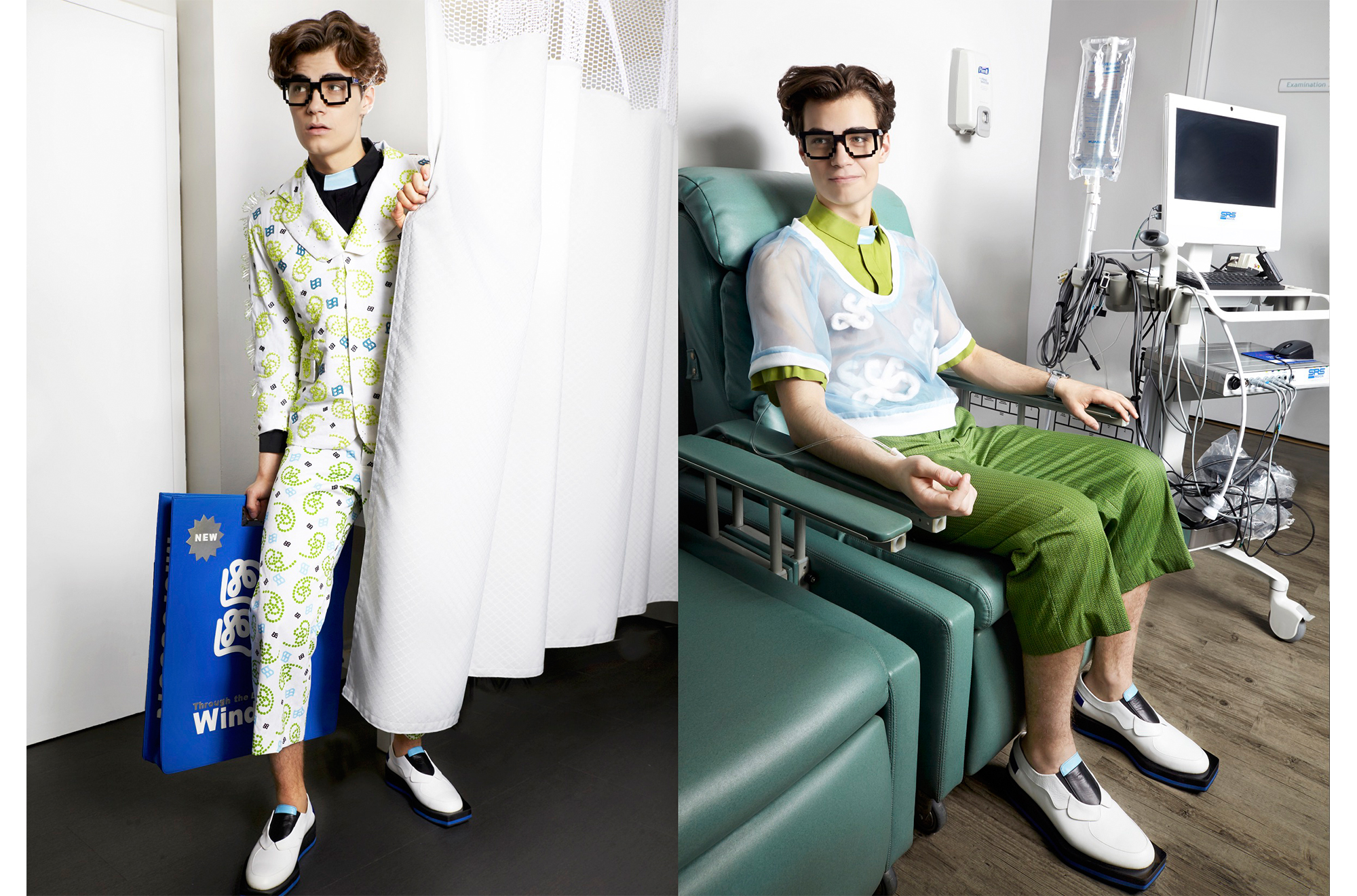 Ace Kim lookbook images / Photo: Courtesy of the designer
From there Kim went to Parsons, and spent a semester abroad at Central Saint Martins, finding new creative heroes along the way. "Franco Moschino impacted me because he was a storyteller," Kim said, thinking of his background in rollercoasters. "Disney is all about storytelling, making people smile, happy. Even if the medium of rollercoasters or clothing was different, I do think the basic concept of making whimsy and satirizing something and telling a story is the same."
Following his graduation, Kim was given the opportunity to participate in PROJECT's Next in Class. "Overall it was an excellent experience. It's not just for my press, but also for my future business," he said, noting that dealing with the buyers' side of the industry provided a whole new education. "I think it just gave me the whole concept of business world." Storytelling may be his passion, but a firm grasp on the fashion business will no doubt help elevate this up-and-comer from recent grad to savvy designer.
0 Comment