In July, Parsons teamed up menswear tradeshow PROJECT New York for the inaugural "Next in Class" program, which afforded five of the school's top graduates a chance to meet the buyers who help make the fashion industry tick. Here, the emerging talent and "Next in Class" participant Ming Peng shares his experiences, hopes, and plans for the future. Don't miss our features on his peers Adi Mucktar-Barnes, Ace Kim, and Raymond Natale.
Mix the innovative futurism of Junya Watanabe with the fantastical whimsy of Thom Browne, sprinkle a dash or two of Rei Kawakubo for good measure, and you've got Ming Peng. That's not to say that the 22-year-old Parsons graduate isn't unique in his own right. In fact, Peng's senior thesis collection, which he unveiled at the college's annual benefit in May, was deeply personal. "My inspiration was my early experience with social anxiety," he said. "It was about feeling and being under pressure in your daily life." Peng, a native of Chengdu, the capital of China's Sichuan province, added that he feels big cities—New York City, in particular—contribute to crushing anxiety.
Research does actually show that urban environments often have negative mental health consequences on city dwellers. Pile on the immense pressure fashion designers face today (See-now-buy-now! Direct-to-consumer! Eight collections a year!) and you've got a recipe for neurosis. Or, in Peng's case, a visually arresting menswear collection that injects humor and animation into an otherwise serious topic. "I tried to make people look at anxiety in a humorous way and not a scary way," he said. "I tried to make fun of it a little." This translated into wavy shapes, zig-zag trimming, and oversized silhouettes that are emblematic of the maze-like inner trappings of a brain that won't shut off.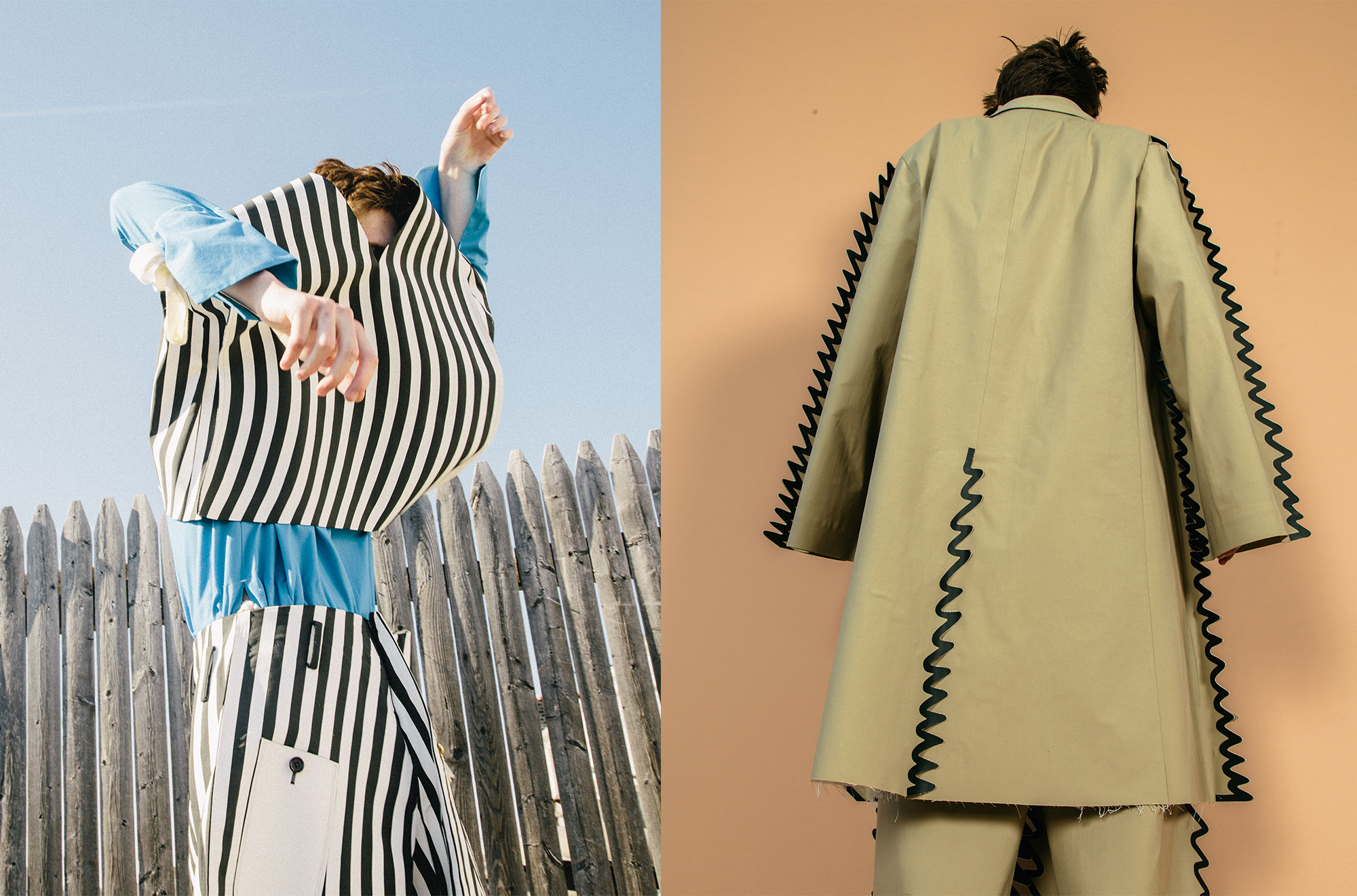 Ming Peng lookbook images / Photos: Courtesy of the designer
Peng's collection earned him Parsons' 2016 Menswear Designer of the Year Award (though it's worth noting he doesn't consider himself strictly a menswear designer), which is perhaps why he was selected as one of the first five graduates to participate in Parsons' and PROJECT New York's "Next in Class" program. "It was really fresh," he said. "I'd never met with buyers before. I think it's good to know what people really want, what [buyers] really need in the stores, and what would fit in the stores. They encouraged us a lot—they said we should cut this and that. It was very exciting." Gaining some insight into the world of wholesale was pivotal, he said. "A lot of young designers who have just graduated from school or are still in school know a lot about the art side of fashion, but they don't know much about the business side. That's really important because it's something you have to care a lot about in order to continue doing this."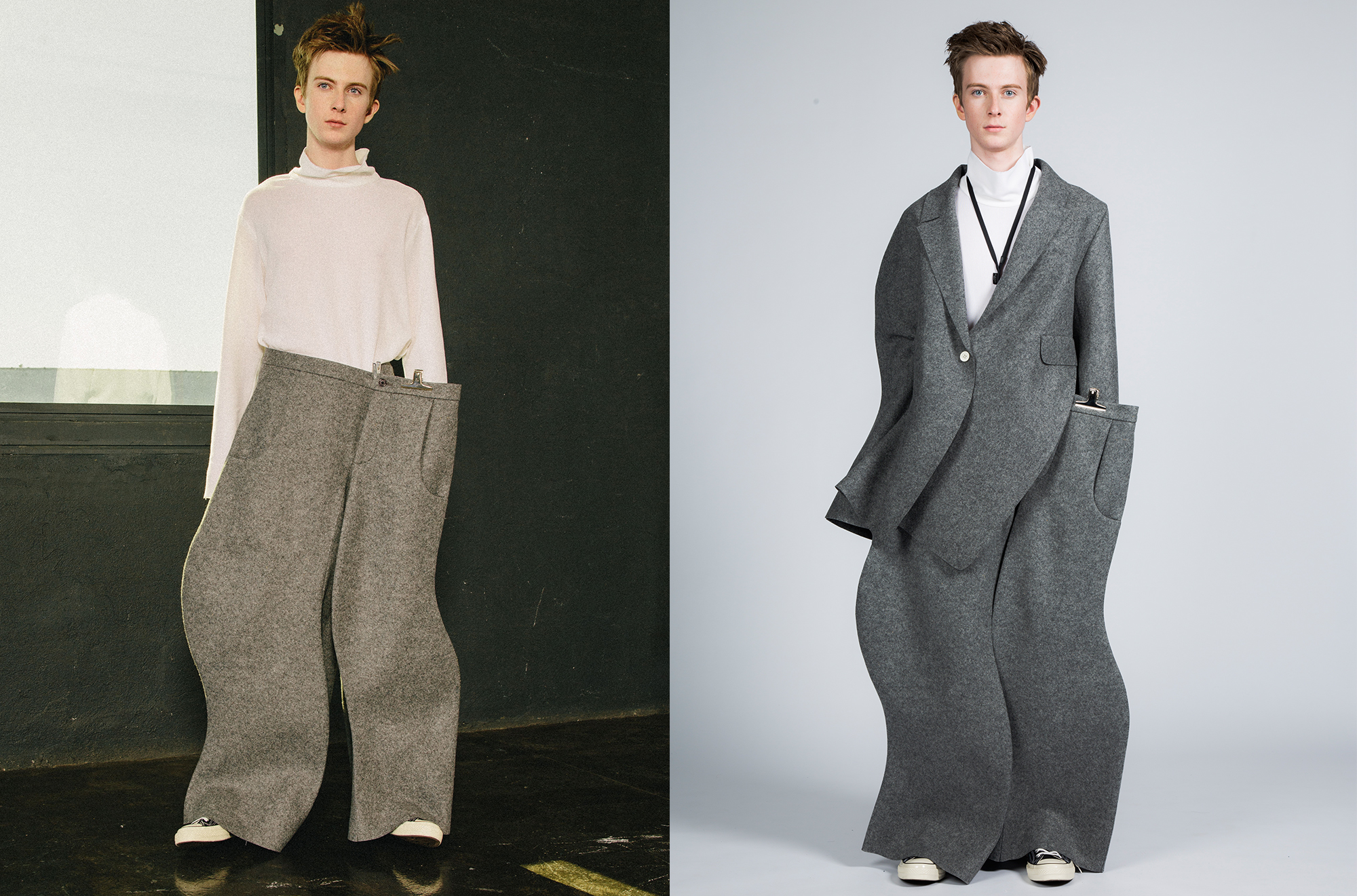 Ming Peng lookbook images / Photos: Courtesy of the designer
Peng's interest in fashion stemmed from his early love of art—drawing, in particular—which began at age three. "I wanted to do something with art, so I chose fashion design because it's something that actually relates to the direction of art," he said. "It's complimentary." His biggest source of inspiration comes not from a slew of big-name designers (though he does cite Jil Sander as one of his favorite names in fashion) but from strangers on the streets. "I get a lot of my inspiration from random people and how they wear random clothes. I like non-fashion people, people who don't really care too much about fashion or the way they dress."
Now that he's graduated, Peng, who's currently enjoying working under German womenswear designer and fellow Parsons alumn Melitta Baumeister, is applying for an MFA at either Parsons or Central Saint Martins in London. "I want to then eventually launch my own label," he said. We'll be keeping our eyes peeled.
0 Comment