Let's entertain a fantasy for a moment: You're a teenager with big dreams to be a star. Your time is spent practicing and playing gigs in the hopes that some day, fate and preparation meet and you make it. You give up traditional aspects of childhood, but that's okay because you're a city kid who understands the hustle. You know you have to grind, and are inspired by it. Then one day you get the call you've been waiting for—someone has taken a chance on you, and you realize all of your dreams are that much closer to coming true before you can legally drive a car.
This fantasy is reality for 17-year-old singer/songwriter Sophie Beem, who tells me her story while getting her hair done by Michael Angelo at his Wonderland Beauty Parlor. Her aunt and mother are in tow. She's recently returned from a massive gig in Europe, and is in New York briefly before hopping a plane to the L.A. premiere of Bad Moms to celebrate having songs in the both movie and final credits. You also may have seen her performance at the Teen Choice Awards Pre-Party this weekend, and her twirl on the ceremony's red carpet last night. Like most other girls her age, it's hard for Beem to sit still. While we chat, she fingers a delicate gold-plated necklace that rests right at her collarbone and reads "City Kid," each "i" dotted with diamonds—real ones.
"I never take this off," explains Beem, suddenly very serious and aware she's been playing with the necklace. For Beem, it's one of the most meaningful gifts she's ever received, and the giver also happens to be the reason for her very busy schedule: Beyoncé. Yes, that one.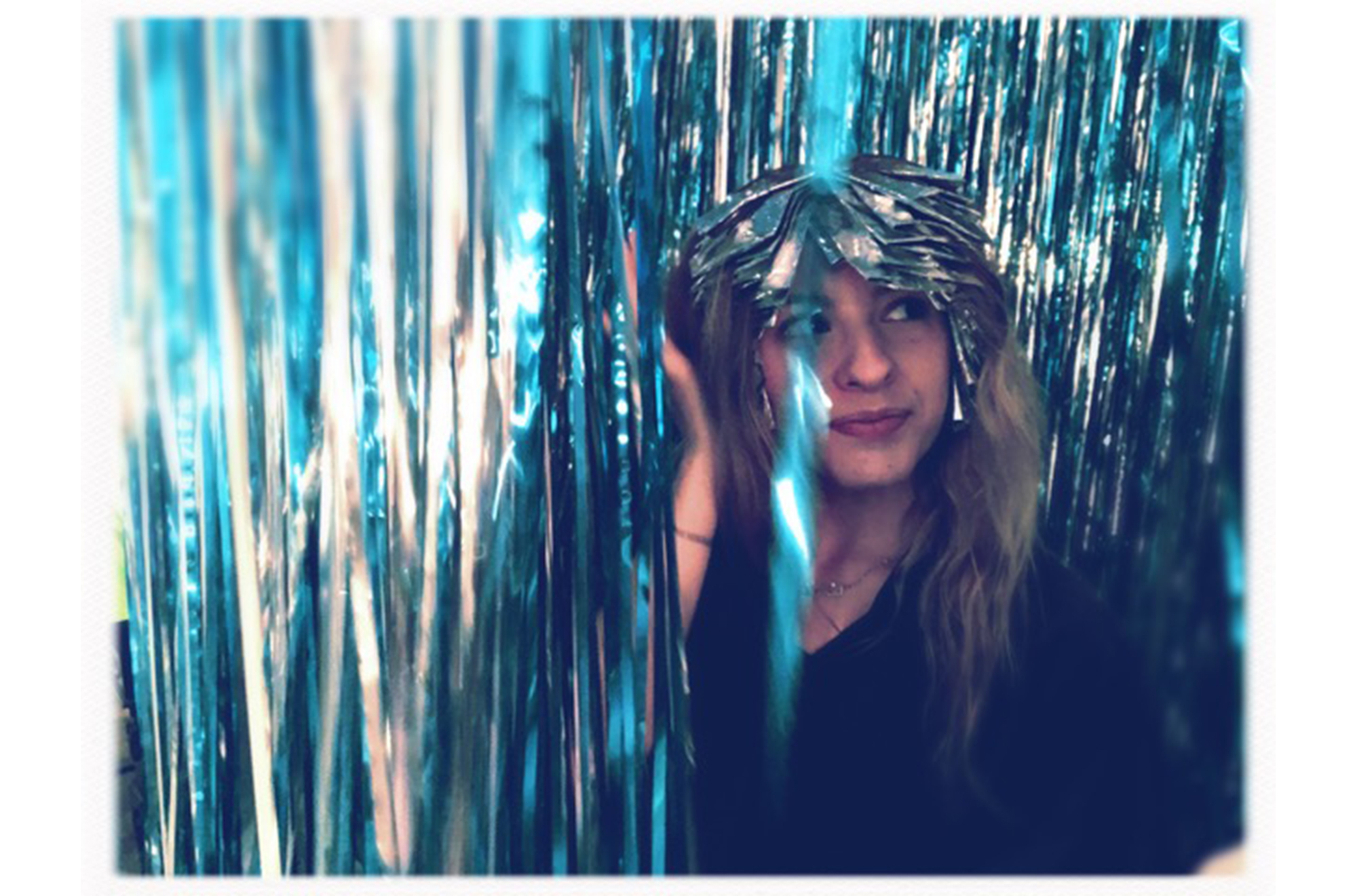 Sophie Beem at Michael Angelo's Wonderland Beauty Parlor / Photo: Michael Angelo
Beem got her start after realizing her love of the stage at French Woods, a performing arts camp in upstate New York. After getting serious about pursuing music, she appeared on X Factor, where she earned the approval of the likes of Simon Cowell and Britney Spears, but quickly learned the reality television route wasn't for her. She wanted to be creative, to be an artist who inspired, much like some of her heroes, who include Drake, Hannah Montana, and Skylar Grey.
So she hustled.
"I'm a city kid, for sure," she says while Angelo is busy lightening her already blonde locks. "I grew up on the Upper East Side, and started playing gigs around the city. One night, the now-former general manager of Parkwood Entertainment— Beyoncé's entertainment and management company—watched her play at The Bitter End in Greenwich Village, and later asked her to put together a package for Queen Bey.
"I wrote her a handwritten letter, too, and had a family friend who's a really great writer help me with it. It had to be just right," remembers Beem.
It seems she succeeded. It wasn't long before Beem got the call in her bedroom that Beyoncé wanted to sign her, and with that a mentorship was born.
What's it like to have one of the most influential women in the world fully support your artistic endeavors? At such a young age, how susceptible to buckling under the pressure of expectations would you be? How do you keep it all together?
"Beyoncé's best piece of advice to me has been 'number one is to have fun'," Beem says with a self-assured nod. "She also gives me practical advice, like to sing on a treadmill to build up my stage stamina."
Beem's stage stamina will be challenged in September at her first festival performance, a 30-minute set at the Made in America festival in Philadelphia, the star-packed music event run by Jay Z.
It's a big gig for someone fresh off her first tour with Charlie Puth, but Beem is learning quickly. She recently returned from Milan where she opened for Beyoncé, and played to her largest crowd to date.
The music, like Beem herself, is fun, fresh, and speaks to a teenage femininity many can remember.
"I literally have songs about nail polish," she laughs. "But it's cool the way we did it, there's some interesting innuendos in there, but at the end of the day I'm singing about the process of painting your nails."
For her debut EP, Beem was counseled by Beyoncé as to which songs should be included. Along with "Nail Polish," and first single "Skyline" the sound is reminiscent of Madonna's "Material Girl" days, but with some urban twists. Beem also included "I Got It" featuring rapper Fetty Wap and "Sleepless / City Kid."
"Beyoncé had the great idea to combine the two songs [Sleepless and City Kid], and make it into one. She's really involved in the whole process."
As the EP continues to gain momentum and Beem works on her debut full-length album, she continues to ponder just who she aspires to be as an artist.
"I always loved that Hannah Montana was a schoolgirl by day and a rock star by night. That's what I want to be," she says.
Fortunately in today's day and age, Beem has the support and resources to do so, but that's not without challenges and expectations. The entertainment industry still struggles with sexism, and it's not uncommon for a female to be treasured for expressing her femininity one minute, only to be trashed for it moments later.
So what's a girl to do?
"It's important to stay true to yourself," explains Beem while munching on an acai bowl from Liquiteria.
One way Beem achieves this is through her sense of style.
"I like being girly, but usually I'm pretty chill and just wear vintage Levi's and t-shirts," she says. But Beem does have her favorite designers, and is inspired by her mother and Beyoncé.
"I love Chanel," she gushes before pointing out her shoes. "And would love to work with Karl. It'd be great to work with DSquared2, too."
Beem is poised to make this a reality for herself, as the remainder of the year has her pretty booked with career-elevating performances that include Kids Day at the U.S. Open. For now though, she's taking it one day at a time, and staying grounded by writing in the studio, hanging out with friends (when she can), and considering college applications to top music schools like Berklee College of Music in Boston. It's a lot to handle at 17, but it's what she's dedicated her life to. Stay tuned to see how she continues to redefine what it means to be a rock star.
0 Comment