In their 23 years of collaboration, Viktor & Rolf's Viktor Horsting and Rolf Snoeren have turned Maggie Rizer into a Russian doll, presented a collection comprised of plush duvets and pillows, and produced literal wearable art—complete with gilded frames. These examples offer only a glimpse into the Dutch duo's complex conceptual world—one that pushes beyond commercialism and constantly reminds us fashion folk to keep dreaming.
"In the fashion industry, there's this annoying question: Is fashion art?" said renowned curator Thierry-Maxime Loriot during tea with the designers at Paris' Peninsula hotel last week. "I think that's unnecessary, because art is what touches you, what moves you." Indeed, Horsting's and Snoeren's work does just that, so it makes perfect sense that this October, the pair is being honored with Viktor & Rolf: Fashion Artists, an exhibition at Melbourne, Australia's National Gallery of Victoria. Organized by Loriot (who was also responsible for the record-breaking The Fashion World of Jean Paul Gaultier: From the Sidewalk to the Catwalk), the show will feature confections from the twosome's past and present, as well as new surprises made specifically for the exhibition. "They work in a unique way that nobody has done before," continued Loriot, noting that the designers don't use any references when dreaming up their elaborate collections. "The way they create is really about their concept, their idea, and no one else can duplicate it."
Fashion Artists isn't the only thing the designers have coming up. In fact, since relaunching their couture line in 2013, and subsequently ditching ready-to-wear in 2015, they've been pretty much unstoppable. For instance, half of their Fall 2013 Couture lineup—their first haute effort after a 13-year hiatus—was purchased before the all-black collection even hit the runway. And without the constraints of ready-to-wear, they are able to focus their full creative force on projects about which they are truly passionate, like a forthcoming capsule for Dover Street Market, a new bridal range, or their spellbinding Fall 2016 Couture offering, which, having debuted in Paris on July 6, saw them rip apart their previous designs in order to build a brand new sartorial fantasy.
It takes a lot of guts to abandon the traditional fashion cycle and, as Horsting describes it, "reinvent the system" (of course, from a financial standpoint, it helps that Viktor & Rolf's Flower Bomb fragrance is one of the most popular in the world), but if anyone can thrive by doing so, it's these guys. Here, just a day after their Couture romp, Horsting and Snoeren talk cutting up the past, why they don't miss ready-to-wear, and making clothes with meaning.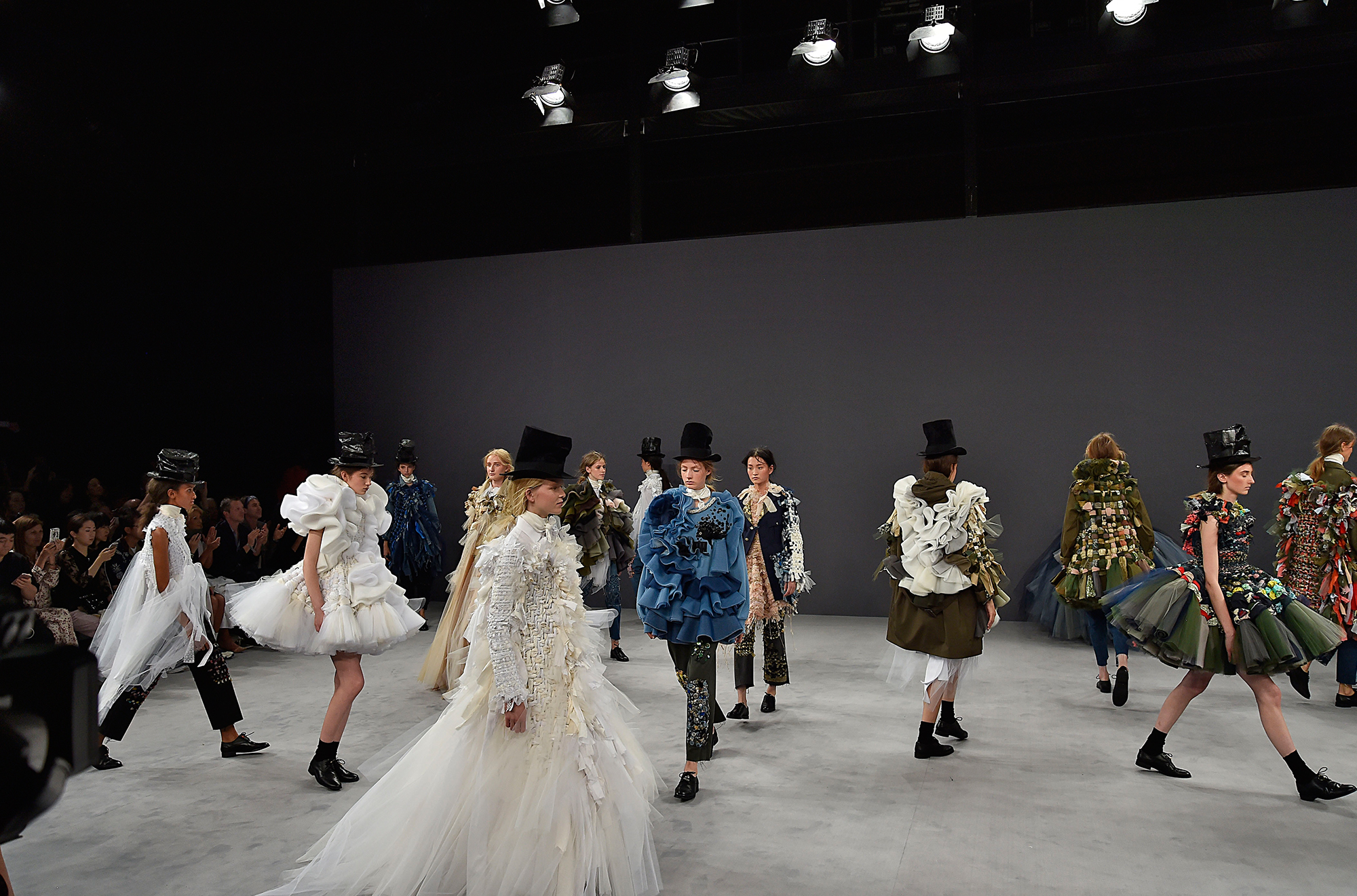 Viktor & Rolf Fall 2016 Couture / Photo: firstVIEW
Katharine K. Zarrella: Congratulations on the show! It was a beautiful collection. Backstage you told me you were inspired by the concept of recycling. Can you speak about how you arrived at that?
Viktor Horsting: Well, we call it conscious designing. Of course, designing consciously has always been on our mind in the sense that we try to say something through the work we do. And in this case, it's literally a bit of an ethical statement.
Rolf Snoeren: After stopping ready-to-wear and going back to couture, it feels like a new beginning. We felt like cleaning up our past, and using what was already there to create something new.
VH: There were scraps from almost everything we've done in the past 23 years. So, it's really getting rid of our past and turning it into something new.
KKZ: Was it difficult to cut up your designs?
RS: No, it felt quite liberating. Because, of course, the museum-worthy pieces have been sold, so we didn't cut them up. It felt good.
KKZ: The craftsmanship in yesterday's collection was pretty insane, from the cascades of buttons and crystals to the woven, repurposed materials. What went into creating that?
VH: From a technical point of view, all the fabrics that we had from previous seasons were ripped into strips that were woven or braided into new shapes. A lot of the garments are woven and shaped, so there is no seaming whatsoever. The embroideries are beads, buttons, crystals that are literally thrown together, coordinated by color, and then turned into embroidery. That's how we work. We also used quite a lot of vintage garments that were either cut up or embellished. There was a Coca-Cola sweater and a Puma sweater.
RS: A lot of old jeans.
KKZ: And what about those dilapidated hats?
RS: They're paper and wood. It was actually [photographers] Inez's and Vinoodh's idea to do the top hats. We talked to them a lot [when making this collection]. So, for us, [the hats helped] make the models into vagabonds—free spirits, belonging nowhere, wandering around.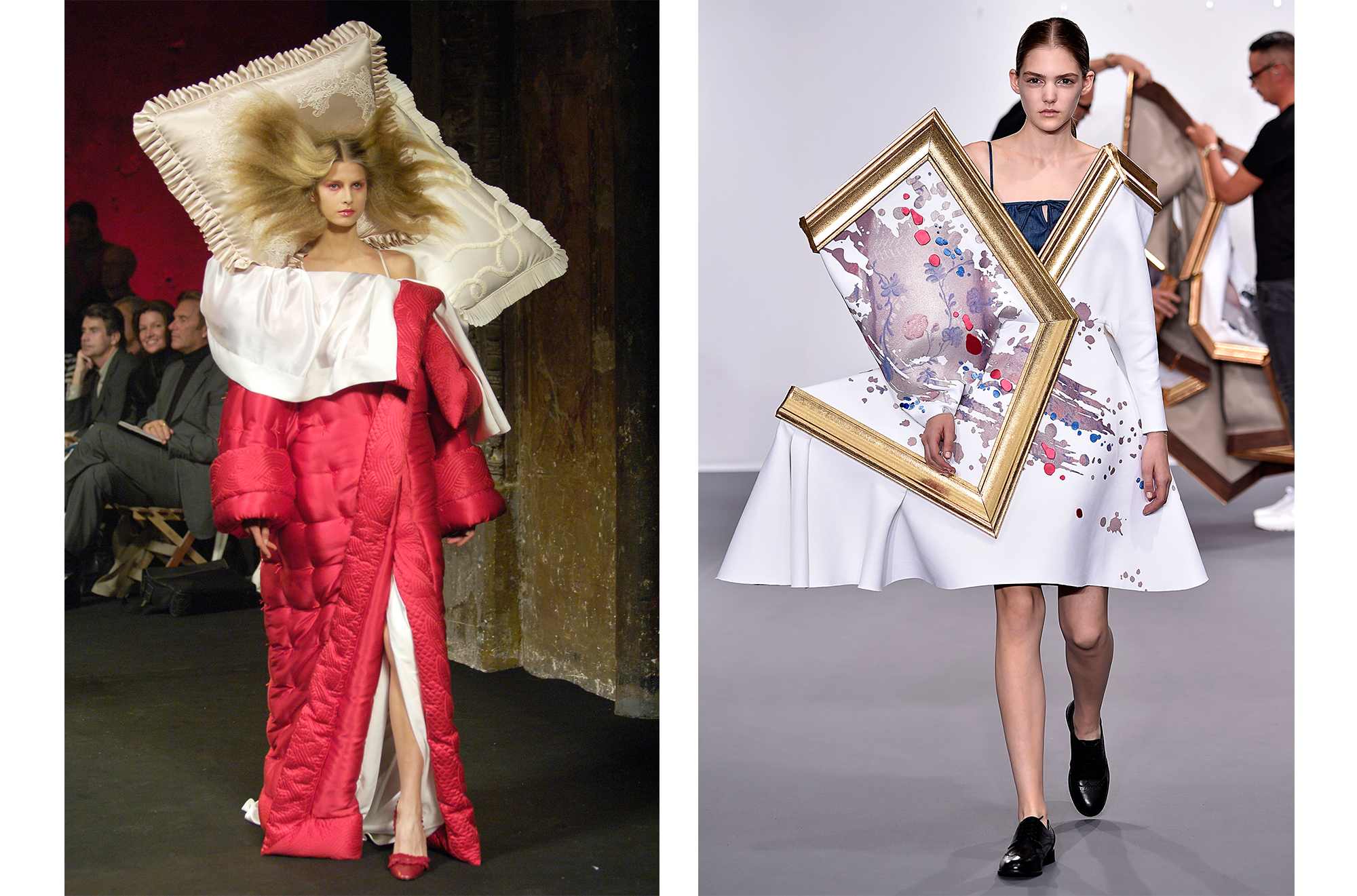 Viktor & Rolf Fall 2005 RTW and Fall 2015 Couture / Photos: firstVIEW
KKZ: On my first day of my first internship at a fashion magazine, my editor told me about how the current times were reflected by what we see on the runway, and she pulled up your Fall 2005 show with all the pillows and duvet gowns as an example. With that in mind, can you speak a bit about how what's going on outside the world of fashion—in politics, with the economy, in popular culture—influences your work?
VH: For sure it does, of course. How? That's a different story. Indirectly, I'm convinced that we're influenced by everything that happens around us.
RS: We start in a different way than most designers. We never start with a mood board or a specific era or a picture. Usually, we start with language. So, we talk a lot…
VH: For instance, that collection that you mentioned with the pillows, it started with the word "intimacy." We said we would like to do something that was intimate, and we thought, What is the most intimate moment? When do you feel most at ease? When you're in bed. That's how our train of thought starts. When we did the wearable art collection, the collection that's based on paintings [Fall 2016 Couture], we had just stopped ready-to-wear, and we said to ourselves, How can we express what couture has always meant to us, and what it means to us now? And literally that was wearable art. And then, we thought, Okay, how can you visualize that? Could you wear a painting? In a way, it's a very immediate idea.
KKZ: How does it feel to be free from ready-to-wear?
RS: We feel good.
KKZ: Do you ever miss it?
RS: No.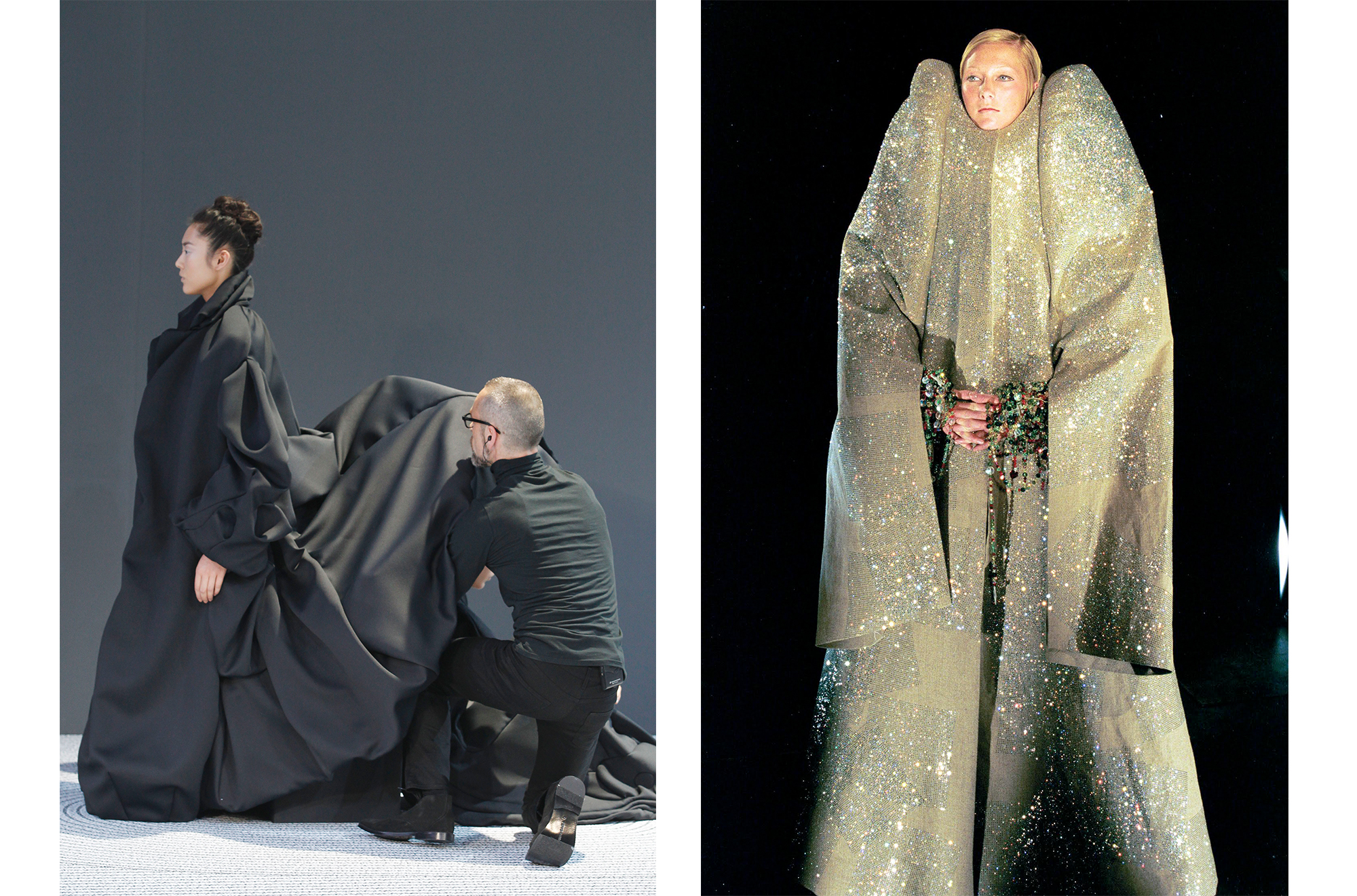 Viktor & Rolf Fall 2013 Couture and Fall 1999 Couture / Photos: firstVIEW
KKZ: Has the fact that people now consume fashion instantly on social media impacted the way you work? Is it something you're conscious of?
VH: Indirectly, it has made us more aware of what we really want to do and what we find important. And that is what we express through couture. There is so much disposable stuff—so much stuff. And not just stuff in terms of product, also images. There's so much out there, so we really want to focus. We'd rather do less but do it like we want it—do things that we find worthwhile.
RS: And we want to create something with meaning. If we do something, it needs to mean something, and not just be for the sake of…
KKZ: Putting stuff out there. So what do you think about the state of the fashion system right now? Now that you're not doing ready-to-wear, do you still pay attention to all the hullabaloo?
RS: Oh, we're paying attention, for sure. I think there's been a disappearance of mystery, but what I like is that fashion is so omnipresent. I mean, when we were teenagers, there was nothing. I find it amazing that people are so aware of what is going on.
KKZ: Your shows really elicit emotions from people, yesterday's collection being a perfect example. What kind of emotional experience do you go through when you're designing?
VH: The best moment is always when we know what to do. And there's always the time beforehand when we don't, and we're discussing and trying things out. There's always a moment where we go, This is what it has to be, and that's the thrill of it all.
RS: And the show for us is really like a performance. It's not just a showing of the clothes of the season. It's a performance that needs very specific music because we want to emit an emotion. For instance, yesterday, one of the songs was Linda Perhacs' ["Parallelograms"]. She was a dentist assistant in the '70s—American. She made one album, never did anything again, and now she's being rediscovered 30 years later. We liked that story.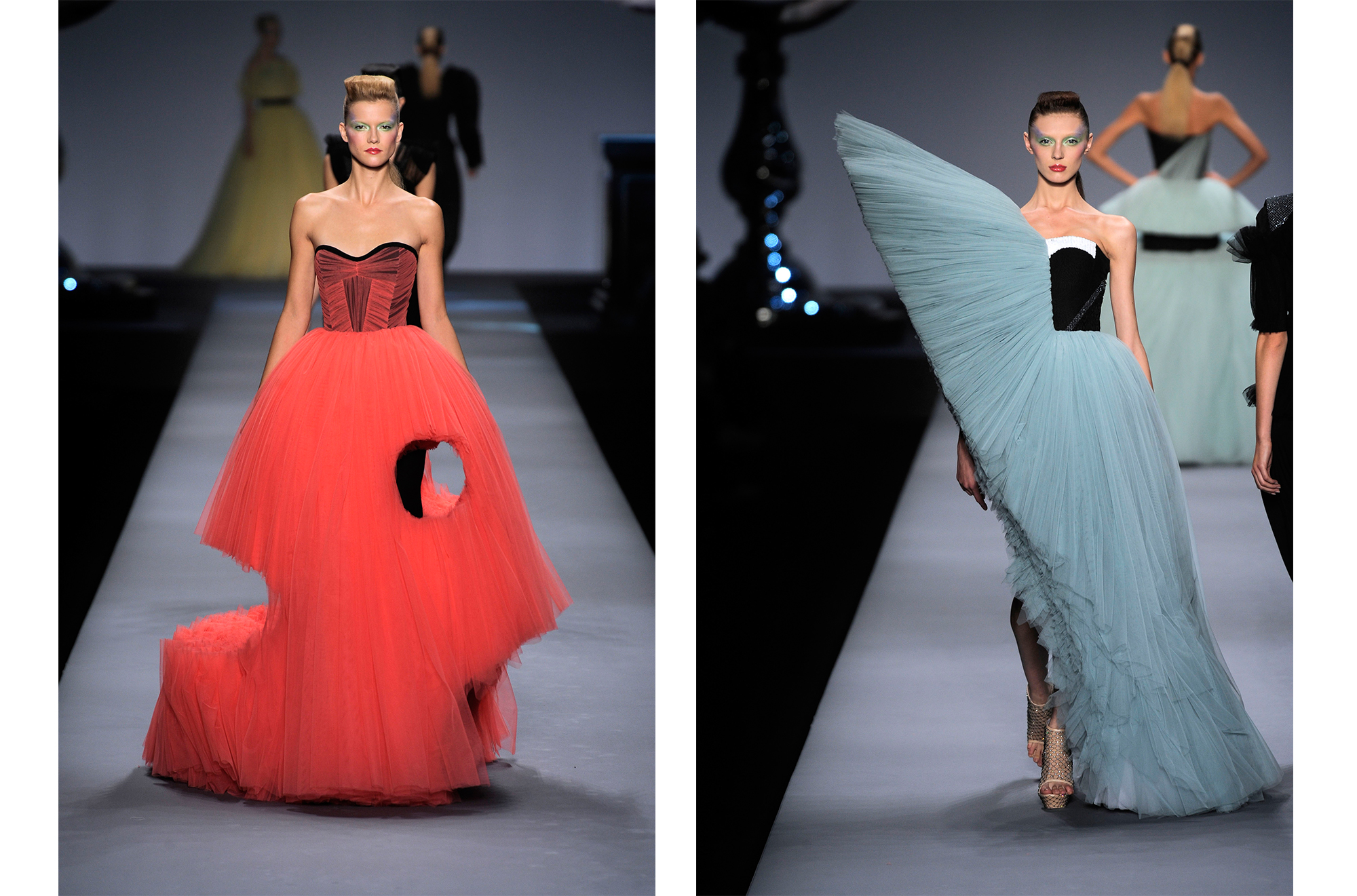 Viktor & Rolf Spring 2010 RTW / Photos: firstVIEW
KKZ: It takes a certain type of woman or man to wear a Viktor & Rolf design. Who is your client?
VH: To be honest, we never really think about a type of woman. We always work on the garments as individual, autonomous pieces, and when they're finished, they're finished.
RS: I must say, we do like that [our Fall 2016 Couture collection] is so much more wearable. We're doing a capsule for Dover Street Market. We did one last season as well.
VH: In a very small and experimental way, [the capsule allows us] to see how we can be true to our way of making things, but also offer our work, in a very limited way, for sale.
KKZ: I love that you two produce what you think feels right, and then basta. Has it freed up your creativity to be able to do collections for whomever, whenever, rather than being a slave to the fashion cycle?
VH: It starts with a decision to stick to who you are, and then also accepting the consequences. It's very tempting to slip back into a certain mode of I have to do this because that's how it's done. But, we consciously decided not to work like that anymore.
KKZ: What are the consequences?
VH: That you need to reinvent the system and the logistics if you want to make something that goes into a store. And if it's small, that's fine.
RS: I think we had been problem solving for so long. It was always problem solving with the deadlines. But now, it feels like it first starts with an ambition and an idea, and that is a totally different feeling.
KKZ: You have always done the most incredible things with tulle, from your Spring 2010 collection that featured the tulle gowns with cutouts, to the gowns and tutus in yesterday's show. What draws you to that material?
VH: For us, tulle references '50s Hollywood glamour. You know, like the dreamy Cinderella look—that's what we think about when we think of tulle. And that stereotype is something that's great to go against with the cutting of the holes. And on a technical level, you can do so much with tulle because you can really build something—a great volume, a great shape—and it remains light. Yesterday, there were these coats that became tulle dresses.
KKZ: You've put on a number of unforgettable runway performances, so I must ask, do you have a favorite?
RS: Well, I must say, we hate being on stage. Sometimes we have to do it, but when we did the Maggie Rizer [Fall 1999 Couture] collection, we just felt something growing in the audience. It was like a dance because we practiced it a lot, but we really felt the atmosphere changing. It was very special because it was so unexpected.
KKZ: Viktor, same for you?
VH: I think that's a beautiful example. Also, we're not usually a part of the show—we're backstage, so you cannot always tell what the reaction is. Yesterday, it was very nice when we came out, you could hear and sense… I had the feeling that people liked it.
0 Comment