"Fucking support the arts!" said Brandon Maxwell at last night's Whitney Art Party. The designer, who co-chaired the event with Karlie Kloss, Common, stylist Micaela Erlanger, and Vanity Fair's Michael Carl, expressed that now more than ever, it's necessary for those in creative fields to unite. "Obviously, it's a troubling time for our country, and I feel like this is such a great event to bring everyone together—because art heals, and I feel really fortunate to be here tonight," he continued.
"It's my first time co-chairing anything, and it's a little bit of work! But it's been kind of amazing," said Carl, who has worked on the contemporaries committee for the museum for a few years now. Having been a longtime fan and visitor of the Whitney, Carl was one of the first people to see the new downtown location, which opened to the public last May. "I came for a hard-hat tour when it wasn't even complete," Carl recalled. "I felt so cool, and I was wearing a hard-hat, and they were showing me where the theater was going to be, and all the different rooms."
It seemed everyone had a least one tale about how much they loved the Whitney. "I remember my first time coming here and just being completely blown away by what they built, and so excited that it was my neighbor," said Stacey Bendet of Alice + Olivia. The designer named last year's Frank Stella exhibit as one of her favorites.
"Honestly, it's my neighborhood museum," offered Maxwell, who first attended the museum's original location when he was 18. "It's beautiful, and fantastic, and I really have to tell you that the team of people here is just beyond. Just beyond," said the designer, who dressed co-chair Kloss in a flouncy black frock.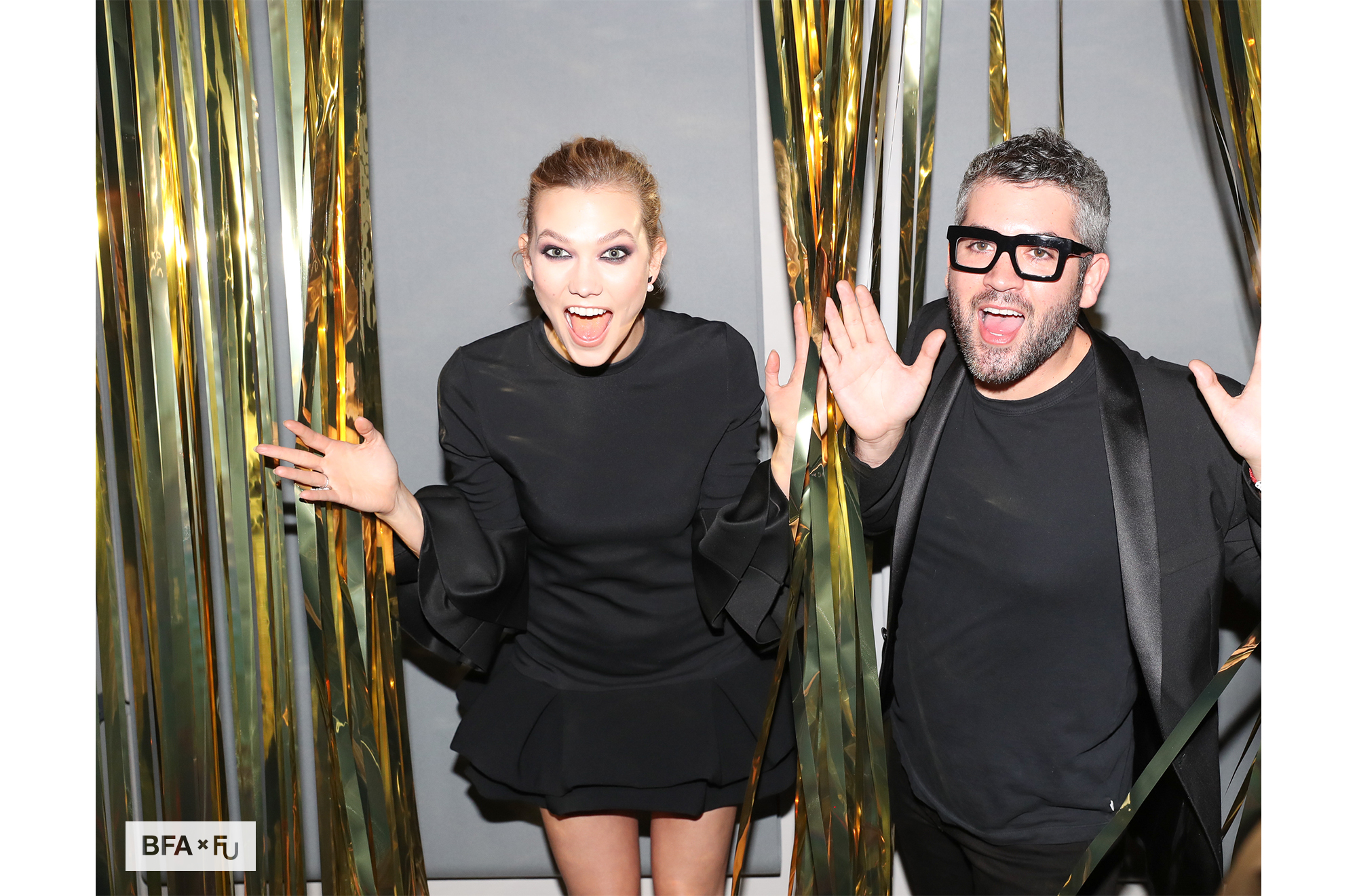 Karlie Kloss and Brandon Maxwell
Photo: BFA.com. View more at BFA.com
In fact, many of the night's lovely ladies came dressed in Maxwell's sculptural confections. "What I love about Brandon Maxwell is his ability to make women feel effortlessly powerful," explained Catherine Smith (who will carry Maxwell's new collection in her boutique, Plan de Ville) of Maxwell's appeal. "The cuts and the silhouettes are very easy to wear, but they carry a real sense of strength." If there was ever a time for women to express strength through their clothes, this is it.
In addition to the party, which, held in the museum's lobby, saw guests sip champagne and dance to DJ beats from Questlove, Mia Moretti, and Lion Babe, attendees were able to view new exhibits Dreamlands: Immersive Cinema and Art, 1905-2016, Virginia Overton: Winter Garden, and MPA: Red in View, which included an active performance featuring Mariana Valencia and Lydia Okrent.
"I grew up going to school for art," continued Maxwell, noting the influence art has on his life and work. "It was a way for me to communicate. It's what brought all my friends together. It's how I learned to do what I do."
Bendet expressed similarly strong ties to art. "Fashion is art, and art is fashion. I think when you can bring the two to life in different ways, it's so exciting. What I always love is being able to bring art into fashion so that people can wear it." Case in point: The skirt she donned for the party, a printed style from her new Basquiat collection.
0 Comment