During the 2016 Presidential Election, the editors at Condé Nast made it very clear that they did not want to "make America great again." At least, they didn't want to do it with Donald Trump. The publishing house's fashion bible, Vogue, was enthusiastically "with her," and publically endorsed a candidate (Hillary, obviously), for the first time in history. The New Yorker, Wired, and Glamour did the same, and the publishing giant's other titles, like GQ, Vanity Fair, and more published their fair share of serious anti-Trump essays and comical piss takes alike.
So, you can imagine the publishing industry's surprise when it was revealed that, this morning, Trump would head to Condé's One World Trade headquarters for a tête–à–tête with the company's top brass. At the very least, this may explain why Wintour—a longtime Democratic campaigner and fundraiser—popped by Trump Tower to visit the President-elect last month. It also may explain why Trump allegedly doesn't have time for security briefings—he's got to plan he and Melania's cover tour! But we digress…
The meeting, unlike Trump's trip to The New York Times, was completely off the record. Though most staffers stayed mum on exactly what happened, some details have leaked, including the fact that the Secret Service was all up in their business, and that many staffers donned white apparel in silent protest of Trump's misogyny. (WWD reports that this was both a reference to the Suffragette movement, and to the white pantsuit Hillary Clinton wore when she won the Democratic nomination.) The biggest news, however, was that Trump would be in the same room as Vanity Fair editor-in-chief Graydon Carter—his longtime petty tormentor. Even if you are unaware of their decades-long tiff, you likely know what it involves: Carter was the one who gifted the world with the knowledge that Trump is self-conscious about his smaller-than-average sized hands, and referred to The Donald as a "short-fingered vulgarian." Seriously, "small hands" has become as key of a descriptor of the President-elect as his overly tanned skin, absurd hay bale of "hair", and general terrible demeanor. Needless to say, the discussion that occurred is of intense interest, not only because it must have been a strain for both sides to retain any form civility, but also because they seem to be two fellows who just can't seem to help themselves. With that in mind, we here at FU have imagined a fictional account of what might have occurred. And, as you Vanity Fair readers might recognize, it is an ode to the magazine's longstanding "Impossible Interview" series. Considering what Carter and Trump have said to each other publically over the years, we don't think our satirical dialogue is too far off the mark.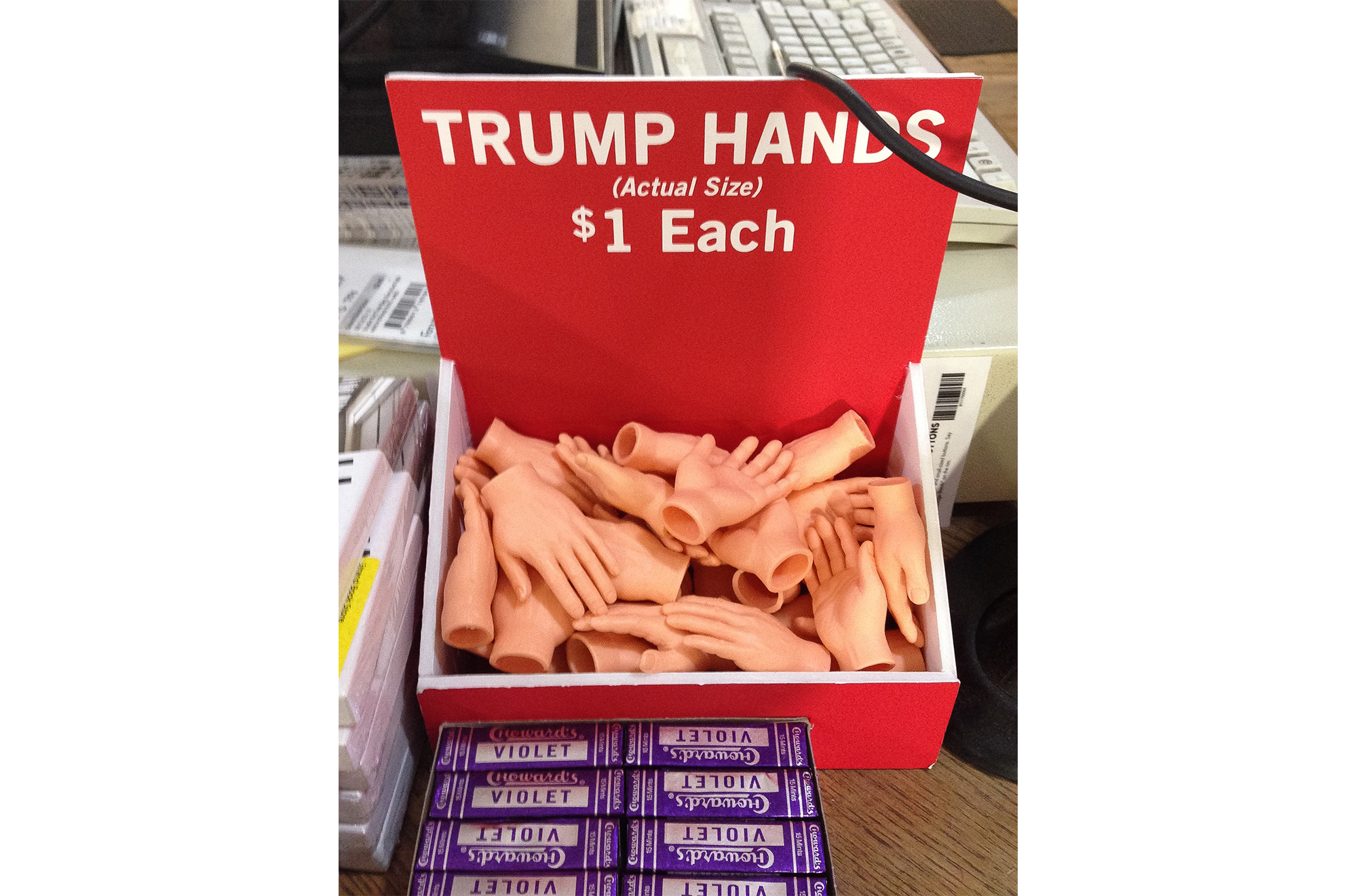 Anna Wintour: Thank you for coming. We here at Condé Nast are so glad you accepted our invitation.
Donald Trump: Well, Condé Nast is a big publisher. The best publisher. Quality stuff.
AW: It pleases me that there are some things we can agree on. The gathered editors would like to ask some ques—
DT: I mean, obviously not all of your publications are doing well. Some—and we all know who. I'm not going to name names. But some of you are just not great. Bad, actually. Again, I'm not going to name who, but I know, and you all know, this guy…this guy is just dragging you down.
Graydon Carter: Are you pointing to me? I couldn't tell. Are your fingers fully extended?
AW: [INHALES DEEPLY]
DT: I assure you, my hands are huge.
GC: I assure you, your scale of measurement needs to be adjusted to "adult human," you short-fingered rakefire.
AW: [PURSES LIPS]
DT: You see this? Not giving the people the truth? This is why Vanity Fair is failing! Sad!
AW: Perhaps we can move on?
DT: Sure. Some people need to learn a thing or two. I'm going to teach you how to fix this whole thing, because it has got to go. I'm going to show you how to write what you should be writing.
GC: You're going to teach us how to publish magazines? I can't fathom how you'd be able to come up with enough content. The only thing smaller than your hands is your vocabulary.
AW: Graydon!
DT: WRONG!
AW: I'm sorry, Donald, what was it you were saying?
DT: I'm going to be the best presi—the greatest preside—you don't even know! You've got those other guys, and then me, and why? Because they couldn't make deals. And you can't make deals. No one is reading print! No one! Who? I don't know, you'd have to tell me, but those iPads are killing you.
AW: Okay, Donald. For the sake of argument, what do you propose we do to save publishing?
DT: All I can tell you is that I have a foolproof way of winning, and I'm not talking about what some people would say, but it is a foolproof way of winning the war with iPads.
AW: Well, you have our attention, Donald. What is it?
DT: The problem with publishing is if I tell you right now, everyone else is going to say, "Wow, what a great idea." You're going to have 10 publishers go and use it, and they're going to forget where it came from, which is me. But no, I have an absolute way of defeating iPads.
GC: Are we honestly doing this right now? The secret, of course, is that this abominable abydocomist has no idea what he'd do to stop iPads. He can't even use an iPad—the touchscreen won't register those slippery cornichons he calls fingers.
AW: Graydon, shush.
GC: I mean, if you would like, I could simply leave and you could continue on with this tangerine-tinted ruffian in my absence.
AW: Graydon, sit down.
GC: Do you see these paws, you ham-faced shabbaroon! These are the fingers of a healthy adult man!
AW: Graydon, sit down!
David Remnick: Someone's secretly recording this on their iPhone, right? Yes? Great. Please remind me to give Andy Borowitz the week off.
0 Comment