There were two big announcements in the fashion industry this month: The first was the abrupt firing of Deena Aljuhani Abdulaziz (aka Princess Deena) as editor-in-chief of Vogue Arabia after only two issues. The second was the hiring of super-stylist Edward Enninful as editor-in-chief of British Vogue. Each announcement caused quite a commotion, which begs the question: What exactly does editor-in-chief mean anyway?
When Abdulaziz was hired, one camp was in raptures—who could be a better editor than a street-style star and a bona fide Saudi Royal with a bank account healthy enough to afford couture season after season? Her fashion experience came as owner and head buyer for the Riyadh, Saudi Arabia-based members-only store, D'NA.
Yet another group of people, mostly based in the Middle Eastern North African region (MENA), were displeased, to say the least. Said one highly placed source on the condition of anonymity, "There was a lot of shock when the announcement was made. Firstly, Abdulaziz wasn't known for supporting regional talent—her shop mostly stocked big European names and only a handful of regional designers—and she rarely attended fashion shows of budding MENA designers. She is a Chanel and Dior girl through and through."
Shouldn't the editor-in-chief of a newly launched Vogue Arabia be a major cheerleader for local fashion? Of course. The Middle East's love for luxury European designers is legendary, but rather than promote regional designers to this captive audience, never mind an international one, Abdulaziz's calling card was bringing in yet more European and North American designers to the MENA, like Erdem, Osman, and Prabal Gurung. Also, since Vogue Arabia was based in Dubai, many wondered about her commitment to her job, since she didn't move from her home city of Riyadh to join her fledging team.
"Personality is key, too," the source continued. "She was seen as very distant and it didn't matter if that stemmed from shyness or social standing. That froideur works in an Anna Wintour kind of personality, but the opposite personality was needed for this new position. It's a new magazine in a part of the world that, just a few years back, was deemed a risky commercial proposition by the CEO of Condé Nast himself, Jonathan Newhouse. There is an extremely tender relationship between the Muslim and non-Muslim worlds, and the job requires a lot of ambassadorial-like qualities."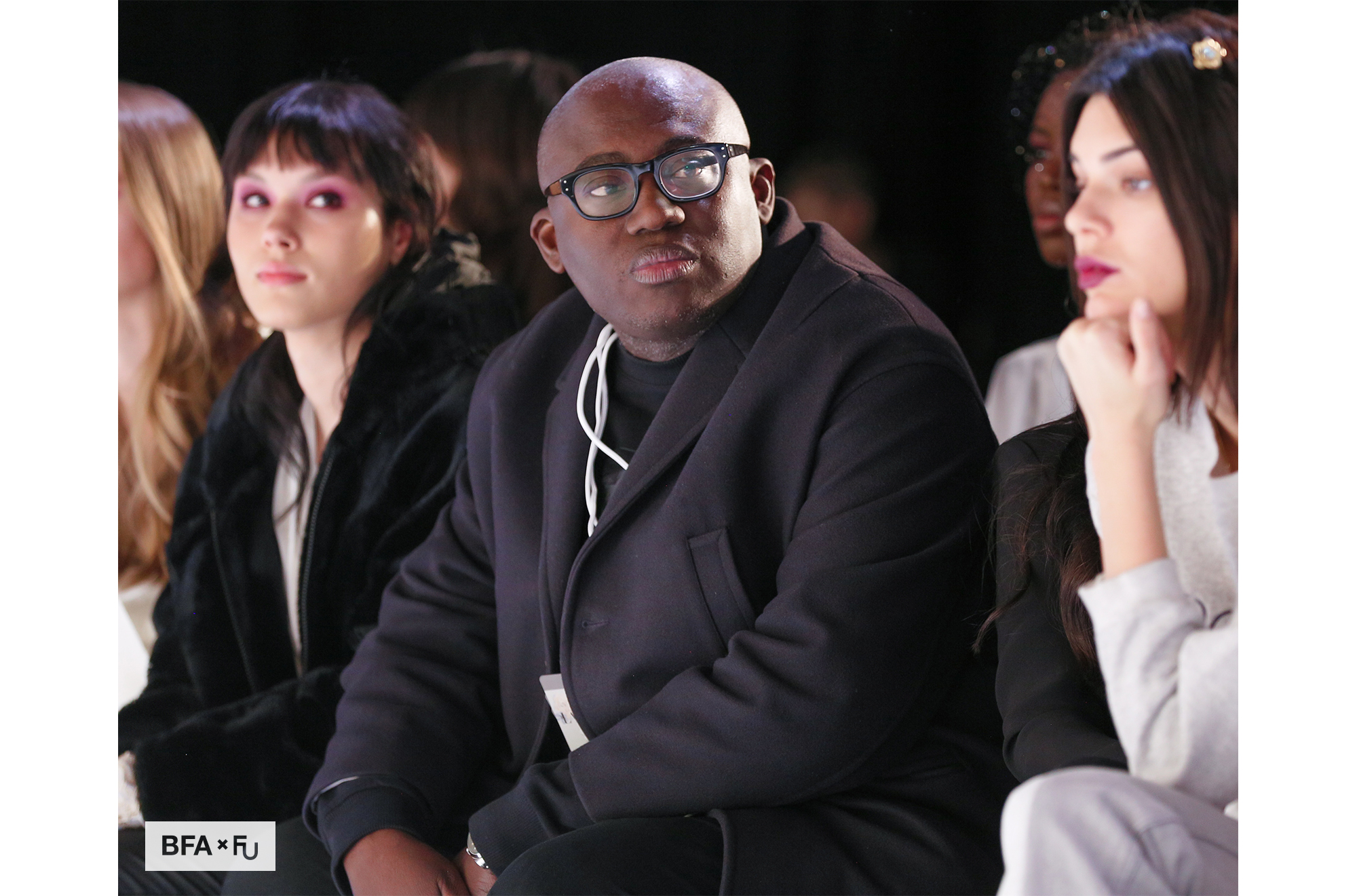 Photo: BFA.com. View more at BFA.com.
"More importantly," the source added, "Abdulaziz had never written, or even been in publishing before. How can you be an editor-in-chief when you haven't gone through the ranks as at least a writer, then editor?"
It is a question that gives pause. What does it mean these days to be an editor-in-chief? Are writing and editing even job requirements anymore? The only way I can explain this is to talk about my own experience during the times I have held the title. To be sure, there was precious little writing or editing going on. What my days consisted of was the visualisation of future issues, planning an editorial calendar based on creative instinct, and developing, rather than following, trends. Prying information out of top PRs, agonizing over budgets, and dealing with crises that happened all too frequently were also at the top of my to-do list. What to do when the power was cut at the studio where we were booked to shoot with models and photographers who couldn't move their schedule? Or if an advertiser pulls out last minute, what to do with an empty page in six hours' notice?
There was also the inhumane job of having to placate and coddle advertisers, building a stable of top-notch creatives, and dealing with daily human dramas (is there a place where the human condition is any more fragile than publishing? No!) As editor-in-chief, I rarely had the luxury to write or edit. The job was more like quarterback-in-chief, coordinating and leading an entire team.
That's why Edward Enninful is an enlightened choice for British Vogue. Like Abdulaziz, he didn't have much writing or editing experience, but his styling experience is without equal. He is the embodiment of a "creative," which is just an umbrella term for fashion director, creative director, stylist, etc. A creative not only works with designers, editors, advertisers, and celebrities, but often takes the lead. Enninful is in that rarefied world where he can conjure utterly desirable and fantastically marketable new looks—a super-stylist with a vision who can properly sell it.
Stylist Panos Yiapanis, known for his low profile as much as his talent, once referred to his trade as the lowest rung of the creative ladder. Modest, yes—and dead wrong. Everything the world sees in a magazine—an ad, a fashion show—is envisioned by the creative. Every red-carpet look is thought out by a stylist as much as a designer. Also, the reason why British Vogue had shortlisted the likes of Katie Grand and Enninful is because they are the start and end point of fashion. People who own this rare visual and artistic talent don't need to write or edit—they have a team for that. They need to visualize, conceptualize, shock, excite, and progress their métier to a higher level.
It's not that the love wasn't there for Abdulaziz—obviously, otherwise she wouldn't have been hired in the first place. But my source reported, "Enninful started on the bottom and moved through the ranks through sheer guts, talent, and determination. He is charismatic, hard-working, and deeply respected within the industry. Abdulaziz, yes, of course, she started D'NA, but she was more of a high-end buyer with a lot of financial backing. There was a sense that she was handed this position without having done any of the grunt work. And that didn't go over well."

Many sounded the death knell for Abdulaziz's tenure with her first issue that saw Gigi Hadid on the cover wearing a headscarf. Head coverings are a hot topic not just in the fashion world, but in news in general, and sadly, Abdulaziz badly misjudged it. Putting a girl who is Muslim by name in a headscarf, top model or not, jarred the deeply conservative Muslim readership who is more accustomed to seeing Hadid naked on covers or for openly dating before marrying, both strict no-nos in Islam. The use of a hijab as a fashion rather than religious statement was not well-received, and an editor's job is to read his or her readers—to know the market. Harper's Bazaar, Grazia, and others have been operating in the region for years, but Vogue Arabia stumbled straight out of the gates. An editor-in-chief cannot antagonize or disrespect the core readership. It was never going to be an easy job to begin with, but now it's clear exactly how difficult it will be.
Enninful has had better luck with tricky issues. He styled the famous all-black issue of Vogue Italia, and it had the opposite reaction than the dreaded Hadid cover. The edition was so popular, a 40,000-issue reprint had to be ordered. No wonder that a while later, he was handed an OBE by the Queen herself.
Enninful is not the kind of editor-in-chief who is going to check for typos and misplaced apostrophes. He will carry on being a visionary. Maybe that's what the position should be called, "visionary-in-chief." What remains to be seen is if his reign will last as long as the quarter century of his predecessor, Alexandra Shulman. I certainly hope so.
0 Comment